****
On 6/12/2019, Ari Melber tweeted the following:
BREAKING Trump tells ABC if he's offered information on a 2020 opponent: "I think you might want to listen, there's nothing wrong with listening… I think I'd take it."
It's being reported that the ABC TV Interviewer George Stephanopoulos advised him that the FBI Director Christopher Wray has said that candidates for US elected offices have to report any attempts by a foreign government to give information to a campaign, designed to assist that candidate, is obliged to contact the FBI. President Trump responded to the ABC host that the FBI is wrong.
                                                              ****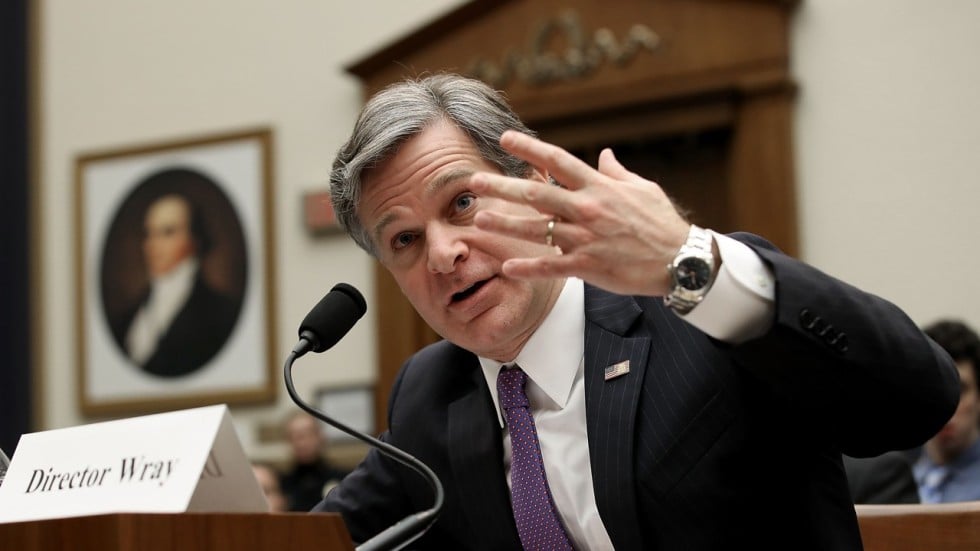 ****
I'm so disgusted that both the Republican and Democratic Parties' US Congressional lawmakers are refusing to stand up to this lawless president as required by the US Constitution. Both sides are cursed with leaders who think that'it's okay to appease a would- be authoritarian head of state because they are more afraid of losing power than in standing up for the 'rule of law,' by honoring their oaths of office to protect the US Constitution, this country and its peoples, to show the world that our country's values mean something, "no one is above the law."
                                                                         ****
There are some of us who have this need to have our faith restored in the "rule of law" and in a functioning US government, but there are party leaders from both sides who at best, are being tepid in using their power to be a check on this president because taking serious action would be too politically costly.
                                                                       ****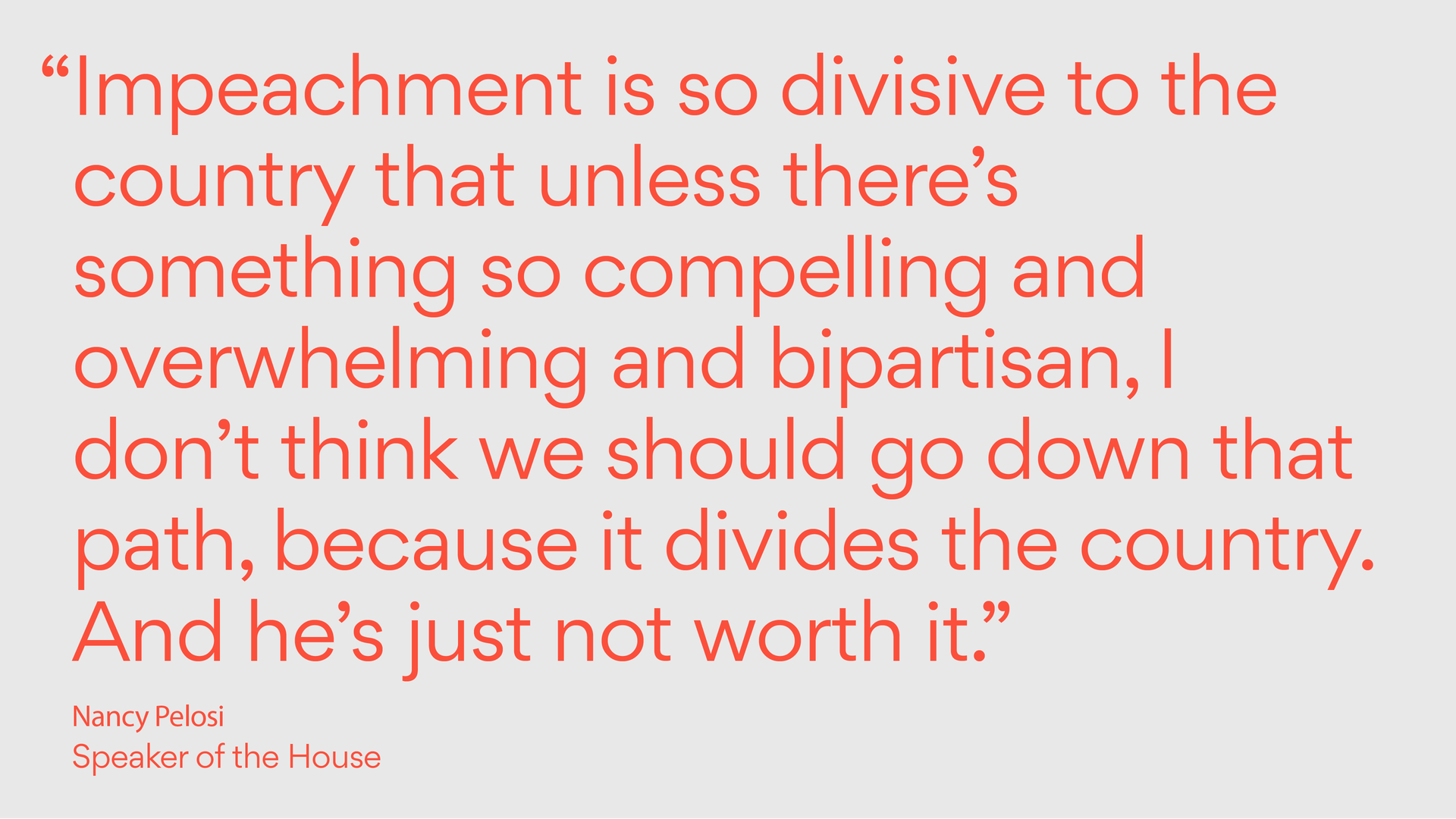 Our founders wrote the US Constitution with the core purpose to prevent tyranny. They didn't want this country to be under the thumb of another king. That's why the US Constitutional framers came up with the idea of distributing power among the president, the legislative body (the US Congress), and the judiciary branch. These three branches were designed to prevent the chances of our great US democracy from being ruled by an authoritarian type leader.
These framers also put in a mechanism within the US Constitution to be a check against a president who would attempt to usurp the powers of the other branches of government. Article I, Section 2 gives the House of Representatives the "sole power over the impeachment" process. Article I, Section 3 gives the Senate the "sole power to conduct a trial regarding all impeachments."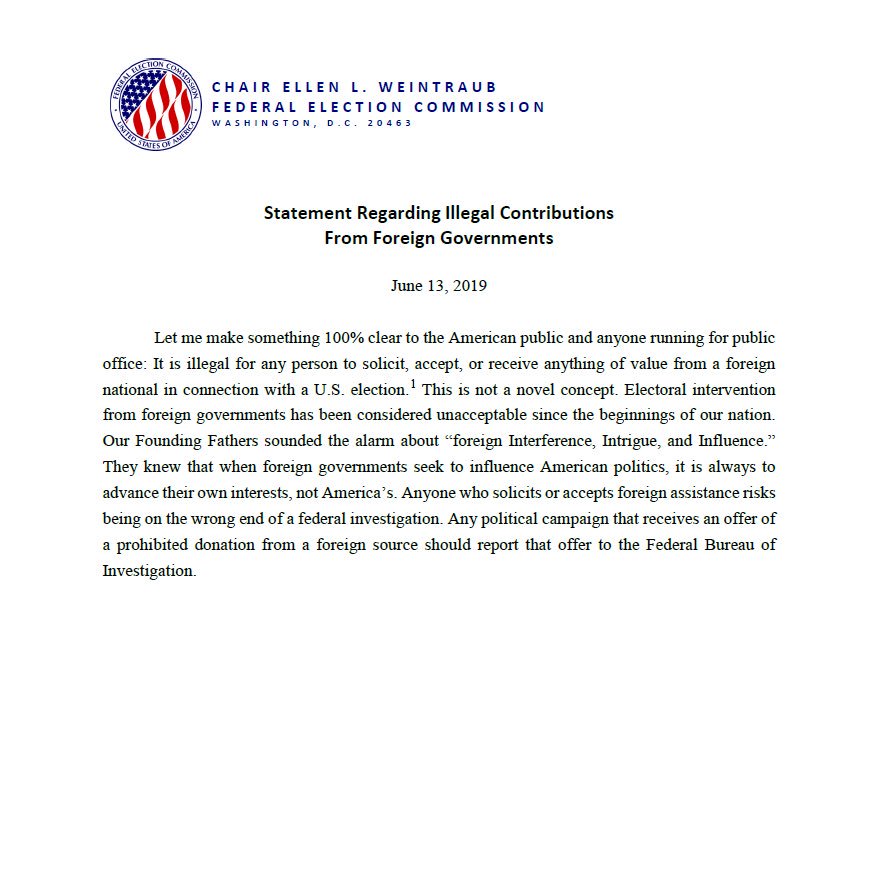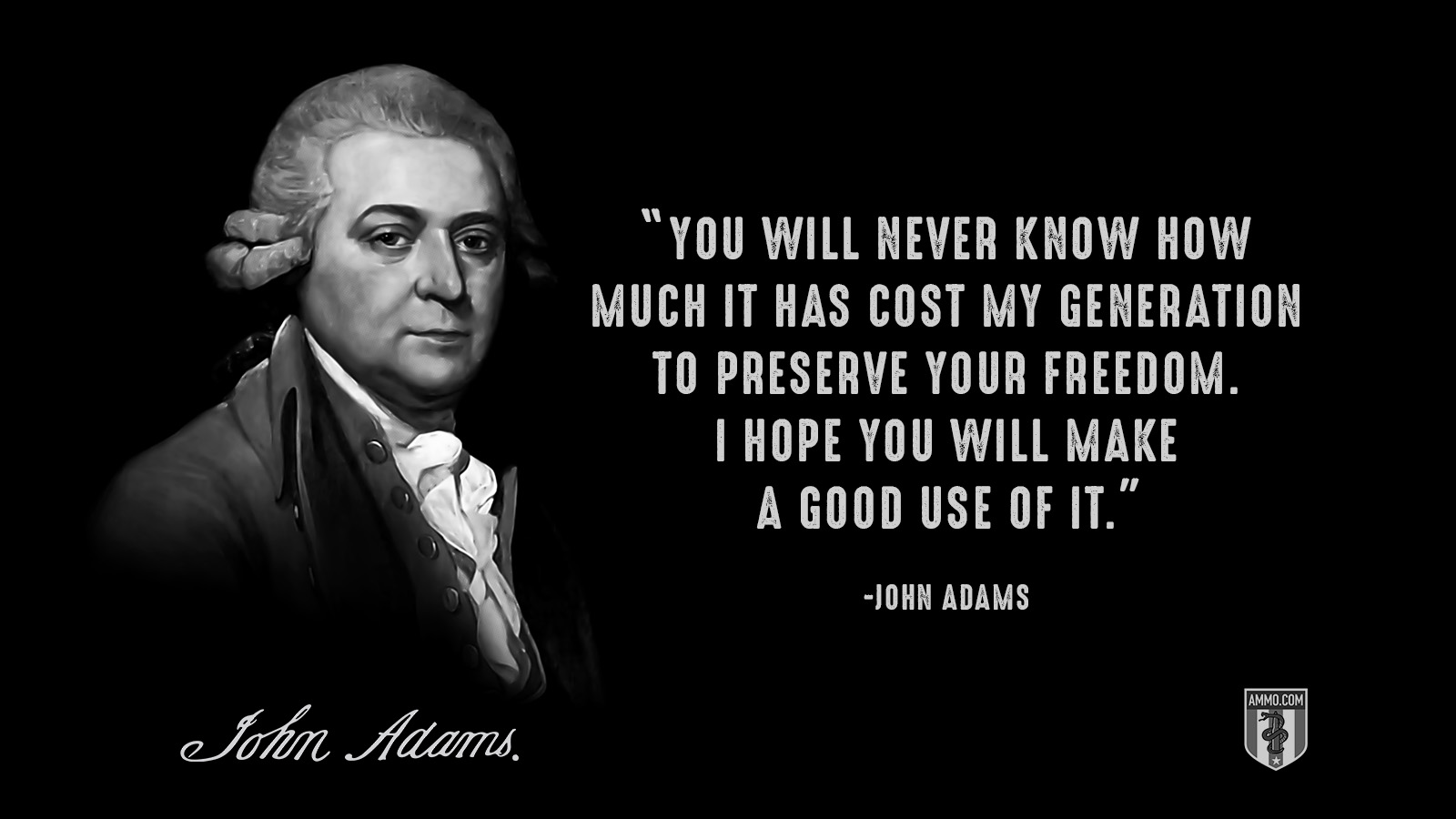 Democratic Party…
                                                                         ****
Within the Democratic Party, there's a debate brewing about whether or not the US House Democrats should act on the power granted it by the US Constitution to commence an impeachment inquiry against the President Trump based on his numerous felonious actions as detailed in the 3/22/2019 FBI's final report regarding its 22 months long Trump-Russia probe, led by the Special Counsel Robert Mueller III.
                                                                       ****
As of 6/7/2019 and based on the FBI's Mueller report, over 1000 federal prosecutors on a bi-partisan basis, have signed a public declaration explaining to the public, that if Donald Trump were not president, he would have been criminally indicted. There's s Department of Justice rule that a sitting president can't be criminally indicted.
              ****
                                                                    ****
I've had to figure out what has been the House Speaker Nancy Pelosi's real objection against the House commencing an impeachment inquiry. I've become convinced that she doesn't want to take a chance that those House Democrats from Trump-leaning states would lose seats in 2020 where the House would give up its current Democratic Party majority, and then of course, she would lose her leadership position.
                                                                      ****
It's my opinion, that if Speaker Pelosi were to announce that she's directing the House to commence an Impeachment Inquiry against President Trump, that with her current majority — 235 Democrats, 197 Republicans and three current vacancies –she would have enough votes to support her. (She could even allow 17 of her most politically vulnerable congressional members in Trump-leaning districts to take a pass.)
So far, there are about 60 US House Democrats who have stated publicly that they favor the commencement of an impeachment inquiry.
I've finally come to the conclusion that Speaker Pelosi has been doing the political double speak and acting out with deflection tactics as a way to appease her base because 76% favor impeachment while the reality is, that she'll grant the House the approval to conduct an impeachment inquiry over her dead body.
Instead, the House Speaker Pelosi has been calling for Democrats to defeat Trump in 2020 and, in the meantime, to press on with the myriad probes/ hearings into his conduct.
On 6/13/ 2019 Brian Fallon tweeted following:
Republican Party…
The Republican Party US Congressional lawmakers have been fearful of standing up to President Trump to confront him about his numerous wrong doings because of 2 words, Mark Sanford. He represents the perfect case as to why President Trump is blessed with GOP congressional sycophants because they also are worried about losing their cushy powerful jobs.
                                                                     ****
As per the 6/13/2018 WHYY.org article,
"Why don't Republicans stand up to Trump. Here's the answer"
by Dick Polman, "If you're flummoxed by the abject servility of congressional Republicans, by their refusal to confront Trump and stand up for American values,
check out the 6/12/2018 primary election in South Carolina. The purging of Mark Sanford says it all."
                                                                    ****
"Sanford is a long-serving conservative lawmaker (and former governor) who typically votes with his party, but on a few public occasions, he has actually dared to suggest (gasp) that Trump is not the supreme very stable genius that the deluded Republican base deems Trump to be. The result: Sanford loses his job."
"For the inexcusable sin of speaking his mind about factual reality, the Republican base voters in Sanford's House district threw him out, handing the GOP nomination to a far-right Trumper who repeatedly denounced Sanford as "disloyal."
"This is why rank-and-file Republican lawmakers refuse to speak out. They're afraid of their own constituents. It's Trump's party now, and the constituents in red districts virtually worship the guy. Forget about putting country over party, because it's actually worse than that. Sanford's colleagues won't put country over career. They'll vow that what just happened to Sanford will not happen to them."
"As conservative commentator Erick Erickson said, "Mark Sanford losing in South Carolina is pretty much proof positive that the GOP is not really a conservative party that cares about limited government. It is now fully a cult of personality."
                                                                         ****
                                                                   ****
There's one solo mio truly courageous US congressional member who has knowingly put his job on the line to stand up for what's right, the GOP Rep. Justin Amash, a 2005 graduate from the University of Michigan Law School.
As per the 6/12/2019 Politico report, "Trump looks to squash Amash" by Alex Isenstadt,
"Donald Trump and his top allies are moving to make Justin Amash pay for becoming the sole Republican congressman to call for the president's impeachment."
"Trump and his top advisers have discussed the prospect of backing a primary challenge to the Michigan lawmaker — a highly unusual move for a president against a member of his own party that would effectively amount to a warning shot to other Republicans thinking of crossing him. The conversations come as the billionaire DeVos family, which has deep ties to the administration and remains one of Michigan's most powerful families, has announced it will cut off the congressman. That move could send a signal to other conservative donors deciding whether to invest in Amash."
Link to entire article:  Trump looks to squash Amash
                                                                               ****