On June 15, 2019, Bill Kristol published following tweet:
"This ad from Republicans for the Rule of Law calls on Congress to act, as the president clearly won't, on the urgent matter of protecting our elections from foreign interference. It will air Monday on cable news networks. If you agree, do forward it to your member of Congress."
It's a sad state of affairs when the experts who surround the President Donald J. Trump can't discuss Russia having successfully launched a full throttle cyber and propaganda attack in 2016 on our US elections system, and that Russia plans a repeat performance during the 2020 US elections cycle; and to review plans about what's being done by the US government regarding this issue, without fear of 'poking the bear's' wrath. With this background, it's hard to justify the US House's avoidance of it doing it's constitutionally mandated duty to hold President Trump accountable for his dereliction of duty via an impeachment inquiry.
It doesn't help that on 6/12/2019, when the ABC TV Interviewer George Stephanopoulos advised President Trump, that the FBI Director Christopher Wray has said that candidates for US elected offices have to report any attempts by a foreign government to give information to a campaign, designed to assist that candidate, are obligated to contact the FBI, President Trump retorted that the FBI is wrong. President Trump looked on this scenario as just part of a candidate doing 'oppo' research.  This presidential dictum prompted the  head of the FEC Federal Election Commission to publish a letter describing the above activity as a crime.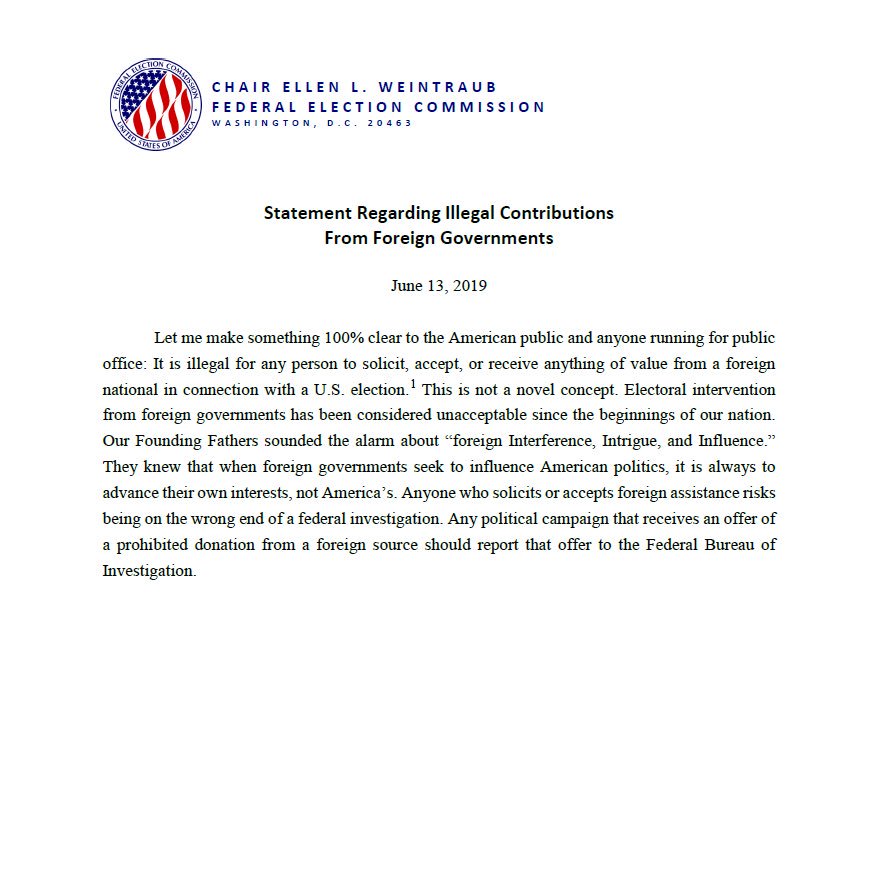 What's worse is that "We the People" can't count on the US Senate under the leadership of Senator Mitch McConnell as he's deliberately blocking any bi-partisan elections' security measures from being voted on; and the US Department of Justice (DOJ) headed by President Trump's lackey the Attorney General William Barr who has made it obvious that he won't lift a finger without the president's okay.
See Salon article: Despite Mueller's warning, McConnell blocks bipartisan election security bills – McConnell and GOP senators are complicit in dismantling democracy.
See MSNBC report: msnbc.com/  McConnell blocks bills to combat election interference  
See:  justsecurity.org/ Why Americans Should Care About Mueller's Counterintelligence Probe—Aside from any Criminal or Political Implications /…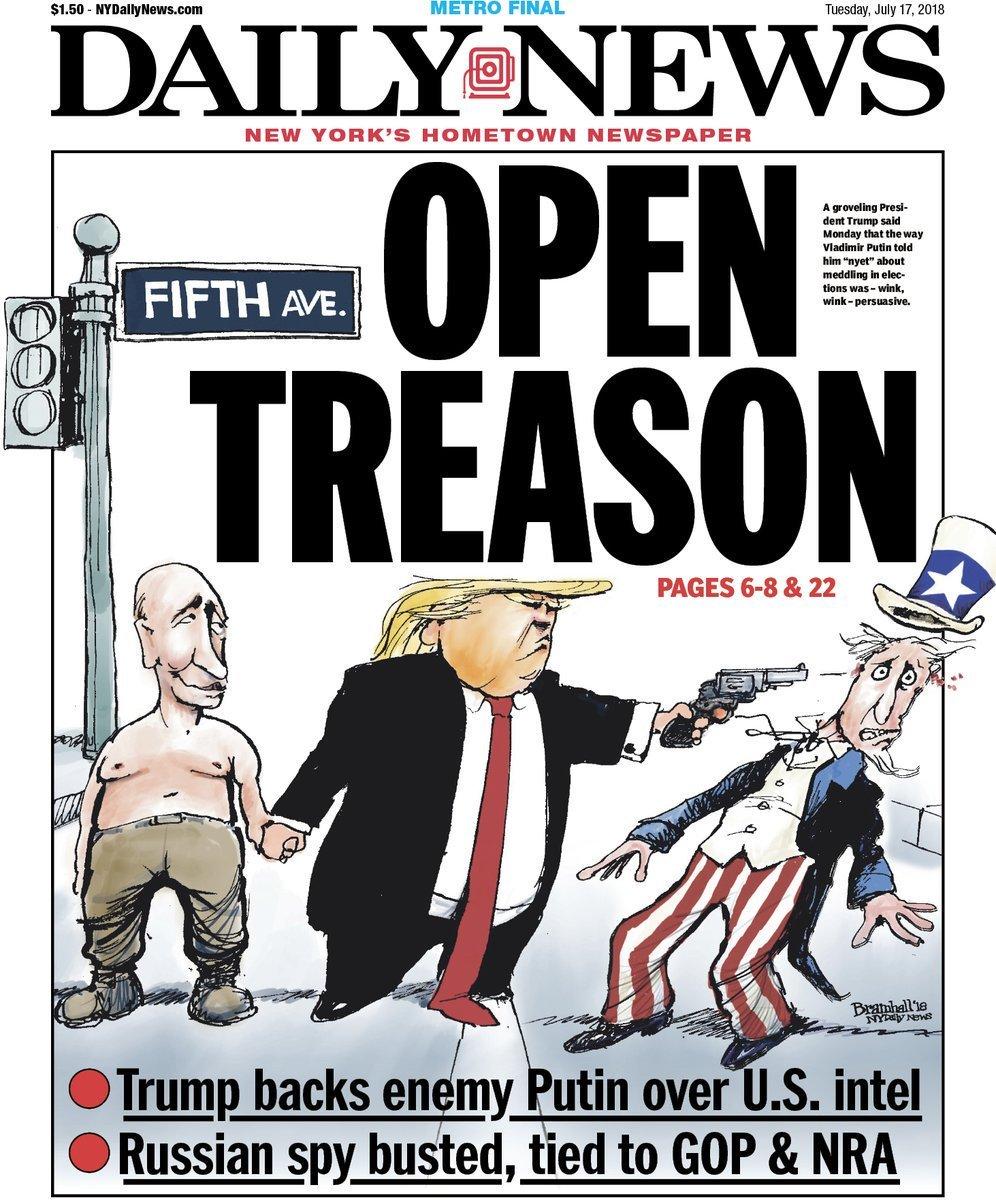 On May 30, 2019, Lawrence Norden of Slate penned the following report, "There's Bipartisan Support for Election Security. Mitch McConnell Won't Let It Happen."
Excerpts:
"But Robert Mueller began and ended his comments (on his FBI's 3/22/2019 final report on its Trump-Russia probe) with another issue that he said "deserves the attention of every American." Namely, that a foreign government made multiple, systematic attempts to interfere in our elections."
"Congress is not doing enough to prevent it from happening again, despite ongoing attempts to sound the alarm by cybersecurity experts, intelligence agencies, and Robert Mueller himself."
"By the next presidential election, the Russians will have had 4 years to leverage the knowledge they gained in 2016. That could mean even more harm the next time around. That harm will no doubt include more disinformation on social media and potential attacks on our election infrastructure. And there is every reason to believe other nation-states will now get in on the game."
"This week, FireEye Threat Intelligence released a report that appeared to show Iran used fake accounts impersonating U.S. political candidates in the run-up to the 2018 election. One of my Brennan Center colleagues noted accounts were active through September, weeks before the midterm elections, despite the fact that they clearly violated Twitter's impersonation policy."
"Mueller's remarks and the revelations of these new misinformation campaigns should inspire Congress to take action. Some lawmakers recognize the urgency of the situation and have introduced key bills that would help protect voting infrastructure, or prevent  online political advertisements from being purchased secretly by foreign countries. But Senate leadership appears to have foreclosed the possibility of taking further action to protect our elections going into 2020."
"Two weeks ago, at a Senate Rules Committee hearing,  Sen. Richard Durbin, a Democrat from Illinois, asked Sen. Roy Blunt, a Republican from Missouri, whether the panel would mark up any of the election security bills introduced this year. Blunt's answer? No."
"Blunt's response had nothing to do with the merit of the bills but was instead a reflection of the fact that Senate leadership would not allow them to receive votes. In a statement that stunned many, Blunt all but threw Majority Leader Mitch McConnell under the bus, saying: "I don't see any likelihood that those bills would get to the floor if we marked them up. I think the majority leader is of the view this debate reaches no conclusion."
"Congress could do a great deal to make our elections more secure, including providing funds for states to replace outdated and insecure voting machines. Currently 11 states use systems that do not produce a paper backup of a vote, which means that there is no record that can be used to check accuracy of electronic tallies."
"Congress can also provide underfunded local election jurisdictions with more cybersecurity resources; require election system vendors to report cybersecurity incidents to both federal and local authorities; and pass the Honest Ads Act, which would make it more difficult for foreign powers to purchase political advertisements on the internet. Each of these ideas has bipartisan support and would make the 2020 elections more secure."
Link to entire article: Slate. 
On 6/15/2019, Ryan Goodman tweeted following:
Blockbuster story buried in this NYT report. Pentagon, intelligence officials fear they cannot trust Trump enough to brief him fully on new US cyber operation against Russia for fear he will "countermand it or discuss it with foreign officials" as he did before with Russians.
On June 15, 2019, David E. Sanger and Nicole Pertroth of the New York Times article, "U.S. Escalates Online Attacks on Russia's Power Grid"
Excerpts:
 "The US is stepping up digital incursions into Russia's electric power grid in a warning to President Vladimir V. Putin and a demonstration of how the Trump administration is using new authorities to deploy cybertools more aggressively, current and former government officials said."
"In interviews over the past three months, the officials described the previously unreported deployment of American computer code inside Russia's grid and other targets as a classified companion to more publicly discussed action directed at Moscow's disinformation and hacking units around the 2018 midterm elections."
"Advocates of the more aggressive strategy said it was long overdue, after years of public warnings from the Department of Homeland Security and the F.B.I. that Russia has inserted malware that could sabotage American power plants, oil and gas pipelines or water supplies in any future conflict with the United States."
"But it also carries significant risk of escalating the daily digital Cold War between Washington and Moscow."
"The commander of US Cyber Command, Gen. Paul M. Nakasone, has been outspoken about the need to "defend forward" deep in an adversary's networks to demonstrate that the United States will respond to the barrage of online attacks aimed at it."
"They don't fear us," he told the Senate a year ago during his confirmation hearings."
"But finding ways to calibrate those responses so that they deter attacks without inciting a dangerous escalation has been the source of constant debate."
"Mr. Trump issued new authorities to Cyber Command last summer, in a still-classified document known as National Security Presidential Memoranda 13, giving General Nakasone far more leeway to conduct offensive online operations without receiving presidential approval."
"But the action inside the Russian electric grid appears to have been conducted under little-noticed new legal authorities, slipped into the military authorization bill passed by Congress last summer. The measure approved the routine conduct of "clandestine military activity" in cyberspace, to "deter, safeguard or defend against attacks or malicious cyberactivities against the United States."
"Under the law, those actions can now be authorized by the defense secretary without special presidential approval."
Link to report: US Escalates Online Attacks on Russia's Power Grid