I've been frequently tweeting the following:
"Warning: If Trump gets reelected in 2020, 5 yr. "Statute of Limitations" kicks in which isn't tolled in criminal law. Trump could skate from being held criminally liable while House refuses to use 1 power via I-inquiry to hold him accountable NOW…"
With some fancy, expensive lawyering there may be way around the 5 year "Statute of Limitations" that'll go into effect if the republican President Donald Trump wins reelection in 2020 which is a possibility, but any remedy for this legal fubar is currently non-existent.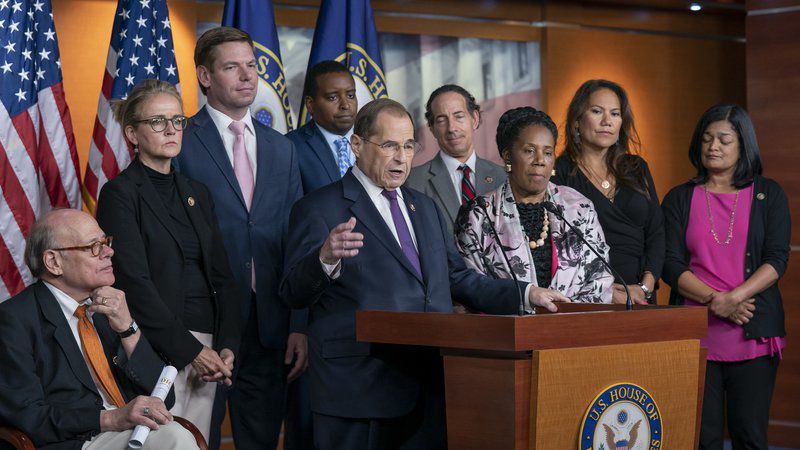 The House Judiciary Committee Chairman Rep. Jerry Nadler has publicly promised that he would craft a legislative solution but unfortunately, it would be DOA in the current GOP-led US Senate.
The objective of any legal finagling to fix this legal sink-hole would be for the attorneys to argue that the "Statute of Limitations" should be tolled/ paused because President Trump could not be criminally indicted as per current (DOJ) US Department of Justice's (OLC) Office of Legal Counsel's 2000 legal memo barring the criminal indictment of a sitting president while he's still serving on office.
But the courts could argue that the US Constitution did craft a remedy via a non-legislative, judicial like solution, specifically  designed by US forefathers, to hold a tyrannical lawless US president accountable for his crimes and abuses of power, which is the power of the impeachment process to be solely initiated by the US House of Representatives. This is why I and many others have been arguing in favor of impeachment.
The House Judiciary Committee's role would be to conduct an impeachment investigation which the current Chairman Rep. Jerry Nadler has formally set the start date on the 26th of July 2019. Once the impeachment investigation is completed, then the House's Judiciary Committee will draft "Articles of Impeachment" (indictment) which will be voted up or down by the House members. Once the House passes the "Articles of Impeachment" then the I-word will forever be associated with President Trump. Then the case will be transferred to the US Senate with the presiding trial judge being the US Supreme Court's Chief Justice John Roberts.
This is why the Democratic Party House Speaker Nancy Pelosi has been so firm in the importance of the House Judiciary Committee's obligation to develop an air-tight case. Because the GOP-led US Senate will most likely NOT spontaneously develop a streak of courage to where the Senate would actually consider convicting President Trump, Speaker Pelosi wants these GOP senators to pay a high political price, like the loss of their majority position in the US Senate, for not convicting their standard bearer even when there's overwhelming evidence compiled against him. This is why the 3/22/2019 Mueller report isn't sufficient for the House to go directly to drafting "Articles of Impeachment." It may very well take several months to conduct this high-level of an investigation due to the White House's efforts to block all such efforts.
I agree with the impeachment investigations' objectives publicly shared by the House Judiciary Committee's Chairman Rep. Jerry Nadler on 7/26/2019, with one caveat, which is the priority of pursuing President Trump's financial records.
See: TY Resisters: House Judiciary Chair Rep. Nadler Is Starting Impeachment Investigation
Here's the rest of the story…
On April 29, 2019, of Bloomberg Law penned the following analysis, "Statute of Limitations"  DOJ May Prevent Trump Ever Being Charged"
"Robert Mueller declined to decide whether to charge President Donald Trump with obstructing the investigation into his 2016 campaign's ties to Russia's election interference. But the policy that prompted the special counsel's non-decision could effectively keep Trump out of federal prosecutors' crosshairs for good if he's reelected."
"Mueller, in his report, cited Justice Department policy against indicting sitting presidents while leaving open the possibility of prosecution later, saying the policy "also recognizes that a President does not have immunity after he leaves office."
"Yet the allegations—even if they could be proven beyond a reasonable doubt—would normally have to be charged within five years, so as not to run afoul of applicable statutes of limitations."
"That may mean Trump will never be prosecuted by the feds—especially if he wins re-election, experts say. It may hinge on the highly technical but practically explosive question whether those limitations rules can be "tolled"—or paused—while Trump is in office."
"The only way to get a definitive answer would be to file charges and test the theory in court, but that seems unlikely," said Barbara McQuade, former U.S. Attorney in Detroit who is now a University of Michigan Law School professor."
"If a prosecutor were to charge Trump after he leaves office after serving out a second presidential term, the prosecutor "could argue that the statute should permit tolling during the time he was in office."
"But McQuade said it's "not clear that that argument would prevail, because there was no legal prohibition from charging" Trump. Just the Justice policy."
The Tolling Long Shot
"Constitutional scholar Josh Blackman says that if Trump is reelected, "he would run out the five-year statute of limitations." The South Texas College of Law Houston professor said he does "not envy the prosecutor who tries to indict the former President based on a creative theory of statute-of-limitation tolling."
"The prospect of tolling here "is theoretically possible but a long shot," said former federal prosecutor Joseph Moreno. "I wouldn't count on it," he said."
"The 400-plus page Mueller report dedicates an entire volume to Trump's efforts to obstruct the Russia investigation—including by pressuring then-FBI-head James Comey to drop his investigation into then-National Security Adviser Michael Flynn in early 2017; firing Comey that spring after he failed to do so; and pressuring various officials not to cooperate with—and even to end—Mueller's investigation, including then-White House Counsel Don McGahn, who has emerged as a potential key witness against the president."
"Trump's former personal lawyer Michael Cohen also implicated the president in campaign finance crimes."
"While pointing out the instances that could be construed as obstruction, Mueller said he had to abide by the 2000 memo from DOJ's Office of Legal Counsel that says the prosecution of a sitting president "would unconstitutionally undermine the capacity of the executive branch to perform its constitutionally assigned functions."
"Now a partner at Cadwalader in Washington, Moreno noted that one type of situation where tolling can apply is when a defendant absconds and therefore can't be brought into court to face charges."
"Moreno said it's "conceivable" that a court in this hypothetical Trump scenario could say, "Look, a president shouldn't be able to have it both ways. You can't be immune from prosecution while you're president, but then also enjoy the running of the statute of limitations."
"But Trump "hasn't done anything wrong" in terms of delaying his apprehension, the former prosecutor observed, distinguishing this scenario from a defendant who skips town."
"Odds are that Trump "would effectively run the clock out by benefiting from the OLC opinion and a friendly Department of Justice that's not looking to revoke that opinion and change the policy, and by the running of the statute of limitations," Moreno said."
"So I do think that ultimately Trump could avoid prosecution," he said, "putting aside the difficulties of bringing an old case, putting aside the political implications of do you really want to charge a two-term president who's going to be 80 years old."
See:
website  for FederalCharges.com publication of Obstruction Of Justice + Laws, Charges & Statute of Limitations by Geoffrey Nathan, Esq.