If I had a dollar for every news pundit who's pontificated on the gratuitous bias against Twitter users not reflecting the thinking of general population, I'd be rich. It's  a way for them to discount the feedback by Twitter consumers regarding political issues.
The Democratic Party US Congressional leaders continue to buy this convenient stereotype of the Twitter user being not reflecting the thinking of the wider population, do so, at their peril. As per a 4/2019 Pew Research Center study regarding Twitter users found that they tend to be younger, more Democratic, better educated and more affluent than the general population.
Here is the rest of the story with a more accurate reading of the value of Twitter consumers…Let's deal in evidence, facts..
As per 4/24/2019 Techcrunch report, "Pew: US adult Twitter users tend to be younger, more Democratic;" 10% create 80% of tweets by Sarah Perez:
Excerpts:
"A new report out this morning from Pew Research Center offers insight into the U.S. adult Twitter population. The firm's research indicates the Twitterverse tends to skew younger and more Democratic than the general public. It also notes that the activity on Twitter  is dominated by a small percentage — most users rarely tweet, while the most prolific 10 percent are responsible for 80 percent of tweets from U.S. adults."
"Pew says only around 22 percent of American adults today use Twitter, and they are representative of the broader population in some ways, but not in others."
For starters, Twitter's U.S. adult users tend to be younger.
"The study found the median age of Twitter users is 40, compared with the median age of U.S. adults, which is 47. Though less pronounced than the age differences, Twitter users also tend to have higher levels of household income and educational attainment compared with the general population."
"Indeed, 42 percent of adult Twitter users in the U.S. have at least a bachelor's degree, which is 11 percentage points higher than the share of the public with this level of education (31 percent). Likely related to this is a higher income level; 41 percent of Twitter users have a household income above $75,000, which is 9 points higher than the same figure in the general population (32 percent)."
"A major difference — and a notable one, given yesterday's sit-down between Twitter CEO Jack Dorsey and President Trump — is Pew's discovery that 36 percent of Twitter U.S. adult users identify with the Democratic Party, versus 30 percent of U.S. adults (the latter, as per a November 2018 survey). Meanwhile, 21 percent of Twitter users identify as Republicans, versus 26 percent of U.S. adults. Political independents make up 29 percent of Twitter users, and a similar 27 percent of the general population."
"Despite these differences, there are areas where Twitter users are more like the general U.S. adult population — specifically, in terms of the gender and racial makeup, Pew says."
"These differences lead to other ways where how the Twitterverse feels about key issues — like equality or immigration — differs from the general public, with viewpoints that lean more Democratic."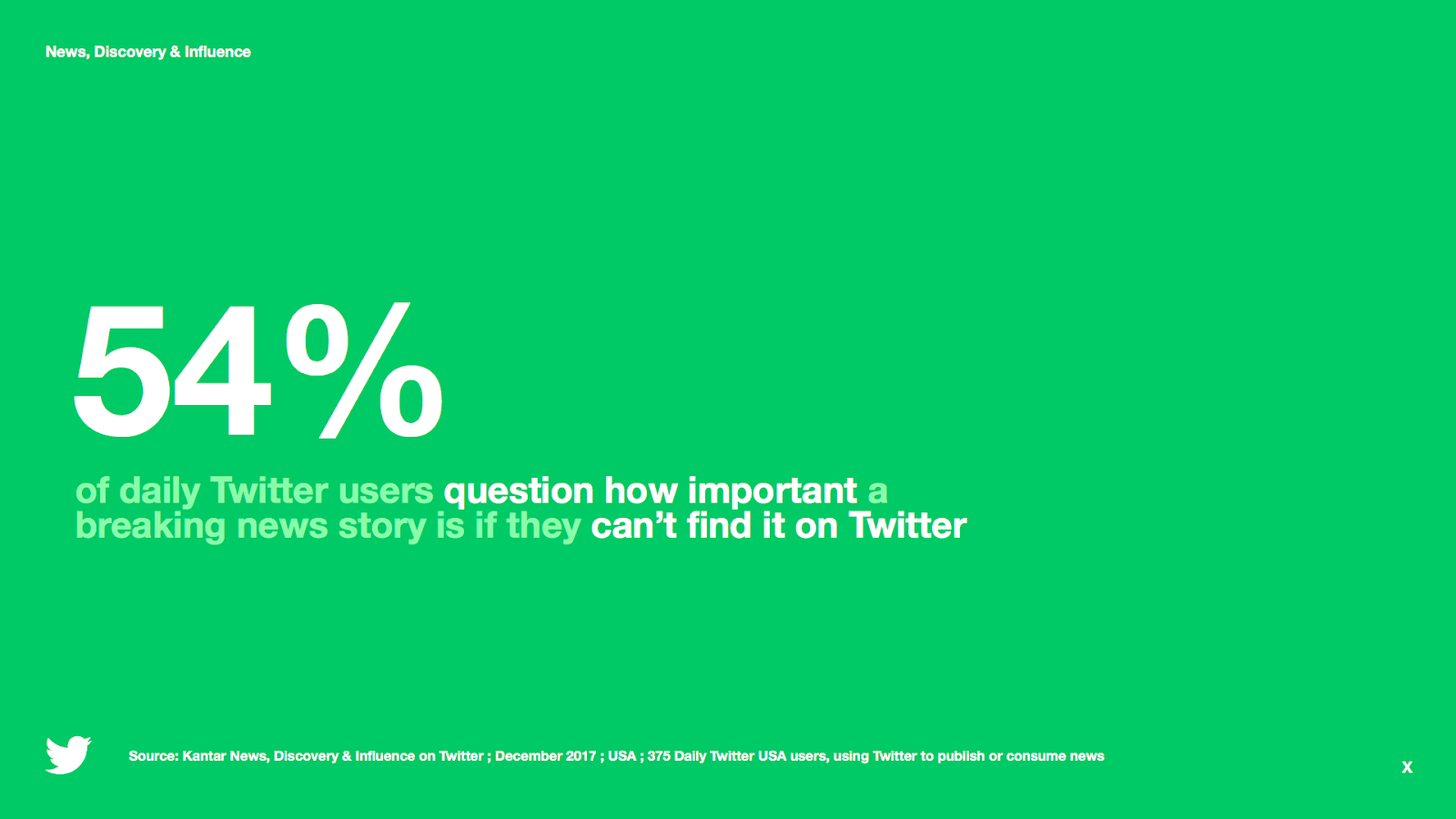 As per January 16, 2019 Hootsuite.com blog article by Paige Cooper:
"Of those adults, Twitter users tend to skew urban, educated, and higher-income."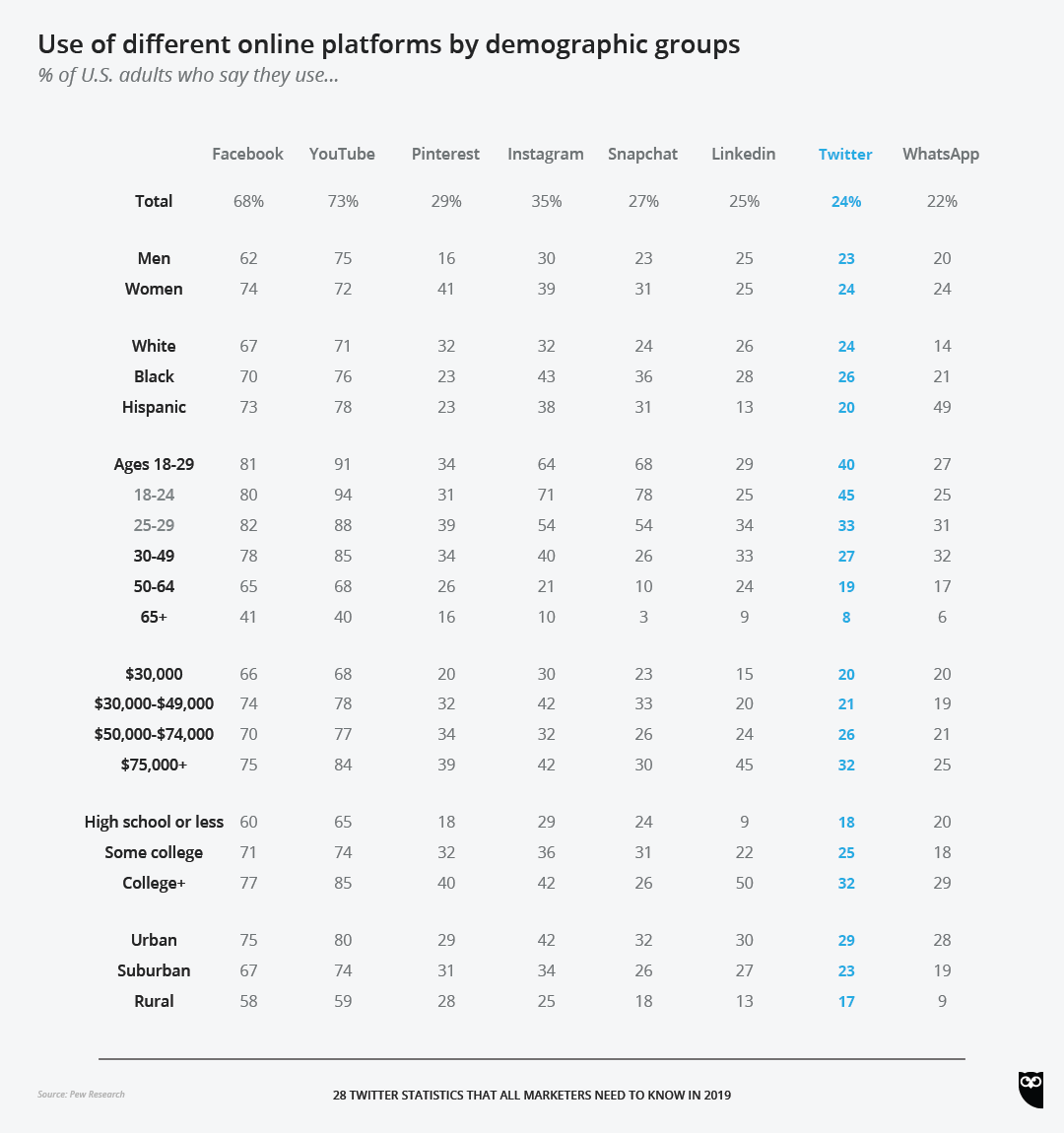 "For more detail, check out our comprehensive breakdown of Twitter's demographics."
That's what Twitter says, anyway. This number lines up with what we know about the platform's general demographics. 45 % of American 18- to 25-year-olds say they use Twitter, for instance.
Twitter usage stats
And, according to the same study by Pew Research, that works out to 12 percent of all Americans. No other platform rivals Twitter for bleeding-edge news and up-to-the-second happenings.
This relevance is quite possibly the reason Twitter continues to be such a major player in the social media landscape, despite size and reach. After all, Twitter invented the hashtag, and live-tweeting. (And Vine. RIP Vine. Never forget.)
Twitter outdoes Facebook and Instagram among powerbrokers. According to the 2018 Twiplomacy study, 187 governments and heads of state maintain an official presence on Twitter.
And in related news that is surprising to no one, Twitter is politically polarized. But since outrage is the most viral emotion on the internet, at least marketers can count on Twitter users being engaged. Just keep the relatively volatile nature of this environment in mind as you build your Twitter marketing strategy.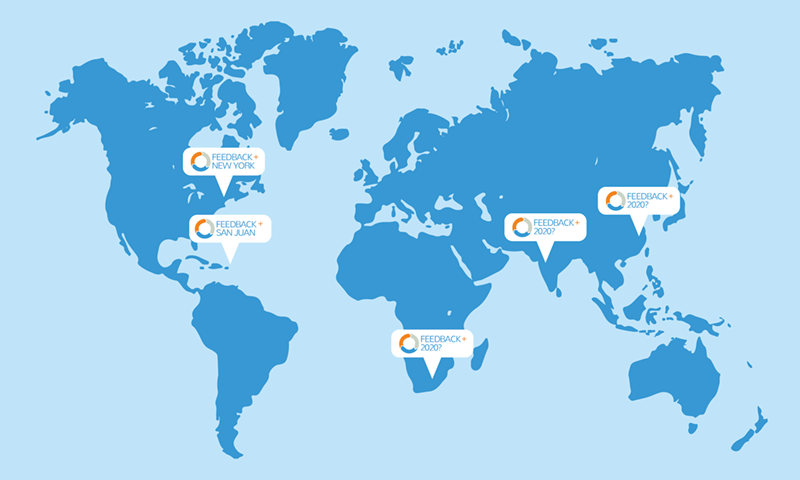 This, as opposed to what they recall while browsing online in general.
Apparently, Twitter maintains a special place in its users' hearts and minds. Or is it just that pithy content is stickier? Regardless, this is a notable lift that's worth capitalizing on.
Twitter stats for business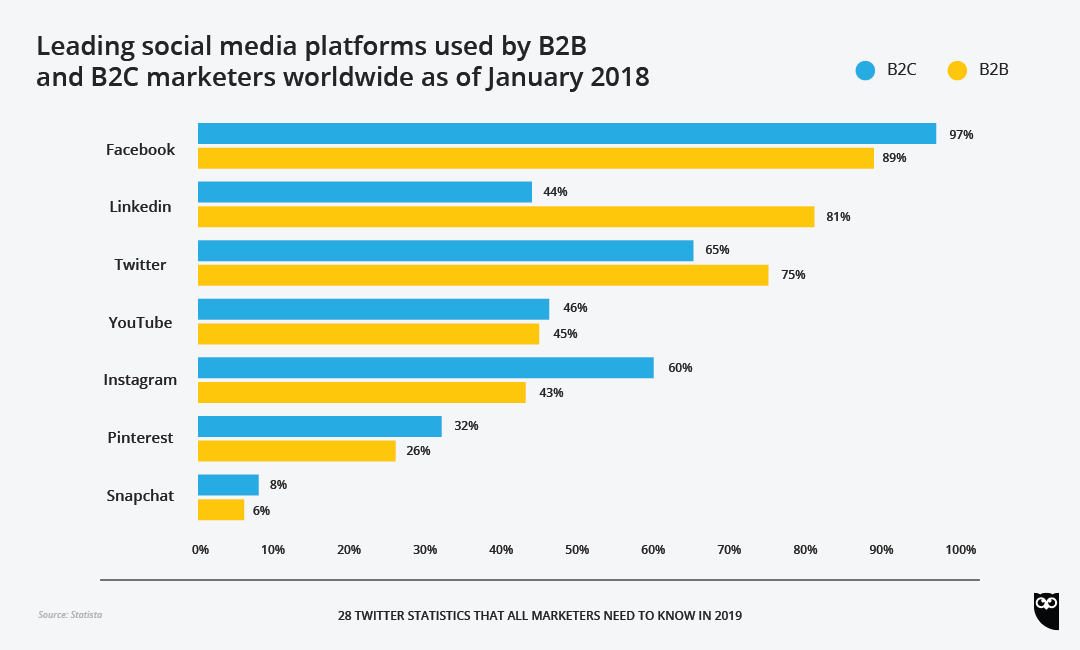 And 65 percent of B2C businesses are marketing there. Twitter outranks Youtube, Instagram, Pinterest, and Snapchat.
Twitter user stats
That's nine million fewer than in mid-2018, and four million fewer than late 2017. Management blames bot purges, Europe's new data privacy laws, and some technical issues for the decline.
While monthly users decrease, the number of daily users has been increasing consistently since 2016.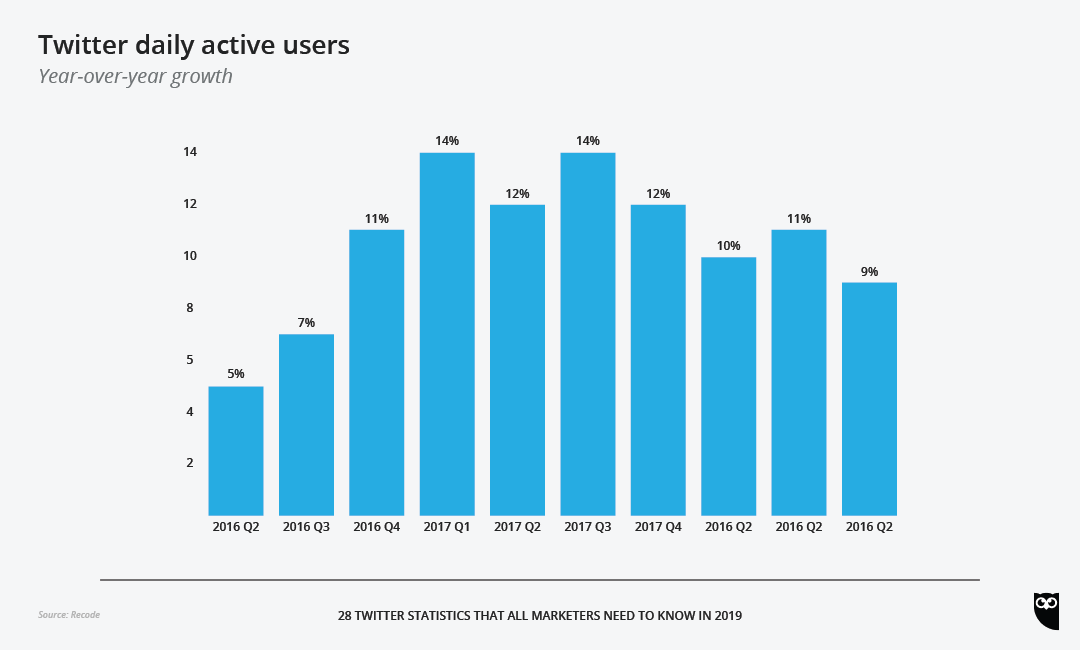 This lines up with Pew Research's finding that 46 % of American Twitter users visit the site at least once a day.
CEO Jack Dorsey stated that Twitter is focusing on making the platform "a healthier and valuable everyday service." If these numbers reflect Twitter's goal to be more attractive to good users while booting bad ones, they may translate to higher-quality audiences for advertisers.
9.) 500 million tweets are sent each day That's 5,787 tweets every second.
10.) User growth is predicted at less than 1%, in the US Emarketer predicts that Twitter will only add 500,000 American users in 2019. Most of the new users will be adults over the age of 25.