The inevitable has happened.  Within the past few months, the republican President Donald Trump has decided to traffic in outright racism for his 2020 presidential campaign, even though he had to know that his hate speech, could result in violence.
Around July 23, 2019, the FBI Director Chris Wray did warn the American public that there's been an increase in domestic terrorist crimes since 2017, and most have been committed by those motivated by White Supremacist type thinking.
Update on 8/4/2019: As per a 8/4/2019 Washington Post article, "Police in Dayton, Ohio, say they're investigating "active shooter incident" in the city's nightlife district," The early Sunday morning shooting comes just hours after a separate incident in El Paso. This time there are 9 fatalities and 16 injured. The shooter did not survive.
As per the 8/4/2019 New York Times report, "Dayton Shooting Live Updates: Gunman Killed 9, Including His Sister" by Timothy Williams and Farah Stockman:
The nine people killed in the attack have been identified.
Along with (sister) Ms. Betts, eight people were killed. They ranged in age from 25 to 57. The police identified them as:
Lois L. Oglesby, 27, a black female;
Saeed Saleh, 38, a black male;
Derrick R. Fudge, 57, a black male;
Logan Turner, 30, a white male;
Nicholas P. Cumer, 25, a white male;
Thomas J. McNichols, 25, a black male;
Beatrice N. Warren-Curtis, 36, a black female;
Monica E. Brickhouse, 39, a black female.
"Dayton, which was hit by 14 tornadoes in May, reacted in grief and shock. "We have suffered two tragedies in Dayton this year, but one was avoidable" Mayor Nan Whaley wrote in a statement that cited one tally of mass shootings compiled by a group that tracks them. "
"(Using a different definition, there have been 32 mass shootings this year.) "This same tragedy has been inflicted on our nation 250 times this year alone," the mayor wrote. "When is enough, enough?"
As per the 7/24/2019 Salon report, "FBI director to Congress: Most domestic terror cases are driven by "white supremacist violence" by Igor Derysh, " FBI Director Christopher Wray told Congress on Tuesday (7/23/2019) that the agency has seen an increase in the number of domestic terror arrests this fiscal year, a majority of which have been motivated by white supremacy."
"Wray told the Senate Judiciary Committee that the FBI has recorded about 100 domestic terrorism arrests in the last 9 months. "A majority of the domestic terrorism cases we've investigated are motivated by some version of what you might call white supremacist violence," he told the panel."
"Wray's testimony followed a House Homeland Security Committee hearing in May, where FBI counterterrorism chief Michael McGarrity testified that the bureau was investigating 850 potential domestic terrorism cases. McGarrity said that nearly half of the cases involved racially motivated extremists, most of whom were white supremacists."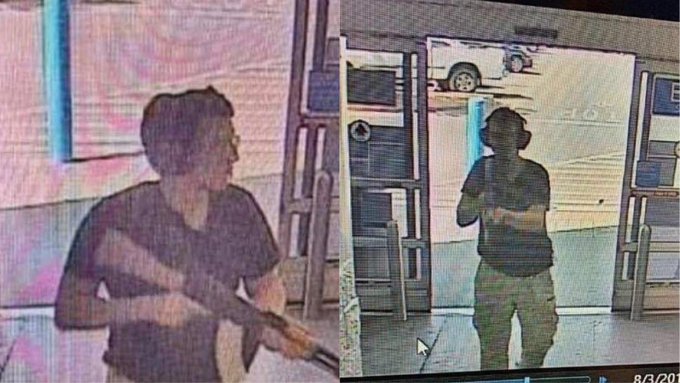 Well it's happened. On the 3rd of August 2019, there's been another US mass shooting at an El Paso, Texas Walmart near the Cielo Vista Mall. It's being reported that there were over 1000 customers busy buying back to school items on a non tax day, when around 10:00 AM, local time, shooting broke out. Witnesses said, it sounded like balloons popping.  Some described that they did see a white man in his twenties in front of the store's main entrance, dressed all in black and carrying a long rifle. Others shared that the lone gunman was just going aisle by aisle, shooting peoples indiscriminately with the result of 19-20 fatalities and at least 22 victims being transported to local hospital emergency rooms.
It's being reported that the local police have one person in custody who's been identified as 21-year-old Patrick Crusius of Dallas Texas. He was arrested by police without incident. Authorities are investigating a purported White Supremacist type manifesto posted online about an hour before the attack.
This mass shooting event follows another one about a week ago when a gunman killed three people and wounded 13 others in a shooting at a garlic festival in Gilroy, Calif.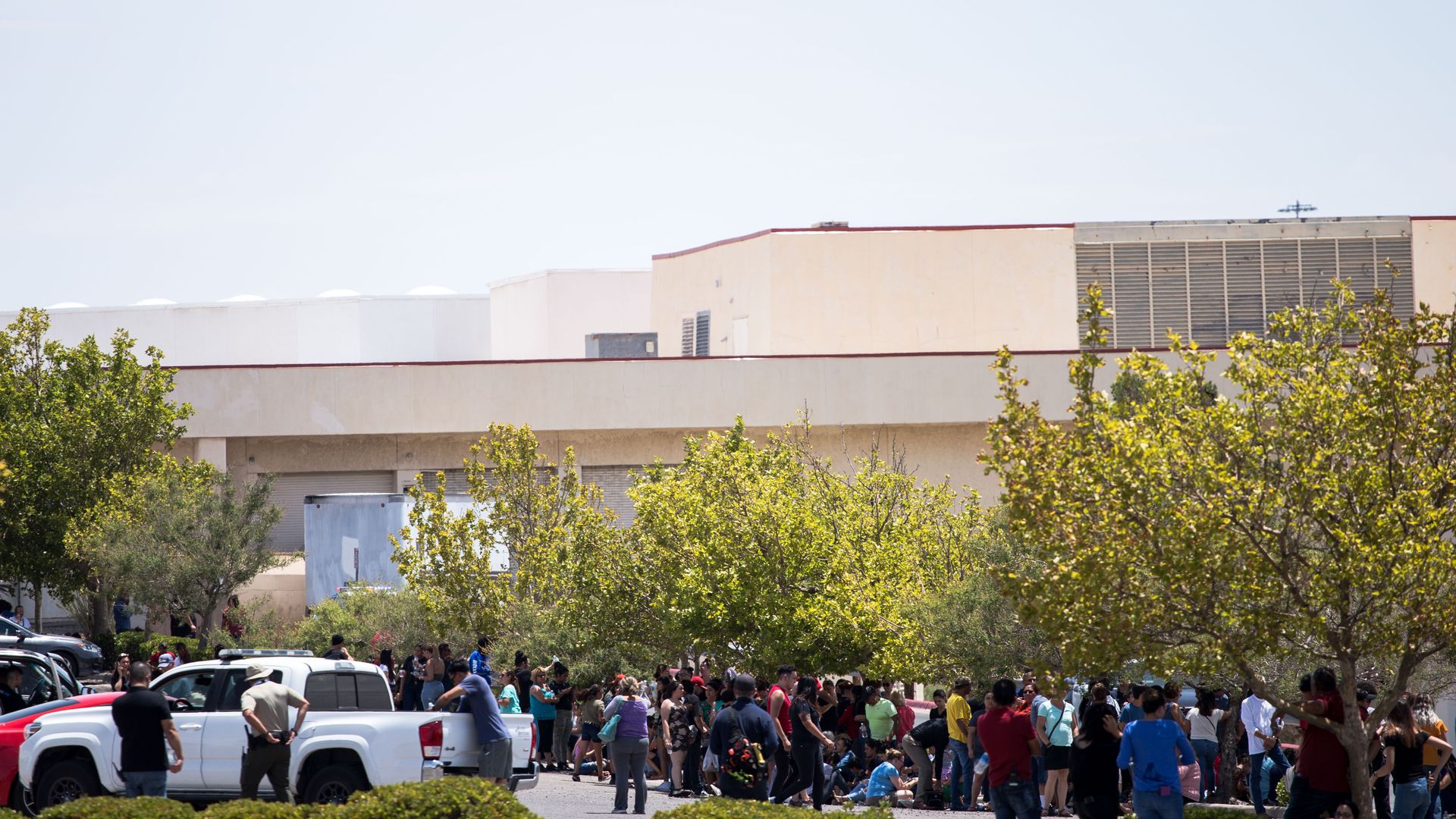 No, it's not too soon, post this mass shooting to talk about the need for sensible gun control measures, and to lay at least partial responsibility, at the feet of President Trump and those GOP sycophant lawmakers who've been mum about his trafficking in racist/ anti-immigration hate speech.
This is developing into a "domestic terrorism" case. As the Texas Governor Gregg Abbott originally addressed this mass shooting as a mental health issue, you can count on GOP lawmakers doing likewise, as they're following their "marching orders."
As per a 8/3/2019 NY Times report, "Law enforcement officials are studying an anti-immigrant manifesto to determine whether it was written by the gunman, according to a local law enforcement official who has been briefed on the investigation. Given the manifesto's racially extremist views, it could make the killings a federal hate crime or an act of domestic terrorism if officials determine that it is tied to the shootings." The shooter did not survive.
Here's the rest of this developing story. This post will get updated..
As per the 8/3/2019 NBC report, "El Paso shooting: At least 19 people dead, 40 injured, suspect in custody, police say" by Andrew Blankstein and Minyvonne Burke, "A gunman opened fire Saturday (8/3/2019) in a Walmart and around a nearby shopping mall in El Paso, Texas, leaving at least 19 people dead and 40 injured, and prompting calls for urgent blood donations for the wounded, law enforcement officials said."
"Employees and shoppers described scenes of confusion and fear as they realized the sudden loud noises they heard were not boxes being dropped or construction but gunshots."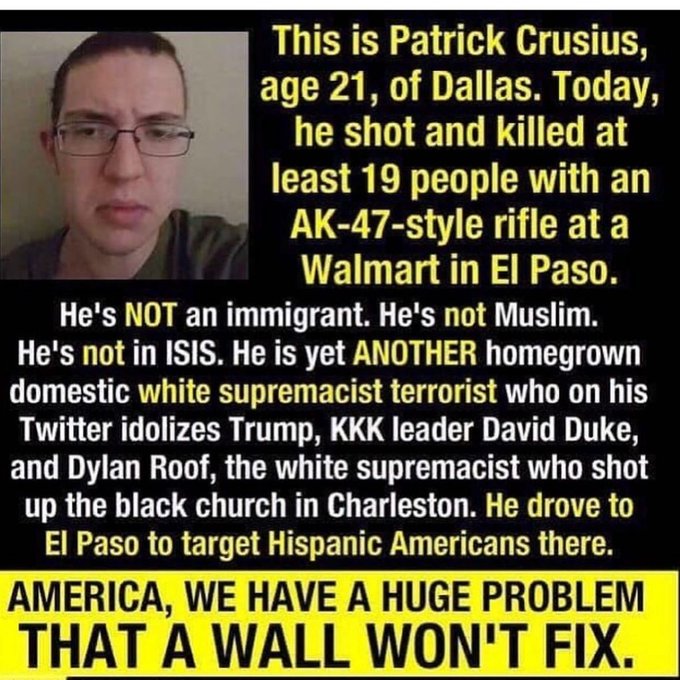 "One suspect was in custody, officials said. Law enforcement sources say police identified the suspect as Patrick Crusius, 21, from the Dallas area. Sgt. Robert Gomez of the El Paso Police Department said no shots were fired by law enforcement."
"Multiple senior law enforcement officials believe Crusius posted a screed online just prior to the attack. They say investigators are examining a posting they suspect is from him but that they have not officially confirmed it."
What we know so far:
"The shooting took place in a Walmart and around the nearby Cielo Vista Mall in El Paso."
"Police received their first calls on the incident slightly past 10 a.m. local time."
"At least 19 people were killed and 40 injured."
"Police put out an urgent call for blood donations in light of the high number of injuries."
"One male suspect is in custody, along with a second person whose suspected role in the shooting was not immediately known."
"Close to the Mexican border, the retail area around the Cielo Vista Mall is a popular shopping destination for people on both sides of the dividing line, as evidenced by the Texas and Mexican license plates in the parking lots, although the crackdown at the border has cut down on some of that consumer traffic."
"In several tweets, police initially urged people to stay away from the area, but by 1 p.m. said there was no imminent threat."
"A Walmart employee told NBC affiliate KTSM in El Paso that she was working by the self-checkout when gunshots rang out. The employee, who only wanted to be identified by her first name, Leslie, said she initially thought boxes had been dropped."
"I thought it was just like loud boxes being dropped or something, until they got closer and closer," she said. "That's when I looked at my co-worker,  like shocked and scared."
"I got all the people that I could, I even found a little girl that was missing from her parents, and I got her, too. I tried to get as many people as I could out," the Walmart worker said."
"Adriana Quezada, 39, was in the store with her 2 children when the shooting began."
"I heard the shots but I thought they were hits, like roof construction,"she told the AP."
"In a tweet Saturday (8/3/2019) afternoon, Walmart said it was "in shock."
"Authorities on (8/3/2019) asked for those who want to help to consider going to area blood donation centers."
"Blood needed urgently," El Paso police tweeted. "Multiple injured transported to various hospitals."
"A University Medical Center of El Paso spokesman said the victims had been taken to different hospitals. University Medical Center received at least 12 victims, many with "level one" injuries, which is the most serious level, spokesman Ryan Mielke said."
"He said 2 children, ages 2 and 9,were taken to El Paso Children's Hospital and their conditions were stabilized."
"At another hospital, Del Sol Medical Center, an official said 11 victims ranging in age from 35 to 82 years old had been transported there."
"A reunification site for families of possible victims was set up at a local school."
"Democratic presidential hopeful Beto O'Rourke of El Paso urged residents in El Paso to "stay safe."
"Truly heartbreaking," he wrote in a tweet. "Please follow all directions of emergency personnel as we get more updates."
"The FBI and the Bureau of Alcohol, Tobacco, Firearms and Explosives responded to the scene to assist the El Paso Police Department."