The word is out. A mass protest is being scheduled for the 21st of September 2019 in Washington DC. I have already booked my SW flight and a Washington DC hotel room. My sign won'thave enough space to list all my grievances against the republican President Donald Trump and his GOP cronies.
@Amy_Siskind tweeted following on 8/8/2019:
We are a go! WE THE PEOPLE MARCH in DC on September 21!
@KarMcR
and I are working with fab volunteers to get a website up in next few days. We will list solidarity marches, transport folks are arranging to get to DC & info on the march itself, etc. Stay tuned!
#WeThePeopleMarch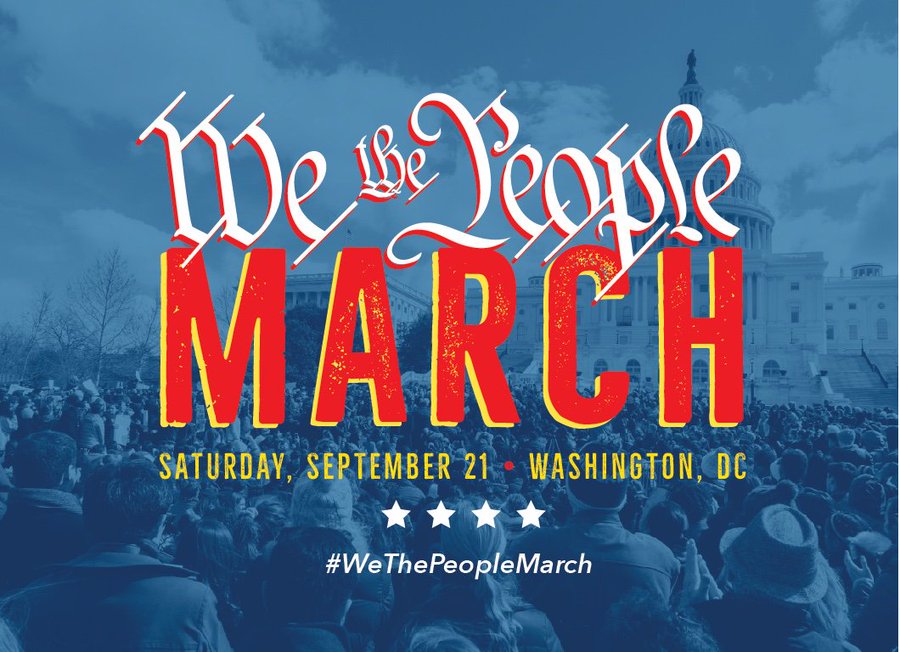 ***
"Mission: "We the People are marching to be seen and heard. We are marching to remind our elected officials that they work for us. We are marching because Donald Trump is a threat to our democracy and values. We are marching to demand action. Silence and inaction are complicity. "
***
"We also have set up a Facebook event page for the We the People March in DC. You can use it to invite friends and spread the word. We will also post updates on this page. Give us a bit to get the website up as well!
#WeThePeopleMarch
facebook.com/events/4614901…"
***
Wouldn't those GOP members trafficking in racism, anti-immigration sentiment against peoples of color, anti-Muslim rhetoric, as a siren call out to their base of voters to get them to the voting booths in 2020, just love it if "We the People,"  those resisting the Trumpian Republican Party's movement towards an authoritarian governing style, the coalition of the decent from left to right, just gave up resisting. Apathy is not an otion for us.
No bloody way! Yes, I've been grieving over the direction of our country but I'm at the anger stage. It's time for us to take our stand, Enough is enough!
This Trumpian Republican Party has become a party that not only condones, tolerates racism/ White Supremacist thinking/  within its ranks but it now promotes fear via forms of hate as weapons to be used in the political arena. What's become disheartening to most of us who've been resisting this White House's trafficking in racism and all the other isms, is the deafening silence by those GOP elected officials and their supporters, who are either willing participants in this trumpeting of racism or they're complicit by their silence, in order to help President Trump squeak out an electoral college map victory in 2020.
Yes, I'm still grieving over the summer mass shootings in El Paso, TX, Dayton, OH, and at the California Gilroy Garlic Festival between 7/28- 8/4/2019, being investigated by the FBI as domestic terrorism cases.
But I"m also past enraged over President Trump ordering raids (8/7/2019) by ICE in Mississippi to round up undocumented laborers while their children were attending their first day of school, to incite terror in the hearts of children as many learned their parents would not be picking them up after school.
For video see: CNN affiliate WJTV
As per 8/7/2019 CBS report, "Sobbing 11-year-old girl begs for dad's release after massive ICE raid"
Excerpts:
"After ICE agents took approximately 680 workers at seven Mississippi food processing plants into custody on Wednesday  (8/7/2019) in the largest single-state immigration raid in U.S. history, 11-year-old Magdalena Gomez Gregorio tearfully begged for her father's release."
"Government please show some heart, let my parent be free with everybody else please…" she said through sobs. "…My dad didn't do nothing. He's not a criminal."
"Gregorio's father was one of hundreds of undocumented immigrants rounded up by ICE during the raids, which had apparently been planned for more than a year. The raids occurred just hours before President Trump met with victims of the El Paso mass-shooting.-
"During the raids, several hundred agents surrounded the perimeters of the food processing centers to prevent people from leaving. One by one, the agents forced workers to put all their belongings into plastic bags and then tied their wrists together with plastic bands. The agents then put them onto buses and brought them to a Mississippi National Guard processing center to await their fate. The 11-year-old and other children of those arrested stayed at a community center gymnasium overnight."

"While we do welcome folks from other countries, they have to follow our laws," U.S. attorney Michael Hurst  said."
"After the operation, Hurst issued a stark warning to businesses: comply with the law, or we're coming after you."
"Wednesday's raid marks the largest-ever workplace raid in one state, surpassing a 2008 Mississippi plant operation where 595 immigrants were arrested."
"It's going to have an effect for years and years," said Patricia Ice, the legal projects director of the Mississippi Immigrant Rights Alliance.
"We're hoping that most of the people will be released and sent back home," Ice added. "Some of them may be fitted with ankle monitors… and receive notices to appear at the immigration court in the future."
"These raids occurred on the first day of school for many of the children whose parents were arrested. "
This raid was orchestrated to instill fear in the hearts of the Latino communities.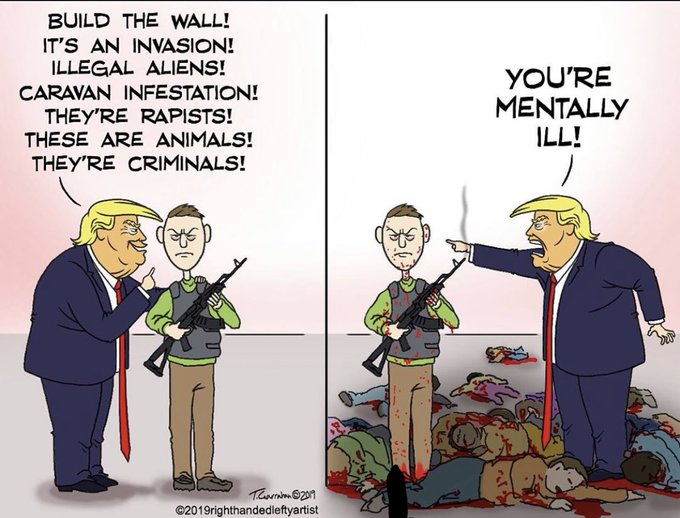 And these summer 2019 mass shootings were predictable and preventable. President Trump and his Trumpian Republican Party members marketing in hate speech as a 2020 campaign strategy, finally bore fruit with the most fatalities (22) against the Latino population in US history, with the mass shooting event on 8/3/3019 in El Paso, TX, which is being defined as an act of White Nationalism/ White Supremacists' domestic terrorism. The El Paso mass shooter's ramblings posted on-line before he went on his killing rampage, were almost identical to the Twitter racist rants issued by our president on a regular basis.
(Using the definition of where a shooter's actions result in  more than 3 fatalities, there have been 32 mass shootings this year in 2019.) This same tragedy has been inflicted on our nation 250 times this year alone.
Within a few hours after 3 mass shooting tragedies, the president and his GOP sycophants working in the White House and the US Congress were observed obeying their marching orders by spreading the GOP familiar, tried and true talking points along the lines, that these mass shootings were executed by young men with "mental health" issues; and/ or who spend too much time playing violent video games.
Around July 23, 2019, the FBI Director Chris Wray did warn the American public during a US congressional hearing that there's been an increase in domestic terrorist crimes since 2017, and most have been committed by those motivated by White Supremacist type thinking.