There are the talking points that all Congressional GOP members, with a couple of exceptions, have down to a science.
Here it is:
"The transcript of the 7/25/2019 phone call between the republican President Donald Trump and the newly elected Ukrainian President Volodymyr Zelensky proves that nothing was mentioned which could be construed as a quid pro quo deal. The Democrats have overreached by initiating impeachment proceedings on the basis of this phone call. It's a nothing burger. "
But most prosecutors who handle organized crime cases explain that quid pro quo agreements are never direct. Cases aren't made involving the direct wording like, "this is a "quid pro quo" deal. If you pay $5,000 per month, we will not burn down your house and kill your family.
Here's the relevant portion that portents a quid pro quo deal based on USA Today's transcript of president's 7/25/2019 phone call with President Zelenski:  five-page transcript:
The President: "Well it's very nice of you to say that. I will say that we do a lot for Ukraine. We spend a lot of effort and a lot of time. Much more than the European countries are doing and they should be helping you more than they are. Germany does almost nothing for you. All they do is talk and I think it's something that you should really ask them about. When I was speaking to Angela Merkel she talks Ukraine, but she doesn't do anything."
"A lot of the European countries are the same way so I think it's something you want to look at but the United States has been very very good to Ukraine. I wouldn't say that it's reciprocal necessarily because things are happening that are not good but the United States has been very very good to Ukraine."
President Zelenskyy: "Yes you are absolutely right. Not only 100%, but actually 1000% and I can tell you the following; It turns out that even though logically, the European Union should be our biggest partner but technically the United States is a much bigger partner than the European Union and I'm very grateful to you for that because the US is doing quite a lot for Ukraine. Much more than the European Union especially when we are talking about sanctions against the Russian Federation."
"I would also like to thank you for your great support in the area of defense. We are ready to continue to cooperate for the next steps specifically we are almost ready to buy more Javelins from the United States for defense purposes."

The President: "I would like you to do us a favor though because our country has been through a lot and Ukraine knows a lot about it. I would like you to find out what happened with this whole situation with Ukraine, they say Crowdstrike… I guess you have one of your wealthy people… The server, they say Ukraine has it. There are a lot of things that went on, the whole situation. I think you're surrounding yourself with some of the same people. I would like to have the Attorney General call you or your people and I would like you to get to the bottom of it. As you saw yesterday, that whole nonsense ended with a very poor performance by a man named Robert Mueller, an incompetent performance, but they say a lot of it started with Ukraine. Whatever you can do, it's very important that you do it if that's possible."
President Zelenskyy: "For me as a President, it is very important and we are open for any future cooperation. We are ready to open a new page on cooperation in relations between the United States and Ukraine. For that purpose, I just recalled our ambassador from United States and he will be replaced by a very competent and very experienced ambassador who will work hard on making sure that our two nations are getting closer."
"I will personally tell you that one of my assistants spoke with Mr. Giuliani just recently and we are hoping very much that Mr. Giuliani will be able to travel to Ukraine and we will meet once he comes to Ukraine. I just wanted to assure you once again that you have nobody but friends around us. I will make sure that I surround myself with the best and most experienced people. I also wanted to tell you that we are friends. We are great friends and you Mr. President have friends in our country so we can continue our strategic partnership."
"I also plan to surround myself with great people and in addition to that investigation, I guarantee as the President of Ukraine that all the investigations will be done openly and candidly. That I can assure you."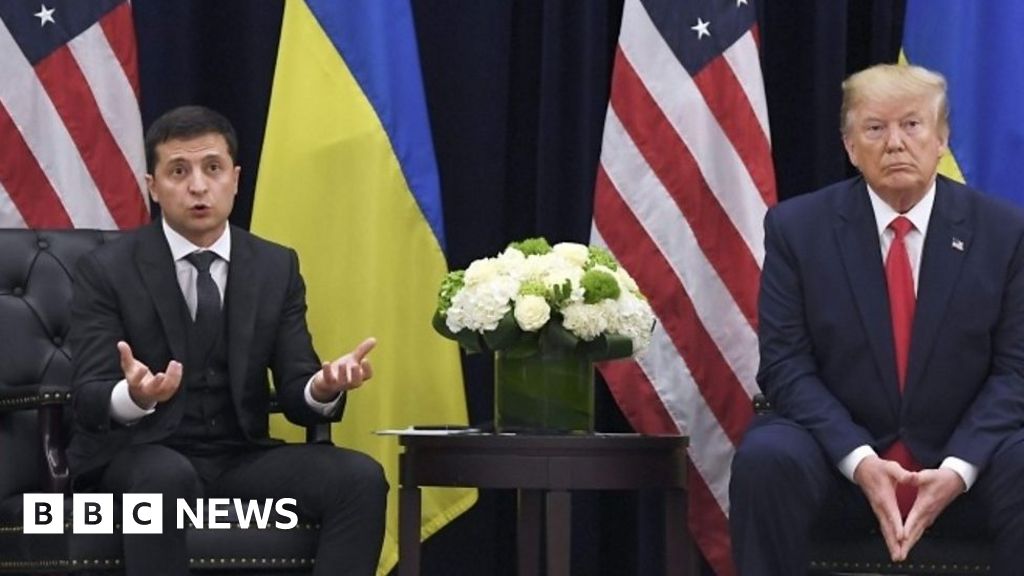 The President: Good because I heard you had a prosecutor who was very good and he was shut down and that's really unfair. A lot of people are talking about that, the way they shut your very good prosecutor down and you had some very bad people involved. Mr. Giuliani is a highly respected man. He was the mayor of New York City, a great mayor, and I would like him to call you. I will ask him to call you along with the Attorney General. Rudy very much knows what's happening and he is a very capable guy. If you could speak to him that would be great. The former ambassador from the United States, the woman, was bad news and the people she was dealing with in the Ukraine were bad news so I just want to let you know that. The other thing, There's a lot of talk about Biden's son, that Biden stopped the prosecution and a lot of people want to find out about that so whatever you can do with the Attorney General would be great. Biden went around bragging that he stopped the prosecution so if you can look into it… It sounds horrible to me.
President Zelenskyy: I wanted to tell you about the prosecutor. First of all I understand and I'm knowledgeable about the situation. Since we have won the absolute majority in our Parliament, the next prosecutor general will be 100% my person, my candidate, who will be approved by the parliament and will start as a new prosecutor in September. He or she will look into the situation, specifically to the company that you mentioned in this issue. On top of that, I would kindly ask you if you have any additional information that you can provide to us, it would be very helpful for the investigation to make sure that we administer justice in our country with regard to the Ambassador to the United States from Ukraine as far I as I recall her name was Ivanovich. It was great that you were the first one who told me that she was a bad ambassador because I agree with you 100%. Her attitude towards me was far from the best as she admired the previous President and she was on his side. She would not accept me as a new President well enough.
The President: Well, she's going to go through some things. I will have Mr. Giuliani to give you a call and I am also going to have Attorney General Barr call and we will get to the bottom of it. I'm sure you will figure it out. I heard the prosecutor was treated very badly and he was a very fair prosecutor so good luck with everything. Your economy is going to get better and better I predict. You have a lot of assets. It's a great country. I have many Ukrainian friends, their incredible people.
On the 25th of September 2019 President Trump and the Ukrainian President Zelensky held a press conference after a talk they had at the United Nations. The most clueless words uttered by President Trump, as President Zelensky sat stone-faced knowing that his soldiers have been fighting on a daily basis, pro-Russian forces in eastern Ukraine, were the following:
"I really hope that Russia—because I really believe that President Putin would like to do something—I really hope that you and President Putin can get together and solve your problem. That would be a tremendous achievement, and I know that you're trying to do that. "You've really made some progress with Russia. It'd be nice to end that whole disaster."
For review, it was Russian military forces which unprovoked, invaded Ukraine in 2014 and ended up annexing Crimea. This was after the Ukrainian peoples ousted a pro-Russian president Viktor Yanukovych who had his 2010 election victory managed by Paul Manafort. It turned out that the pro-Russian leader had won an election by promising to work to make Ukraine part of the EU, the European Union but when it became apparent that he lied, he was run out of town. This is why the US and the international community imposed serious sanctions against Russia.