As per a 9/26 CBS report: The House Intelligence Committee has released an unclassified version of the whistleblower complaint ahead of testimony by the director of national intelligence.
Axios tweeted following on 9/26/2019:
@axios
A footnote in the whistle-blower complaint claims that WH officials said it wasn't the first time that the Trump administration used a special computer system for protecting politically sensitive rather than national security sensitive information.
Whistle-blower complaint claims White House tried to hide Ukraine call memo in classified system. 
It also alleges this was not the first time the Trump administration did so.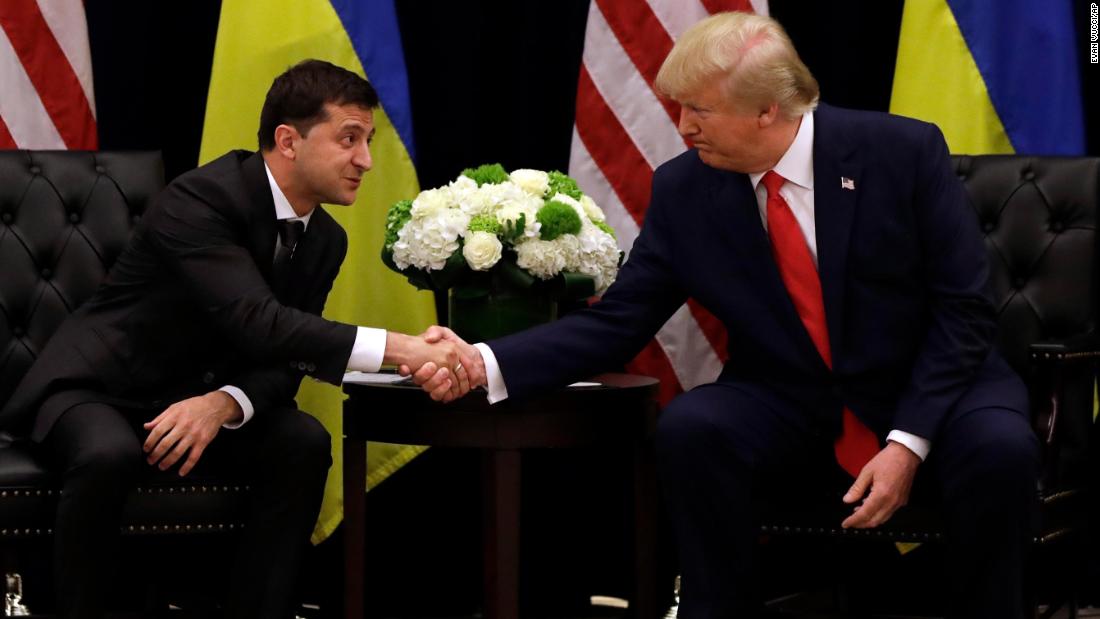 As per the 9/26/2019 Axios report, Whistleblower alleges Trump abused power to solicit foreign interference by Zachary Basu:
"The whistleblower complaint at the heart of a controversy over President Trump and Ukraine alleges that Trump "is using the power of his office to solicit interference from a foreign country in the 2020 election," and that Rudy Giuliani and Attorney General Bill Barr appeared to be involved in the effort as well."
Why it matters: "The Trump administration's initial refusal to turn over the complaint is what led to Speaker Nancy Pelosi's watershed decision on Tuesday (9/24/2019) to finally support a formal impeachment inquiry. Likely as a result of pressure from that announcement, the administration released both the complaint and, earlier in the day, a summary of Trump's July phone call with Ukrainian President Volodymyr Zelensky."
On 23rd September 2019, Lawfare published OLC Office of Legal Counsel's opinion detailing the legal rationale for their determination that "the complaint submitted to the ICIG does not involve an 'urgent concern'" and that the DNI thus had no statutory obligation to give the complaint to the congressional intelligence committees. The memo can be found here.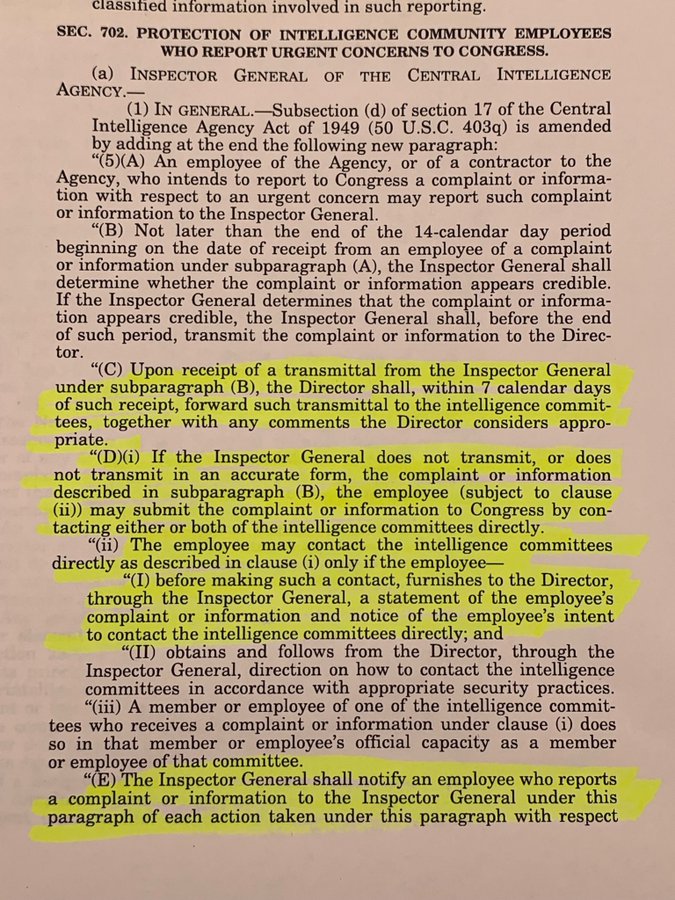 Here's what we learned in Thursday morning's (9/26/2019) public hearing.when the Acting Director Joseph Maguire of the National Intelligence testified before the House's Intelligence Committee, as per the 9/26 Washington Post report, "What we learned from Joseph Maguire's testimony about the whistleblower complaint" by Amber Phillips:
Maguire doesn't think he did anything wrong in keeping the complaint from Congress
"He says he followed protocol: He got a whistleblower complaint that he immediately regarded as "serious," detailing allegations of abuse of power by the president. So Maguire went to the White House's lawyers to make sure it wouldn't fall under executive privilege. Then he went to the Justice Department's lawyers to get their advice about whether this complaint was "urgent" enough to require being sent to Congress. And they decided it wasn't, so he couldn't. "I have to work with what I got," he said."
"The problem with how Maguire handled this, Democrats argue, is that he failed to take into context the politics of the moment. This isn't a typical whistleblower complaint; those normally deal with bad-acting middle managers. It's a complaint against the president of the United States."
"Do you think it's appropriate that you go to a department run by someone who's the subject of the complaint to get advice — or who is a subject of the complaint or implicated in the complaint for advice as to whether you should provide that to Congress? Did — did that conflict of interest concern you?" asked House Intelligence Committee Chair Adam B. Schiff (D-Calif.)."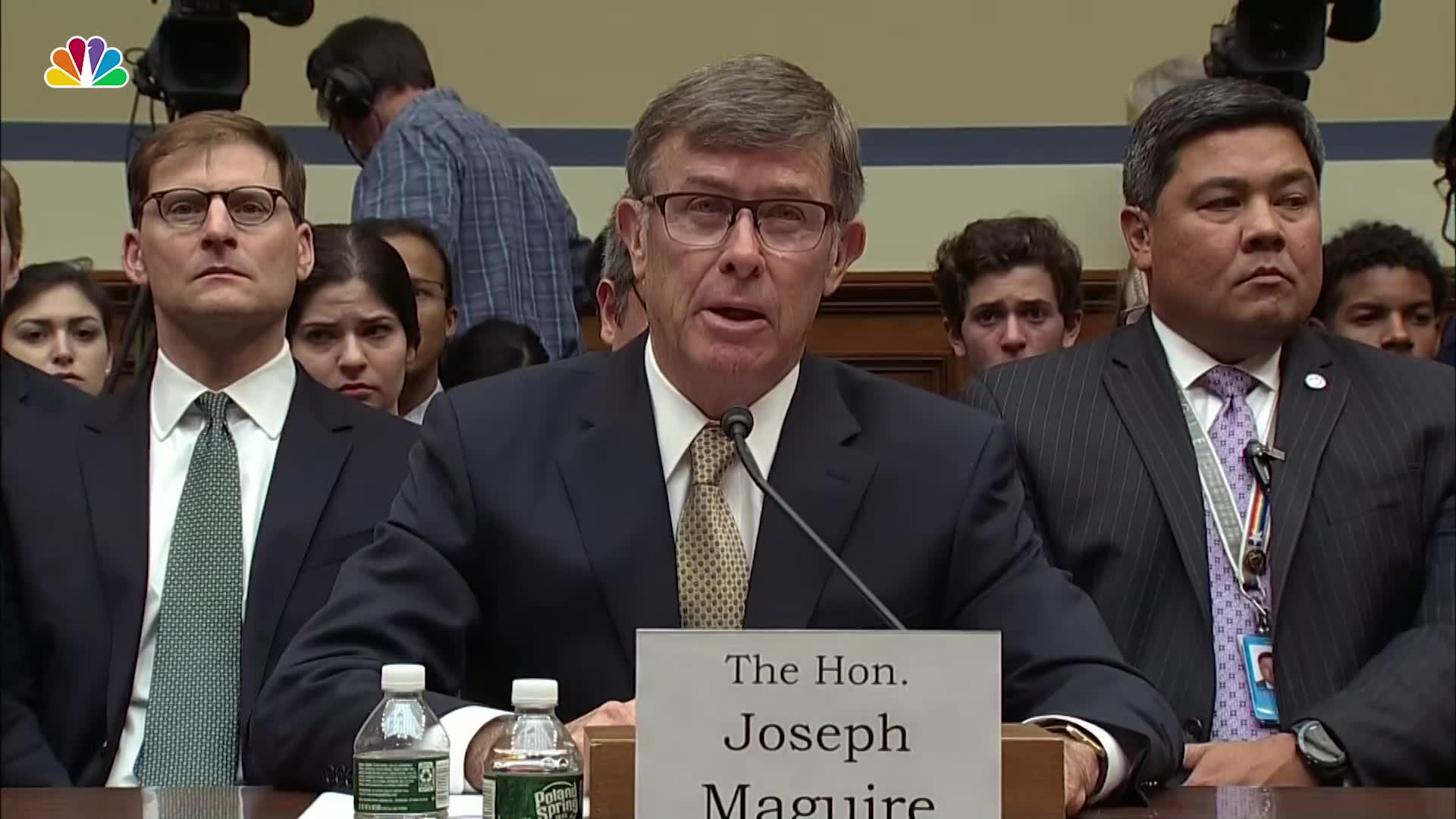 Maguire refused to say whether he talked to the president about the complaint
"Maguire said all conversations he has with the president are secret, so he wouldn't share whether he talked about the complaint with the president. He also didn't deny that they had that conversation, repeatedly saying under questioning from Democrats: "I speak to the president about a lot of things, and anything that I say to the president in any form is privileged."
Maguire didn't do anything to fuel attempts to discredit the whistleblower
"Trump's Republican allies in Congress glommed onto (IG referring to the whistle-blower as having "arguable political bias), and Trump himself has called the whistleblower, without knowing his or her identity, "a political hack."
"But under questioning from Schiff, Maguire backed up the whistleblower's credibility."
SCHIFF: "You don't believe the whistleblower is a political hack?"

MAGUIRE: "I believe the whistleblower is operating in good faith and has followed the law."
"A few minutes later:"
SCHIFF: "Do you have any reason to accuse him or her of disloyalty to the country or suggest he is beholden to anything else but the country?"

MAGUIRE: "Absolutely not. I believe the whistleblower followed the steps every way."
At least one Republican said the transcript of the call was not okay
"Here's Rep. Michael R. Turner (R-Ohio), when he got his turn to speak, addressing the president directly: "This is not okay. That conversation is not okay, and I think it's disappointing to the American public when they read this transcript."
"At this point, we can count on our hands the number of Republican lawmakers who have publicly criticized the president for this call."
But most Republicans were backing the president
"Especially the top Republican on the intelligence committee, Rep. Devin Nunes (R-Calif.). He used his five-minute opening statement to accuse Democrats of working with journalists to try to overturn the 2016 election and connect the matter at hand to other ways Trump allies think Democrats are conspiring to get rid of Trump."