The president knowing that his actions of imploring Foreign governments to assist him with opposition research against his nemesis, VP Joe Biden for his own personal benefit, was about to become public, he was forced to come out openly swinging, admitting that he has made multiple requests to foreign officials to seek evidence to prove how corrupt his likely Democratic Party presidential opponent VP Biden has been, despite the president having been advised that he had been basing his current ineffective tactics on debunked la-la land conspiracy theories by numerous credible sources experts who work for him.
The GOP current talking point about how the US president was attempting to force Ukraine to allegedly stamp down on corruption while he held up aid to Ukraine, which translates to there being no quid pro quo transaction. This is an outright lie and the press needs to highlight how misleading this assertion is.
President Trump is flaunting his ability to break laws with impunity as his voters are still loyal to him.
The president's former Homeland Security Adviser Thomas P. Bossert and the president's US envoy to Ukraine, Kurt Volker who recently resigned amid this Ukraine scandal, have both told about how they tried on multiple occasions to warn President Trump that he was acting on bad information but he wasn't listening. On 10/2/2019, Mr. Volker delivered to the US Congress, all documentation regarding the Ukraine controversy, including emails, texts, etc.
On October 11, 2019, the experienced, highly reputable US Ambassador to Ukraine Masrie/ Masha Yovanovitch who was forced out because she wouldn't play ball with the White House's mob crowd, is scheduled to testify before the US Congress where she would be predisposed to reveal all.
Here's the  memo of the phone conversation on 7/25/2019 between the republican President Trump and the recently elected  Ukrainian President Volodymyr Zelenskiy which reflects the president extorting the Ukrainian leader to conduct an investigation against his Democratic Party likely political opponent VP Joe Biden and his son Hunter who had been hired for a directorship position at a salary of $50,000 per month by a Ukrainian natural gas company, Burisma in 2014.
What's omitted and not understood by President Trump is that VP Joe Biden has integrity where he would always place the interests of the USA over any personal considerations.
It's a fact that the former Ukrainian President Petro Poroshenko from 2014-2019 has gone on the record to explain that VP Biden had pushed for the ouster of the prosecutor Viktor Shokin in 2016 at the behest of the International community, the IMF Monetary Fund, independent Ukrainian corruption fighters and many of the current GOP US senators like Senator Ron Johnson because Mr. Shokin had refused to investigate corporations owned by pro-Russian sympathizers which included the company, Burisma.
Yes, VP Biden tied the firing of Mr. Shokin to the US delivering aid to Ukraine. The difference is that President Biden was acting at all times to represent the best interests of USA and not for his own personal selfish needs versus President Trump's strategy of holding up military aid to Ukraine until its officials agreed to provide opposition research against his political rival, for his personal political benefit during an election season.
Proof:
Trump officials drafted statement for Ukraine leader pledging investigation involving Biden, Clinton. hill.cm/52tEzKA
On 10/3/2019 CNN's Manu Raju tweeted the following:
As per 10/4/2019 NY Magazine report,
"Republicans' 'No Quid Pro Quo' Defense of Trump Collapses With Release of Volker Texts
" by Matt Stieb:
Excerpts:
"Last week, as Republicans scrambled to defend the president against the evidence of his plot to pressure Ukraine into investigating the Bidens in exchange for $391 million in military aid, they accidentally sent their talking points to Democrats in the Senate and House. One of the talking points stated: "Let's be clear, there was no quid pro quo for Ukraine to get U.S. aid in exchange for looking into Biden or his son."
"Late on Thursday, that argument collapsed when leaders of the House impeachment inquiry sent a public letter to House lawmakers, including 22 pages of text messages that former envoy to Ukraine Kurt Volker provided in his House testimony — messages that he sent to European Union ambassador Gordon Sondland, Ukrainian administration staff, and former Ukraine ambassador Bill Taylor."
As per 10/4/2019 NYT, " Lawmakers from both parties continued (on 10/4) to try to make sense of a tranche of text messages between American diplomats and a top aide to the Ukrainian president. Those text messages were released late Thursday night (10/3/2019), and called into question the truthfulness of Mr. Trump's claim that there had been no quid pro quo attached to his pressing Ukraine to investigate former Vice President Joseph R. Biden Jr., his son and other Democrats.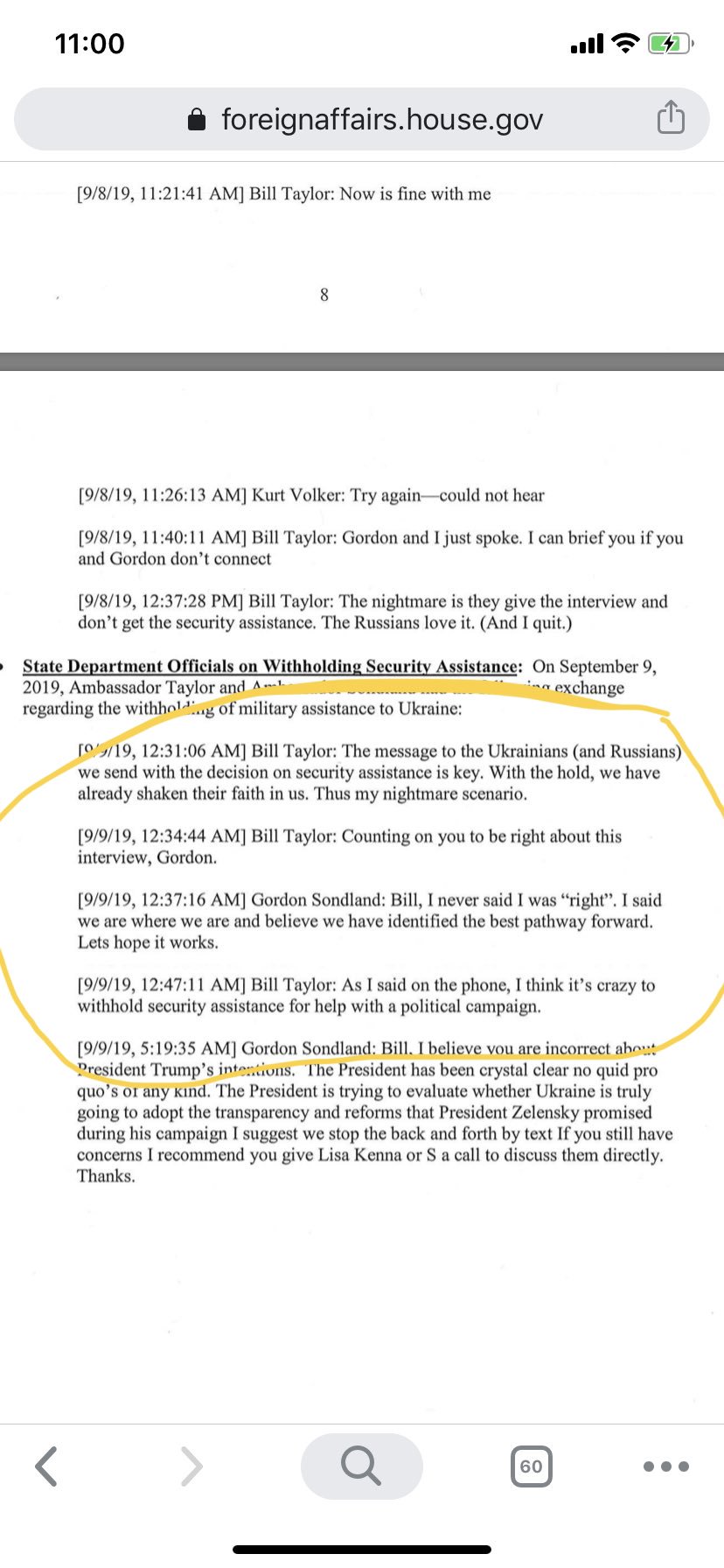 The president knowing that his imploring of Foreign governments to assist him with opposition research against his nemesis, VP Joe Biden would soon become public knowledge, came out publicly announcing his plans to continue this activity while he dares the House to impeach him, knowing full well that the US Senate, led by a majority of GOP lawmakers won't allow him to be removed from office.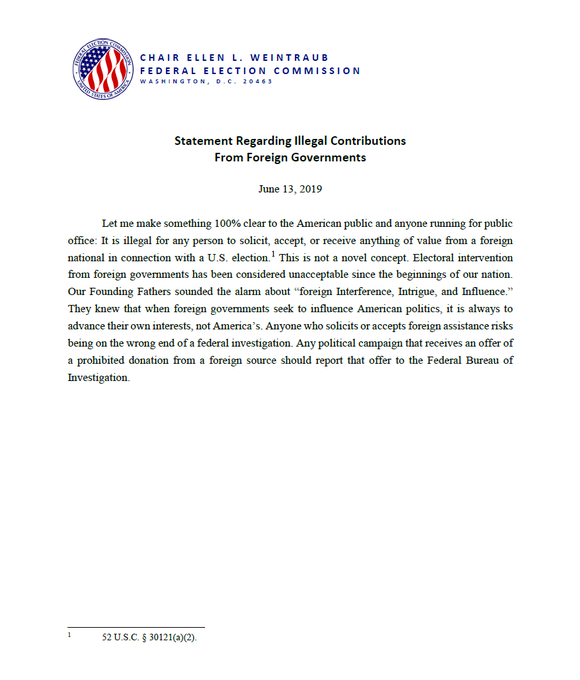 By the time, the US Senate is expected to take over the impeachment proceedings, the public needs to be fully educated about all the president's attempts to deal with foreign government leaders by pushing solely his personal interests in exchange for any advantage these officials could derive from the US.
The (FEC) Federal Elections Commission Chair Ellen E. Weintraub has gone on the record to remind the GOP lawmakers on Twitter, that it is illegal (a crime) for anyone running for public office to solicit help from a foreign national related to a US election, end of story. Any quid pro quo issues would simply be icing on the cake.
Here's the rest of the story…
As per the 10/2/2019 updated Daily Beast report, "Ukraine's Top Independent Corruption Fighters Shocked by Trump's Phone Call—and His Ignorance" by Anna Nemtsova
Excerpts:
"As The Daily Beast reported, "Trump is referencing a conspiracy theory pushed by Russian trolls and far-right pundits that imagines the Democratic National Committee fabricating all the evidence in Russia's 2016 breach of the DNC network." No doubt Zelensky was confused."
"Daria Kaleniuk, one of Ukraine's most respected independent corruption fighters, says she was "deeply upset" when she saw the partial transcript. She studied financial law in the United States and has looked up to the country as a paradigm of democratic rule. She said she had not thought the situation there was so degraded."
"But Trump also plugged for his personal lawyer, former New York Mayor Rudolph Giuliani, who appears to be acting as a consigliere at the center of the effort to shift attention to Ukraine and the Democrats, and away from Russia's well-established efforts to help Trump get elected in 2016. Giuliani has said publicly many times in recent days that his aim was to uncover incriminating information about the Bidens."
"This scandal is harmful for Ukraine," said Kaleniuk. "Don't forget, we are at war with Russia," she said, suggesting that Russian President Vladimir Putin must be enjoying the current storm of news over Ukraine."
"Among the many cases Kaleniuk has watched over the last five years is that of Burisma, a natural-gas company that named then-Vice President Joe Biden's son Hunter Biden, well known as something of a black sheep, to its board in 2014."
"But the transcript made it clear to Kyiv's anti-corruption experts that Trump really had very little idea what he was talking about."
"Zelensky tried in general terms to assure Trump the new administration in Kyiv would be serious about fighting corruption. "Good," said Trump, "because I heard you had a prosecutor who was very good and he was shut down and that's really unfair. A lot of people are talking about that, the way they shut your very good prosecutor down and you had some very bad people involved. … There's a lot of talk about Biden's son, that Biden stopped the prosecution and a lot of people want to find out about that …"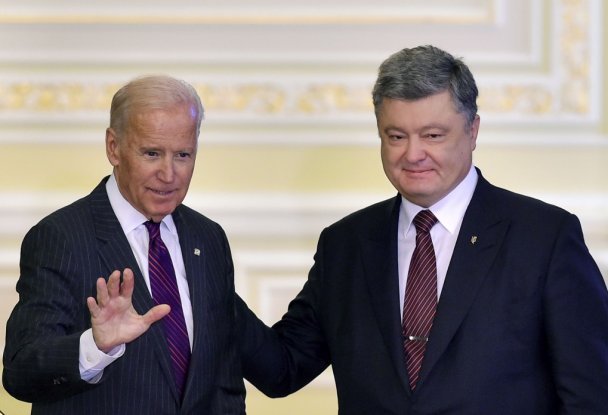 "Prosecutors in Ukraine have been infamous for using the state's power to investigate crimes, then demanding a payoff, and closing the case."
"Kaleniuk notes that 3 Ukraine prosecutor generals—Vitaly Yerema, Viktor Shokin, and Yuriy Lutsenko—"have dumped the Burisma case, each in his turn, one after another. I don't think Mr. Trump knows the name of the 'very good' prosecutor he was talking about."
"One of Ukraine's recent prosecutor generals, Yuriy Lutsenko, closed the Burisma investigation himself "when there was still a chance to define the truth" and then gave an interview to the Washington website The Hill  complaining it was the U.S. ambassador to Ukraine, Marie Yovanovitch, who gave him a "do not prosecute" list."
"That is the exact opposite of what happened in the case, which Kaleniuk has followed closely."
"She is convinced that Trump and his helpers had been preparing the Biden "scandal" for a long time. "They started plotting it in October 2018, possibly even earlier," she said. One of the messages Lutsenko conveyed, Kaleniuk told The Daily Beast, was that Giuliani had consulted with Lutsenko, Ukraine's then-prosecutor general, for months."
"Trump and Giuliani needed him to convey a message that Ukraine had intervened in American elections," she said. "Lutsenko and prosecutor Konstantin Kulik have been giving Giuliani information with an agenda to save their careers, inventing the story about the Biden investigation."
"In 2016, VP Biden demanded that Ukraine fire Prosecutor General Victor Shokin, who Trump might have called a "very good prosecutor," but he was seen by reformers in Kyiv as a disaster. A year earlier, Kalemniuk's watchdog organization had pushed to dismiss Shokin for neglecting multiple corruption cases."
"Here's why I do not say anything about Hunter Biden," Kaleniuk explained. "Vice President Biden called for Ukraine to fire Shokin not because of the Burisma investigation, absolutely not, but because Ukraine's prosecutor general did not investigate Burisma. U.S. Ambassador Geoffrey Pyatt insisted [in early 2016] that Shokin should be investigating Burisma. The U.S. government had a clear position: The Burisma probe was killed by Shokin." And the U.S. thought it and other cases should not have been closed."
"Under the circumstances, and hopeful that Zelensky is as serious about reforms as he has said, Kaleniuk said she understood his reaction to Trump: "The leader of the most powerful state, our biggest partner, called with a request, so Zelensky tried not to contradict any of Trump's words, agreed with everything."
"Many in Ukraine were upset by revelations of Zelensky's "painful" answers to Trump, especially when Zelensky said: "The next prosecutor will be 100 percent my person, my candidate, who will be approved by parliament and will start as a new prosecutor in September."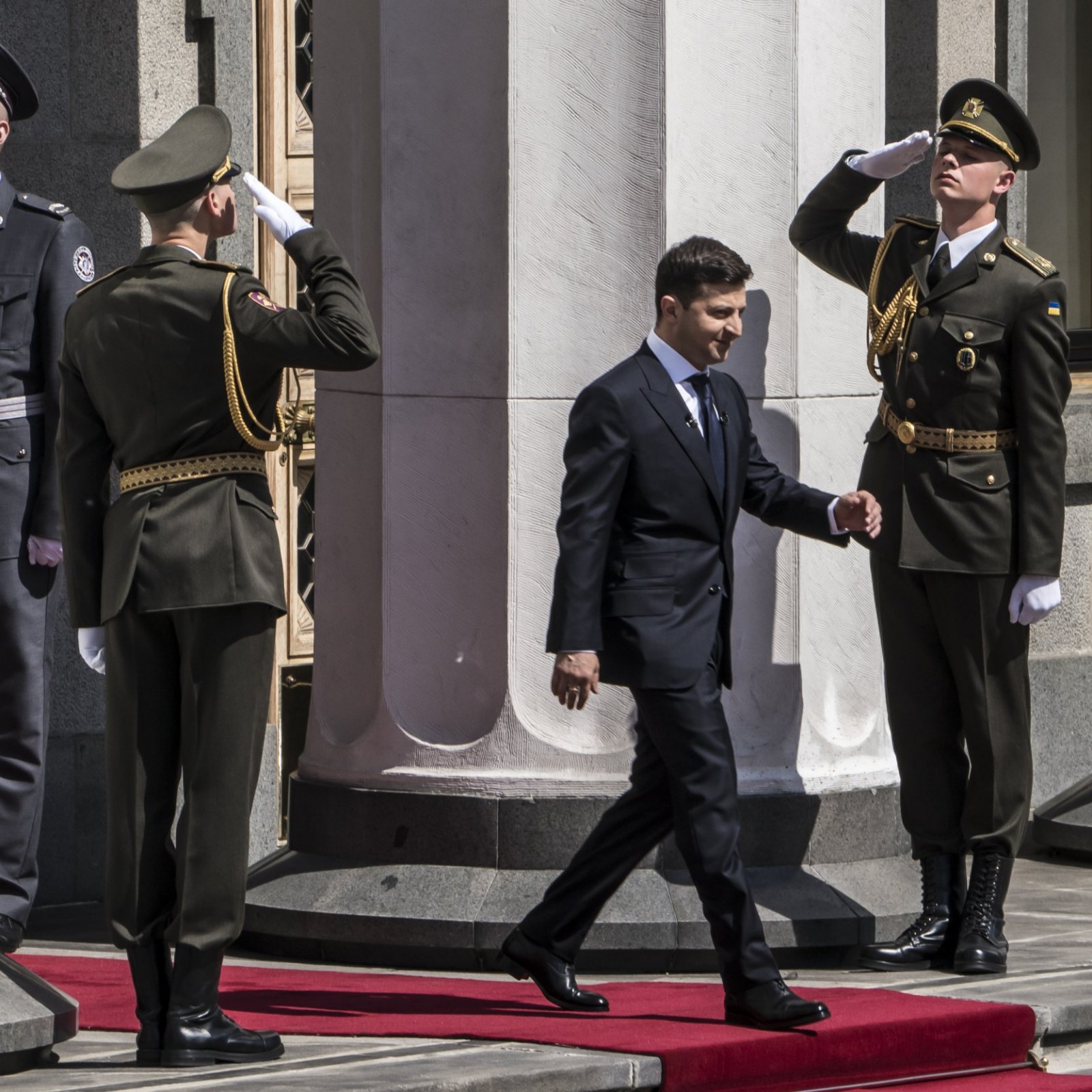 "Journalists at the Hramadske television network were arguing emotionally in the newsroom Wednesday night."
"Andrey Saychuk, one Hramadske correspondent, told The Daily Beast he wondered how the newly appointed prosecutor, Ruslan Ryaboshapka, must feel about the way Zelensky talked about the question of his independence."
"During the Trump-Zelensky press opportunity at the United Nations in New York on Wednesday, Zelensky said he was not "pushed" by Trump in the July phone call, but the pressure on him was obvious. "I am sorry, but I don't want to be involved in the elections in USA," he said."
"We should keep our distance from this highly political Burisma case used in the political massacre in United States, any move on it can be used for political purposes," Kaleniuk said. "Let American citizens and institutions judge whether their president was pushing Zelensky or not."
As for Hunter Biden, his affiliation with Burisma seems at a minimum to have been ill-considered. The oligarch behind the company, Mykola Zlochevsky,  was the minister of ecology and natural resources from July 2010 until April 2012 under the hugely corrupt pro-Putin President Viktor Yanukovych, overthrown by the Maidan revolution in 2014. (One of his close advisors was Trump campaign chairman and international political operative Paul Manafort, now serving a seven and a half year prison term in the United States.)
"Zlochevsky used his authority to give his own company licenses— basically the minister gave himself a permit for producing natural resources, and the licenses are at Burisma Holding," said Kaleniuk."
"When Hunter Biden started working with the company in May 2014, it had just had its assets frozen in the United Kingdom, where it was investigated for money laundering."
"I realize that it's very strange that Hunter Biden was working for Burisma," says Kaleniuk. "I might be the first one to say bad things about Joe Biden's movements in regard to this case, but I don't."
"Why? Because far from trying to protect his son from the broader investigation that might establish Hunter received money gained illegally by Burisma's founder,  "Joe Biden wanted to prove it," that Burisma was crooked. "He tried to make Shokin investigate that," Kaleniuk said."
"One thing should be clear for everybody today: Joe Biden wanted to fire the prosecutor who did not want to investigate Burisma, where his son was working. That is very important." Kaleniuk added that "everybody wanted Shokin fired."
"In May 2014, when Kaleniuk's watchdog group of progressive lawyers  discovered Hunter Biden on the board of Burisma Holding, they also found he was in interesting company. Poland's former President Aleksander Kwasniewsky was on that board, along with "a few retired CIA agents," Kaleniuk said. So many names. But, still, "It was strange for us to discover that Biden's son appeared to be working at Burisma, most probably as a façade to defend Zlochevsky's reputation."
"At a meeting with then-VP Joe Biden in the spring of 2014, Ukrainian corruption fighters told him about their many issues. "We didn't talk about Zlochevsky's corruption specifically, he was just one of the bastards who had robbed our country," said Kaleniuk. "It is unclear if the father Biden knew about [the investigation of] Burisma," she said."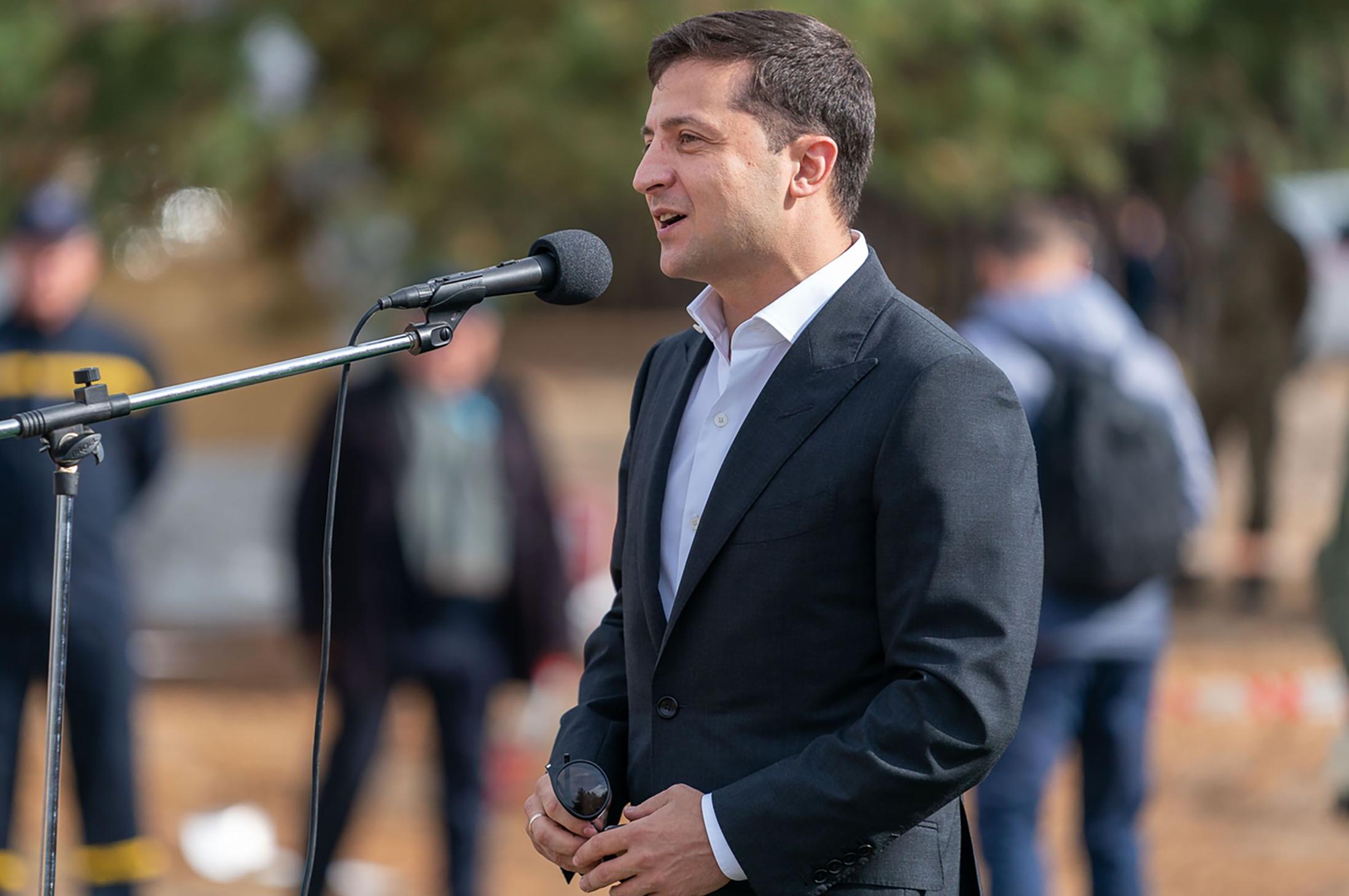 "At that time all foreign partners who tried to help Ukraine investigate corruption knew that both Shokin and his predecessor Vitaly Yarema had dumped the Burisma case. "The British embassy, the American embassy knew exactly what was going on. I think that Zlochevsky had to pay a lot for closing the case against him," Kaleniuk said."
Link to entire article: nymag.com/  Republicans' 'No Quid Pro Quo' Defense of Trump Collapses With Release of Volker Texts …