The below article by the New Republic gives a glimpse of what life has been like for Ukrainians with Russia as its neighbor.
For a quick cliff notes review, Ukraine became an independent country around 1991 when the Soviet Union had been dissolved.
Many of the Ukrainians still speak Russian. But any scuttlebutt about how the peoples of Ukraine want to be part of Russia is the product of a Russian disinformation campaign which the republican Donald Trump has willingly shared.
The truth is that the Ukrainians had revolted in 2014 against the then President Viktor Yanukovych who had won an election in 2010 with the help of Paul Manafort but he turned out to be a pro-Russian puppet. He had reneged on his campaign pledge to Ukrainians to work towards helping Ukraine in becoming a part of the EU European Union, and so thus, the peoples ran him out of town.
Russia's President Putin responded by launching an unprovoked invasion of Ukraine in 2014 whereupon President Putin proceeded to annex parts of Ukraine including Crimea where a Russian naval base on warm Mediterranean type waters is located. This bold move by Russia was declared to be an illegal act as per international laws. This is when the US and its allies imposed serious sanctions against Russia which President Putin has been diligently endeavoring ever since to have lifted. This is where his BFF, the US President Donald Trump was supposed to be helpful.
Here is the rest of the story…
On March 29, 2019, Geoffrey Cain of the New Republic penned the following report, "Ukraine's War on Russian Disinformation Is a Lesson for America" ("Forget the Mueller report. Russia is still meddling in democracies everywhere, and Ukraine is trying to fight back.")
Excerpts:
"The eighth and ninth graders didn't realize their teacher was wrapping another skill inside their classes: how to spot fake news and hate speech. Students learning about world history also learned about how propagandists could manipulate the historical narrative. Language and literature students learned about the political uses of language. Art students learned how to check whether photographs had been manipulated, or video footage was being deployed as an emotional weapon."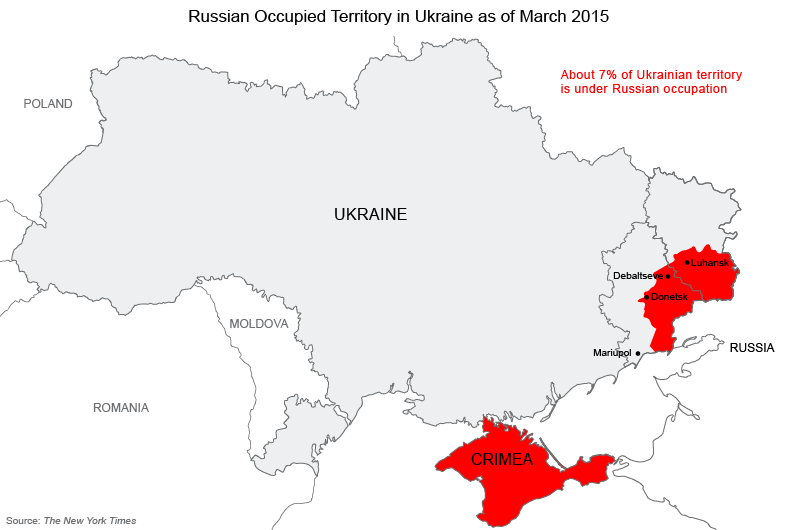 "Long before Russian fake news and troll farms roiled American politics, Ukraine was Russia's testing ground, a guinea pig in the bigger disinformation wars to come. Classroom education like this is one of the ways Ukrainians are fighting back. The education group IREX, working with the Ukrainian government, rolled out the pilot project Learn to Discern in 50 schools in four cities across the country in September 2018. Compared to students who didn't get these lessons, the group's report released last Friday declared, those receiving Learn to Discern training were twice as likely to detect hate speech, 18 percent better at identifying fake news stories, 16 percent better at sorting out fact from opinion, and 14 percent more knowledgeable about the role of the news media industry. IREX plans to expand its pilot curriculum to the U.S."
"Ukraine's story can be the U.S.'s biggest lesson for how to prepare for more Russian disinformation and cyber-warfare. Despite the now ample body of evidence that Russian internet campaigns were a significant force in the 2016 presidential election, the story began well before Trump's presidency, when Russian trolls and commentators began drumming up the idea of ethnic unity with the Crimea, the strategic land jutting out into the Black Sea. After protesters ousted the Russia-friendly president of Ukraine in February 2014, militias claiming to be acting in the name of the Russian majority of the Crimea seized the peninsula. The Crimea was annexed into Russia a few weeks later. The ongoing and little-covered civil war in eastern Ukraine has since amassed a death toll of more than 13,000."
"The Crimean annexation was an early masterstroke of fake news and pseudo-history that set the tone for what was to come—a Russian hybrid playbook of geopolitical and military advances into strategic regions alongside a propaganda war. Fake news plunged parts of Ukraine into a post-truth, alternate reality. President Vladimir Putin's disinformation machine convinced his supporters that fascists and enemies lurked everywhere, and that only Russia could protect its supposed brethren against the hysterical mobs in the capital, Kiev, agitating for Western imperialism."
"But if anything, Putin underestimated the resolve of Ukrainians, whose national identity—as a country founded only in 1991, with large regions historically a part of Poland, Russia, and the Ottoman Empire—turned out far stronger and more resilient than many thought. "Most Ukrainians recognize exactly what Russia is doing, and they don't like it," James Appathurai, the NATO Secretary General's Special Representative for the Caucasus and Central Asia, told me. Russian disinformation "is not succeeding," he said."
What, exactly, is Russia doing in Ukraine? Before the Crimea annexation, Russia's FSB security service took over the servers of a social media network popular in Ukraine, an easy venue for blasting propaganda, and giving it access to pictures, locations, and personal data on 16 million Ukrainians. In the year prior to the Russian navy's seizing of three Ukrainian ships in the Sea of Azov in November 2018, Russian propaganda spread falsehoods that Ukrainian authorities were dredging its seabed in preparation for the residence of a NATO fleet, and that Ukraine had infected the sea with cholera. Russian hackers have attacked the electrical grid, leading to crippling blackouts, and have attempted to gain access to electoral voting systems."
"When Putin unleashed similar disinformation tactics during the run-up to Trump's 2016 election, Ukrainian and Russian journalists knew the playbook, even as U.S. media were slow to take notice. By the mid-2010s, when the world was just realizing social media could be a destructive political force, the Ukrainian government was among the first to lobby hard for the help of Facebook and Twitter, only to get the brush-off. The social media sites have since realized their errors, taking down state-tied accounts in Russia and Iran; Facebook announced a ban on white supremacist content. Since 2014, Ukraine has stepped up its leaky cyber-defenses, upgrading its software systems and teaching government staff to recognize server attacks and viruses."
"Perhaps most interestingly, Ukraine has ferreted out fake narratives in bottom-up campaigns through projects like the IREX's training of eighth and ninth graders to spot fake news, and through the aggressive exposure of fake news on StopFake.org. It's also learned to treat media outlets like RT as state actors, rather than regular media companies, and has taken the brash step of blocking hundreds of websites without court orders, several of them popular Russian websites. In the West, such censorship would be unthinkable. But the U.S. has seen a movement to unmask and expose state propaganda actors, rather than let them operate in the same vein as any old news source. In 2017, RT registered as a foreign agent in the U.S. at the request of the Department of Justice. How many more propaganda arms remain unregistered?"
Volodymyr Zelenskiy, a comedian with no political experience whom Ukrainians are calling a populist, and whose supporters (voted) for him because they (were) fed up with corruption and Ukraine's sluggishness in joining the EU and NATO under the Poroshenko presidency.