It's under these heart wrenching times that those leaders who stand above the troubled waters flooding our US shores, remind us by their example, that we are strong enough to survive any hard moments in our US history with victory, just as we have in the past. That's why we gratefully come to count on their strength and guidance to help us hold unto the hope that these tough times will pass. But, they are missed, all the more, when they leave us behind to face the discordant music with courage and a purpose to not let their lives, be for naught.
I still miss the Republican Party icon, Senator John McCain who departed our US soil in 2018. But for now, he'll be met by the Democratic Party Civil Right's hero of the US House of Representatives, Rep. Elijah Cummings of Baltimore, Maryland who passed away on the 16th of October 2019, at the age of 68.
I suspect that the republican President Donald Trump has unconsciously chosen to viciously attack these 2 heroes of the US Congress like the former Senator McCain and now, the recently departed Rep, Elijah Cummings because he knows that he could never measure up to their standards of decency, integrity, honor, sacrifice and their fighting demeanor. He will never see the outpourings of sadness and tears, the good wishes, the tributes with love from his colleagues from both sides of the aisle; world leaders and from an adoring, appreciative public.
See: "Trump 'rat-infested' attack on Elijah Cummings was racist, Pelosi says"
As per excerpts from the 10/17/2019 Buzz Feed News report, "Elijah Cummings, One Of The Top Democrats Investigating Trump, Has Died" by David Mack and Amber Jamieson:
"The Baltimore congressman died at around 2:45 a.m. at Johns Hopkins Hospital "due to complications concerning longstanding health challenges," his staff said. On Wednesday, the Baltimore Sun newspaper reported that Cummings still had not returned to work weeks after an unspecified medical procedure. In 2017, Cummings was absent from work for months following heart surgery."
After news broke of his death, Speaker Nancy Pelosi ordered the flags at the US Capitol to be flown at half-staff. "The people of Baltimore, the US Congress and America have lost a voice of unsurpassed moral clarity and truth: our beloved Chairman Elijah Cummings," wrote Pelosi in a statement, describing him as the Democrats' "North Star" in the House."
"I am personally devastated by his passing," she said.
"When the history books are written about this tumultuous era, I want them to show that I was among those in the House of Representatives who stood up to lawlessness and tyranny," wrote Cummings as he announced his support of the impeachment proceedings, just weeks before his death.
As per the 10/17/2019 Guardian report, 'America lost a giant': Elijah Cummings' sudden death prompts warm tributes' by Edward Helmore:
"A sharecropper's son, Cummings became the powerful chairman of the House of Representatives oversight committee, one of the three committees leading the investigation into Donald Trump's dealings with Ukraine."
"Cummings was a formidable orator who fervently advocated for the poor in his black-majority district, which encompasses a large portion of Baltimore, as well as richer suburbs."
"Barack Obama and former first lady Michelle Obama, said they were heartbroken to learn of the congressman's death. Cummings was one of the earliest backers of Obama's 2008 presidential bid."
"The Obamas' statement described him as "steely yet passionate, principled yet open to new perspectives" and said he "remained steadfast in his pursuit of truth, justice and reconciliation".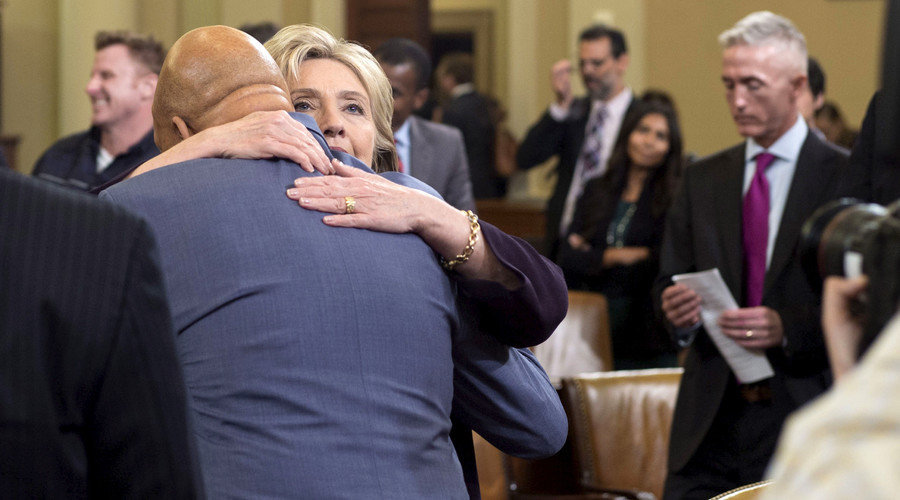 "We lost a giant today," Harris tweeted. "Congressman Elijah Cummings was a fearless leader, a protector of democracy, and a fighter for the people of Maryland. Our world is dimmer without him in it."
"Cummings's widow, Maya Rockeymoore Cummings, said: "He served his district and the nation with dignity, integrity, compassion and humility. He worked until his last breath because he believed our democracy was the highest and best collective expression of our collective humanity."
"Donald Trump did not make any public utterance about the loss of the congressman until relatively late into the morning, having been tweeting and retweeting about other subjects. Cummings was a fearless critic of Trump and the president even called Cummings racist in a war of words following Trump's excoriation of Baltimore as "rat infested" earlier this year."
Then just before 9am, using an odd phrase, Trump sent "warmest condolences".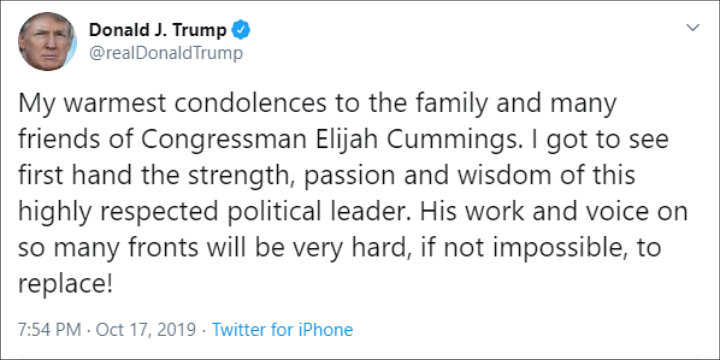 "My heart is saddened at the loss of a colleague and friend," offered Michael Steele, former Republican National Committee chairman and Maryland lieutenant governor. "Elijah cared deeply about public service and the importance of 'representing your people'. Rest In Peace good and faithful servant."
"As chairman of the oversight and reform committee, Cummings led multiple investigations of the president's governmental dealings, including several in 2019 relating to the president's family members serving in the White House."
"After Trump's attack on Baltimore, Cummings had responded that government officials must stop making "hateful, incendiary comments" that only serve to divide and distract the nation from its real problems, including mass shootings and white supremacy."
"Those in the highest levels of the government must stop invoking fear, using racist language and encouraging reprehensible behaviour," Cummings said in a speech."
"He urged political leaders to "work together for the common good".
"Cummings said he had just a single one-on-one conversation with Trump, reported the Baltimore Sun. That was in 2017 when they were working on a bipartisan plan to lower drug prices."
"Mr President, you're now seventysomething, I'm sixtysomething. Very soon you and I will be dancing with the angels," Cummings later recalled. "The thing that you and I need to do is figure out what we can do – what present can we bring to generations unborn?"
He said he then told Trump that "we don't need to be doing mean things. We don't need to be just representing thirtysomething per cent of the people that like us. You need to represent all the people."
"Cummings said he particularly resented Trump's tweet last summer that four Democratic congresswomen of color should "go back" to other countries".
"He said it reminded him of the summer of 1962, when white mobs taunted and threw rocks and bottles at Cummings and other African American kids seeking to integrate South Baltimore's Riverside Park public swimming pool."
He often told the story of how his mother had witnessed Americans harmed and beaten while seeking the right to vote.'
"Her last words were 'Do not let them take our votes away from us,'" he said.
"He continued his passionate activism for democratic rights into the last months of his life. Last July, as special counsel Robert Mueller's testified to a congressional committee, Cummings tweeted: "I'm begging the American people to pay attention to what is going on. Because if you want to have a democracy intact for your children, and your children's children, and generations yet unborn we've got to guard this moment…this is our watch."
"Cummings' long career spanned decades in Maryland politics. He rose through the ranks of the Maryland house of delegates before winning his congressional seat in a special election in 1996 to replace Kweisi Mfume, who left the seat to lead the National Association for the Advancement of Colored People."
"In school, a counsellor told him he was too slow to learn and spoke poorly, and he would never fulfil his dream of becoming a lawyer. "I was devastated. I became very determined," he said."