Any talking points regarding the discounting of the future effects of the coronavirus on the American peoples emanating out of the White House is a lie. This is what happens when the USA has a commander-in-chief who's an ignoramus regarding any subject of a scientific nature.
This coronavirus (nCOV-19) will eventually be widespread in the USA. What's needed to best protect the health of those who live in the USA, are specific suggestions/ planned steps as to how to mitigate for its inevitable negative effects. The initial stages mimic an attack similar to typical flu symptoms which can cause carriers to discount any imminent danger at an early stage. It's highly contagious with the fatality rate being higher than the normal winter flu at greater than 2%.
One step would be for the White House and the FDA to allow those states which follow or surpass the established protocols set by the (CDC) Center for Disease Control in the Atlanta  area, being permitted to test patients for coronavirus instead of just the CDC  Delays due to backlogs at the CDC due to high demand for requested confirmations could be costing some USA citizens, their lives.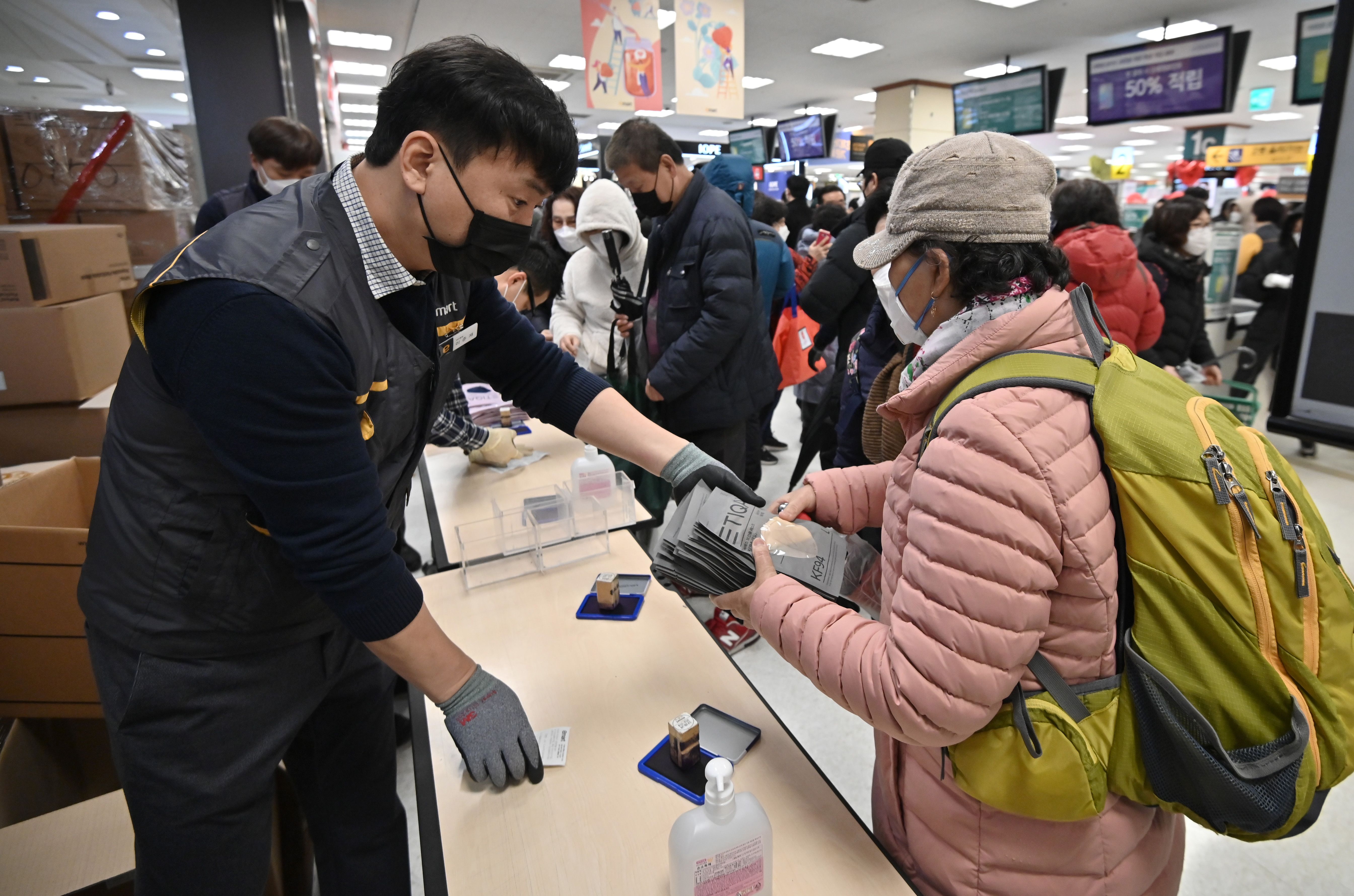 Here's the rest of the story…
On February 25, 2020, the staff writer regarding health subjects for the Atlantic, Dr. James Hamblin penned the following analysis, "You're Likely to Get the Coronavirus:"
Excerpts:
The Harvard epidemiology professor Marc Lipsitch is exacting in his diction, even for an epidemiologist. Twice in our conversation he started to say something, then paused and said, "Actually, let me start again." So it's striking when one of the points he wanted to get exactly right was this: "I think the likely outcome is that it will ultimately not be containable."
Containment is the first step in responding to any outbreak. In the case of COVID-19, the possibility (however implausible) of preventing a pandemic seemed to play out in a matter of days. Starting in January, China began cordoning off progressively larger areas, radiating outward from the city of Wuhan and eventually encapsulating some 100 million people. People were barred from leaving home, and lectured by drones if they were caught outside. Nonetheless, the virus has now been found in 24 countries."
Despite the apparent ineffectiveness of such measures—relative to their inordinate social and economic cost, at least—the crackdown continues to escalate. Under political pressure to "stop" the virus, last Thursday the Chinese government announced that officials in Hubei province would be going door-to-door, testing people for fevers and looking for signs of illness, then sending all potential cases to quarantine camps. But even with the ideal containment, the virus's spread may have been inevitable. Testing people who are already extremely sick is an imperfect strategy if people can spread the virus without even feeling bad enough to stay home from work.
Lipsitch predicts that within the coming year, some 40 to 70 percent of people around the world will be infected with the virus that causes COVID-19. But, he clarifies emphatically, this does not mean that all will have severe illnesses. "It's likely that many will have mild disease, or may be asymptomatic," he said. As with influenza, which is often life-threatening to people with chronic health conditions and of older age, most cases pass without medical care. (Overall, about 14 percent of people with influenza have no symptoms.)
Lipsitch is far from alone in his belief that this virus will continue to spread widely. The emerging consensus among epidemiologists is that the most likely outcome of this outbreak is a new seasonal disease—a fifth "endemic" coronavirus. With the other four, people are not known to develop long-lasting immunity. If this one follows suit, and if the disease continues to be as severe as it is now, "cold and flu season" could become "cold and flu and COVID-19 season."
At this point, it is not even known how many people are infected. As of Sunday (2/23/2020), there have been 35 confirmed cases in the U.S., according to the World Health Organization. But Lipsitch's "very, very rough" estimate when we spoke a week ago (banking on "multiple assumptions piled on top of each other," he said) was that 100 or 200 people in the U.S. were infected. That's all it would take to seed the disease widely. The rate of spread would depend on how contagious the disease is in milder cases. On Friday, Chinese scientists reported in the medical journal JAMA an apparent case of asymptomatic spread of the virus, from a patient with a normal chest CT scan. The researchers concluded with stolid understatement that if this finding is not a bizarre abnormality, "the prevention of COVID-19 infection would prove challenging."
Link to entire article via Yahoo Notes: You're Likely to Get the Coronavirus
What about travel plans for the rest of the year in 2020?
On February 26, 2020, Julia Belluz of VOX penned the following article, "How to travel during the international coronavirus outbreak:"
Excerpts:
With Covid-19 cases surging in Italy, South Korea, and Iran, travel has become increasingly fraught.
As of this week, CDC is also warning travelers to Italy, Iran, and Japan to "practice enhanced precautions," since these are the countries next on the list with the highest burden of illness.
But just because a country you plan to visit isn't on the list right now doesn't mean it won't be there tomorrow. The outbreak is evolving rapidly and these advisories are likely to change in the coming days, so keep checking in with CDC. This map and list of travel restrictions from the Council on Foreign Relations is another good resource.
"As Jennifer Nuzzo, an infectious disease expert and senior scholar at the Johns Hopkins Center for Health Security, told Vox: "I'm more concerned about the unpredictability of the [outbreak] response at this point. It would not be fun to go to China and get stuck there somehow. And coming back, you'll be subject to additional screening" or quarantines."
2) Is the city or country I'm going to at immediate risk of an outbreak?
Some of the best research on that question comes from researchers at the University of Oxford, University of Toronto, and the London School of Medicine and Tropical Hygiene. They published studies a few weeks ago on the places most vulnerable to novel coronavirus infections. The big takeaway then was that cities in East Asia and Southeast Asia were most at immediate risk.
Here are 15 of the top destinations where they predicted we'd see outbreaks next (also pay attention to the IDVI — the Infectious Disease Vulnerability Index — number. It's a measure of a country's ability to manage an infectious disease. Scores closer to zero mean they're less prepared.) Note Japan, Singapore, and South Korea were among the places that topped the list — and as we're seeing now, some of the biggest outbreaks outside of China are playing out in these countries.
Iran and Italy are also on the list, and over the last week, large outbreaks have emerged in these countries, too.
With the scope of this outbreak rapidly changing, the researchers just updated their models in a yet-to-be-published study focused on how the coronavirus disease will likely spread from Iran. They found Iran probably has thousands more cases within its borders than we currently know. And they predict that we can expect outbreaks with links back to Iran in Turkey, UAE, Iraq, Qatar and Georgia, among other countries. In Europe, they predict Germany, France, and Italy are also places at higher risk of imported cases from Iran.
Is there anything I should do to protect myself when traveling? Buy a face mask?
Just about every health expert Vox has spoken to has said there's little evidence to support the use of face masks for preventing disease in the general population.
M
asks are only useful if you have a respiratory infection already and want to minimize the risk of spread to others, or if you're caring for someone who is sick or working in a hospital in direct contact with people who have respiratory illnesses. (Plus, there are 
reports of runs on masks
 and other supplies health workers need to stay safe.)
That's why the CDC advises against the use of masks for regular Americans.
"You'll also want to protect yourself from financial losses related to travel. If you're thinking about a trip in the coming months, make sure you're comfortable with the cancellation policy on your tickets and consider paying extra for a flexible fare. Standard travel insurance doesn't typically have exclusions for epidemics like Covid-19 (though you may be able to purchase an upgrade, like "cancel for any reason" insurance). Even if you're feeling good about your individual risk right now, you might feel differently by the time (of) your departure date."
UPDATE ON 3/8/2019 AS PER THE 3/7/2020 GUARDIAN REPORT:
"An area containing about 16 million people is now facing lockdown in Italy, after the prime minister, Guiseppe Conte, signed a decree ordering the quarantining of the entire Lombardy region and 14 provinces." (This would include Milan, Bologna and Venice.)
"Anyone who breaks the lockdown on entering select provinces of northern Italy faces three months in jail."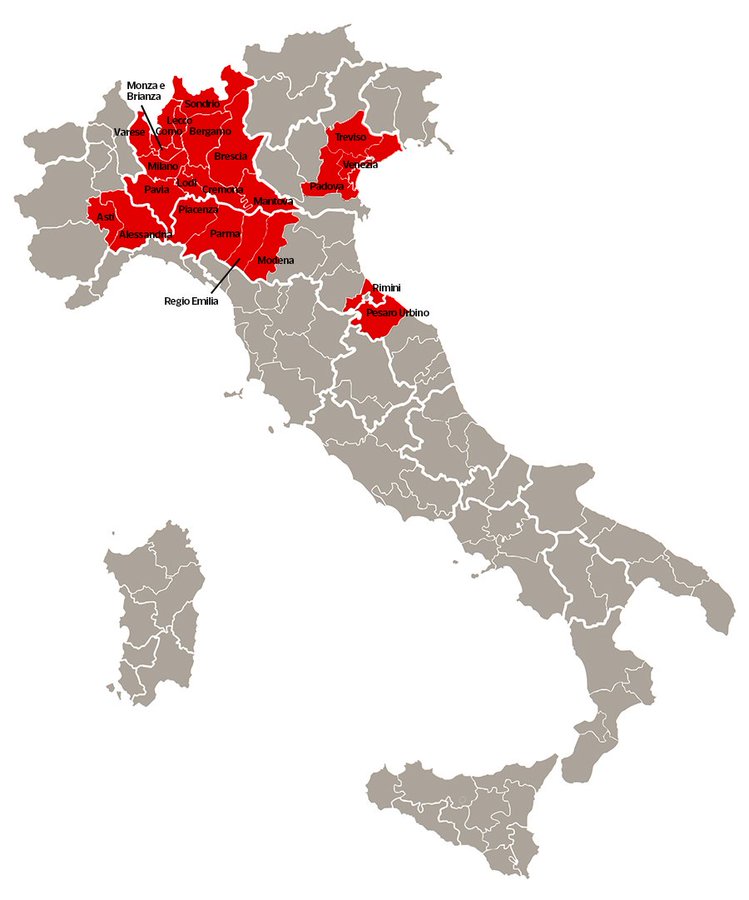 "The legislation is expected to be approved later on Sunday (3/8/2020), the head of the civil protection agency said earlier, after the number of infections rose by more than 1,200 in the past 24 hours."
"In all the areas covered by the decree, including towns in the northern regions of Emilia-Romagna, Veneto and Piedmont, schools will be closed at least until 3 April, all museums, gyms and swimming pools will be also shut and leave is cancelled for all healthcare workers."
FROM TRAVEL: