As per CNN: US total coronavirus COV-19 infectious cases increased from 89 on March 1, 2020 to 8,760 cases on March 19, 2020. January 21, 2020 is when US reported its 1st case. We're talking 2 months.
As per 3/19 NPR report, Burr Recording Sparks Questions About Private Comments On COV-19:"
A secret recording taken of Senate Intelligence Committee Chairman Richard Burr shows him warning a private audience three weeks ago (February 2020) about how the Coronavirus would have dire effects on the U.S.
Link: March 19, 20205:08 AM ET Heard on Morning Edition
As per Source, Worldometer on coronavirus COV-19 pandemic as of 3/19/2020:
US Latest Updates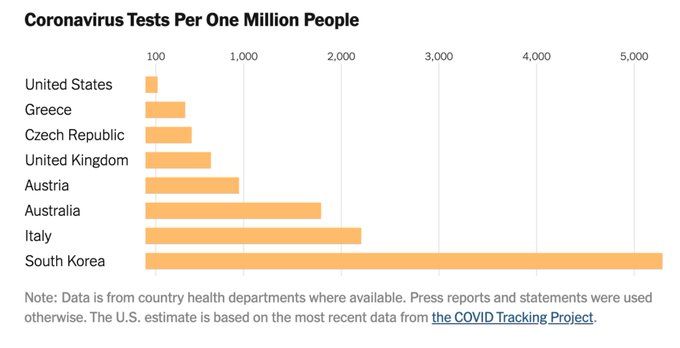 March 19 (GMT)
205 new cases and 5 new deaths in the USADeaths include:
March 18 (GMT)
 2848 new cases and 41 new deaths in the United States

Trump compares the sacrifices needed to those made during World War II, saying that "now it is our time, we must sacrifice together. We are all in this together and we'll come through it together. It is the invisible enemy. That's always the toughest enemy. But we're going to defeat the invisible enemy. I think we'll going to do it even faster than we thought, and it will be a complete victory, a total victory"
US working to determine if the self-swab coronavirus test is as effective as the other testing process. It'd be a much easier test
all foreclosures and evictions to be suspended until the end of April

New deaths include:


New cases include: 
March 17 (GMT)
1748 new cases and 23 new deaths in the United States New deaths include:

New cases include: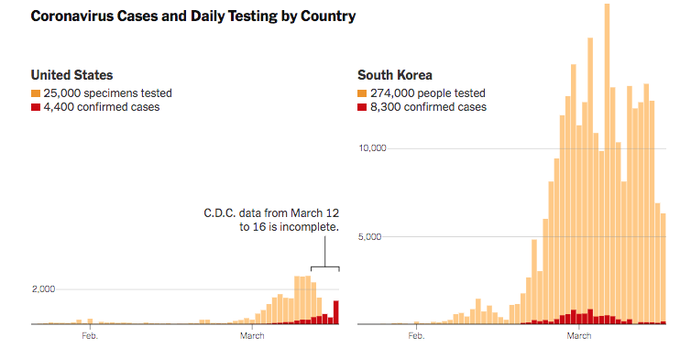 March 16 (GMT)
983 new cases and 18 new deaths in the United States. Starting immediately and for the next 8 weeks, CDC recommends canceling all events of 50 or more people [source] [source]New cases include:
– 1 new case in California (Nevada County) [source]- 6 new cases in New Hampshire [source]- 5 new cases in Washoe County, Nevada [source]- 2 new cases in Harris County, Texas  [source]- First case in southern Indiana: a man in  Floyd Count who, during the past week, attended a number of events and gatherings, all listed in detail by the Heath Department  [source]- 3 new cases in Orange County, California, including 2 that did not appear to be related to travel or with previously confirmed cases  [source]- 80 in New Jersey  [source]- 1 new case in  Hawaii:  an Oahu resident who took a family trip to Florida and returned with family on March 8. The next day, the resident developed a cough, but no fever  [source]
March 15 (GMT)
737 new cases and 11 new deaths in the US– All New York City schools will shut down immediately and stay closed for at least 1 month [source]  All hospitals will be required to cancel elective surgeries– Illinois: all bars and restaurants to close to dine-in customers through March 30 [source]- Ohio: all bars and restaurants will close Sunday at 9 p.m. indefinitely 'This is a once in a lifetime pandemic' said Ohio Dept. of Health Director Amy Acton [source]New deaths include:– at least 3 new deaths in New York: a 79-year-old woman, a 78-year-old man, and a 53-year-old woman with diabetes and heart disease  [source]- 2 new deaths in King County (WA) [source]- Death of a female in her 50s in New Jersey  [source]– First death in Oregon: a 70-year-old man in Portland who had tested positive just four days ago and reportedly had other health problems. [source]New cases include:

– First case in Howard County (MD). County Executive Calvin Ball has declared a state of emergency and announced that The Mall in Columbia and other commercial gathering places will be closed for at least a week [source]

– 32 new cases in King County (WA)  [source]

– 2 new cases in Schenectady County (NY), which declares State of Emergency [source]

– First 2 cases in Putnam (NY)  [source]

– FIrst case in San Bernardino County (CA): a woman who recently returned from London  [source]

– 6 new cases in Suffolk Country (New York) [source]

– 9 new cases in North Carolina, just one day after adding 8. Total now reaches 32 [source]

– 4 new cases in Indiana, including the first in Hamilton County. Marion County's case total has doubled since Saturday from 3 to 6 [source]

– 39 new cases and 1 new death in Florida: a 77-year-old from Lee County is the fourth Florida resident to die after testing positive for coronavirus [source]

– 2 new cases in Hawaii (on Maui and Oahu). Details have emerged regarding the latest 2 cases in Kauai: a couple who had traveled from Indiana arriving in Maui on March 2. Shortly after their arrival, one of the visitors developed a fever, shortness of breath and cough and went to an urgent care facility. On March 7, the second visitor also developed symptoms and went to urgent care. A day later, both of the visitors flew to Kauai, staying at the Kauai Marriott, and on March 9, one of the visitors visited again an urgent care facility. Finally, on March 12, the 2 informed health care workers that they had close contact with an individual who had tested positive for coronavirus. 2 health care workers in Maui and 1 in Kauai are now in self-isolation because they were not wearing protective equipment [source]

– 9 new cases in Utah (Salt Lake County) [source] First case of community spread identified [source]

– 8 new cases in Michigan [source]

– First case in San Luis Obispo County (California): a person over the age of 65 with underlying health conditions who exhibited a fever, cough, and shortness of breath [source]

– 1 new case in Missouri: a person in their 20s who had traveled to Austria [source]

– 2 emergency room doctors (in NJ and WA) are in critical condition after treating patients with COVID-19, according to reports  [source]
Coronavirus Worldometer Sections: