Since I've turned 70 years old and am part of the huge aging population in Florida, I take little comfort when I learn that the GOP Governor Ron DeSantis is still in denial about the reality of community spreading of the coronavirus COV-19 infection being part of the current Florida landscape.
Logic tells me that Florida, with frequent vacationers/ visitors from COV-19 hot spot states like New York, it would be vulnerable to "community spreading."
The fact that during the weekend of March 13, 2020, 2 Florida TSA agents tested positive for the COV-19 virus has me wondering, how many travelers who were on Spring Break, did these airport TSA agents interact with as part of their work?
As per a 3/15/2020 Action News Jax report:
"On Sunday, the Transportation Security Administration said security officers who work at Orlando International Airport and Fort Lauderdale-Hollywood International Airport tested positive for COVID-19."
"TSA said both officers are receiving medical care and all TSA employees who came into contact with the infected workers in the past two weeks are self-isolating at home."
"Screening checkpoints at both airports remain open and TSA is working with the CDC, Florida Department of Health and local health departments in Broward and Orange counties"
If an outsider had stepped foot on one of the numerous coastal Florida beaches jam-packed with wall to wall bodies, they would never guess that "social distancing" was supposed to be the new norm in response to the US coronavirus COV-19 pandemic.
SEE: Florida governor refuses to shut down beaches amid spread of coronavirus
FOX 11 Los Angeles
@FOXLA
·
"#BREAKING
: A Glendora man who died just days ago after testing positive for COVID-19 recently visited Walt Disney World and Universal Studios in Florida, it was reported Thursday.
#coronavirus
bit.ly/2U30QiH"
As per a 3/18/2020 Politico report by Alexandra Gloriosa, "Coronavirus surfaces in 19 elder care facilities in Florida"
Excerpts:
"Nineteen long-term care facilities in Florida have either a suspected or confirmed case of the coronavirus, including two confirmed cases in Duval and Broward counties."
"Agency for Health Care Administration Secretary Mary Mayhew said she could not divulge the name or addresses of the nursing facilities, citing patient privacy requirements."
Don't forget that Florida has many visitors from around the world. News media has been reporting that over the 3/13/2020 weekend, 3 visitors to President Trump's resort Mar-a-lago have tested positive for the coronavirus COV-19 bug. It stands to reason that they came in contact with Floridians including employees of the resort.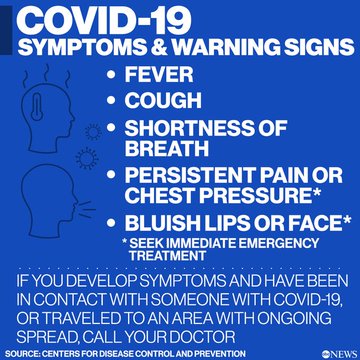 Testing in Florida is increasing but to date, it has been difficult to qualify for,  even when suspected individuals demonstrate the symptoms of coughing, fever, trouble with breathing and have negative results for influenza tests. They have to also show that they have been in contact with someone who has tested positive for the COV-19 virus or have traveled to a hot spot that's rampant with the coronavirus pandemic like China. This is problematic as it's become obvious that community transmission (via strangers) is occurring in Florida.
As per a 3/18/2020 Tampa Bay Times report by Zachary T. Sampson, "Florida reports nearly 100 more coronavirus cases. Here's a breakdown." ("The state is now tracking more than 300 known cases and seven deaths, according to health officials.")
Excerpts:
"The Department of Health is now reporting 314 known coronavirus cases involving Floridians or visitors diagnosed in the state."
"That includes 13 cases of the disease, COVID-19, associated with Hillsborough County and 10 with Pinellas County. Pasco has 3. Broward County is connected to the most reports: 80. Seven Floridians have died."
"As of Tuesday evening (3/17/2020), the state had announced just 216 cases — making the morning update the biggest surge yet in reports of the disease in Florida."
"The number of positive cases in Pinellas more than doubled from the same time Tuesday. All involve Florida residents. One of the new patients is a 61-year-old woman who recently traveled to New York."
"In Hillsborough, 11 of the 13 positive cases involve Florida residents."
"Pasco County also added a case in the last day."
"The surge in numbers may be as much about expanded testing in Florida as the actual spread of the disease, said Dr. Marissa Levine, director of the Center for Leadership in Public Health Practice at the University of South Florida."
"Gov. Ron DeSantis has in the last week announced a series of far-reaching measures to increase "social distancing" here, meaning keeping people away from large groups where they can easily transmit the disease. On (3/17/2020), he placed heavy restrictions on restaurants, ordered a month-long closure of bars that do not sell food and announced state testing would not happen this semester for K-12 students."
"The state is considered especially vulnerable to the effects of COVID-19 because it has a greater share of residents in their 70s, 80s or older than any other in America. Doctors say the elderly and those with chronic health conditions are especially susceptible to the illness. Leaders here have banned nearly all visitors to elder care facilities in an attempt to stop the disease from entering such risky spaces. On Tuesday, the governor announced a 77-year-old man at a Broward County assisted living facility had COVID-19 before he died."
On March 18, 2020, Matt Dixon of Politico penned the following report, "Wasserman Schultz slams Florida's governor over sluggish response to coronavirus" ("In a private call, the congresswoman blasted Ron DeSantis and his administration for its actions.")
Excerpts:
"Rep. Debbie Wasserman Schultz, on a call with fellow lawmakers and Florida state officials, accused Gov. Ron DeSantis of failing to acknowledge the coronavirus is spreading in the state even among people who haven't traveled overseas."
"In a recent recording of the briefing obtained by POLITICO, Wasserman Schultz tried without success to get state Surgeon General Scott Rivkees, a DeSantis appointee, to commit to informing the public about community spread in Florida."
"In Washington, it's conventional wisdom that community spread has hit Florida. But in Tallahassee, DeSantis, a Republican, isn't convinced."
"Anthony Fauci — director of the National Institute of Allergy and Infectious Diseases and a veteran epidemic researcher who has advised presidents going back to Ronald Reagan — flagged Florida during a March 10 briefing."
"Although we keep coming in and saying, appropriately, that as a nation, the risk is relatively low, there are parts of the country right now that are having community spread in which the risk there is clearly a bit more than that," Fauci told reporters at the White House. "And you know the places: you know, Washington State, California, New York and Florida."
"DeSantis pushed back on Fauci's assessment."
"Florida was identified as one of the four states and it was said there was 'community spread,'" DeSantis told reporters the next day, after he'd talked to Fauci himself. "Because that three-person cluster in Broward could be linked to the cruise ship, that technically doesn't qualify as community spread, which would be multiple people where we don't know where they got it from. So we haven't necessarily gotten to that point yet."
"Four days later, the Trump administration said Florida would be among states targeted for aid because of community spread."
"We've seen community spread in Massachusetts and also Florida," VP Mike Pence told reporters at the White House early that afternoon.
"Hours later, DeSantis took the podium in Tallahassee to say state epidemiologists hadn't confirmed community spread." (He's not allowing for testing to verify this claim.)
"There are people out there, that because the symptoms are so mild for young people, of course you could never be sure who may transmit it," DeSantis said. "We're still moving along as if there are pockets in the community because I think that's the appropriate thing to do."
"The Tuesday 3/17/2020 call with Florida's congressional delegation, including GOP Sen. Rick Scott, was also attended by the Florida Department of Emergency Management Executive Director Jared Moskowitz and state Agency for Health Care Administration Secretary Mary Mayhew."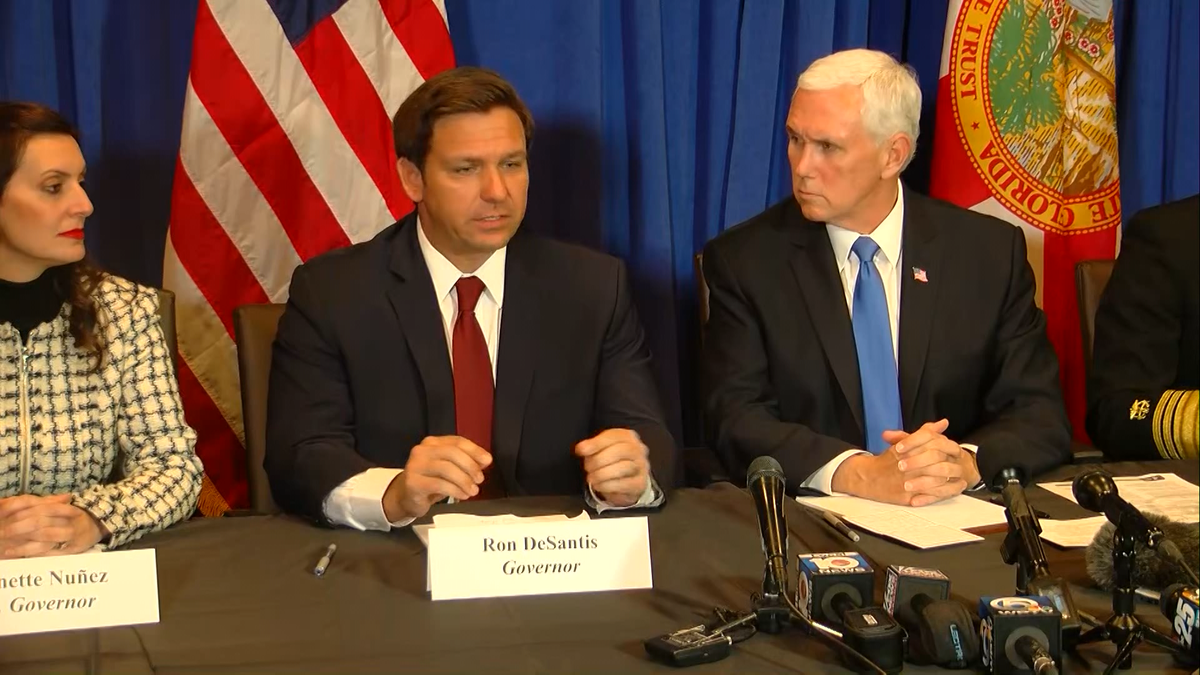 "Moskowitz said his office hasn't yet modeled when a surge in cases could be expected, and stressed he had enough test kits."
"My biggest issue right now is the collection swabs, I have plenty of Covid-19 test kits," he said on the call. "The collection kits, which is the swabs basically and the vials, that is the issue. There's a national shortage."
"The state has requested 5,000 ventilators and 5,000 hospital beds from the federal government, and on its own has ordered hundreds of ventilators and 2,000 hospital beds from manufacturers."
"He said the state has a mobile hospital near The Villages, a sprawling retirement community about 50 miles north of Orlando, and in Broward County, both regions with large at-risk senior populations. Two additional 250-person mobile hospitals are not yet in use."
"The state has 300 nurses and physician assistants on call and ready to be deployed to hospitals, and 300 medics from the National Guard."