The one attribute that I can begrudgingly grant the republican US President Donald J. Trump, is that he's a marketing super star. But even he cannot accomplish the mission of convincing senior citizens that they should do their patriotic duty by being willing to sacrifice their lives in order to salvage the US economy.
But there are those GOP dark money corporate ALEC donors like Charles Koch who are pushing the president hard to end the "shelter in place" order implemented to mitigate against the 2020 US Spring coronavirus COV-19  pandemic, in order to open up businesses to start conducting in person transactions, as early as May 1, 2020. That this step as per epidemiology experts, could be contrary to US people's safety, is immaterial.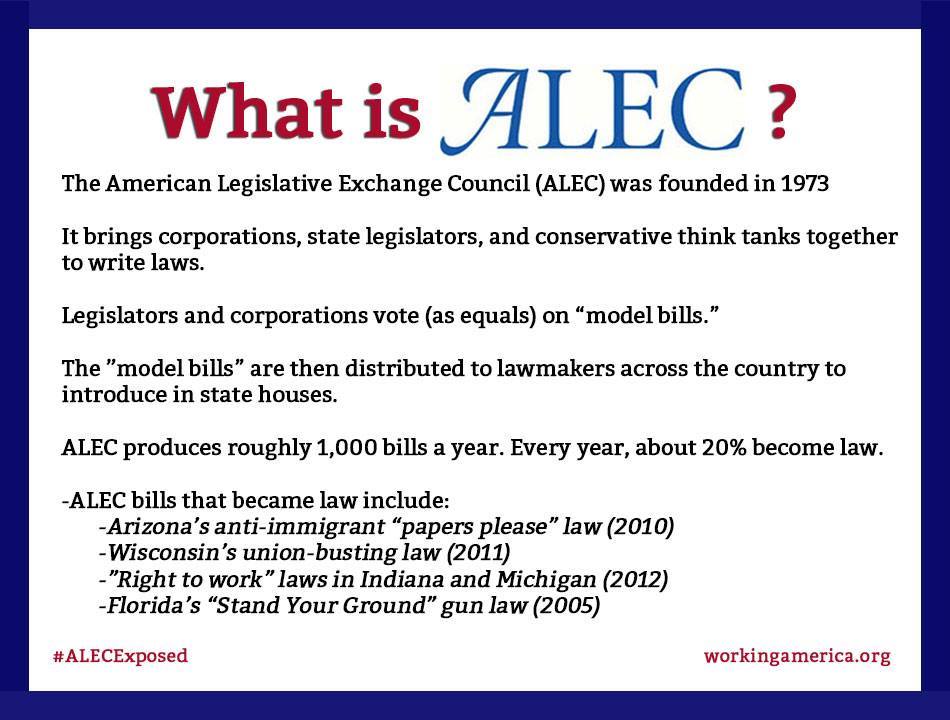 See: List of members of the (ALEC) American Legislative Exchange Council
According to Common Cause, as of October 2015, here's a partial list of ALEC members:
"Here are some of the corporations that still put their money behind ALEC, despite widespread criticism of the organization for its secretive operations and controversial agenda, and increasing calls from shareholders for more transparency about corporate lobbying activities."
BIG OIL & ENERGY COMPANIES
"Despite BP and Occidental Petroleum's recent exits, ALEC still enjoys support from large oil and energy companies, including ExxonMobil, Shell Oil, Peabody Energy, Chevron, Cheniere Energy, Dominion Resources, Duke Energy, and the American Petroleum Institute."
BIG TELECOM
"AT&T, Comcast, Verizon, Time Warner Cable, and the National Cable and Telecommunications Association are all members of ALEC, which lobbies against community broadband and open internet protections."
BIG TOBACCO & ALCOHOL COMPANIES
"Big tobacco corporations Altria (formerly Phillip Morris) and Reynolds American are two of ALEC's biggest historic funders and longtime members. Alcoholic beverage companies such Anheuser-Busch and Diageo are also members and funders of ALEC."
THE KOCH BROTHERS
Not surprisingly, Koch Industries, Americans for Prosperity, and the Koch family foundations have been longtime members and funders of ALEC.
TRANSPORTATION COMPANIES
"ALEC member shipping, railroad, and transportation companies include United Parcel Service (UPS), FedEx, Transurban, BNSF Railroad, and Norfolk Southern."
BIG PHRAMA
"Pharmaceutical corporations such as Pfizer, Eli Lilly, Bayer, and Celgene are all members of ALEC, along with their corporate trade group PhRMA. "
See the following tweet:

RynheartTheReluctant @TheRynheart
'Charles Koch network pushed $1 billion cut to CDC, now attacks shelter-in-place policies for harming business'
These GOP dark money corporate donors are the same ones who pushed President Trump's administration in 2017 to deal a death blow to the ACA Obamacare despite its popularity among even Republican Party voters. This tactic failed by only one US Senate vote.
Today, the vast majority of Americans of both the Democratic and Republican Parties prefer to keep current "shelter in place" and social distancing rules in force until it's truly safe as per credible scientists, for Americans to return to the workplace.
As per the 3/27/2020 Politico analysis by Tina Nguyen, "A far-right rallying cry: Older Americans should volunteer to work"
Excerpts:
"Older Americans are also more at risk of dying or exhibiting severe symptoms if they contract the coronavirus."
"Smaller, more traditionally conservative sites like The Federalist have started running articles suggesting the economic downfall of social distancing could ruin people's lives to the point that "[p]robably almost everyone would be willing to live a somewhat shorter normal life rather than a somewhat longer life under current conditions." The site even advocated solutions such as hosting "chickenpox parties" to expose children to the novel coronavirus to build herd immunity — an article Twitter swiftly suspended for promoting scientific misinformation."
"It's not an argument being made solely by stringent nationalist conservatives."
"R.R. Robin, editor at the religious journal First Things, suggested that New York Gov. Andrew Cuomo's declaration that he would do anything to save lives was "demonic" in nature."
"Satan prefers sentimental humanists," he wrote, and called the mass shutdown of New York City a sign that political and religious leaders had "signal[ed] by their actions that they, too, accept death's dominion."
"Variations of that sentiment have found adherents in more popular conservative pundits and even a few prominent politicians. Radio host Glenn Beck, the onetime Fox News star, declared this week that he "would rather die" than kill the economy."
"I would rather have my children stay home and all of us who are over 50 go in and keep this economy going and working, even if we all get sick," he said during his Tuesday radio panel. "I would rather die than kill the country, because it's not the economy that's dying, it's the country."
"And Texas Lt. Gov. Dan Patrick, himself a former radio talk show host, went on Tucker Carlson's Fox News show to argue that older Americans would willingly sacrifice themselves to keep the economy afloat and prevent the country from sliding into a depression."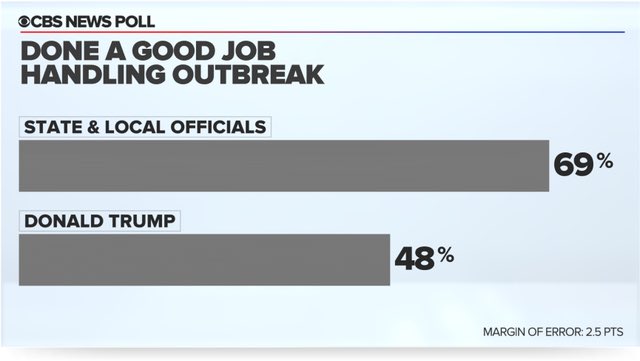 Excerpts from the 4/21/2020 NY Magazine report, "Trump's Coronavirus Response May Be Turning Off Older Voters" by Ed Kilgore,  details well the president's current dilemma and explains how he's playing with fire by upsetting the GOP's most reliable voting bloc, senior citizens:
"Two of the political data points that currently spell bad news for Donald Trump are steadily worsening public assessments of his handling of the coronavirus pandemic and Joe Biden's strong position among voters over 65, who have leaned Republican in every presidential election since 1996. Since the elderly as a whole are more vulnerable than younger cohorts to a lethal dose of COVID-19 and since Trump at first minimized the threat and later expressed impatience with measures to arrest it, the obvious question is whether Trump (is) losing older voters because he seems callous toward their fears?"
"But any way you slice it, Trump is playing with fire in promoting a megastrategy for the pandemic that appears to make the safety of seniors a secondary concern, even as he agitates against allowing the robust voting-by-mail options that might make seniors feel safer in voting. His party needs to win seniors and needs them to vote at their typically high levels. It's possible Biden's success in polling of older voters reflects these specific concerns about Trump or simply a tendency to embrace a less erratic and more empathetic leader at a time of maximum insecurity. So long as it persists, though, it is Uncle Joe's ace in the hole."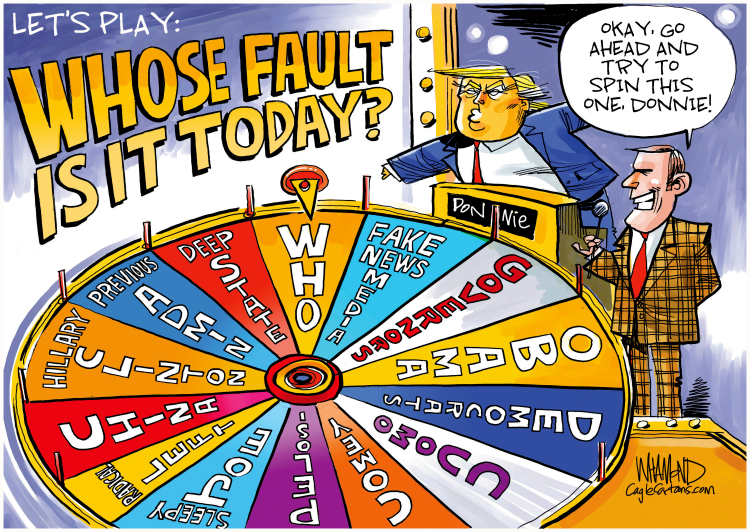 As per the April 21, 2020 Washington Post's analysis by Greg Sargent, "Is Trump losing seniors?"
Excerpts:
The latest Morning Consult poll found that 65-and-older voters prioritized defeating the coronavirus over healing the economy by nearly a 6-to-1 ratio. And over the past month, they've become the group most disenchanted with Trump's handling of the crisis. In mid-March, seniors were more supportive of Trump than any other age group (plus-19 net approval). Now, their net approval of the president has dropped 20 points and is lower than any age group outside of the youngest Americans.
And perhaps as a result, Trump is losing support among seniors in head-to-head matchups with Joe Biden:
Those findings were matched by a new NBC/WSJ poll, which tested the presidential matchup between Trump and Joe Biden. Among seniors 65 and older, Biden led Trump by 9 points, 52 to 43 percent. That's a dramatic 16-point swing from Hillary Clinton's showing in the 2016 election; she lost seniors by 7 points to Trump (52-45 percent).
As Kraushaar notes, seniors have a great deal riding on the handling of the coronavirus, because of their advanced years:
They're counting on the president to protect them at a particularly precarious moment. If Trump's desire to quickly reopen the economy ends up backfiring, they'll be the first to abandon him and deal his reelection prospects a crippling blow.
"It doesn't seem likely that Biden will ultimately beat Trump among seniors. But this does highlight something else: Trump's effort to turn the coronavirus into a full blown culture war that divides the country to his benefit appears to suffer from a very serious deficiency that has eluded notice thus far."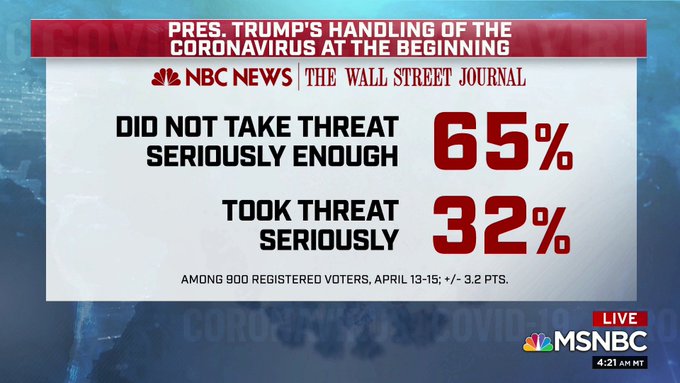 "On the one hand, Trump is hammering blue state governors for continuing to impose social distancing restrictions to prevent the coronavirus's spread — never mind that his own administration has endorsed such measures. The obvious idea is to energize the rural voters and working-class whites in his base against elites who are insisting on maintaining restrictions — and as a result keeping the economy on lockdown — mostly to protect voters from higher density areas where the coronavirus has raged out of control."
"Older voters among those constituencies in Trump's base might be generally receptive to this kind of culture-war-mongering. But in this case, they may not be prime targets for it. Not only are they perhaps not raring to rejoin a reopened economy with the zeal that those in younger age groups are, but also they are at greater risk from the disease itself."
"So it seems plausible that anything indicating Trump's lack of seriousness about the potential consequences of lifting social restrictions too quickly might have the potential to backfire among these voters."
"The national backlash was fierce. And as one of the polls highlighted above shows, seniors continue to disagree in overwhelming percentages."
"It may be that this debate just might not provide Trump with the culture-war tinderbox he thinks it does."
As David Perry suggests, perhaps we shouldn't allow the anti-lockdown protesters to make it appear as if we're a "bitterly divided nation," when in fact, the great majority of us are participating in distancing as part of an "impressive civic-minded act."
"The silent majority of Americans, at great financial and emotional cost, are staying home," Perry writes. "The bulk of us are all doing what we can. We mostly are listening to our best leaders and to scientists."
"Perhaps Americans actually do want to prioritize saving lives and healing the country over getting back to commercial activity."