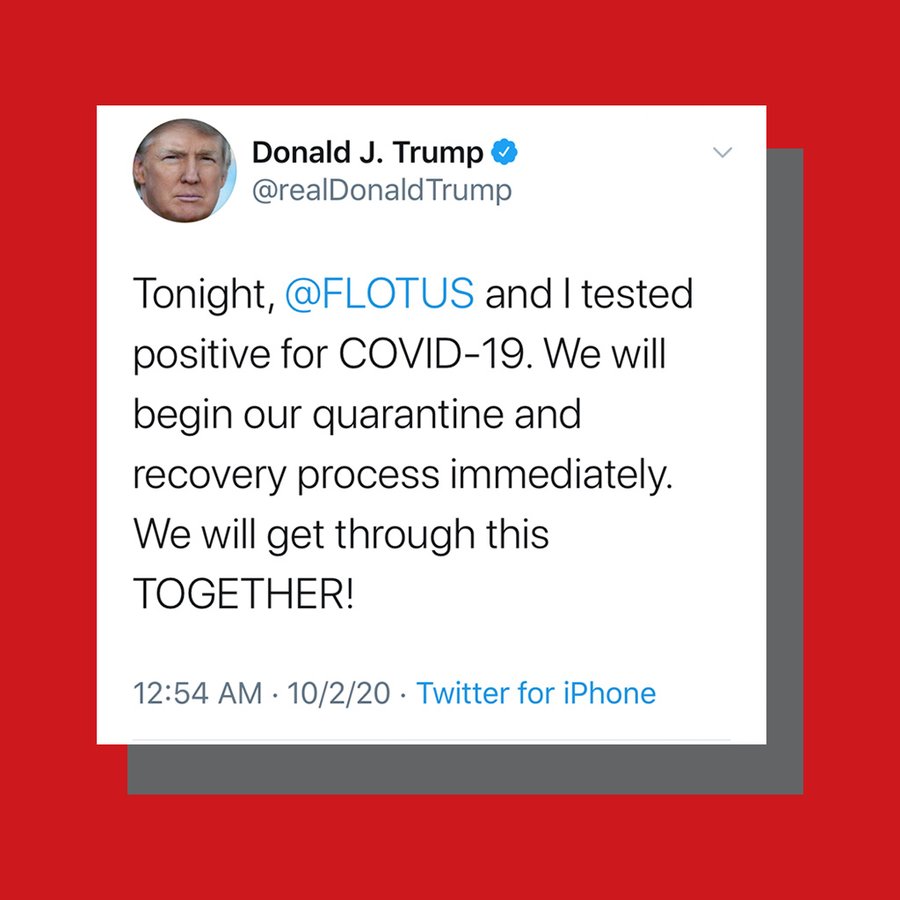 On Personal Note:
As I've shared in a prior post, my adult son with a family has been one of millions of Americans who had contracted the coronavirus COVID-19 infection and who had endured a long recovery process. In addition, a beloved co-worker of his passed away from this plague.
I would not wish this nightmare on anyone. I can't help but wish both President Trump and the First Lady Melania, God speed and if they develop any symptoms, a quick, easy recovery. I pray that everyone around them, including the president's trusted advisor, Hope Hicks will recuperate fully from the COVID-19 infection with little to no residual complications.
Here's the rest of the story…
Around 1:00 AM on the 2nd of October 2020, TV cable media outlets started delivering the news based on a Bloomberg report, regarding the republican President Donald J. Trump and the First Lady Melania having been in frequent contact with the president's right hand, Hope Hicks who had tested positive for having contracted the coronavirus COVID-19 on the 1st of October 2020. Later in the morning of 10/2/2020, it became public that both President Trump and Melania had tested positive for having been infected by the COVID-19 virus.
As with any blockbuster/ breaking news story, a lot of facts need to be uncovered without the natural inclination to jump to early conclusions. For instance, it has been inferred that Hope Hicks was the spreader of the coronavirus infection of everyone in the White House that she came into close contact when it's just as likely that she was infected by someone else working in close proximity.
The 10/2/2020 morning's latest news is that President Trump is suffering from a case of mild COVID-19 symptoms.
This is a developing story that I'll be updating frequently…
As per an updated 10/2/2020 Bloomberg report, "Prognosis/ Trump Tests Positive for Covid, Roiling Campaign and White House" by Jordan Fabian and Jennifer Jacobs:
Excerpts:
"U.S. President Donald Trump said early Friday (10/2/2020) that he has tested positive for coronavirus along with his wife and one of his closest aides, throwing an already volatile campaign into deeper disarray just one month before the election."
"Tonight, @FLOTUS and I tested positive for COVID-19. We will begin our quarantine and recovery process immediately. We will get through this TOGETHER!," the president said on Twitter, hours after Bloomberg News reported that the adviser, Hope Hicks, had fallen ill with the virus.
"Vice President Mike Pence and his wife, Karen, underwent their routine daily Covid-19 check and tested negative, his press secretary Devin O'Malley tweeted early Friday (10/2/2020)."
"Biden was expected to be tested for the virus on Friday (10/2/2020), according to a person familiar with his campaign's plans. The two shared a stage Tuesday (9/29/2020) at the presidential debate in Cleveland, where few if any in Trump's entourage wore masks. Biden's campaign has not yet made a decision about whether he will travel to Grand Rapids, Michigan on Friday (10/2/2020) for a scheduled campaign trip."
"The White House already announced that Trump was canceling all public events, including a rally in Florida, on Friday. Normal virus protocols could keep him off the campaign trail at least 10 days and possibly longer at a critical moment when he was trying to gain ground on Biden, who polls show is holding steady with about a 7 percentage-point lead nationally."
"In addition, the announcement could complicate plans for a confirmation hearing and vote on Trump's Supreme Court nominee, Amy Coney Barrett, though as of early Friday there had been no change in the schedule that would start hearings the week of Oct. 12. It was also unknown what effect the development could have on negotiations over an economic stimulus package to counter the fallout from the virus, as House Democrats and the White House remained far apart."
"It wasn't immediately clear how Trump contracted the virus. Hicks tested positive after flying aboard Air Force One to the presidential debate in Cleveland on Tuesday and to a campaign rally in Minnesota on (9/30/2020)."
"Senior aides on Thursday (9/30/2020) discussed scenarios for how to handle both governing and campaigning if Trump tested positive, according to people familiar with the situation. Other White House aides learned the news of Trump's illness when they awoke Friday morning."
"Only a very small circle of people knew that Hicks had tested positive, and senior staff had hoped to keep that information private, two of the people said."
"U.S. stock futures fell more than 1% early Friday (10/2/2020), and Treasuries rose as traders braced for more volatility. Even before Trump tested positive, markets — from stocks to currencies and bonds — had been pricing in the likelihood of turbulence on Election Day and the ensuing weeks. Now, with Trump's health in doubt, investors are warning that the prolonged uncertainty and political chaos could become an even bigger risk."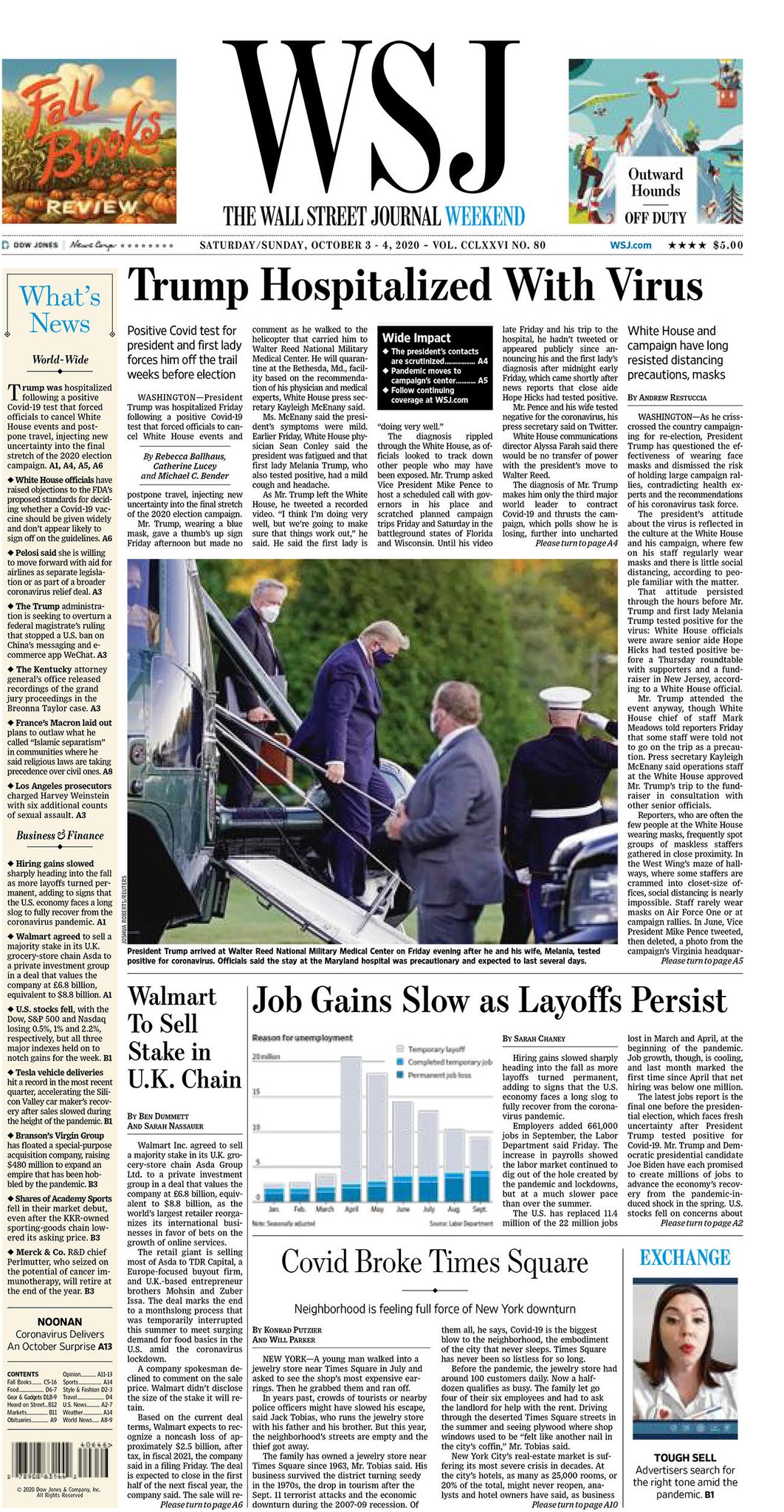 Updates:
As per a 10/2/2020 Axios Tweet: BREAKING: RNC chair Ronna McDaniel tested positive for coronavirus.
As per the MSNBC News Cable News TV Show, Deadline, on 10/2/2020 host Nicole Wallace has stated following:
President Trump has exhibited the  COVID-19 symptom of fever and fatigue. His voice has been raspy.
He has been treated with an experimental antibody cocktail, famotidine (as per Newsweek).
As per 10/2/2020 Sciencemag.org, report, President Trump was given 8 grams of Regeneron's monoclonal antibody treatment. 
"Regeneron, the maker of the cocktail, earlier this week presented preliminary data from its ongoing clinical trial in people who tested positive for SARS-CoV-2 but were asymptomatic or, in the most extreme cases, had moderate disease—a group that would appear to mirror President Trump's current condition. No serious safety concerns surfaced, and the treatment reduced viral load and shortened symptomatic disease in patients who did not have SARS-CoV-2 antibodies at the trial's start. It's unclear whether the treatment can prevent severe disease, but there were hints that it might."
"The statement released today by the President's physician said that in addition to the antibodies, Trump "has been taking zinc, vitamin D, famotidine, melatonin and a daily aspirin." That wording leaves unclear whether he was taking those substances before his diagnosed infection. "
The White House physician says: "We have elected to initiate Remdesivir therapy. He has completed his first dose and is resting comfortably."
On 10/3/2020, CNN reported information by a source that on 10/2, the president received supplemental oxygen treatment.
In the early evening of 10/2/2020, and in an abundance of caution, he was transferred to Walter Reed Hospital from the White House.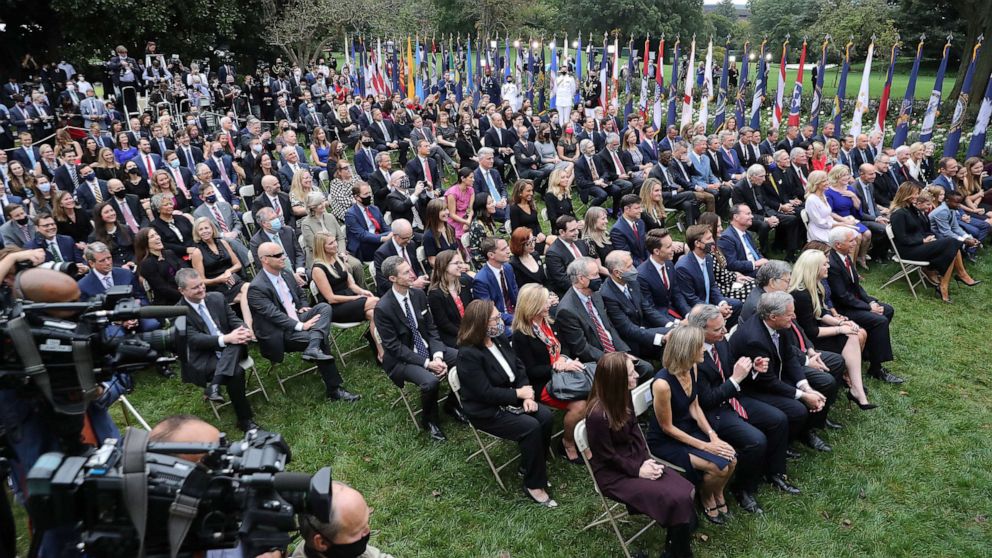 As per 10/3/2020 NYT:
Who has tested positive:
Ronna McDaniel, the chairwoman of the Republican National Committee
Hope Hicks, one of Mr. Trump's most senior advisers
Bill Stepien, President Trump's campaign manager
Kellyanne Conway, the former top White House adviser, who attended Judge Amy Coney Barrett's Supreme Court nomination ceremony at the White House on Saturday
Senator Mike Lee of Utah, who met with Judge Barrett on Tuesday
Senator Thom Tillis of North Carolina, who participated in a debate against his Democratic challenger on Thursday
Rev. John I. Jenkins, the president of the University of Notre Dame, who also attended the ceremony for Judge Barrett on Saturday.
Senator Ron Johnson of WI
Governor Chris Christie of NJ
Note: The presidential SCOTUUS nominee, Judge Barrett had previously tested positive for the COVID-19 infection this past summer, but she has since, recovered..
The 9/29/2020 presidential debate moderator, Chris Wallace of FOX, has revealed that Trump showed up too late to the debate to be tested as planned by Cleveland Clinic, so they had to abide by the "honor system."