In a mid June 2014 audio recording leaked to The Undercurrent, a liberal-leaning YouTube channel, and initially reported by The Nation, the GOP US Senate Majority Leader Mitch McConnell told a ALEC/ KOCH brothers' gathering in Dana Point, Calif., that if the Republicans gained control of the Senate while retaining control of the House in November 2014, Congress could then use the budget process to force President Obama to roll back his priorities.
As per a 8/27/2014 NYT report by Jonathan Weisman:
"The channel released audio of three other Republicans in tough Senate races — Representative Tom Cotton of Arkansas, Representative Cory Gardner of Colorado and Joni Ernst, a state senator in Iowa — all of whom praised Charles G. and David H. Koch (ALEC) and the millions of dollars they have provided to help Republican candidates."
Question:
Why is it that the republican President Donald J Trump and his GOP cronies are dishing the sound scientifically based information and advice by their own government's world renowned public medical experts regarding how to effectively and competently deal with the current ongoing COVID 19 pandemic in the USA, despite the rising numbers of COVID-19 infected peoples and the resulting increase in deaths?
Why are numerous GOP officials backing the early opening of service industry businesses to the public and schools to children, when this step is counter to the consensus of medial epidemiology professionals? They are refusing to mandate an increase in testing and tracing; the usage of masks and social distancing rules, installing better ventilation systems even if this negligence means 1000s more folks becoming infected with the COVID 19 bug, where many more fatally succumb.
My Answer:
I theorize that in part, ALEC type dark money donors like the Koch Network own the Trumpian Republican Party legislative bodies to where lawmakers are more fearful of the spigot of easy monies being shut off when they question their donors' demands than they are of the potential backlash from their own base of voters.
These ALEC type dark money GOP donors are ecstatic with their guy in the White House, a financially desperate man with no conscience, who'll cater to all their corporate objectives, even when his obeisance means acting against the well being of the American peoples.  Plus, If GOP legislators dare to make the mistake of standing up to their standard bearer, these money bag men will help them to see the light.
In short, ALEC has become renowned for propagating virulent rightwing laws that attack unions, immigrants and protest groups among others, and thereby. contributes to the undermining of our US democracy by replacing the allegiance of legislators to voters with allegiance to the interests of big business.
Refresher:
ALEC (American Legislative Exchange Council) was formed in 1973 by fossil fuel companies, NRA officials, and a number of conservative business executives and ultra conservative wealthy individuals, in order to advance its stated goals of privatization and advancing the interests of corporations. The less formal list of tasks included backing right-wing culture issues even if this meant, having their coalition of supporters discount science/ facts, as in how to deal with the widespread harmful effects of climate change and  pandemics.
It's a secretive group of about 2,000 plus state legislators, major corporations and far-right think tanks.
Around 2012, about 116 major corporations left due to some of ALEC's practices being made public. It was then that numerous additional off shoot GOP political organizations were formed like AFP Americans for Prosperity.
ALEC drafts model laws and its members introduce them in their state, sometimes word by word.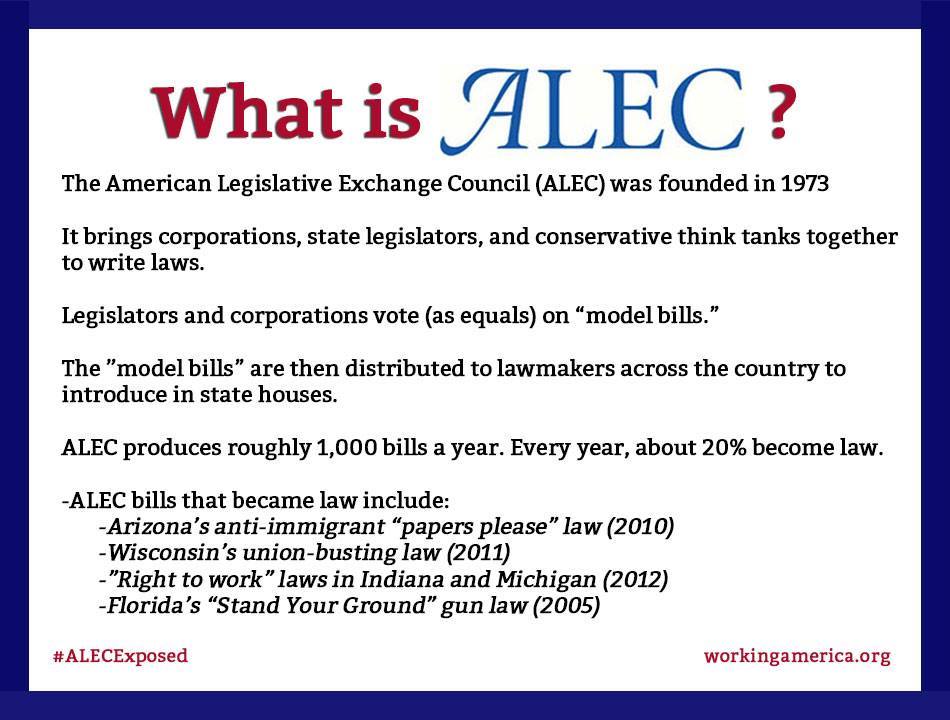 Example of how ALEC works:
The right has been backing school choice and voucher plans in order to squash the public school systems' powerful public unions which have been a thorn in the sides of these GOP money bag men and GOP legislators. This is also why the GOP lawmakers in the US Senate are opposed to the 3rd 2020 stimulus package which sets aside monies to help all diminishing states' budgets including the more liberal ones during this ongoing 2020 COVID-19 pandemic. The ALEC type scrooges pulling the strings of GOP US senators would prefer that the blue (Democrat Party led states) be forced to fire essential workers and thus, end up lessening the strength of their public unions.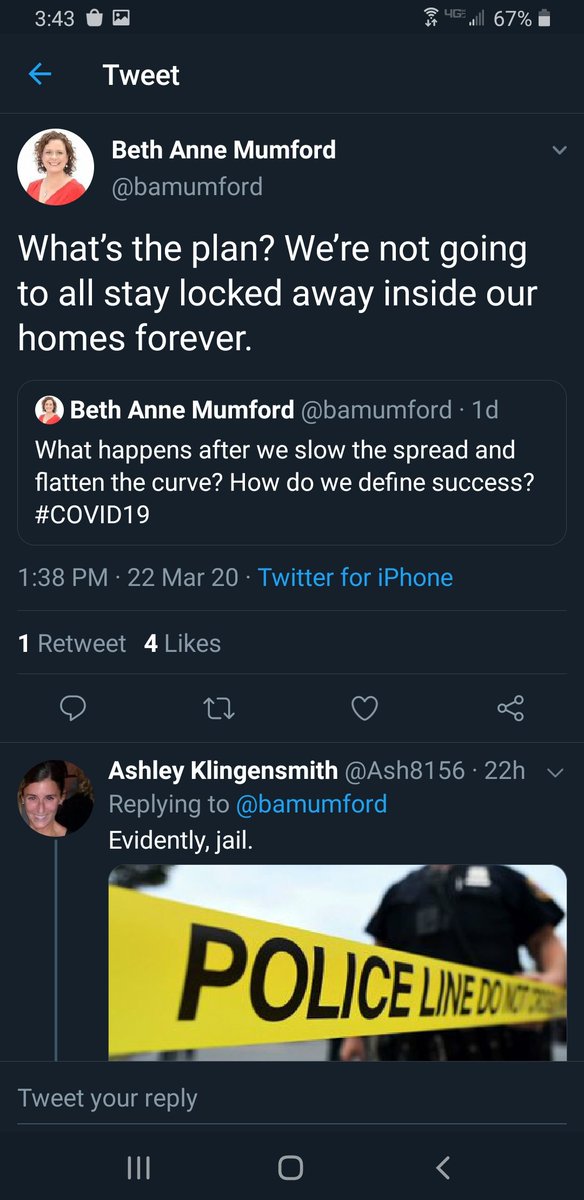 Here's the rest of the story as to how ALEC type dark money donors are exerting their influence over how GOP leaders confront the 2020 US COVID 19 pandemic…
As per a 3/26/2020 Intercept report, CHARLES KOCH NETWORK PUSHED $1 BILLION CUT TO CDC, NOW ATTACKS SHELTER-IN-PLACE POLICIES FOR HARMING BUSINESS by Lee Fang:
Excerpts:
"AMERICANS FOR PROSPERITY, the pro-corporate pressure group founded and funded by billionaire industrialist Charles Koch, wants employees to return to work despite desperate pleas from public health officials that people should stay home as much as possible to help contain the spread of the coronavirus."
"As states began to order nonessential businesses to shut down, AFP released a statement calling for all businesses to remain open."
"Rather than blanket shutdowns, the government should allow businesses to continue to innovate to produce the goods and services Americans need, while continuing to do everything they can to protect the public health," said Emily Seidel, chief executive of AFP, in a press release."
"Some of the group's state chapters have taken a similar tone. AFP Pennsylvania's state director, as well as a regional director with the group, have taken to Twitter to lambast shelter-in-place policies. The Michigan chapter of AFP on Monday slammed Democratic Gov. Gretchen Whitmer's stay-at-home order, which closed down fitness centers, nail salons, amusement parks, casinos, and other businesses deemed nonessential, calling it the "wrong approach for our state."
"Whitmer's order, variations of which are being implemented by state and local governments nationwide, contains exceptions for critical industries such as grocery stores, pharmacies, health care providers, financial services, transportation, child care, hazardous materials, and energy."
"All businesses are essential — to the people who own them, the people who work in them, and the communities they serve," said Annie Patnaude, the Michigan state director for AFP."
"AFP's position, which directly contradicts the advice of medical experts who say that social isolation is essential to curbing the spread of the coronavirus, comes after the group lobbied the Trump administration in 2018 to rescind
$1 billion
from the Centers for Disease Control and Prevention." 
"Much of AFP's recommended cuts to government programs, which included CDC money for infectious disease control and global health, became part of the official White House budget request."
"The cuts, AFP argued, would "relieve the burden overspending is placing on all taxpayers."  The CDC is one of the front-line organizations dealing with the coronavirus pandemic."
"The libertarian advocacy network has spent tens of millions of dollars lobbying for corporate tax cuts, deregulation, and reductions to social welfare programs, particularly state Medicaid programs. This aggressive advocacy record has come into focus in recent days as Americans confront the coronavirus pandemic. Medicaid funding is seen as a critical tool for treating sick patients, and many are now questioning the wisdom of reductions to the CDC's funding and staff."
"Experts around the country have called for shelter-in-place policies for nonessential businesses, arguing that social isolation can drastically curb the spread of the coronavirus. Slowing the pandemic, they say, can save lives by lowering the demand for medical supplies and limited hospital beds. Despite their medical necessity, these policies are being rejected by conservatives around the country. Republican state leaders, including Mississippi Gov. Tate Reeves and Florida Gov. Ron DeSantis, have balked at shutdown requests."
"Dr. Anthony Fauci, the federal government's top infectious disease expert and a member of the White House coronavirus task force, has said he has "emphasized very emphatically" that bars, restaurants, and other nonessential businesses close and that those who may work from home do so."
"The Intercept asked AFP if the group had consulted any public health officials before beginning the push against shelter-in-place policies, and whether the group continues to support steep cuts to the CDC."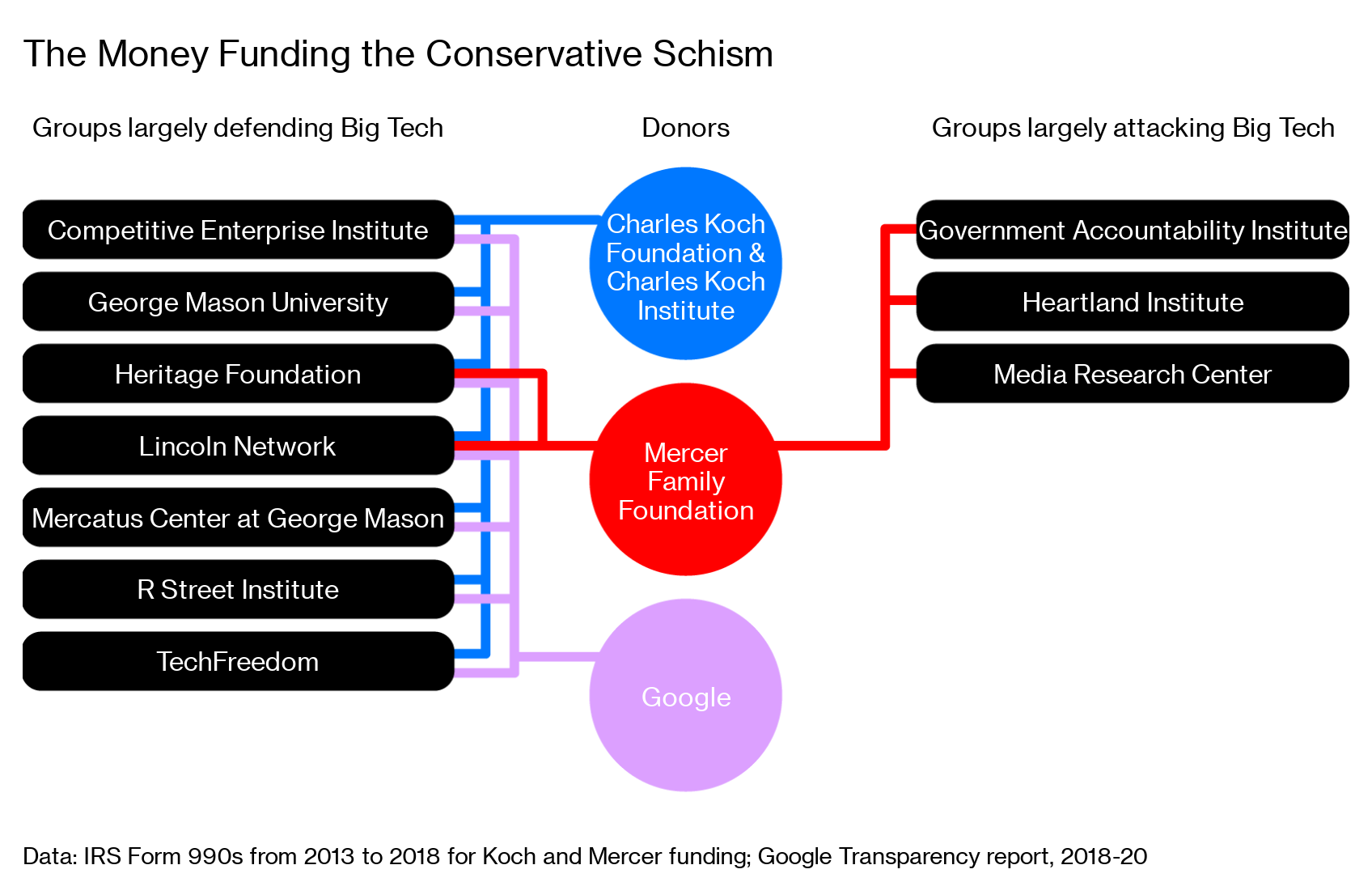 "A spokesperson for AFP noted in an email that they are "encouraging every public official dealing with these incredible challenges to consider how communities and businesses are adapting to meet critical needs as they make these difficult decisions" and that the group believes that there is "value in businesses and government working together to stop the spread of this virus and help the people who need it."
"The Koch network, while pushing for businesses to stay open, is taking the opposite approach for its lobbying apparatus. AFP and its affiliates, including LIBRE Initiative and Concerned Veterans for America, are now working from home. "Out of an abundance of caution and to ensure the health and safety of our activists, staff, and voters, our staff are working from home,"  an AFP spokesperson told CNBC."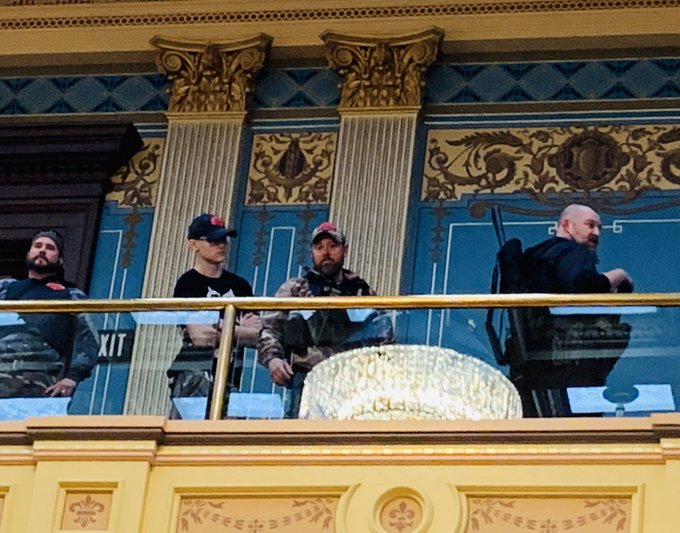 As per the December 5, 2019 Documented.net report, "SECRETARY DEVOS SPEAKING AT ALEC, SPONSORED BY A PRIVATE EDUCATION COMPANY, TO THANK THEM FOR HELPING TO PRIVATIZE EDUCATION by Nick Surgery:
"Thousands of people are preparing to attend protests across the US in the coming days, as a rightwing movement against stay-at-home orders, backed by wealthy conservative groups and promoted by Donald Trump, continues to take hold."
"Conservative activists are demanding governors lift orders designed to stop the spread of the coronavirus, despite the recommendations of public health officials. Trump who has clashed  with Democratic governors over how soon to reopen the US economy, tweeted his support in an unprecedented endorsement of civil disobedience by a sitting president."
"Many of the planned rallies have been inspired by a protest at the Michigan state capitol which was attended by thousands.
Yet while organizers claim the protests are grassroots- and people-driven, a closer look reveals a movement driven by traditional rightwing groups, including one funded by the family of Trump's education secretary, Betsy DeVos."
"The rallies have drawn comparisons to the Tea Party movement, which sprang into life in 2009 following the election of Barack Obama and was driven in part by Americans for Prosperity, a group founded by rightwing donors Charles and David Koch."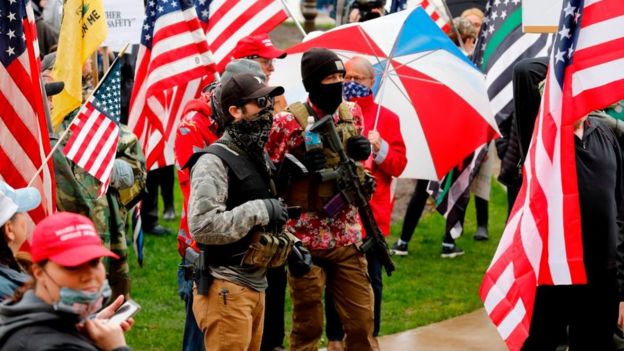 "As with the Tea Party, the anti-stay-at-home movement has been promoted by rightwing media eager for the economy to reopen, including Fox News which aired a segment on protests in Virginia, Michigan and Minnesota. Later, Trump tweeted to his 77.4 million followers the need to "liberate" those states."
"A majority of Americans support the lockdowns, with a Pew Research Center poll finding that 66% are concerned state governments will lift restrictions on public activity too quickly. But protests, helped by media coverage, have spread around the country."
"The Michigan Freedom Fund, which said it was a co-host of the rally, has received more than $500,000 from the DeVos family, regular donors to rightwing groups."
"The other host, the Michigan Conservative Coalition, was founded by Matt Maddock, now a Republican member of the state house of representatives."
"Thousands drove to the Michigan state capitol in Lansing, while the Michigan Freedom Fund purchased Facebook advertising to promote the rally. Protesters, many waving Trump campaign signs, honked their horns and chanted for Governor Gretchen Whitmer to end the stay at-home rules."
NOTE:
According to a 12/5/2019 Politico report, the Secretary of Education, Betsey DeVos took time to deliver a speech and to thank attendees at an ALEC conference, for supporting her Education Freedom Scholarships proposal."
Department of Education website explains how her proposal would provide $5 billion annually in tax credits for individuals and businesses, to channel public funds to private education providers.
This blog was last updated on September 30, 2020.