NOTE: This post was published prior to Dominion or Smartmatic Voting Machine companies' decisions to threaten or to take legal action for defamation against the former president's legal team professionals, right wing media outlets and other GOP  members who continue to traffic in lies regarding these 2 voting machine businesses being complicit in anyway with GOP'S big lie, that POTUS Biden stole his win in November 2020. Incidentally, Smartmatic machines were utilized only in the Los Angeles area.
The republican President Donald Trump along with his GOP lieutenants, his campaign lawyer, Rudy Giuliani and his gofer US Senator Lindsey Graham, have been working overtime to spread disinformation regarding widespread voting irregularities regarding 2020 US elections without any factual basis. In addition, over 60 US courts, have rejected these GOP claims about the existence of highly flawed US voting systems that unfairly tilted the 2020 US presidential election in favor of the Democratic Party's candidate's favor, due to a complete lack of evidence.
But these GOP's who's who haven't given up in their multi-pronged attempts to fight a losing battle, to reverse the 2020 US election outcome to favor President Trump, a coup.
This what's important to know:
According to a Joint Statement by the federal government agency that oversees U.S. election security, the Department of Homeland Security's Cybersecurity & Infrastructure Security Agency (CISA): "There is no evidence that any voting system deleted or lost votes, changed votes, or was in any way compromised."  The government & private sector councils that support this mission called the 2020 election "the most secure in American history."

This formal public statement delivered by the head of CISA, Chris Krebs resulted in him being fired  via Twitter by President Trump for daring to contradict his numerous falsehoods regarding the 2020 US elections.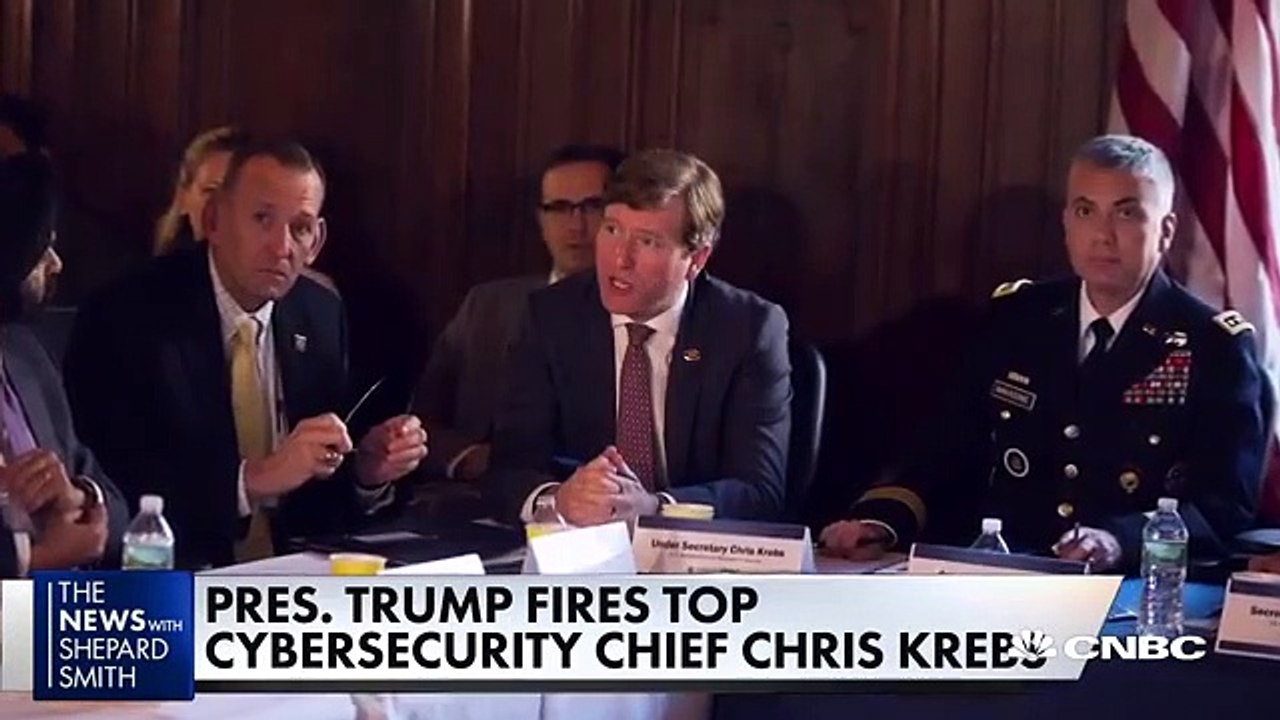 Since Election Day, GOP have been spreading conspiracy theories about Dominion, blaming its machines for Trump's losses in Arizona, Georgia, Michigan and elsewhere. The conspiracy theories surrounding Dominion have abounded and grown, but all have been debunked.  More information about some of the discredited allegations are available on Dominion's website.
Disclaimer: The below commentary is mostly speculation…
Connecting the dots…
One of the GOP's most frequent targets has been the Dominion Voting Systems software where these GOP players allege that the company used its capability to externally manipulate individuals' voting selections via its computer voting systems.
From what I can ascertain, Dominion Voting Systems appears to be a superior business with a quality product in comparison to its competitor, Election Systems & Software. I could find nothing to substantiate GOP's allegations against Dominion.
Because these GOP actors have become infamous for projecting their sins upon others, I can't help but ponder, what they've been up to, in their cheating ways regarding the recent presidential elections. With Senator Lindsey Graham recent shenanigan's of having directly intimidated the Georgia's elections supervisor into considering throwing the election in favor of President Trump, my suspicions have been heightened as to how far the GOP's who's who will go in their attempts to reverse the election outcome where President Trump wins.
I contend that if they could cheat and get away with it, they would. Cheating would be easiest to pull off successfully in GOP led states were President Trump was favored to win but where GOP senators were facing a tough challenge, as in the case of Senator Lindsey Graham vs. Jaime Harrison.
I can't help but wonder why President Trump has been so invested in the lie that the 2020 election victory was stolen from him. Could it be that the 74,223,744 number of votes garnered by him, as the most votes garnered by any US presidential candidate, ever, should have guaranteed him, success? This was about 11 million more votes than he had won in 2016. If a fix was in the works, based on previous numbers, with 74+ million votes, he should have been able to count on being reelected, were it not for the 81,283,485 votes that were cast in favor of his Democratic Party's opponent, Joe Biden.
Reminder:

One of the GOP warriors in this skirmish is the GOP US Senate Judiciary Chairman Senator Lindsey Graham from South Carolina who's allegedly been caught trying to tamper with election results in Georgia to favor his boss.

In November 2020, Senator Graham was also up for reelection against a very popular Democratic Party candidate, Jaime Harrison in the State of South Carolina but he emerged victorious with a wide margin, confounding the local pollsters who predicted a much closer race.
It's at this point, that I started to look at the Senator from South Carolina, Lindsey Graham for possibly being guilty of nefarious activity.
I researched to check if there weren't voting machines systems, other than Dominion Voting Systems that could be vulnerable to outside interference in states were GOP senate seats had been up for grabs, in states, that were likely to be a win for President Trump, like in South Carolina during the November 2020 elections.
The answer is Dominion's number one competitor in South Carolina, Election Systems & Software.
If it were at all possible, I'd want the Democratic Party leadership to consider ordering a quality control sampling of all voting machines in South Carolina, only because of GOP lawmaker's penchant for projection, the blaming of others for what you've already done. At the very least, it looks like election cheating has become a favorite GOP pastime.
Supporting articles:
As per the 2/24/2020 ABC13 News item, "The Carolinas have purchased new machines, but are the pricey tools reliable? by Frank Bajak AP technology writer:
Excerpts:
"Some of the most popular ballot-marking machines, are made by industry leaders Election Systems & Software and Dominion Voting Systems. Both register votes in bar codes that the human eye cannot decipher. That's a problem, researchers say: Voters could end up with printouts that accurately spell out the names of the candidates they picked, but, because of a hack, the bar codes do not reflect those choices. Because the bar codes are what's tabulated, voters would never know that their ballots benefited another candidate."
"Even on machines that don't use bar codes, voters may not notice if a hack or programming error mangled their choices. A University of Michigan study determined that only 7 percent of participants in a mock election notified poll workers when the names on their printed receipts did not match the candidates they voted for."
"ES&S rejects those scenarios. Spokeswoman Katina Granger said the company's ballot-marking machines' accuracy and security "have been proven through thousands of hours of testing and tens of thousands of successful elections." Dominion declined to comment for this story."
"Nearly 1 in 5 U.S. voters will be using ballot-marking machines this year, compared with less than 2% in 2018, according to Verified Voting, which tracks voting technology."
"Pivotal counties in the crucial states of Pennsylvania, Ohio and NC have bought ballot-marking machines. So have counties in much of Texas, as well as California's Los Angeles County and all of Georgia, Delaware and South Carolina. The machines' certification has often been streamlined in the rush to get machines in place for presidential primaries."
Link to entire article: wlos.com/news/..
Recently, because of close elections' results, Georgia's Elections Supervisor Brad Raffensperger conducted a recount of votes by hand; and a quality control audit of voting machines, including systems by Dominion. The vote count is ongoing but the outcome is expected to favor VP Biden.
As per a 11/17/2020 CBS46 report, "Georgia voting machine audit complete, no foul play says Sec. of State" by Catherine Catoura:
Excerpts:
"Georgia Secretary of State Brad Raffensperger announced Tuesday 11/17/2020 that audits of voting machines had been completed, with no signs of foul play discovered."
Last week, Sec. Raffensperger ordered Pro V&V, a testing laboratory certified by the U.S. Election Assistance Commission, to perform an audit of a random sampling of voting machines to ensure no hacks or tampering had affected voting results. In a statement from the auditors, Pro V&V said they, "found no evidence of the machines being tampered."
As per a 11/17/2020 CNN report, "Georgia secretary of state says Lindsey Graham implied he should try to throw away ballots"  by Caroline Kelly and Manu Raju
Excerpts:
"He asked if the ballots could be matched back to the voters," Raffensperger told CNN's Wolf Blitzer on "The Situation Room" Monday evening. "And then he, I got the sense it implied that then you could throw those out for any, if you look at the counties with the highest frequent error of signatures. So that's the impression that I got."
He later added, "It was just an implication of, 'Look hard and see how many ballots you could throw out.' "
"Raffensperger's comments come after he told
The Washington Post
on  (11/16/2020) that Graham had cast doubt on Georgia's signature-matching law in a conversation on  11/13/2020, and had also floated the possibility that biased poll workers could have counted ballots with inconsistent signatures."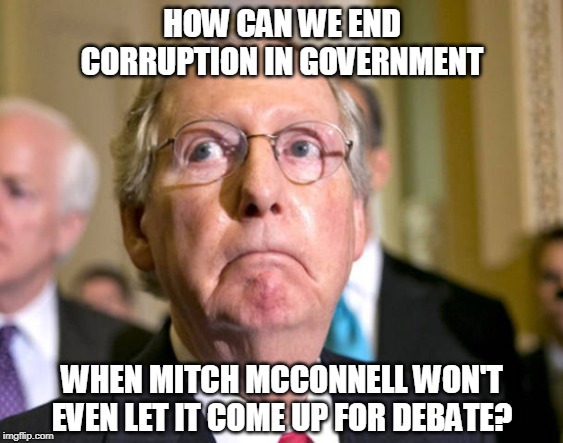 History regarding Dominion Voting Systems…
I learned about Dominion Voting Systems during the month of July 2019, when Senator McConnell nixed the passage of any legislated voting security measures after he had collected donations from voting companies.
As per the 7/26/2019 Newsweek report, "Mitch McConnell Received Donations from Voting Machine Lobbyists Before Blocking Election Security Bills" by Nicole Goodkind
Excerpts:
"Senate Majority Leader Mitch McConnell squashed 2 bills intended to ensure voting security,  just one day after former special counsel Robert Mueller warned that Russians were attempting to sabotage the 2020 presidential elections."
"McConnell said he wouldn't allow a vote on the bills because they were "so partisan," but, as previously reported, earlier this year McConnell received a slew of donations from voting machine lobbyists."
"The plans would likely burden the 2 largest electronic voting machine vendors in the United States, Election Systems & Software and Dominion Voting Systems, with new regulations and financial burdens. Together, the companies make up about 80 percent of all voting machines used in the country and both have far-reaching lobbying arms in Washington D.C. Many of those lobbyists have contributed to the McConnell campaign, reported Sludge."
How GOP spun conspiracy stories targeting Dominion Voting Systems…
As per the 11/10/2020 AP report: Here are excerpts from "Posts falsify ties between election tech firm and Democrats" by Ali Swenson:
"As poll workers tallied votes from the U.S. presidential election, many social media users interpreted a clerk's error in a small, Republican-leaning Michigan county as vote-rigging because it wrongly favored Joe Biden before being fixed."
"A week later, that misinterpreted mistake has snowballed into a deluge of false claims that Democrats have deep ties to Dominion Voting Systems, the company that supplies election equipment to Michigan and dozens of other states nationwide."
"Claims that House Speaker Nancy Pelosi, California Sen. Dianne Feinstein and the Clinton Foundation have interest or influence in Dominion are all unsubstantiated. But that didn't stop tens of thousands of social media users from amplifying them on Facebook, Twitter and Instagram."
"Here's what you need to know about the falsehoods spreading around Dominion Voting Systems…"
"CLAIM: Prominent Democrats including Pelosi, Feinstein and the Clinton family have a stake in or a deep relationship with Dominion Voting Systems, the second-largest voting vendor in the U.S., whose equipment was used in several battleground states in the 2020 election."
"AP'S ASSESSMENT: False. Dominion made a one-time philanthropic commitment at a Clinton Global Initiative meeting in 2014, but the Clinton Foundation has no stake or involvement in Dominion's operations, the nonprofit confirmed to The Associated Press. A former aide to Pelosi has represented Dominion as a lobbyist, but so have lobbyists who worked for Republicans. Claims that Feinstein's husband, Richard Blum, holds a stake in Dominion are baseless."
"THE FACTS: When Michigan's Antrim County initially reported a landslide win for Joe Biden in the U.S. presidential election, social media users grew suspicious about the Dominion election management system used to tabulate the data."
"As it turned out, Dominion was not to blame, according to the Michigan Department of State. "There was no malice, no fraud here, just human error," County Clerk Sheryl Guy told the AP."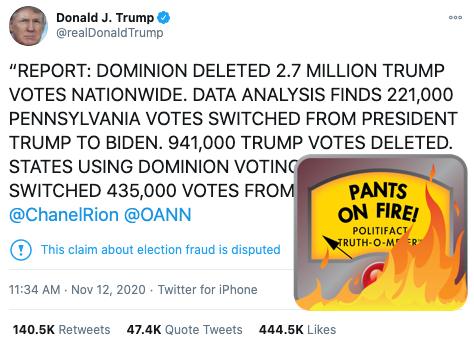 "The issue was quickly corrected, and President Donald Trump won a majority of votes in that county. However, in the days since Biden won Michigan and the presidential election, Trump supporters have continually tried to undermine trust in Dominion, which is used in at least 30 states, including key battlegrounds like Georgia."
"Several widely shared social media posts this week exaggerated a one-time connection six years ago between Dominion and the Clinton Foundation in order to claim the election software should not be trusted."
"Is it a coincidence that Dominion Voting is in bed with you guessed it… The Clinton Foundation?" read one tweet shared more than 7,000 times."
"Some posts shared a screenshot from the Clinton Foundation's website. It shows that in 2014, at a meeting of the Clinton Global Initiative, Dominion made a philanthropic commitment to donate its election technology to emerging democracies outside the United States as part of a three-year project."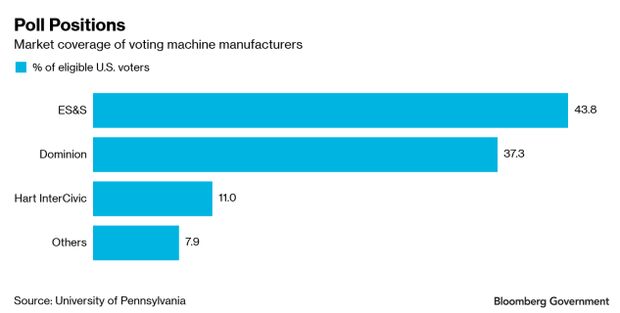 "However, that one-time commitment is not proof of any lasting relationship between the Clinton Foundation and Dominion, nor of any foul play in the 2020 election."
"The Clinton Foundation has never had any stake in Dominion Voting Systems; we have never been involved in the company's operations; and we can confirm that we are not currently working together," the nonprofit said.
"Dominion did donate between $25,001 and $50,000 to the Clinton Foundation in 2014, according to reporting by the Washington Post, but its lobbyists have also donated to Republican Senate Majority Leader Mitch McConnell."
"Other social media sleuths pointed to Dominion's hiring of Nadeam Elshami, Pelosi's former chief of staff, as part of its lobbying team as alleged evidence of a link between the company and Pelosi."
"What's the name of the company with all the voting machines that 'glitch' to create more votes for Biden? Dominion Voting Systems," read a tweet from Emerald Robinson, a reporter for the conservative cable network Newsmax. "Who's their DC lobbyist? Nancy Pelosi's aide."
"It's true that Elshami is part of a lobbying team representing Dominion, according to public disclosures."
However, that team also includes Brian Wild, who counts Republicans such as former House Speaker John Boehner and former Vice President Dick Cheney among his past bosses.
Jared Thomas, a longtime aide to Republican Georgia Gov. Brian Kemp, has also lobbied for Dominion.
Link to lengthy report:  View on apnews.com
As per Dominion Voting Systems' website...
Founded in 2003, Dominion Voting Systems is a leading supplier of election technology across the U.S., Canada and globally. Its International headquarters are located in Toronto, Canada and its US Offices are in Denver, Colorado.
"Recognized by Deloitte as one of the fastest-growing tech firms in North America, Dominion provides the highest level of election support services available. From initial project implementation through election set-up, ballot layout, multiple language audio, machine set-up and system testing, we deliver. We also provide testing, Election Day support, training, preventative maintenance, project management and ongoing election consulting."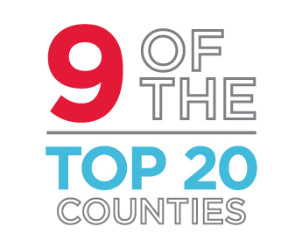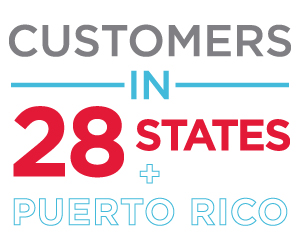 READ MORE from its website: ELECTION 2020: SETTING THE RECORD STRAIGHT/ FACTS