Note: By now many of us have been watching the Impeachment trial during the week of 2/9/2021, being conducted in the US Senate by the Democratic Party House Managers led by Representative Jamie Raskin. Even though the House Managers have done an exceptional job in prosecuting an open and shut case against the former president for "inciting an insurrection on 1/6/2021," it appears unlikely that he'll be convicted by most of the GOP senators/ jurists who are still kowtowing to their standard bearer, and who're immersed in fear of alienating their base of voters who are Trump loyalists.
***
While watching these impeachment presentations, most of us have been thanking God, that the 1/6 Capitol riots did not end with much worse outcomes. What if VP Mike Pence, who had refused to accede to his boss's demands to disgrace his constitutionally mandated duty by illegally decertifying the election results on 1/6/2021, hadn't  been  been evacuated before rioters could locate him to follow up on their chant, "hang Pence?" Had the former president planned for VP Pence's demise with the intent to then, declare "Marshall law?"
***
***
In conclusion, I contend that there's still a missing piece of the puzzle to better explain the GOP US senators abject obeisance to President Trump to where they would be seriously considering not voting to convict him, as they face an avalanche of evidence against him. I pray that we'll eventually find out what it is that President Trump has on them.
***
What could be this missing puzzle piece? Let me count the possibilities, like in 2020 GOP candidates managed to cheat in a way that has yet to be uncovered; or they need the former president's ability to raise funds; or they've become Russian assets along with their standard bearer, or too many wish to limit exposure over their having become overly intertwined with White Supremacist leaders, or there're GOP dark money donors promising tons of monies if GOP congressional leaders can win back majority positions in both houses in 2022, etc.
***
For now, "We the People" can take solace, that an exceptional presentation of the truth, facts surrounding the 1/6/2021 Capitol riots has been viewed by millions of Americans, as well as there being the compilation of an accurate detailed historical record.
It's not just our US democracy but the value of truth that's been under attack for years by the likes of the autocratic loving former republican President Donald J Trump with his GOP sycophant lawmakers backed by GOP / ALEC type dark money donors and Trump's zealous, cult-like supporters.
***
I argue that it's not possible to have a well functioning democracy without the American voters being able to rely on truth, facts backed by science and sound thinking.
***
To counteract the Fascist/ racist like GOP Trumpians' reliance on disinformation campaigns, ladened with la la land conspiracy theories, lies which is then, widely disseminated in concert by right wing media outlets, social websites, many White Evangelical churches and numerous GOP lawmakers, the Democratic Party leaders will have to prioritize voting rights legislation which at the very least, would require the immediate publication of any entity/ individual donating any monies to candidates' campaigns and to any political PAC.
***
To pass any voting rights legislation, it's likely that Congressional Democrats will have to end the filibuster rule.
***
As per the 7/30/2020 Political report, "Obama calls for end of 'Jim Crow relic' filibuster if it blocks voting reforms" by Max Cohen, "Former President Barack Obama (has) called for the elimination of the Senate's filibuster rule if it is used to block sweeping voting reforms, labeling the chamber's long-held (filibuster) 60-vote threshold a "Jim Crow relic, (instead of the simple majority of 51 votes)."
***
***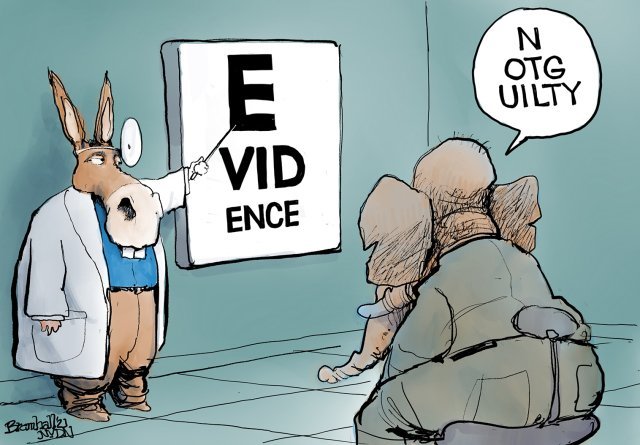 As per the Brennan Center: "We know what we need to do to address these problems and strengthen American democracy. It starts with passing the For the People Act (H.R. 1 in the House and S. 1 in the Senate). The Act incorporates key measures that are urgently needed, including automatic voter registration and other steps to modernize our elections; a national guarantee of free and fair elections without voter suppression, coupled with a commitment to restore the full protections of the Voting Rights Act; small donor public financing to empower ordinary Americans instead of big donors (at no cost to taxpayers) and other critical campaign finance reforms; an end to partisan gerrymandering; and a much-needed overhaul of federal ethics rules."
***
"This historic legislation responds to twin crises facing our country: the attack on democracy, epitomized in the assault on the Capitol on January 6, and the urgent demand for racial justice. It is based on the key insight that the best way to defend democracy is to strengthen democracy. If enacted, it would be the most significant voting rights and democracy reform in more than half a century."
***
Democrats will still have to figure out a way to effectively champion the value of truth over the GOP's favored addiction to conspiracy theories a la QAnon.
Read: Pro-Trump forces… are poised to wage perhaps the most extensive disinformation campaign in U.S. history, @mckaycoppins writes… the wreckage it leaves behind could be irreparable. Link to article: "The Billion-Dollar Disinformation Campaign to Reelect the President" theatlantic.com/magazine..
We all know with certainty that the former President Donald Trump cheated in every way that he could think of, to win the November 2020 presidential elections, both before and afterwards. His imagination has known no bounds.
***
One way that he cheated was by him investing in the "Big Lie," that the 2020 election victory was stolen from him, with his record making 74,223,744 votes, the most votes garnered by any previous presidential candidate, ever. This was 11 million + more votes than he had garnered in 2016. According to the GOP former president, he lost because of the high number of votes cast by American citizens of color in cities like Atlanta, Philadelphia, Detroit, etc. Yes, the former president and all who continue to back him, are pandering to racists within the GOP.
***
***
When the 2020 presidential election results matched the GOP's internal polling,  the former GOP president expected that his victory was assured along with all those GOP senators who did win in the majority of republican led states, even in the projected contested battles as in the cases of the Senators Susan Collins of Maine, Lindsey Graham of South Carolina, Dan Sullivan of Alaska and Mitch McConnell of Kentucky and others.
***
With President Trump delivering a record number of votes, all these GOP senators in GOP led states were able to win by impressive margins. They kept their senate seats losses to a minimum plus
the GOP were able to increase their numbers by 5 seats in the US House of Representatives. These same GOP players want to repeat these results in 2022. 
***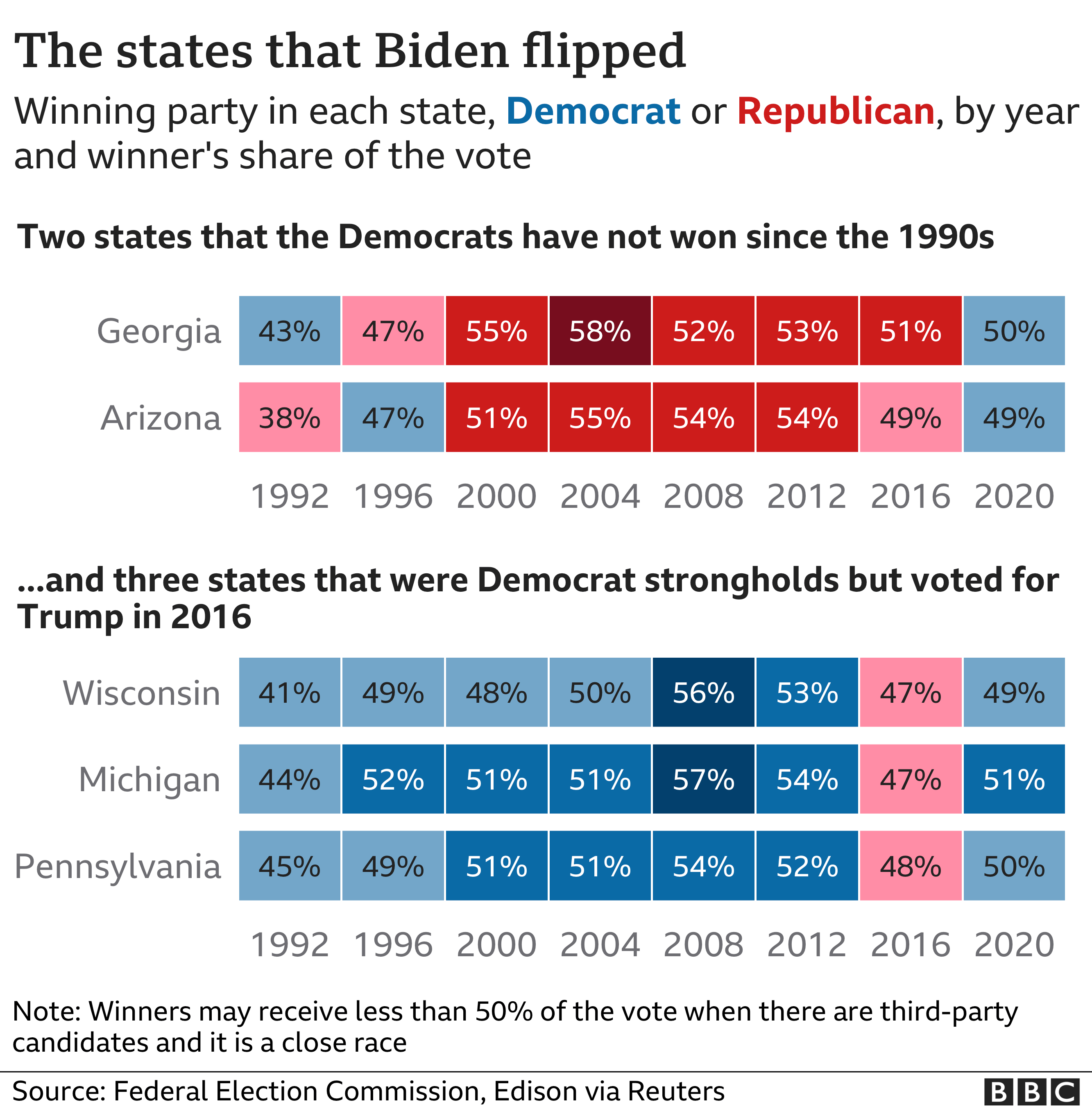 ***
In short, in 2020, with President Trump at the top of the ticket, Republican Party candidates in GOP led states did great with the exception of himself and 3 GOP US senators from Georgia and Arizona. Those are the GOP led states where the Democratic Party presidential candidate Joe Biden won by narrow margins.
***
Thus,  it must have been a tsunami level shock to the likes of President Trump, someone who had cheating during this 2020 election, down to a science, to learn that he still lost to the Democratic Party candidate, VP Joe Biden who managed to garner a record breaking tally of 81 million + votes, trumping his opponent's record by over 7 million votes but with narrow wins in the 2 southern GOP led states of Arizona and Georgia. 
***
So, despite President Trump leading the 1/6/2021 insurrection against the Capitol complex as a continuation of the "Big Lie," that the election was stolen from him with the fraudulent millions of votes from minority communities; that included the loss of 1 Arizona GOP US senate seat in November 2020, and an upset loss of 2 Georgia GOP US senate seats in January 2021 in Southern GOP led states, GOP congressional lawmakers are still continuing to make nice with Donald J. Trump because they are convinced that they can't win future elections without his support, especially starting in 2022.

***
Additional Background data:
***
In 2020, the Democratic Party was able to flip a Colorado GOP US senate seat held by Cory Garner to the Democratic candidate
John Hickenlooper
. But this wasn't much of a surprise since Colorado has voted with the Democratic Party in the last 4 presidential elections, including in the case of Joe Biden's who won by a 13.5% margin.
***
The Democrats did lose a senate seat with Senator Doug Jones of Alabama who had won an earlier special election in a fluke as he was pitted against a pedophile GOP candidate but this time, in 2020, Alabamians selected a QAnon star to be their GOP representative in the US Senate.
***
In summary, as of November 2020, Republicans were clinging to a narrow Senate majority after holding seats in Maine, Iowa, South Carolina and Kansas while claiming a Democratic-held seat in Alabama. Democrats defeated a Republican incumbent in Colorado, held the seat in Michigan and were projected to pick up a GOP-held seat in Arizona. Then the Democrats were able to flip 2 US senate seats in their favor in Georgia's run-off elections scheduled for January 5, 2021 which placed the Democrats in a majority position in the US Senate by the narrowest of margins.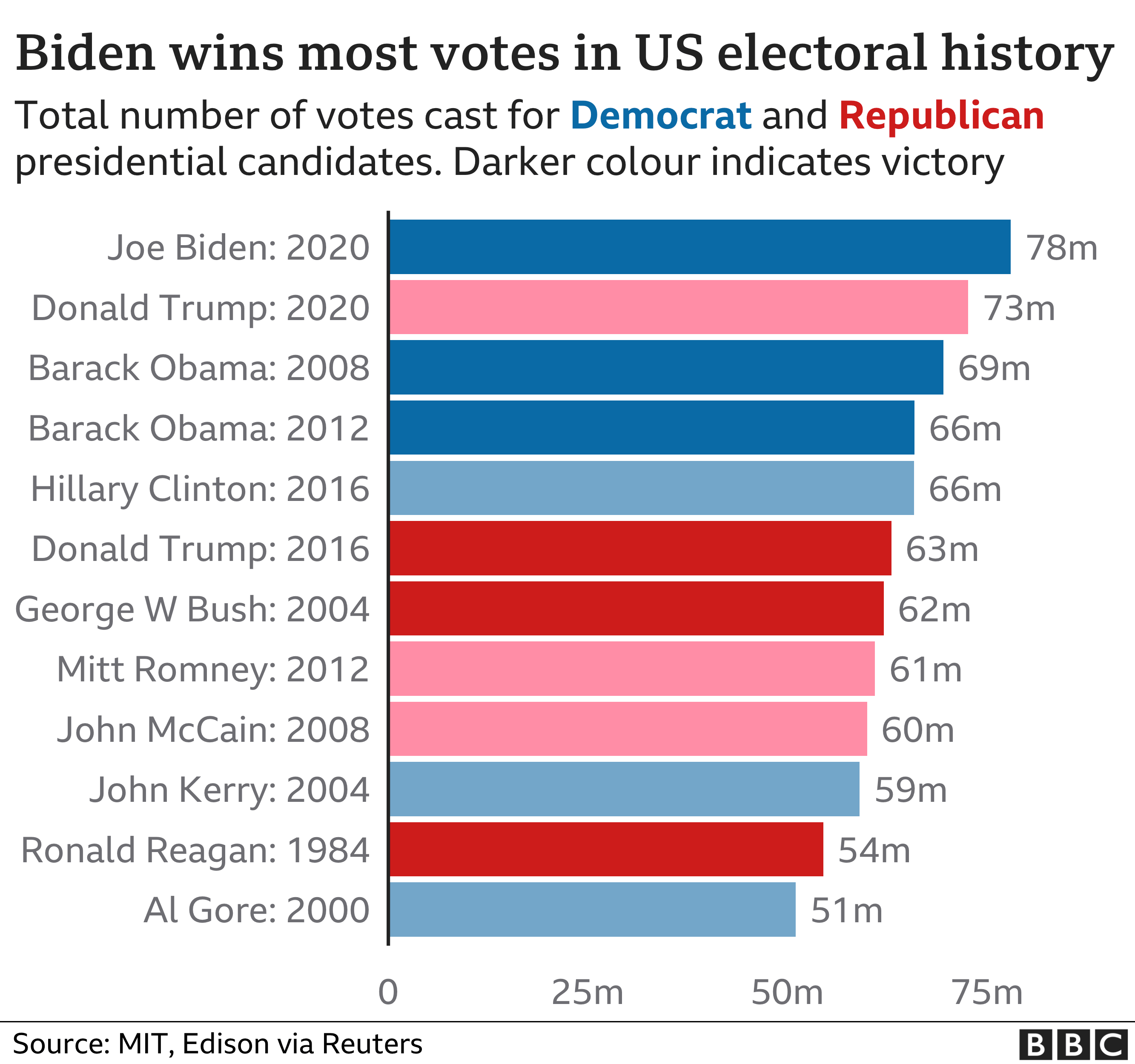 Final Count: POTUS Joe Biden won 81+ million votes/ Trump won 74+ million votes