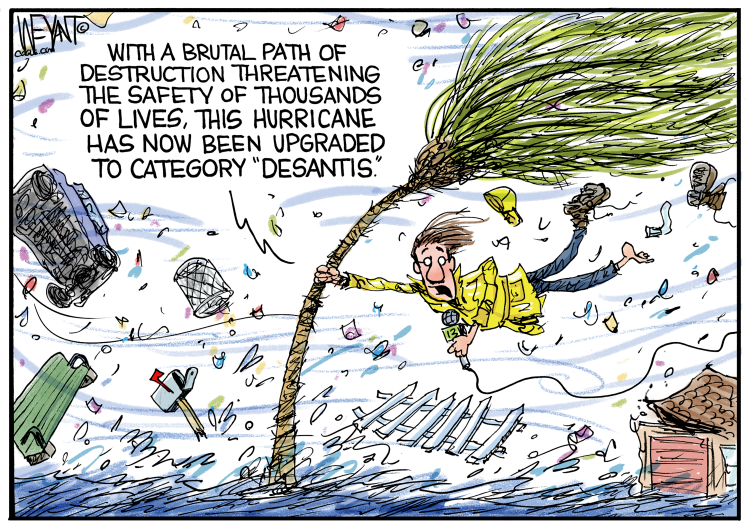 Both the GOP MAGA Senator Rick Scott and Governor Ron DeSantis have turned the State of Florida into the petrie dish/ epicenter for the future GOP MAGA authoritarian style of government.
Senator Rick Scott, the richest lawmaker in the US Senate, can be said to truly reflect how the GOP dark money/ ALEC type corporate donors, think. For example, in 2022, he was the senator who floated the plan to subject all federal legislation to sunset reviews within 5 years. This would include programs like social security and Medicare. He's backing the extension of the 2017 tax cuts bill. He has consistently acted in sync with the GOP CEOs' goals regarding the reduction of taxes on corporations and millionaires, the dismantling of government oversight agencies and the elimination of government social safety net programs.

They would prefer an autocracy style of governing instead of our US democracy, as that would make their very unpopular objectives more attainable.
See: Rick Scott, the nations richest senator, gets millions of dollars richer https://www.floridabulldog.org
But let's focus the rest of this story on Florida's Governor Ron DeSantis…Jennifer Rubin is right on the money in her 11/21/2022 Washington Post's opinion piece, "Beware, DeSantis is as much a threat to America as Trump:"
The entire article is a worthwhile read but here're some excerpts:
"If you believe Florida's Republican Gov. Ron DeSantis would be a less dangerous presidential candidate than former president Donald Trump, take a moment to consider the recent ruling striking down DeSantis's "Stop WOKE Act." That opinion — as well as other rulings against his attempts to inhibit dissent — makes clear that DeSantis is just as willing as Trump to embrace the GOP's authoritarian element and use state power to punish his enemies."
"To recap, the Stop WOKE Act — also perversely known as the Individual Freedom Act — is the Orwellian scheme that DeSantis signed into law earlier this year to muzzle the candid discussion of race and racism in classrooms and the workplace. As U.S. District Judge Mark E. Walker explains in his opinion, "The law officially bans professors from expressing disfavored viewpoints in university classrooms while permitting unfettered expression of the opposite viewpoints." He dryly continued, "Defendants argue that, under this Act, professors enjoy 'academic freedom' so long as they express only those viewpoints of which the State approves."
"The law, for example, bars discussion of the concept that a person "by virtue of his or her race, color, national origin, or sex should be discriminated against or receive adverse treatment to achieve diversity, equity, or inclusion." During oral arguments, when asked if this would bar professors from supporting affirmative action in classroom settings, attorneys for the state government answered, "Your Honor, yes."
"That is the essence of authoritarianism. DeSantis's willingness to back such a monstrous violation of free expression should send up warning flags about his commitment to uphold the Constitution."
"Walker is the same judge who struck down another DeSantis assault on the First Amendment — his vague anti-riot law to quell demonstrations. In that opinion, Walker recalled, "In 1956 and 1961, Florida's anti-riot laws were used to suppress activities threatening the state's Jim Crow status quo." DeSantis apparently considered such efforts commendable."
"He delights in using state power to demonstrate his contempt for the expression of views he dislikes. This forms the core of his political brand, underscored by his "don't say gay" law, his statute banning "critical race theory" in schools and his firing of a county prosecutor who criticized his abortion policies. DeSantis has also regularly flexed his power as governor: excluding media from events, taking public proceedings behind closed doors (including the selection of the University of Florida's president) and exacting revenge on supposedly woke corporations such as Disney."
Jennifer Rubin didn't cover the extensive list of all of the GOP MAGA Florida's Governor Ron DeSantis Castro-lite authoritarian actions.
She didn't include:
How Governor Desantis has led the State of Florida to where it has ended up being 3rd in USA for COVID deaths; how he has retaliated against the Tampa Bay Rays baseball team for posting tweets calling for gun safety laws following the school shooting in Uvalde, Texas; how he has banned even math textbooks in classrooms;" how during a public appearance, he had admonished High School students located behind him on stage as props for wearing masks; how he had ordered Venezuelan asylum seekers in Texas to be relocated by air to Martha's Vineyard; how he had directed police to round up folks who'd allegedly voted illegally, but the cases were all dismissed by a Miami judge; how he had personally redrawn Florida's redistricting maps in 2022 to be extremely favorable to Republican Party candidates and how his redistricting map wiped away half of the state's Black-dominated congressional districts, dramatically curtailing Black voting power in what used to be considered, a "swing state."
See: DeSantis's Education Department Bans 54 Math Books/ truthout.org
I forgot to mention how the Castro-lite FL Governor Ron DeSantis was party to an ad, depicting him as God's fighter.
Here're some articles detailing the above points:
As per the 11/7/2022 Peoples article, "Ron DeSantis' Campaign Ad Says He Was Sent by God to "Take the Arrows" by Amy Eskind:
"Ron DeSantis appears in a new campaign ad in which the Florida governor, a Republican, is described as being sent by God."
"The ad that piqued the former president has raised a fair amount of controversy. Mimicking a 2013 Super Bowl ad for Ram trucks, "So God Made a Farmer" — which was inspired by a 1978 speech by the late Paul Harvey — the ad for DeSantis says that on the "eighth day" of creation, God needed a "protector," so God "made a fighter." That fighter, the ad suggests, is none other than the Florida governor."
As per a 5/20/2022 Axios report, "Appeals court reinstates DeSantis redistricting map" by Erin Doherty:
A Florida appeals court reinstated a new congressional map backed by Florida Gov. Ron DeSantis, allowing the controversial new district boundaries to take effect for now.
Driving the news: "Based on a preliminary review, the court has determined there is a high likelihood that the temporary injunction is unlawful, because by awarding a preliminary remedy to the appellees' on their claim, the order 'frustrated the status quo, rather than preserved it,'" the appeals court said.
"Given the exigency of the circumstances and the need for certainty and continuity as election season approaches, on the court's own motion, the stay of the temporary injunction is reinstated," per the ruling.
The other side: The plaintiffs said Friday in a statement that the ruling "does nothing to change the fact that the Governor's proposed map is a blatantly unconstitutional attack on Black representation in Florida," CNN reports.
"The big picture: The move comes one week after a circuit judge struck down a portion of DeSantis's redistricting map, saying "it diminishes African Americans' ability to elect the representatives of their choice."
"The maps, which DeSantis called "race-neutral," make it harder for North Florida voters to elect a Black member of Congress in the 5th Congressional District, where nearly half its residents are Black."
"The state appealed Leon County Circuit Judge Layne Smith's ruling last week, shortly after his decision."
"What to watch: The case is likely to head to the Florida Supreme Court, per Dave Wasserman, senior editor at The Cook Political Report with Amy Walter."
Go deeper … Florida judge says DeSantis' redistricting map is unconstitutional
As per a 10/ 22/2022 report by USA.FACTS.org, Florida coronavirus cases and deaths, "the data shows that Florida has incurred 81,907 COVID related deaths."
As per a 9/6/2022 Yahoo report based on a Palm Beach Post article by Chris Persaud, "Florida leads nation COVID deaths though cases keep declining:"
"For the third month in a row, Florida logged more COVID-19 deaths than anywhere else in America."
"The state's COVID death toll grew by 1,614 people in August, U.S. Centers for Disease Control and Prevention data shows. As coronavirus omicron subvariants swept the state this summer, Florida fatalities topped the nation from June – August.'
"It's also the third summer in a row Florida has been No. 1 for COVID deaths."
"The state became the national epicenter for the disease in August 2020, after Gov. Ron DeSantis began allowing businesses and public places to reopen. The state again became the COVID fatality capital of America last year in July and August, months after state officials suspended all remaining pandemic restrictions."