As usual the republicans are doing everything possible to restrict or to make it more difficult for Americans to have access to the ballot box. And they are at it again in the State of Georgia.
Here is the rest of the story…
On 4/20/17, Sam Levine of the Huffington Post penned of the following article, "Georgia Is Trying To Block Newly Registered Voters From Taking Part In Fierce Runoff Election." (This is just typical, said the Georgia NAACP chief, who is suing the state.)"
"Five civil rights and civic engagement groups have filed suit against Georgia and its secretary of state for attempting to block registered voters from participating in a closely watched runoff election in Georgia's 6th Congressional District."
"On Thursday, the Lawyers' Committee for Civil Rights Under Law filed a complaint in the federal district court in Atlanta, arguing that the state is violating the National Voter Registration Act. That law sets 30 days before a federal election as the earliest permissible deadline for voter registration."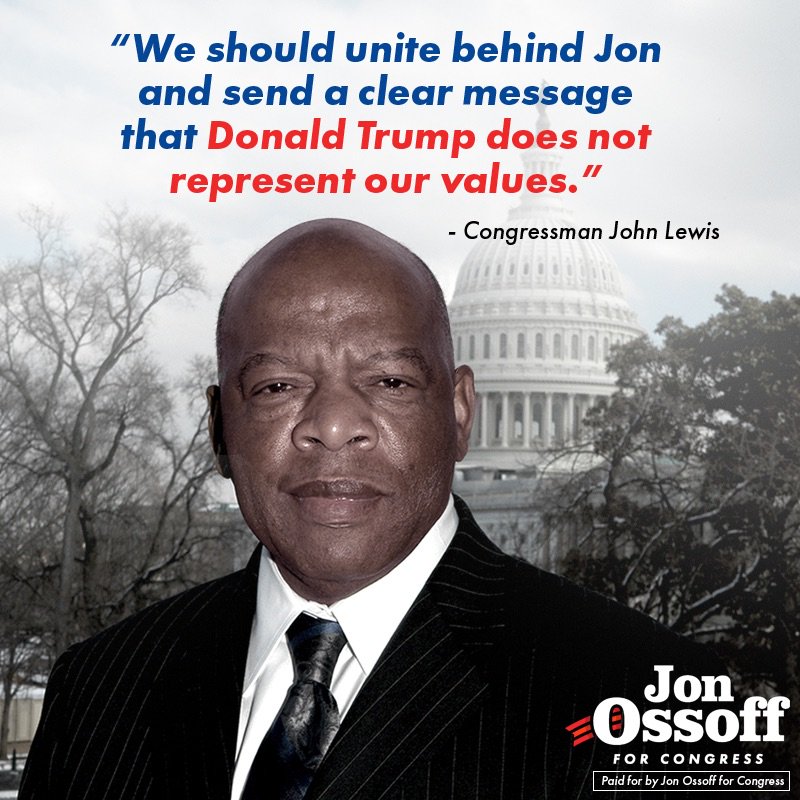 "Georgia complied with the provision for the special congressional election held this past Tuesday. But because no candidate won 50 percent of the vote, there will be a second election on June 20 ― a runoff between the top two finishers, Democrat Jon Ossoff and Republican Karen Handel."
"Georgia election officials contend that the June runoff is simply a continuation of the special election this week, so they don't have to allow newly registered voters to participate. The registration deadline for Tuesday's election was March 20, and officials say anybody who registers after that day is not eligible to vote in the June runoff."
"Ezra Rosenberg, co-director of the voting rights project at the Lawyers' Committee, argues that under the federal law, Georgia can't set the registration deadline for the June 20 runoff any earlier than 30 days before that election ― that is, May 22."
"The case is actually a very, very simple case," Rosenberg told reporters on a conference call Thursday. "Federal law specifically defines elections as including runoff elections."
"The National Voter Registration Act, passed in 1993, defines the word "election" based on the Federal Election Campaign Act. That 1971 statute defines an election as"a general, special, primary, or runoff election."
"The lawsuit was filed on behalf of the Georgia NAACP, Georgia Coalition for the Peoples' Agenda, ProGeorgia State Table, Third Sector Development and Asian Americans Advancing Justice-Atlanta. The groups are asking the federal court to order the state to let people vote on June 20 if they're registered by May 22 ― and to publicize that extension of the deadline."
Speaking on the press call, Francys Johnson, president of the Georgia NAACP, called the decision to block people from voting "par for the course" for Georgia Secretary of State Brian Kemp (R). "The tactics that the secretary of state and the state of Georgia are employing are anything but special. They are typical," Johnson said.
"Their goal, Johnson argued, "is to make voting difficult, to make voting something that all Georgians cannot participate in. Any time there is a need to interpret federal law, (Kemp) always interprets federal law to close opportunities for Georgians to be able to exercise the right to vote."
"Stephanie Cho, executive director of Asian Americans Advancing Justice-Atlanta, added that Georgia's decision was already causing considerable confusion. She noted that people who had moved to the 6th District or turned 18 since March 20 would not be able to vote in the upcoming runoff."
"The Lawyers' Committee already knows of more than 100 voters affected by the state's excessively early deadline, according to spokesman Derrick Robinson."
"But Georgia law requires that individuals who vote in a runoff election must be registered to vote in the initial election, Kemp spokeswoman Candice Broce said in an email. She also noted that the U.S. Constitution allows states to set additional qualifications for voters in federal elections that don't exceed the qualifications for state elections."
"Ira Feinberg, a partner at the law firm Hogan Lovells, essentially responded to that argument on the conference call when he said that the National Voter Registration Act "clearly pre-empts state law." Hogan Lovells is assisting on the case."
"Broce claimed that allowing new voters to register would undermine the integrity of the runoff."
"The election system, which includes the voter registration database and electronic poll books, was set up in such a way that it necessarily depends on the runoff being connected to the underlying election," she said. "Attempting to make a change to the election system this late in the process could result in serious complications to normal election operations."
"Ossoff performed stronger than expected  on the (4/18/17) election for the congressional seat recently vacated by Health and Human Services Secretary Tom Price. It's a seat long held by Republicans. The race has drawn national attention because some see it as an early indicator that dissatisfaction with President Donald Trump could turn into political gains for Democrats."
Georgia Voting Rights Lawsuit on Scribd