Today, it is a sad fact of life in the USA, that Americans are living in a national reality show where the republican President Donald Trump has a habit of reporting/ tweeting on his beliefs which frequently have no basis in fact. The Washington Post and other news outlets are keeping records to fact check just about everything the president alleges to be true. On a weekly basis, the Washington Post reviews his most recent tweets. There is also a Trump Promise Tracker.
Here are the Washington Post's most recent reviews:
On 4/21/17, Michelle Ye Hee Lee of the Washington Post fact checked the following presidential tweets in this report, "What Trump got wrong on Twitter this week (#8)."   
Excerpts:
"But in the past week, Trump tweeted misleading or false claims about several issues that were worth delving into. Here's a look at what Trump got wrong in 10 tweets.".
Why would I call China a currency manipulator when they are working with us on the North Korean problem? We will see what happens!
 "This is an obvious flip-flop for Trump. Why would he call China a currency manipulator? Well, for starters, he made a campaign promise that he would direct the Treasury secretary to label China a currency manipulator."
"Throughout the campaign, Trump falsely blamed China for being a "world champion" of devaluing the yuan. We rated that outdated claim Four Pinncchios: Not only is the United States not being hurt by China's current currency manipulation, China also is not devaluing its currency anymore. In fact, China is selling foreign currency to prop up its own in an effort to prevent the yuan from depreciating further and destabilizing the Chinese and global economy."
"Then, on April 12,  Trump announced that he would not label China a currency manipulator, breaking his key economic campaign promise. We rated this promise "Broken" in our Trump Promise Tracker.
I did what was an almost an impossible thing to do for a Republican-easily won the Electoral College! Now Tax Returns are brought up again?
"We'll first note these two things have nothing to do with each other. Trump repeatedly said he would release his federal tax returns once they are done being audited by the Internal Revenue Service. Nothing in law prohibits him from releasing his taxes while under audit. In fact, the first president to release his taxes, Richard M. Nixon, did so in the middle of an audit."
He said in interviews about releasing his tax returns: "I have no problem and it should be and I hope it's before the election." (Here's Fact Checker's look at what we know about his taxes so far.)"
"In any case, he's incorrect that winning the electoral college was an "impossible thing to do for a Republican" and his electoral college votes were not "easily won." According to a tally by John Pitney of Claremont McKenna College, Trump ranked 46th out of 58 electoral college results."
"The first 90 days of my presidency has exposed the total failure of the last eight years of foreign policy!" So true. @foxandfriends
 "Trump keeps touting his successes in his first 90 days, but we've found the evidence sorely lacking. As we've written, few presidents achieve much on foreign policy matters in their first 100 days in office, as such policy advancements take time. Trump, so far, has been meeting with many foreign heads of state, but it's too early to say whether his policies will result in real changes."
The super Liberal Democrat in the Georgia Congressioal race tomorrow wants to protect criminals, allow illegal immigration and raise taxes!
Democrat Jon Ossoff would be a disaster in Congress. VERY weak on crime and illegal immigration, bad for jobs and wants higher taxes. Say NO
Republicans must get out today and VOTE in Georgia 6. Force runoff and easy win! Dem Ossoff will raise your taxes-very bad on crime & 2nd A.
 "Trump tweeted several times leading up to and on the day of the April 18 special election in Georgia's 6th Congressional District, to fill the seat vacated by Tom Price, now the secretary of health and human services. Trump is referring to Jon Ossoff, who is headed to a runoff election with Republican Karen Handel."
"He did not accurately describe Ossoff's stances on illegal immigration and taxes, as our friends at PolitiFact and FactCheck.org found. Ossoff supports a comprehensive immigration bill that allows a "path to legal status" for undocumented people (excluding felons) living in the country. But he also said he supports strong border security. This is not the same as "allowing illegal immigration."
On taxes, FactCheck.org found that Ossoff has proposed to simplify the tax code and that "to lower tax rates, we can eliminate carve-outs and special treatment in the tax code that privilege large organizations at the expense of small businesses."
The weak illegal immigration policies of the Obama Admin. allowed bad MS 13 gangs to form in cities across U.S. We are removing them fast!
 "This is not correct. The MS-13 gang, or Mara Salvatrucha, has been operating and expanding for two decades preceding former president Barack Obama's term."
"MS-13 is believed to have started in Los Angeles in the 1980s by Salvadorans who immigrated there to flee civil war in their country, according to the Congressional Research Service. As of 2005, the gang had traveled to many cities across the country, from California to the East Coast. PolitiFact and FactCheck.org dug into this in depth."
"Moreover, Immigration and Customs Enforcement under Trump is arresting an increasing number of noncriminals, indicating that it's not just the criminal and dangerous gang members who are being targeted by his administration."
Despite major outside money, FAKE media support and eleven Republican candidates, BIG "R" win with runoff in Georgia. Glad to be of help!
 "The day after the Georgia special election, Trump took credit for the ensuing runoff election. He said he was "glad to be of help," even though Republicans in the race distanced themselves from him as the election got closer. And while Republicans avoided an embarrassing loss, it wasn't exactly a BIG "R" win that Handel will face Ossoff in the runoff. Ossoff garnered 48 per cent of the vote in a strong Republican district, just shy of the 50 percent needed for an outright win. Many pundits said the result indicated danger signs for Republican lawmakers in the Trump era."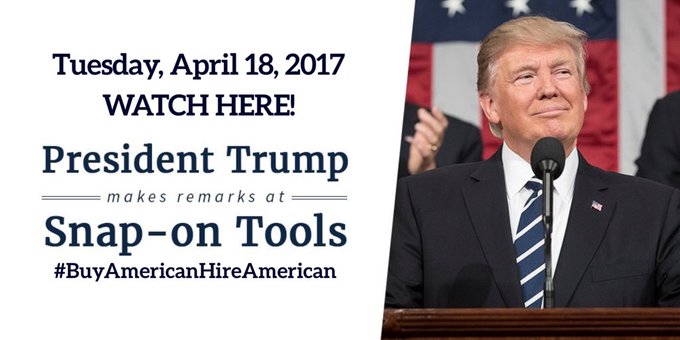 "Trump now calls for Americans to "buy American, hire American." But this is misleading."
"Trump had a long history of outsourcing a variety of his products and has acknowledged doing so. When asked during a Republican primary debate in Miami why voters should trust that Trump "will run the country differently from how you run your businesses," he answered: "Because nobody knows the system better than me. … I'm a businessman. These are laws. These are regulations. These are rules. We're allowed to do it. … I'm the one that knows how to change it."
"The Fact Checker counted a total of 12 countries where Trump products (are)  manufactured (China, the Netherlands, Mexico, India, Turkey, Slovenia, Honduras, Germany, Bangladesh, Indonesia, Vietnam and South Korea)."