Here's the background on the White House/ Russian meeting on 5/10/17…
On 5/16/17, Philip Rucker and Karen De Young of the Washington Post penned the following report, Inside the Oval Office with Trump and the Russians: Broad smiles and loose lips.
EXCERPTS:
"Comfortable chastising and cajoling in his fluent English, Sergei Lavrov has brought scowls and smiles to the faces of officials from four U.S. administrations during more than two decades as a senior statesman from Russia."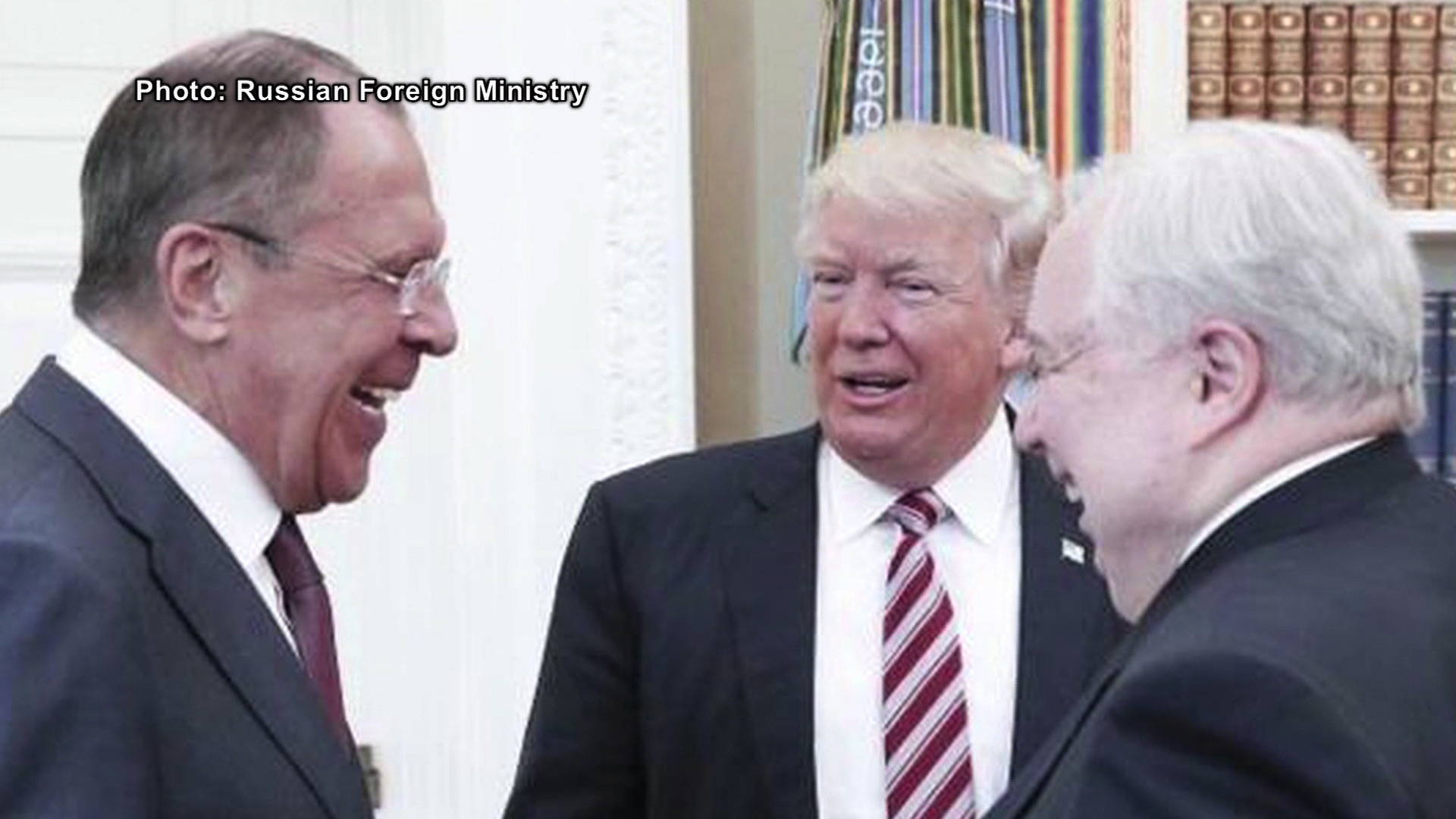 "So it was no surprise that when the Russian foreign minister paid a visit to President Trump last Wednesday, there were broad grins all around the Oval Office — just in time for Moscow's official photographer to memorialize a chummy image of a tête-à-tête that Trump might now wish he could forget."
"Lavrov — almost certainly aware of Trump's proud indifference to the conventions of his office, especially when trying to impress visitors — listened as Trump bragged about the intelligence he receives and shared highly classified information from a U.S. partner with Lavrov and Ambassador Sergey Kislyak, who also attended, according to current and former U.S. officials."
"The meeting that produced one of the biggest crises yet for a White House already well accustomed to tumult began as a favor from one president to another."
"On May 2, eight days before Lavrov showed up at the White House, Russian President Vladi­mir Putin was on the phone with Trump and made a request. ­Putin had "new ideas" about stopping the civil war carnage in Syria, according to a senior U.S. official, and noted that his top diplomat, Lavrov, would soon be visiting the United States for a previously scheduled meeting with Secretary of State Rex Tillerson."
"Will you see him?" Putin asked Trump, according to the official, who spoke on the condition of anonymity to describe the private talks.
"Yes," Trump replied.
Lavrov's itinerary had him going nowhere near Washington — 4,100 miles away in Fairbanks, Alaska, where he and Tillerson would be attending a meeting of the Arctic Council, the group of countries that have territory in the Arctic region. Putin glossed over that detail with Trump, however, and once he agreed to a face-to-face meeting with Lavrov, the Russian minister changed his plans to jet first to Washington.
"For the Kremlin, a private audience with the president was a major opportunity to show the world that U.S.-Russia relations were normalizing."
"Since the crisis in Ukraine, when Russia annexed Crimea in 2014 and sent troops into breakaway eastern Ukraine, the United States has sought to show that it is not conducting "business as usual with Russian figures," said Andrew Weiss, a Russia specialist who is vice president for studies at the Carnegie Endowment for International Peace."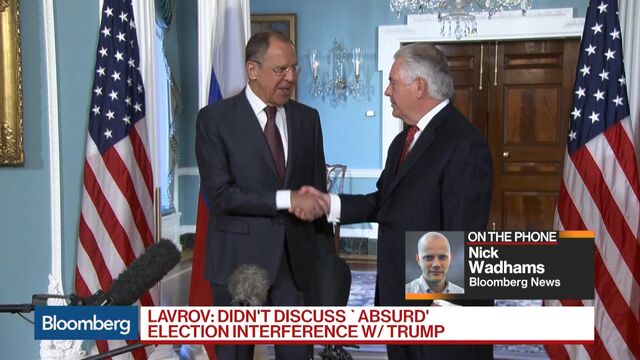 "But Putin and his deputies, Weiss said, have "sought whenever they could to lessen that international isolation and demonstrate, 'See, we're back in the family of nations, and we're all going to get back to business again.' "
 "Trump on Tuesday said that his meeting with Lavrov was "very, very successful" and that it was a precursor to "a lot of great success over the next coming years" in fighting global terrorism."
"Trump's advisers insisted that the president did nothing wrong."
"What the president discussed with the foreign minister was wholly appropriate to that conversation and is consistent with the routine sharing of information between the president and any leaders with whom he's engaged," national security adviser H.R. McMaster told reporters Tuesday."
"In one important respect, the Trump administration's hand might have been forced. After Putin received Tillerson in Moscow last month —meeting privately with the secretary of state for two hours at the Kremlin — the United States owed reciprocity to Russia in the form of an audience with Trump for Tillerson's Russian counterpart, Lavrov. Rejecting Putin's request for a Trump-Lavrov meeting would have represented a breach in diplomatic tradition."
"Never mind the United States' growing list of grievances with Russia — which includes the conclusion of U.S. intelligence agencies that Russia interfered with the 2016 presidential election to help elect Trump, as well as Moscow's refusal to rein in support for Syrian President Bashar al-Assad amid that country's civil war and humanitarian crisis."
"U.S. officials moved forward regardless to orchestrate Lavrov's meeting with Trump. Weiss said that "throws out the very limited leverage we have with the Russians, and makes it look like we're softies."
"The meeting took place the morning of May 10 in the Oval Office, the very symbol of presidential power, and White House aides took pains to keep the plan from leaking to reporters. It was not until the president's daily schedule was released about 10:30 p.m. on May 9 that the Lavrov meeting was confirmed."
"The date was set before Trump knew he would be firing James B. Comey as FBI director on the afternoon of May 9. The president's advisers knew the optics would be bad politically, one of them said, but calculated that the fallout would be just as bad if Trump abruptly canceled on Lavrov, so he kept the appointment."
"There was no photo availability for Lavrov pulling up at the White House driveway, as is typical for arriving foreign dignitaries. The meeting was considered "closed press," meaning that the White House press pool was not allowed to enter the Oval Office for what is known as a photo spray, which usually lasts for a minute or two."
"Instead, the U.S. and Russian officials who negotiated the visit agreed in advance that the meeting would be documented only by one official photographer from each delegation. A few hours before the meeting, according to a White House official, some of Trump's aides wondered why they could not bring in the press corps and were told it had been "predetermined" that there would be no access."
"The two photographers took pictures at the start of the meeting and then left the room. White House aides said they were under the impression that the Russian photographer in attendance was on Lavrov's staff, and were angry when they later saw the photos published online by Tass, the state-owned Russian news agency."
"The Tass photographer's presence also raised security alarms with former U.S. intelligence officials, who cited the possibility that a hidden listening device or other surveillance equipment could have been brought into the Oval Office. Administration officials played down the danger and said the photographer and his equipment were subjected to a security screening before entering the White House."
"The images selected by Tass showed Trump, Lavrov and Kislyak laughing, as if telling jokes or engaging in backslapping banter. The White House later released three pictures depicting a more serious exchange between Trump and Lavrov, but not until after the Russian photos circulated widely on social media."
"All of those photos that the Russians released of them all standing around laughing — this is the country that just violated our sovereignty, just interfered in our presidential election," said Michael McFaul, a U.S. ambassador to Russia under President Barack Obama. "It sends a signal, unfortunately, that Trump doesn't care about that."
"There were six people from the U.S. side in the room during the Lavrov meeting: Trump, Tillerson, McMaster and deputy national security adviser Dina Powell, as well as two more junior aides who are subject-matter experts, according to a senior administration official."
"For Trump and Lavrov, the agenda included a discussion of Ukraine and Syria, though from different perspectives."
"In advance of the meeting, Trump was given briefing materials along with a cover memorandum highlighting the points his national security staff wanted him to raise with Lavrov. Normally, McMaster briefs Trump immediately before a foreign leader meeting, but the senior administration official did not know if he did so the morning of Lavrov's visit."
"After last week's meeting, Lavrov praised Trump. Addressing reporters at the Russian Embassy in Washington, he said, "The dialogue between Russia and the U.S. is now free from the ideology that characterized it under the Barack Obama administration."
" Lavrov dismissed allegations of Russian interference in the U.S. election as a "fictional narrative" — apparently one issue on which he and Trump agree."
"Speaking the next day in Alaska, Lavrov said the most important takeaway from his Oval Office visit had been that "President Trump reaffirmed his resolve to normalize relations. He later wrote about this on Twitter."
"Trump tweeted a picture of himself posing with Lavrov — alongside a second picture from a meeting his aides had kept secret from reporters, showing him grinning behind the Resolute Desk with Pavlo Klimkin, Ukraine's foreign minister, who met separately with Trump in the Oval Office on the same day (5/10/17)."
"Trump used a hashtag: "#LetsMakePeace!"