I have been concerned that the series of three acts of terrorism in the United Kingdom within a time span of the past 3 months would effect the UK elections being held today, June 8, 2017. We are waiting on the results but polls show that the 20+ percentage points that the current Prime Minister Theresa May enjoyed when she called for this early election, have narrowed significantly.
According to the latest exit polls, Mrs. May may have lost the extraordinary gamble she made in calling the election early — and Great Britain may be headed for a hung Parliament, in which no party has a majority.
As of the early evening of 6/8/17, poll results were showing that the Conservatives would remain the largest party, but they were projected to win only 314 seats, down from 331 won in 2015, and 12 votes short of a majority.
The rest of the story…
On June 8, 2017, Karla Adam,  William Booth and Griff Witte penned the following news item, "British election exit polls reveal lead for Theresa May's Conservatives over Jeremy Corbyn's Labour."
Excerpts:
[BREAKING: British election exit polls reveal lead for Theresa May's Conservatives, but surprisingly close contest with Jeremy Corbyn's Labour]
"Britain's unpredictable election campaign moved to the ballot box Thursday (6/8/17) as citizens voted in a race that Prime Minister Theresa May once had solidly in her grip but then was reshaped by terrorist attacks."
"May called the snap election seeking to increase her political power ahead of Britain's exit negotiations with the European Union, pitching herself as the best leader to enter into the complex divorce talks."
"But the contest shifted in ways few could have anticipated. In a matter of weeks, her far-left opponent, Jeremy Corbyn, surged in the polls as security issues overshadowed the Brexit talks."
[The U.K. election, explained]
"May was still expected to pull out a victory. But if she doesn't, and the Labour Party takes control of parliament — and hands Corbyn the keys to 10 Downing Street — it would rival 2016's Brexit vote or President Trump's victory for most implausible political outcome of the past 12 months."Results are expected late Thursday (6/8/17).
"May's pitch won over Miranda John, a 52-year-old mortgage broker who lives in south London and was one of the first to vote after polls opened at 7 a.m. John said she voted for May's Conservative Party because the Tories have "a better negotiation team" to handle Brexit."
"I was a Remainer," she said, referring to those who voted to stay in the E.U. in the referendum held last June. "But I accept that the will is to leave, so we need to get the right deal."
"Corbyn has run a "fantastic campaign," said Henry Wynn, 72, a professor emeritus who described the Labour leader as a "Bernie Sanders socialist" after he voted for Corbyn's party in the north London neighborhood of Islington." 
"On May 22, a suicide bomber killed 22 people at the conclusion of an Ariana Grande concert in Manchester. In London, eight people died after a van-and-knife rampage around the bustling London Bridge area last Saturday. The Islamic State claimed responsibility for both attacks."
"May denounced the "tolerance of extremism" that she said persisted in some quarters in Britain — remarks that amounted to an implicit rebuke of Corbyn, who has expressed sympathy for the Middle Eastern groups Hamas and Hezbollah as well as the Irish Republican Army. "
"But Corbyn quickly pivoted he debate to police cuts that May had authorized during her six-year tenure as home secretary, the nation's top domestic security official."
"May, he said, had tried to protect Britain "on the cheap" — a message that fit with his anti-austerity mantra and that resonated as details emerged of security services' failures to thwart the plots."
"A win for May, if it's insufficiently convincing, could leave her seriously damaged within her own party and hobbled going into the all-important negotiations that will determine whether the country's E.U.exit is the success she has promised — or a grievous mistake. "
"She'll still win the election, but she'll be weaker for it," said Steven Fielding, a political-science professor at the University of Nottingham. "Jeremy Corbyn will lose the election, but he'll be stronger for it."
"Such an outcome would be ironic, because May didn't need to hold the vote. With another election not due until 2020, May had repeatedly vowed to wait until then to face the voters after coming to power last year via a selection by her fellow Tory lawmakers."
"But the temptation of increasing her party's more than 20-point lead over Corbyn's Labour Party proved too great, and the normally cautious May gambled in April by calling an early vote."
"At the time, the decision was hailed by observers as a masterstroke — a move that could grow her slender parliamentary edge into a historically large majority, giving her the sort of one-woman authority that even former prime minister Margaret Thatcher would have envied."
"May would need that sort of endorsement, she insisted in her pitch to voters, so she could stand up to her European counterparts with the knowledge that the country was behind her. Only a strong majority, she argued, would give her leverage to drive the best possible bargain for Britain in the talks to come."
"Polls showing that voters admired her resolute and no-nonsense persona — she vowed to be a "bloody difficult woman" in the E.U. talks — suggested she would get what she sought."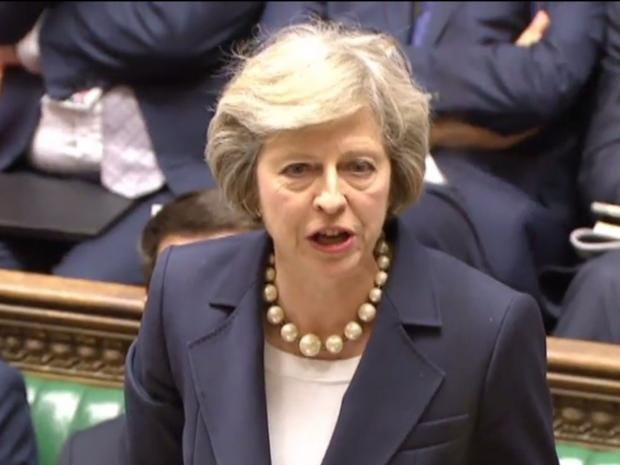 "But as the campaign has worn on, voters have appeared less convinced that they want to hand her such sweeping control."
"Perhaps most damaging for May was the decision to adopt as official Conservative policy a plan to charge senior citizens more for social care. When the measure was derisively dubbed "the dementia tax," she quickly abandoned it — then denied that her position had changed."
"Corbyn, by contrast, has campaigned as though he has nothing to lose — which in a way is true. His opinion ratings were abysmal going into the election, with not even a majority of Labour's supporters saying they would prefer him over May as prime minister. Last year, his fellow Labour lawmakers voted overwhelmingly that they lacked confidence in him as party leader."
"But Corbyn — for decades a bomb-throwing backbencher known to voters primarily for his vaguely Marxist views and scruffy beige suits — has been getting a second look as he has aggressively taken his underdog case to the public."
"In a country where campaigning is traditionally low-key and door-to-door, the Labour leader has turned heads with large, open-air rallies packed with enthusiastic supporters who cheer his call for a "fairer Britain" after years of Tory austerity."
"They underestimated us, didn't they?" he asked one such gathering on the streets of Glasgow. "They underestimated the good sense of ordinary people all over Britain."
"The crowd roared."