Yesterday, June 8, 2017, there was the public hearing held by the US Senate Intelligence Committee where the former FBI Director James Comey testified under oath about the circumstances surrounding his firing by the republican President Donald Trump because the president wanted to derail the FBI's Trump-Russian probe.
Some pundits are saying that there was nothing new of any significance that Mr. Comey shared with the Senate Intel members, but I beg to disagree. One has to look at what was discussed as well as what wasn't and what can be inferred.
For instance, the president can now rest assured that the FBI Special Counsel Robert Muellar III is investigating him for possible "obstruction of justice" criminal charges over his firing of the former FBI Director Comey. I know this because Mr. Comey described how he turned over all his memos regarding his interactions with the president to Mr. Mueller. Also, I am convinced that Mr. Comey deliberately volunteered the information that he leaked a memo to the press through a third party to force the Department of Justice to appoint a "special counsel." Even if he has to take a hit for stating on the record that he was responsible for a leak as a private citizen of non-classified FBI material, it was important to highlight this now, instead of this fact being uncovered at a later, more inopportune time.
It was confirmed that the US Attorney General Jeff Sessions is under the cross-hairs of Mr. Mueller FBI's inquiries. We learned this when Mr. Comey said he would have to discuss anything regarding Mr. Sessions behind closed doors with the senators.
We learned that the FBI is checking into the story about why the president's senior adviser and son-in-law Jared Kushner attended a meeting with Sergey Gorkov as head of the Russian bank, Vnesheconombank. All US citizens are barred from doing business with this bank because it is under US sanctions. Both Sergey Gorkov and Jared Kushner publicly shared differing explanations for this tête-à-tête.
Here is the rest of the story...
On June 8, 2017, Eugene Robinson of the Washington Post penned the following op-ed piece, "To know where the Russia probe is headed, pay attention to the topics Comey avoided."
Excerpts:
"In stunning public testimony Thursday, James B. Comey acknowledged arranging for a friend to leak details of a conversation Comey had with President Trump — the Feb. 14 Oval Office encounter in which Trump said he hoped the FBI director could "drop" the bureau's investigation of fired national security adviser Michael Flynn, according to Comey's contemporaneous notes. "I thought that might prompt the appointment of a special counsel," Comey told the Senate Intelligence Committee  about his orchestrated leak."
"Three months later, with no warning, Comey was summarily dismissed.  "It's my judgment that I was fired because of the Russia investigation," Comey testified. "That is a very big deal."
 "Comey was unabashed about accusing Trump and his administration of telling "lies," and said he began the practice of immediately making notes after talking with the president because "I was honestly concerned he might lie" about the conversations. He said he had no such concern about the veracity of the other two presidents he served, George W. Bush and Barack Obama."
"On one subject, Comey confirmed that the president is being truthful: Comey did tell him three times that he was not personally under investigation. Comey explained that this was "technically" the case during his FBI tenure. He said he does not know, however, whether special counsel Robert S. Mueller III is investigating Trump now — and left little doubt that he hopes Mueller is doing just that."
"Comey's best line of the day was a belated response to a May 12 tweet from the president, which warned that "James Comey better hope that there are no 'tapes' of our conversations before he starts leaking to the press!"
"Said Comey: "Lordy, I hope there are tapes."
"I hope so, too, but I would be surprised if such recordings exist. Trump's inner circle is such a sieve that full transcripts surely would have leaked by now. Investigators and the public will have to decide whether they believe Trump, who lies all the time, or Comey, who has a flair for the dramatic but also the bearing of an oversized Boy Scout. That's a pretty easy choice."
"And now for some rare kind words about members of Congress: Overall, the senators questioning Comey behaved in a manner that could be described by such last-century terms as "bipartisan" and "patriotic." The Democrats' questions tended to be somewhat more accusatory toward the president, the Republicans' questions somewhat more exculpatory, but there was a welcome air of sobriety about the whole thing. At this point, any examples of grown-up behavior should be recognized and praised."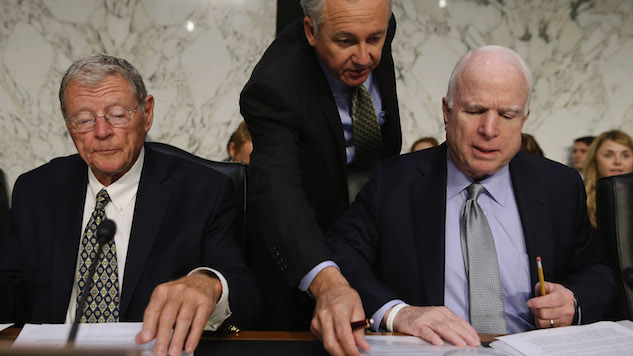 "The one exception was the weird line of questioning pursued by Sen. John McCain (R-Ariz.), who wanted to know why Comey wouldn't publicly clear Trump of wrongdoing even though he had done so for Hillary Clinton. Comey tried to explain that the investigation of Clinton's emails was finished whereas the investigation of Trump's campaign is ongoing. "Maybe going forward I shouldn't stay up late watching the Diamondbacks night games," McCain later said."
 "As perhaps should have been expected, the most important takeaway from Comey's testimony may be what he didn't say. Topics he scrupulously avoided may give a hint of where the investigation is headed."
"He declined, for example, to answer a question in open session about Vnesheconombank (VEB), a Russian government-owned development bank linked to President Vladimir Putin. Trump's adviser and son-in-law, Jared Kushner, met last year with VEB executives."
"Comey was also reticent about his interactions with Attorney General Jeff Sessions, who was his boss — and who had to recuse himself from Russia-related investigations."
"Comey's memos about his meetings with Trump are now in Mueller's hands. Trump desperately wanted the Russia investigation to end. Firing Comey ensured that it is only beginning."