The political fallout regarding the republican President Donald Trump's May 2017 trip to Saudi Arabia is the perfect example of how his lack of knowledge and incompetence regarding middle east issues, where he is like the bull in a china store, has caused real harm to U.S. national security interests.
Then there is the question, if President's Trump's policy development has been based on his business interests?  For instance, according to a Washington Post report, the Trump Organization had registered 8 new companies in Saudi Arabia during the 16-month campaign.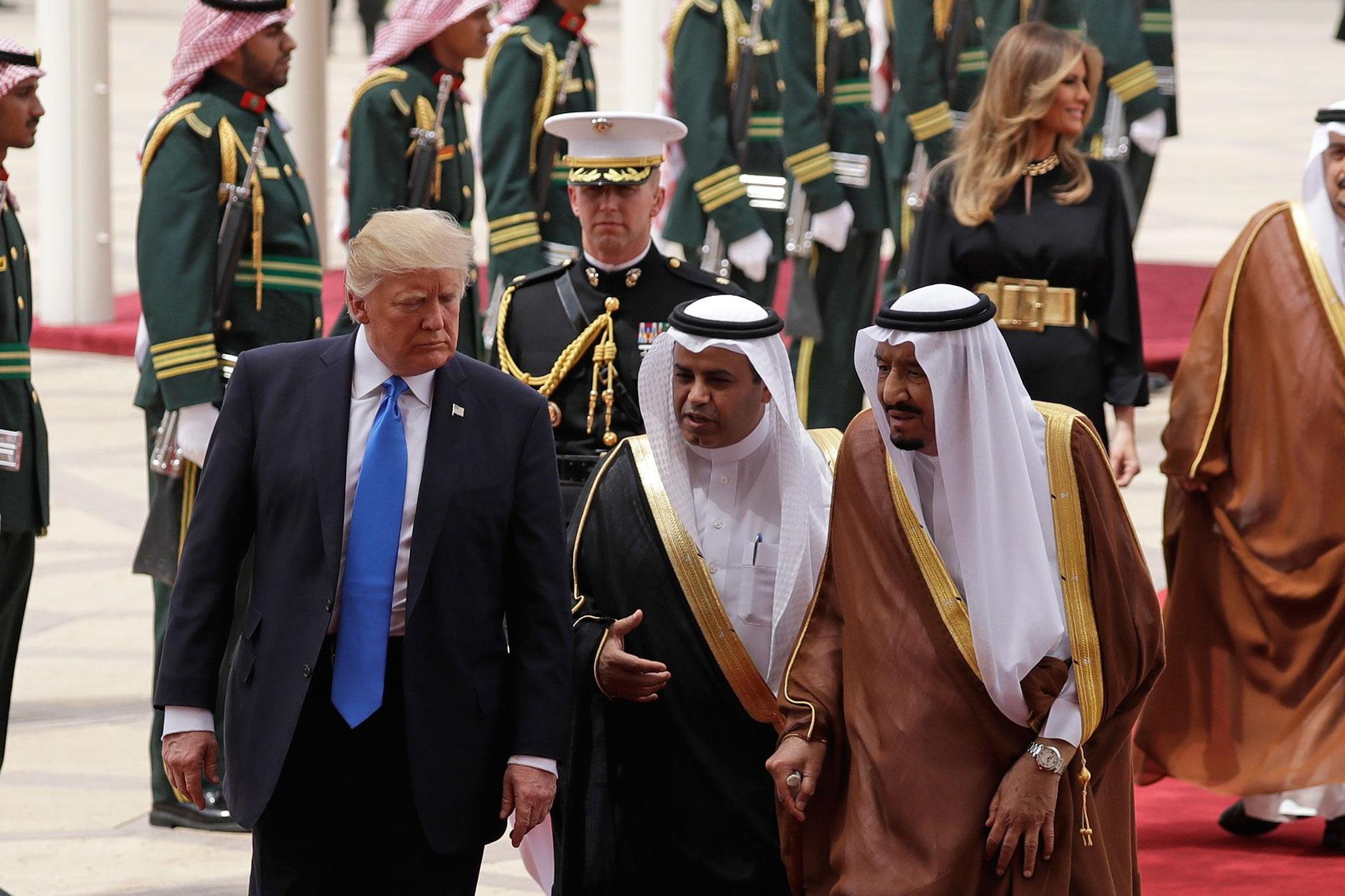 Within a month, on June 5th, after the president's first trip to Saudi Arabia, its officials along with others from Egypt, Bahrain and the UAE, instituted their land and air blockade of the tiny, wealthy emirate of Qatar.
As per the 7/5/17 Guardian report by Patrick Wintour, "On June 22, 2017, they issued a 13-point list of demands – including ending support for the Muslim Brotherhood and closing broadcaster al-Jazeera – to end the standoff / blockade and gave Qatar 10 days to comply."
"However, the Saudi-led coalition held back from an immediate escalation of the dispute by declining to impose extra sanctions or expel Qatar from the six-member Gulf Cooperation Council."
"The decision not to respond immediately with fresh measures may reflect pressure from western capitals to ease the dispute, and the effectiveness of Qatar's campaign to present itself as an innocent victim of an attempt to meddle with its foreign policy."
HIGHLIGHTS
Qatar is a thorn in the side of Saudi Arabia and other neighboring countries.
This is the one middle east, Muslim majority country that has established a free press. It is the home of  the middle east media power-house Al-Jazeera, which has exerted its freedom to be a frequent critic of Saudi Arabia and other Persian Gulf states.
In 1999, Qatar was the first middle east Muslim led country to allow Qatari women to vote and to stand for office for a 29-member municipal council.
As of 2012, Qatar had the region's second highest percentage of women in higher education — 63% of the university population, and 93% literacy among women.
Saudi women must cover their heads and often their faces. They cannot drive cars, cannot  travel without the permission of male guardians and are deprived of legal rights and education. Qatar is much more progressive in all these categories.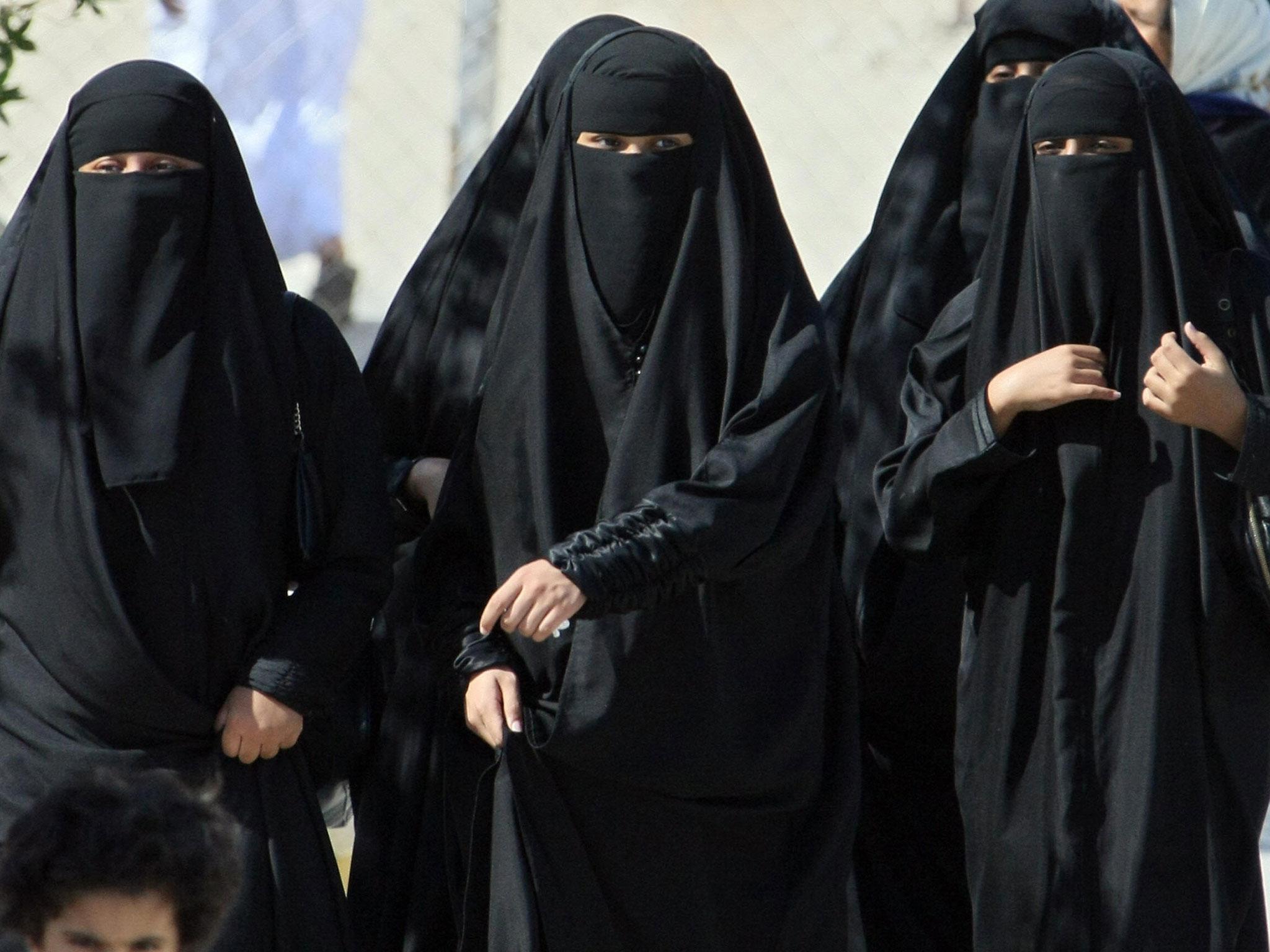 Qatar's financial well being has been tremendously enhanced by its government's willingness to promote financial diversification and to enact more liberal policies effecting the Qatari citizens.
Qatar has become the richest nation in the world, with an average per-capita income topping $100,000 (£60,000) as of 2014.
Some of Qatar's sins which has Saudi Arabia so riled up, include its support of the Islamist Muslim Brotherhood throughout the Arab Spring in 2011; its past support of (defined as a terrorist group by U.S., UK, EU) Hamas, a Palestinian Sunni-Islamic fundamentalist organization; its determination to have better diplomatic relationships with Iran and Israel, both enemies of Saudi Arabia.
Although Saudi Arabia is afraid of some forms of Islamist extremism, it far exceeds Iran and Qatar in its sponsorship of terrorist and fundamental extremist groups like the extremist Wahabi mosques and imams all over the world; Osama bin Laden was a Saudi citizen, as were 15 of the 19 9/11 hijackers.
As per  6/7/17 Channel 4 Fact Check report by Martin Williams, "Perhaps the most powerful indication of Saudi's financial links with ISIS can be seen in the cache of emails leaked from the office of Hillary Clinton, who was US Secretary of State from 2009 to 2013.
"The messages, published by Wikileaks, contain an unambiguous statement by her campaign chairman, John Podesta:"
"We need to use our diplomatic and more traditional intelligence assets to bring pressure on the governments of Qatar and Saudi Arabia, which are providing clandestine financial and logistic support to ISIL and other radical Sunni groups in the region."
The US president's May 2017 trip to Saudi Arabia
During the U.S. president's May 2017 visit to Saudi Arabia, he acted against past U.S. policies toward Saudi Arabia by condemning Qatar for supporting terrorism and as a consequence, he unintentionally signaled that it sides with Saudi Arabia to the detriment of Qatar.
Ever since the president's visit, the Secretary of State Rex Tillerson and others have been working overtime to back pedal the U.S. president's faux pas, especially because it is crucial for the US MISSION IN FIGHTING ISIS to have unencumbered access to its US military bases in Qatar.
THIS was the US president's first international mission which ended with serious political ramifications which others are still trying to remedy. This does not bode well for the president's meeting scheduled for today, 7/7/17, with the Russian leader, Vladimir Putin. Frankly, President Trump is not ready for this "prime time" event.
As per a 6/10/17 CNN report, "President Donald Trump called on Qatar to stop funding terrorism, claiming credit for and endorsing the decision of Gulf nations to ostracize their neighbor, even as US Cabinet officials said their blockade is hurting the campaign against ISIS."
"We had a decision to make," Trump said, describing conversations with Saudi Arabia and other Gulf countries. "Do we take the easy road or do we finally take a hard but necessary action? We have to stop the funding of terrorism."
"In doing so, the President's tone, if not his message, clashed with his most senior national security officials, highlighting the often mixed messages emerging from his administration since 
the Qatar crisis
 began Tuesday (6/6/17)."
BRIEF BACKGROUND ON QATAR
The following is an excerpt from the CIA'S World Factbook on Qatar which states:
"Ruled by the Al Thani family since the mid-1800s, Qatar transformed itself from a poor British protectorate noted mainly for pearling into an independent state with significant oil and natural gas revenues. During the late 1980s and early 1990s, the Qatari economy was crippled by a continuous siphoning off of petroleum revenues by the amir, who had ruled the country since 1972. His son, HAMAD bin Khalifa Al Thani, overthrew the father in a bloodless coup in 1995. In short order, HAMAD (1995-2013) oversaw the creation of the pan-Arab satellite news network Al-Jazeera and Qatar's pursuit of a leadership role in mediating regional conflicts. In the 2000s, Qatar resolved its longstanding border disputes with both Bahrain and Saudi Arabia. As of 2007, oil and natural gas revenues had enabled Qatar to attain the highest per capita income in the world.
During the elder Sheik Hamad's rule (1995-2013), Qatar hosted two US military bases, Al Udeid Air Base and Camp As Sayliyah. In the past, his country was party to the 2014 controversial swap of releasing 5 Taliban from Guantánamo to be under the strict surveillance of the Qatar regime in exchange for Bergdahl, who had been held by Taliban forces for five years. It was hoped that this overture would  reignite  a constructive dialogue between the US and the Taliban. In 2015 the talks between the US and the Taliban ended when the Talibans indicated that they would not abide by any agreement until all US military forces left Afghanistan.
"During  the elder's Sheikh Hamad bin Khalafi Al Thani reign (1995 -2013) several sports and diplomatic events took place in Qatar, including the 2006 games, 2012 UN Climate Change Conference, Doha Agreement( 2008 agreement ending the Lebanon Civil War). Qatar managed to win the bid to host the 2022 FIFA World Cup. In 2013, he established the Qatar Investment Authority which invested over $100 billion around the world. Qatar's financial well being has been tremendously enhanced by the government's willingness to promote financial diversification and to enact more liberal policies effecting their citizens.
His second wife, Sheikha Mozah bint Nasser AL Missned has been a heavily involved in advocacy for children's causes and education. 
For years, Qatar had a positive relationship with Israel until 2009 when Qatar severed diplomatic ties with Israel in response to Israel's actions during the Gaza War and because of Israel's settlement policy.
Here is the rest of the story…
On June 6, 2017, Zeeshan Aleem of VOX penned the following report, "Saudi Arabia's diplomatic war with Qatar, explained."
Why seven countries severed ties with Qatar in a matter of hours.
"Here's what happened: On Monday (6/5/17), Saudi Arabia and three of its biggest allies — Egypt, the United Arab Emirates, and Bahrain — all announced that they were severing diplomatic ties with Qatar, as well as suspending air, land, and sea travel to and from the country. The move came after Riyadh accused Qatar of backing radical Islamist groups like the Muslim Brotherhood and ISIS."
"Tensions between Qatar and its neighbors skyrocketed last month (June 2017) after Qatar's state-run news agency published an article in which the Qatar's ruling emir, Tamim bin Hamad Al Thani, was quoted praising Israel and Iran — Saudi Arabia's biggest adversaries in the region. Qatar swiftly disavowed the article as fake news manufactured by hackers, but Saudi and its friends were unconvinced. Then Sheikh Tamim made things even worse when a few days later he called Iranian President Hassan Rouhani to congratulate him on his reelection — a clear act of defiance against Saudi's hawkish stance on Iran."
"The new rift in the Persian Gulf is in and of itself a big deal — it's already being interpreted by "some observers as the biggest diplomatic crisis in the region since the Gulf War in 1991."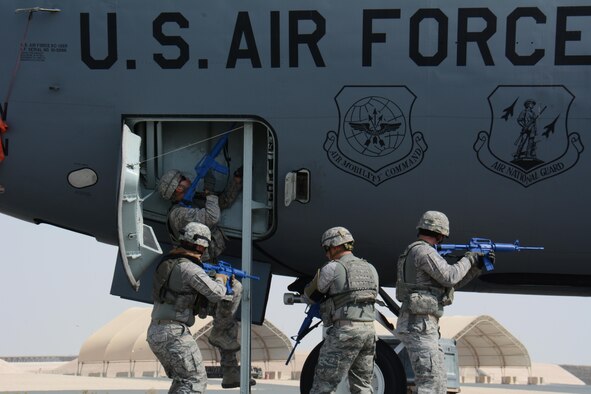 "But the consequences will ripple beyond the region's internal politics and seriously imperil US military operations in the region. Qatar is home to the headquarters of the United States Central Command, which manages all military operations in Afghanistan and the Middle East. And the air war command for the US-led fight against ISIS operates out of Qatar's Al Udeid Air Base. All in all, there are around 11,000 US military personnel in the country."
This has been a huge benefit to the US in conducting military operations in the middle east.
"As the New York Times notes, it's obvious that an American-led campaign that includes aircraft from the countries severing ties with Qatar will be harder to wage if those countries refuse to allow their military representatives to even visit the American base there."
Qatar is a complicated challenge for the US
"The big breakup highlights the vexing dual role Qatar has long played for the US in its fight against radicalism in the Middle East. On one hand, the US knows Qatar is a large source of support and funding for groups it considers to be terrorist organizations, like Hamas, or adversaries, like the Muslim Brotherhood. But on the other hand, it has also been willing to allow the Pentagon to operate bases in its territory and to serve as an intermediary between Washington and Islamist groups across the region. To take one high-profile example, Qatar helped broker the deal with the Taliban that won the release of the imprisoned US Army Sgt. Bowe Bergdahl."
"And it's in the US's interest for all the countries in the region to be on good enough terms to be able to join the US-led campaign against ISIS. That's why the initial response by Secretary of State Rex Tillerson was to call for calm and dialogue."
"We certainly would encourage the parties to sit down together and address these differences," Tillerson said in Australia on Monday. "If there's any role that we can play in terms of helping them address those, we think it is important that the (Gulf Cooperation Council) remain unified." (The GCC is the club of Persian Gulf nations that Saudi Arabia, Bahrain, the UAE, and Qatar are a part of.)"
"But then along came the president to make everything more complicated. On Tuesday morning he rattled off some tweets that were at odds with US diplomats' statements the day before. He seemed to embrace Saudi's decision, and suggest their actions were a result of his own recent rhetoric on counter-terrorism. "So good to see the Saudi Arabia visit with the King and 50 countries already paying off," he tweeted, referring to his visit to the country weeks ago. "They said they would take a hard line on funding extremism, and all reference was pointing to Qatar. Perhaps this will be the beginning of the end to the horror of terrorism!"
"In his desperation to take credit for Saudi's move, to showcase it as an example of his ability to shape global events, he appears to be throwing Qatar under the bus. Even though the US in no way sought this destabilizing situation out, Trump seems to be encouraging Saudi. Keep in mind that during the speech he made in Saudi Arabia that he's referring to, he actually said that "Qatar, which hosts the U.S. Central Command, is a crucial strategic partner." 
"Part of (escalation of tensions) can in fact be traced to Trump. His recent warmth toward the country, and his aggressive vilification of Iran, helped empower Saudi Arabia to finally act on its longstanding distrust of Qatar. So there is a kind of truth to Trump's attempt to take credit for this event. But it must be made clear that this was an unintended consequence."
Trump has given Saudi Arabia the green light to be more aggressive
Saudi Arabia's move (has been) incredibly bold. Trump's recent deference to the country, as well as toward Egyptian President Abdel Fattah al-Sisi, may have made it feel it had the license to do things it might not have pulled off during the Obama administration."
"Trump has approved a $110 billion arms deal with Saudi; and he used his first trip to Saudi Arabia to pat autocrats in the region on the back and promise them he wasn't there to "lecture" them on how to govern."
 "If (TENSIONS ARE NOT DE-ESCALATED), then there are huge questions over what would happen to the liberties the US has with its military there, and how willing Qatar would be willing to play the role of broker with Islamist groups that the US needs to engage with. And of course plenty of other partners of the US in the Mideast will then ask themselves: could we be the next ones thrown under the bus?"