By now, July 25, 2017, we have learned that the US Senate had a vote of 51 to 50 which allows debate for the repeal of Obamacare/ ACA/ Affordable Care Act. Senators will be making several attempts to repeal healthcare that is one- sixth of the US economy. Some amendments will require 60 votes and some 50 where Vice President Mike Pence would be required to cast the tie breaking vote.
I was very disappointed and let down when Senator John McCain came onto the Senate floor, to make clear that while he didn't support the current bill, he agreed that they should at least begin debate on the health legislation.  And he did this after flying across the country due to his absence because of his recent surgery and a brain cancer diagnosis. Still, he delivered a sobering rebuke to GOP leaders about their resistance to work on a healthcare bill on a bi-partisan way.
So far in the evening of 7/25/17 the US Senate…
Senate Republican amendment repealing and replacing large portions of Affordable Care Act fails on 43-57 vote
It needed to clear 60-vote threshold; 9 Republicans voted against measure
Senate plans to proceed to vote on repeal-only option
As per the  July 26, 2017 NYT post, "The Senate on Wednesday (7/26/17) rejected a measure that would have repealed major parts of the Affordable Care Act but would not have provided a replacement, signaling that the "clean repeal" bill that conservatives have embraced cannot get through Congress."
"The vote, 45-55, underscored the bind that Republican leaders have found themselves in. Seven Republicans voted against the measure — Senators Shelley Moore Capito of West Virginia, Susan Collins of Maine, Dean Heller of Nevada, John McCain of Arizona, Rob Portman of Ohio, Lamar Alexander of Tennessee and Lisa Murkowski of Alaska."
"Senate Republican leaders may have no choice but to fall back on a third choice: Push a far more limited measure that repeals parts of the Affordable Care Act, such as its mandate that most people have insurance and a tax on medical devices, but leaves most of President Barack Obama's signature health law in place."
ALL HANDS ON DECK! On July 26th Wednesday, and every day there-after until this repeal fails, all who are against the ACA repeal need to call as many senators as possible. The main US Senate phone line 202-225-3121 (202-224-3121) or  YOU CAN FIND PHONE NUMBERS FOR EVERY SENATOR HERE. or U.S. Senate: Senators of the 115th Congress.
And if you can't even leave a message on their phones, try contacting them by email, twitter, Facebook, etc.
Here's the latest news as of 7/25/17…
On July 25,2017,  Thomas Kaplan and Thomas Pear of the New York Times penned the following report, "Pence Breaks Tie as Senate Votes to Begin Debating Obamacare Repeal."
Excerpts:
"The Senate voted narrowly on Tuesday 7/25/17) to begin debate on a bill to repeal major provisions of the Affordable Care Act, taking a pivotal step forward after the dramatic return of Senator John McCain, who cast a crucial vote despite his diagnosis of brain cancer."
"The 51-to-50 vote, with Vice President Mike Pence breaking a tie, came only a week after the Republican effort to dismantle a pillar of former President Barack Obama's legacy appeared all but doomed. It was an initial win for President Trump, who pushed, cajoled and threatened senators in recent days to at least begin debating the repeal of the health care law."
"But the victory could be fleeting: Senate Republicans still had no agreement on a repeal bill that they could ultimately pass to uproot the law that has provided health insurance to millions of Americans."
"The Senate is now moving ahead with debate, amendments and ultimately a final vote in the coming days on legislation that would have a profound effect on the American health care system — roughly one-sixth of the United States' economy. But it is entirely possible that by week's end, they will have passed nothing."
"Only two Republicans, Susan Collins of Maine and Lisa Murkowski of Alaska, voted against the procedural motion, though at least several other Republicans had been seen as possible holdouts. No Democrats voted in favor of the motion."
"The debate to come will have broad implications for health care and households in every state."
"Before senators cast their votes, protesters in the Senate gallery chanted, "Kill the bill, don't kill us!" and "Shame, shame, shame!"
"While the Senate was voting and before Mr. McCain showed up on the Senate floor, the majority leader, Mitch McConnell of Kentucky, engaged in a prolonged and intense conversation with Senator Ron Johnson, Republican of Wisconsin. Mr. Johnson had been an early critic of Mr. McConnell's repeal bill, and on Tuesday, he held back his vote for an excruciatingly long time."
"As soon as Mr. McCain arrived and voted aye, Mr. Johnson cast a yes vote."
"Despite his vote to move ahead, Mr. McCain offered harsh words for the secretive process by which Senate Republican leaders came up with their bill to repeal and replace the health measure, and he delivered a pessimistic take on its chances."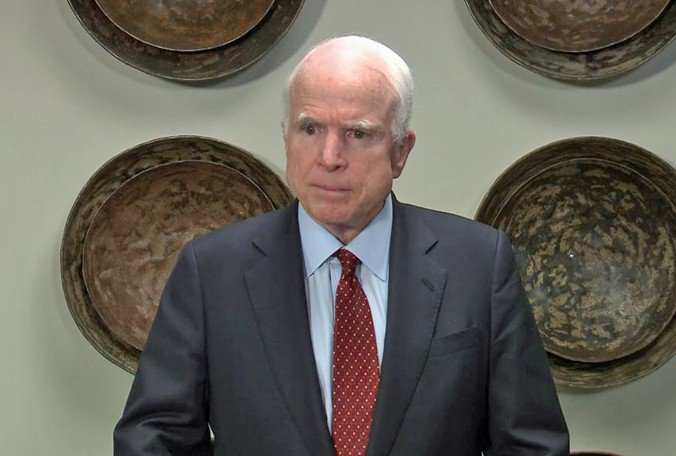 "Asking us to swallow our doubts and force it past a unified opposition — I don't think that's going to work in the end, and probably shouldn't," Mr. McCain said, adding that it "seems likely" that the current repeal effort will end in failure."
"Arizona is one of the 31 states that expanded Medicaid under the Affordable Care Act, and Mr. McCain's remarks could be an ominous sign for other senators from states that expanded Medicaid, including the junior Republican senator from his state, Jeff Flake."
"We are ground zero for the failure of the exchanges, but we are also an expansion state," Mr. Flake said. "I think all of us are concerned that we don't pull the rug out from people."
"Just before the Senate vote, the Democratic leader, Chuck Schumer of NY, made an impassioned plea to Republicans."
"We know that A.C.A. is not perfect," Mr. Schumer said. "But we also know what you've proposed is much worse. We can work together to improve health care in this country. Turn back now before it's too late and millions and millions and millions of Americans are hurt."
"Given the divisions within their caucus, Senate Republican leaders were considering a new approach to keeping their repeal quest alive: They could try to reach a deal on a slimmed-down bill that would repeal a few major provisions of the Affordable Care Act, like the penalties imposed on people who go without insurance and businesses that do not offer insurance to their employees."
"That "skinny" bill could then be a basis for negotiations with the House."
"Republican leaders in Congress have struggled all year to fulfill their promise of repealing the 2010 health care law. By a vote of 217 to 213, the House approved a repeal bill in early May, but only after Republicans overcame their own difficulties in that chamber."
"Mr. Trump kept up pressure on the Senate on Tuesday (7/25/17) with Twitter posts. After the vote, he applauded the Senate, but was cutting toward Ms. Collins and Ms. Murkowski: "We had two Republicans that went against us, which is very sad, I think. It's very, very sad for them."
"That said, it remained far from certain whether Republicans would be able to agree on a bill in the days to come — and what exactly the contents of that bill would be. Mr. McConnell promised an "open amendment process" in which members of both parties could propose changes."
"This is just the beginning," Mr. McConnell said. "We're not out here to spike the football."