The White Supremacists actions at their recent rally held in Charlottesville, VA. may have been a turning point for the republican party folks coming to terms with their collusion with White Nationalists, neo-Nazis, Racists which has cost this country, its moral authority around the world. They supported the election of a president who eared his political stripes by being the king of the "birther movement which questioned the American citizenship of the former democratic President Barack Obama, an overt racist action. Too many republicans turned a blind eye to racists feeling at home in their party in return for their votes.
With the exception of the republican President Donald Trump, many republicans have been FINALLY coming out to denounce specifically the White Supremacists acts of violence which became painfully obvious this past weekend at a rally they held in Charlottesville, VA. which ended in three fatalities and 19-35 peoples injured. Republicans have even openly criticized their standard bearer for his public late delivery and lukewarm response to these tragic events where he refused to call out the White Supremacists for inciting this violence.
The White Supremacists would be the first ones to describe the city of Charlottesville, VA. as the poster city that is representative of everything that they hate. If one peruses their web sites, it becomes patently obvious they they see the president's recent silence as a victory.
Here is the rest of the story… 
On August 13, 2017, Kristine Phillips of the Washington Post penned the following report, 'Look at the campaign he ran': Charlottesville mayor is becoming one of Trump's strongest critics."
Excerpts:
A white nationalist site calls him "anti-white."
An article it published in May (2017) outlines some highlights of Michael Signer's term as the mayor of Charlottesville: his endorsement of a $10,000 donation to pay for legal costs to help immigrants and refugees, and his decision to declare his city a "capital of the resistance" just days after President Trump was sworn into office.
For those reasons and others — including Signer's Jewish heritage — the writer declared: "This is what the enemy looks like."
Signer, a Democrat, and his city are in the national spotlight this weekend, when hundreds of white nationalists, neo-Nazis and Ku Klux Klan members descended on the college town more than 100 miles southwest of Washington to protest plans to remove a statue of Robert E. Lee, leader of the Confederate army."
"On Sunday, as his city grieves after hours of deadly unrest, Signer made himself more known by making the rounds on the morning shows. He blamed Trump for the violence. He also slammed Trump's path to the presidency, which he said, emboldened extremist views."
"Look at the campaign he ran," Signer said on CNN's "State of the Union."
"For Signer, Trump's repeated failure to "condone, denounce, silence, put to bed" the white supremacist voices that invoked his name during the campaign and after he won the White House is why Charlottesville was besieged with violence on Saturday. The president's statement after the violence, which fell short of directly calling out extremist groups — even after a car allegedly driven by a Nazi sympathizer plowed into counterprotesters — is another example of that, Signer said."
"When you dance with the devil, the devil changes you," the mayor said on NBC's "Meet the Press," quoting an old saying. "And I think they made a choice in that campaign, a very regrettable one, to really go to people's prejudices, to go to the gutter."
"The White House on Sunday issued a clarification of Trump's broad condemnation of violence, bigotry and hatred a day earlier: "Of course that includes white supremacists, KKK, neo-Nazi and all extremist groups."
"The statement stopped short of what a growing number of Republicans have urged the president to do: directly call out and condemn white supremacy, The Washington Post's Jenna Johnson and Karoun Demirjian wrote."
"On CBS's "Face the Nation," Signer was asked to respond to Trump's statement that he wanted to know what had gone wrong in Charlottesville."
"We have a lot of grieving, a lot of work to do, as a city and as a country," Signer said in response. "But he should look in the mirror."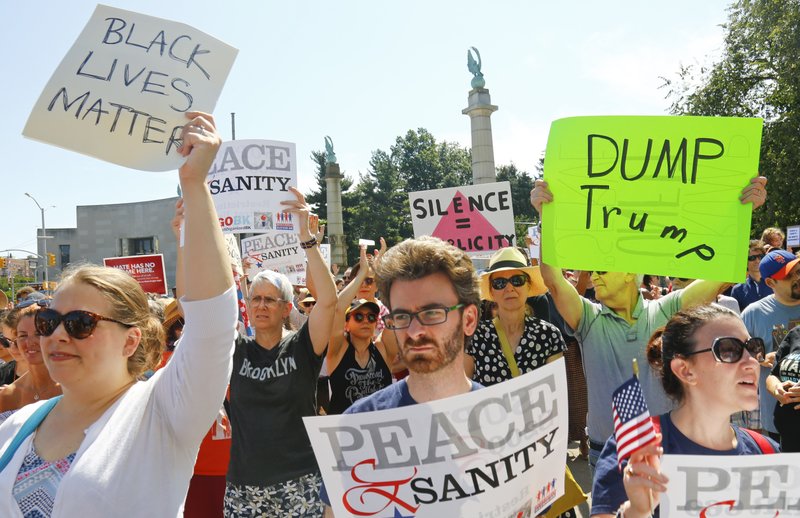 "Signer made headlines in January when he organized an anti-Trump rally at Charlottesville's Downtown Mall and declared the city a "capital of the resistance." He outlined policy goals aimed at helping immigrants and refugees. The neo-Confederate site Occidental Dissent, run by Brad Griffin, later described him as a "left-wing activist" leading an effort to eliminate the Southern town's "native White ethnic group" and to flood it with as many "Third World immigrants as possible."
In his speech at the mall, Signer said "bigotry in any form" is not welcome in Charlottesville"
"In May, months before the protest over the Confederate statue erupted into deadly violence, Richard Spencer led a torch-bearing crowd in Charlottesville to protest the removal of the memorial, which was erected during the Jim Crow era. The Charlottesville City Council had voted to sell it and rename two parks in the city."
"In a statement on Facebook, Signer said the demonstration "hearkens back to the days of the KKK." Although he condemned the protest, Signer voted against removing the statue, arguing that doing so erases the memories of oppression that should be remembered."
"Instead of removing such memorials, I believe that teaching future generations about the immorality of structural racism is the best way to honestly account for their failings," he wrote.
"I'm Jewish, and I heard my first hurtful ethnic slur when I was in elementary school," he said during his State of the City address in January.The most recent barrage of anti-Semitic attacks occurred on Twitter in May, when he denounced the white nationalist rally. In an interview with the New York Times, Signer said he does not feel the attacks are personal.
"As painful as it is for people to read these tweets, I see them as the last gasps of a failing, retrograde, toxic element in American politics that knows that it's failing," he said. "And that's why they're so angry."
Based on his responses to some of the attacks on Twitter, it does not appear that he's taking them to heart:
"Whew! Lot of trolls tonight," he tweeted.
"Jewish enough, apparently," he said after someone asked how Jewish he is.
"You seem nice. What's your real name?" he said to someone who called him a "disgrace."