This story is just breaking and will be developing. It appears that a rental van was driven into a crowd of tourists in a popular market area in Barcelona, Spain where there have been 12 fatalities and 20 peoples with serious injuries being reported. The police are investigating this tragedy as a terror attack. The suspect or suspects responsible for this horror are being tracked.
Here's the rest of the story…
On August 17, 2017, Giles Tremlett of the Guardian is breaking news about an incident that police are treating as a terror attack in the following report, "Las Ramblas attack: van hits crowd in tourist area of Barcelona."
Excerpts:
"A van has crashed into a crowd of people in central Barcelona, causing an unknown number of injuries, with local media reporting at least one armed man had subsequently entered a restaurant in the area."
"Spanish police, who said they were treating the incident as a terrorist attack, said several people were injured in the "massive crash" on Las Ramblas, a wide boulevard in an area of the city popular with tourists."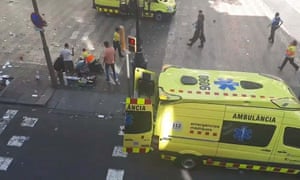 "The van entered Las Ramblas where it meets the Plaça de Catalunya, then drove towards the port area."
"According to early reports, it sped down the centre of the road, which is usually packed with people, until it hit a newspaper kiosk and stopped."
"Witnesses spoke of panic and seeing people covered in blood. Several pushchairs could be seen abandoned at the side of the street."
"Eyewitness Jordi Lino was on a bus going down the Ramblas: "First I saw people running and then the van," he said. "There were injured people in the middle of the Ramblas."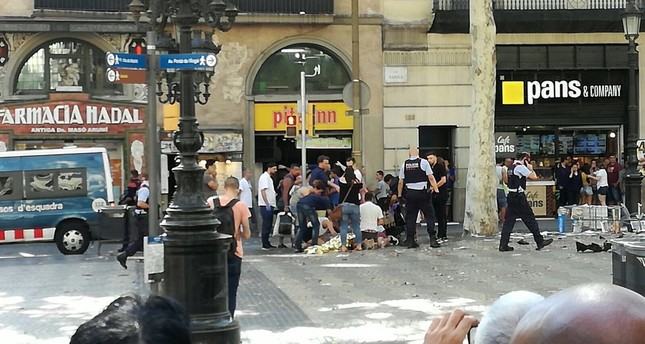 "A taxi driver told TV3 that he saw people being run over by the van."
"TV3 said police sources had confirmed to it that one armed man was holed up in a Turkish restaurant near Las Ramblas and the Boqueria market."
"Metro stations and shops close to site of the crash were closed."
The Spanish newspaper El Pais, citing police sources, said the driver of the vehicle fled on foot.
"Catalan emergency services said people should stay away from the area around Plaça de Catalunya."
Las Ramblas, a street of stalls and shops that cuts through the centre of Barcelona, is one of the city's top tourist destinations. People walk down a wide, pedestrianized path in the centre of the street, but cars can travel on either side.
"Spain has so far been spared the kind of extremist violence that has occurred in nearby France, Belgium and Germany, but it was hit by what is still Europe's deadliest jihadi attack in March 2004, when bombs exploded on commuter trains in Madrid, killing 191 people in an attack claimed by al-Qaida-inspired extremists."
"Vehicles have been used in several terror attacks in Europe in recent years, including a massacre that claimed 86 lives in the French city of Nice."