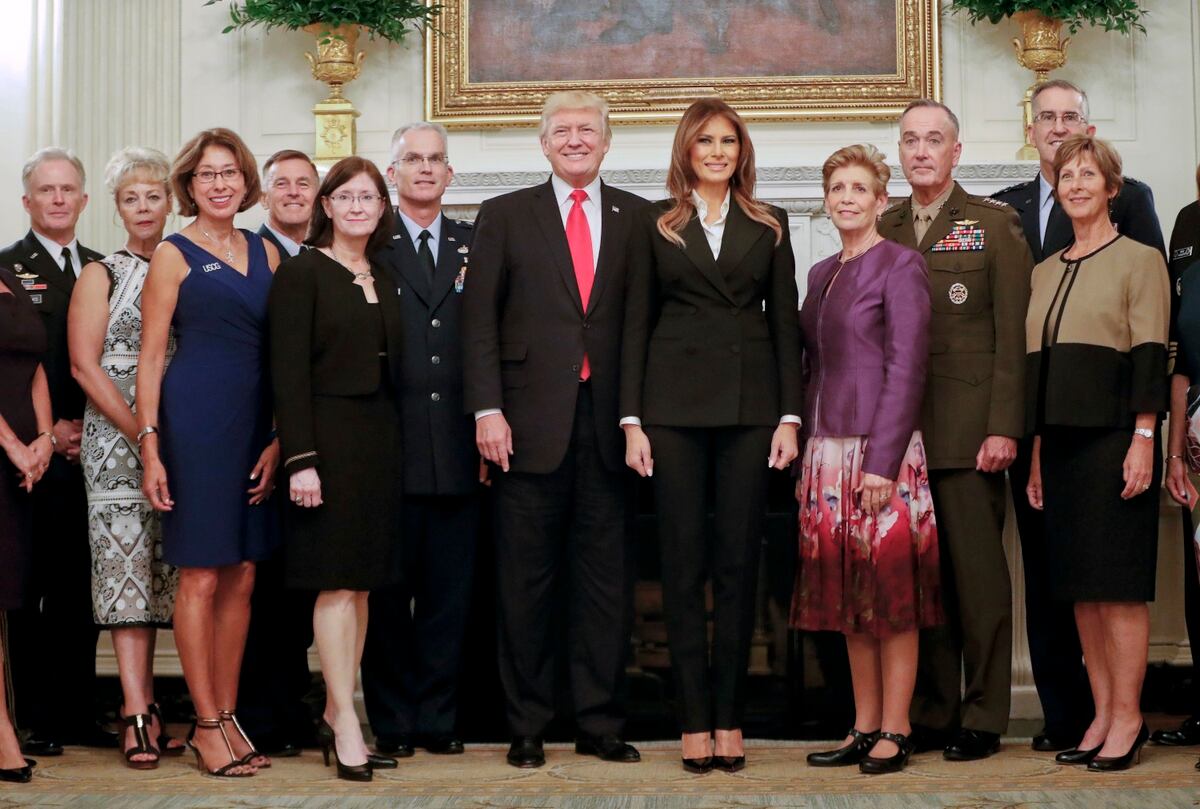 The republican President Donald Trump is doing it again. He has been wanting out of the 2015 US-Iran nuclear agreement that was negotiated with six other countries and with the understanding that this was a stand alone deal. This means that as long as Iran chose to abide by the strict terms of this nuclear agreement, that it would be honored. But now the president is saying that Iran is purveyor of terrorism and that they are not living up to the spirit of the agreement. He said, "You will be hearing about Iran very shortly."
There is consensus, that his words foretells his plans to announce his intent to de-certify the US-Iran nuclear deal.
It is hard for me to believe that the president has a clue as to what is in this agreement. All of his security team in the White House is against this move. This is a step that compromises US national security interests.
Then on the same evening of October 5, 2017, at a White House dinner with military leaders, the president made a comment about this being the "calm before the storm with the indication of "more to come." time." What this means is anyone's guess and he has refused to clarify this comment.
Here's the rest of the story….
On August 8, 2017, Doyle McManus of the LA Times penned the following prescient op-ed piece, "Column Trump's Alice-in-Wonderland approach to the Iran deal."
"Here's an international crisis you can, unusually, put on your calendar ahead of time: In October, President Trump wants to declare Iran in violation of the 2015 agreement to limit its nuclear program — a decision that would allow the United States to reimpose tough economic sanctions on anyone trading with Tehran."
"It's a bad idea. The nuclear deal isn't perfect — it doesn't end Iran's nuclear research, only limits it for a period of years — but it's much better than nothing. Before the agreement, Tehran was believed to be less than a year from making nuclear weapons that would have threatened Israel and Saudi Arabia. Thanks to the accord, that doomsday problem has at least been postponed."
"That hasn't stopped Trump from calling the pact "the worst deal ever" and ordering aides to supply him with evidence that will allow him to declare it invalid. The most likely moment for his decision will come in October, the next time he is required to notify Congress whether Iran is in compliance."
"If it was up to me, I would have had them non-compliant 180 days ago," Trump told the Wall Street Journal last month. Next time, he added, "I do not expect that they will be compliant."
On October 6, 2017, Julian Borger of the Guardian penned the following report, 'Calm before the storm': Donald Trump set to abandon Iran nuclear deal."
"Several media outlets on Friday confirmed what has been suspected in Washington and foreign capitals for some time: that Trump will not certify  the 2015 international nuclear deal with Iran, on the grounds it does not serve US security interests."
"That would trigger a period of 60 days in which it would be up to a delicately balanced Congress whether to reimpose sanctions. A decision to do so could trigger a collapse of the deal and a return to a tense standoff in the Middle East over the Iranian nuclear programme."
"The Iranian regime supports terrorism and exports violence and chaos across the Middle East," Trump said at a White House meeting of US military leaders."
"That is why we must put an end to Iran's continued aggression and nuclear ambitions," he added. "You will be hearing about Iran very shortly."
"The statement was made as he sat alongside senior security officials, the most senior of whom have said repeatedly that Iran is abiding by the 2015 nuclear agreement."
"The defense secretary, James Mattis, said this week that staying with the deal, under which Iran accepted strict curbs on its nuclear programme in exchange for sanctions relief, was in US national security interests."
"The chairman of the joint chiefs of staff, General Joseph Dunford, recently said that pulling out of the multilateral deal, which was signed by some of Washington's closest allies, would affect US credibility and could hinder its ability to strike security agreements in the future."
"Trump's secretary of state, Rex Tillerson, and national security adviser, HR McMaster, are both thought to have advised Trump not to withhold certification. The European signatories to the deal – the UK, France and Germany – have urged Trump to uphold it, and are now focusing their energies on lobbying Congress not to reimpose sanctions, which could prove fatal to the agreement."
"Business leaders who gathered for an Iran-Europe forum in Switzerland this week said they were prepared to do everything possible to salvage the deal in the event of a US withdrawal."
"A senior executive at a European multinational company, who asked to remain anonymous, said he expected the US president to de-certify the deal but he believed that would not amount to the end of the agreement."
"There is a lot of serious diplomacy by Europeans at all levels, from prime ministers to policymakers, to make sure the agreement would survive and there are talks of retaliatory legislation or protective legislations like the ones in place in the early 2000s," the executive said."
"The non-certification of the Iran deal threatens to trigger a second nuclear standoff at a time when the US is already immersed in one with North Korea."
"That crisis has escalated recently with Pyongyang's sixth nuclear test, a series of intermediate and intercontinental missile tests, and a war of words between the US president and North Korea's dictator, Kim Jong-un."
"An expert on the North Korean weapons programme, Jeffrey Lewis of the Middlebury Institute of International Studies, expressed alarm that Trump's warning of a coming storm could have been interpreted by America's adversaries in ways the president never considered."
"This is the kind of idle threat that, made at the wrong time, could trigger an unexpected escalation on the Korean peninsula," Lewis tweeted. "Please stop."