Dear General John Kelly,
Your words to the public on October 19, 2017 were stirring and crucially timed to touch the hearts of Americans who rarely have contact with military families.
The vast majority of "we the people" think of you as a man of integrity, honor , decency, with a sense of appropriate decorum. We will always be grateful for your service to our country, especially during these troubled times. If there is one institution that most of us still maintain a level of trust in, it is our US military.
If somehow, you ever made a misstep, most of us would give you the benefit of the doubt because you have earned our respect and trust. Unfortunately, we don't all feel the same about your boss, President Donald Trump.
However, even the bravest of generals can commit a fubar.
Here is what you may not know about the family of US Army Sgt. La David Johnson who was one of the four heroes killed on October 4, 2017 in Niger.
His natural Mom Samara had passed away when he was a child, and so it was his aunt and her husband,  Cowanda Jones-Johnson and Richard Johnson who raised him as their own son. In 2014, Sgt. La David Johnson married his best friend, Myeshia Manual.
The Congresswoman Frederica S. Wilson (D-Fla.), who has been a long time friend of the family, was heavily involved with this young man's positive development when he was growing up and that is why she was riding in a limousine with the slain soldier's family, She didn't surreptitiously listen on the president's call when the phone call was placed on the speaker system and so, that is why the congresswoman was privy to what was said by the president to Sgt. Johnson's widow.  It would not be unusual for the family to want to share this moment, a phone call from the US president.
Is it beyond belief to imagine that the grieving young pregnant widow Myeshia of Sgt. La David Johnson, and who will now be raising two little girls and a baby without her beloved husband at her side, became upset when the president was less than artful with his words of condolences?
To be frank, while comments along the lines, that the military service is what Sgt. La David Johnson signed up for and so, he knew the risks , to where he died doing what he wanted to do with his friends nearby, may be of comfort to a Gold Star Dad and maybe even the Mom.
But is it so hard to understand that a young woman losing the future with the man she loves while she raises 3 little ones without their Dad, may not be as understanding and receptive to hearing this?
Please remember that Army Sergeant La David Johnson's long time family friend, Rep. Frederica Wilson is also grieving over this loss. How is it that both you and the representative who are both working hard on behalf of this country, have automatically assumed the worst about each other instead of reaching out to render solace?
It is unsettling to learn this week of October 16, 2017, that the president had been told by an array of foreign policy experts, that his travel ban which ended up including the country of Chad could result in the isolation of American troops fighting there. It has been reported by the news media that both the State and Defense Departments had also been opposed to President Trump's decision to put Chad on the list, because they knew it would cause military problems in the area. But the Trump administration did not heed these warnings.
The news reports indicate that the Chad military personnel did withdraw from Niger after the president's travel ban was publicized which left Niger peoples and US and other fighters at greater risk because it was the premier soldiers of Chad who were keeping the Boko Haram and ISIS affiliates at bay in Niger.
It appears that the the president has a habit of acting counter to competent expert counsel as when he pulled the US out of the Paris Climate accord; and as he has announced his intent to de-certify the 2015 Iran Nuclear deal. I hope this is not another instance?
I do not understand the delayed timeline between October 4, 2017 and October 16 when "we the people" were first hearing anything about the 4 American soldiers who lost their lives in Niger.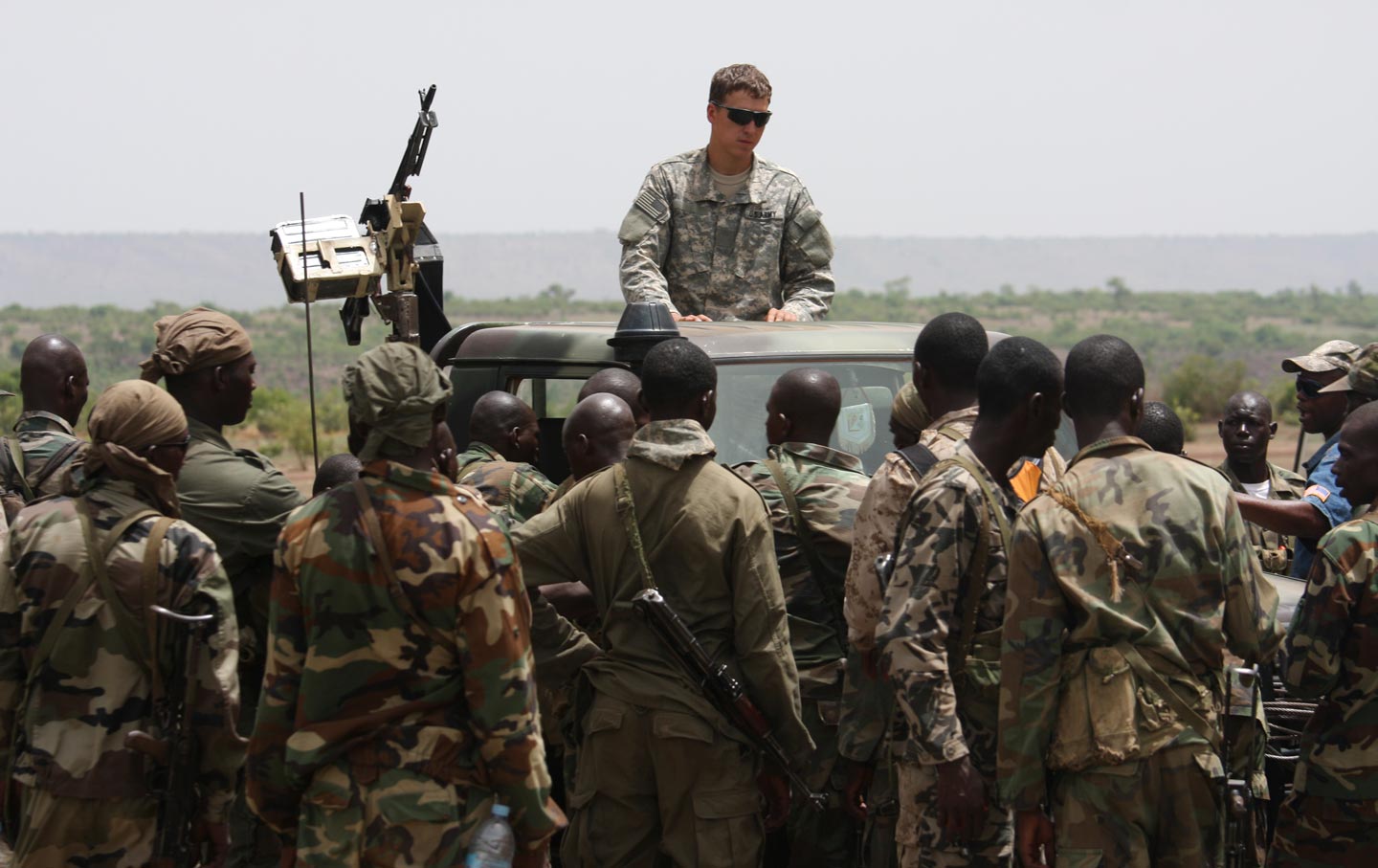 Brief Timeline:
On October 4, four U.S. Special Forces soldiers were killed in an ambush in Niger, a country where the United States is not formally at war, and where American troops were supposedly in an advisory and training role.
For 12 days, President Trump said nothing about the deaths, even as he opined about plenty of other things. The White House was not forthcoming with information until he was questioned by a reporter at the 10/16/17 Rose Garden press conference.
On October 5, 2017, National Security Agency staffers created the following press release to be used by the republican President Donald Trump regarding the tragic loss of 4 American military heroes in Niger on October 4, 2017. The statement was circulated among NSC as well as Defense Department personnel, but it was never released to the public.
Here's the 10/5/17 statement:
"Melania and I are heartbroken at the news that three U.S. service members were killed in Niger on October 4 while providing guidance and assistance to Nigerien security force counter-terror operations. We offer our deepest condolences to the families and friends of these brave American soldiers and patriots. They will remain in our thoughts and prayers.

"We are also praying for the two U.S. service members who were injured in the incident. We wish them a complete and swift recovery.

"The heroic Americans who lost their lives did so defending our freedom and fighting violent extremism in Niger. Our administration and our entire nation are deeply grateful for their sacrifice, for their service, and for their patriotism."
This week of October 16, 2017, the US Senator John McCain, the Pentagon and the FBI are taking steps to investigate whatever happened in Niger around October 4, 2017. 
My question is, what is being done to protect "we the people" from being harmed by a president who appears to make important policy calls based on his whims and impulses while not doing a competent analysis based on facts, evidence and the expert, professional counsel of others.
Related Article: President Trump Is Not Fit To Serve (Based On Army Manual) – Gronda Morin/ July 6, 2017