Rachel Maddow on her October 19. 2017, MSNBC TV show connected the dots regarding the October 4, 2017 tragedy in Niger where 4 Army green beret soldiers were ambushed and killed; how the president's travel ban on Chad exposed these soldiers to harm; and then why the republican President Donald J. Trump avoided any discussion of what happened in Niger until confronted about this subject by a reporter at the 10/16/17 Rose Garden press conference.
It had been reported 7 days ago that Chad military forces had pulled out of Niger after the republican President Donald Trump instituted his travel ban which included the African country of Chad. It turns out that the Chad soldiers had been keeping the terrorist group, Boko Haram and Islamic extremists like ISIS at bay in Niger.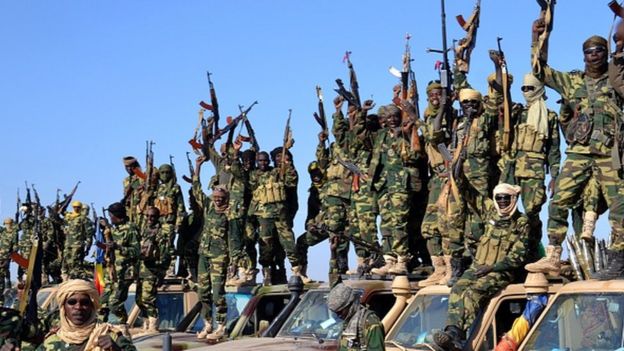 Before the president added Chad to his travel ban, he had been warned against this move by an array of foreign policy experts but he chose to ignore all of them.
The president had been told that his travel ban could result in the isolation of American troops fighting there. "Both the State and Defense Departments were also opposed to Trump's decision to put Chad on the list, because they knew it would cause military problems in the area. But the Trump administration demanded it.
Again, the president put American soldiers and those with them at risk because he acted on his gut instead of listening to all the professionals advising him not to take this step. Does this attitude sound familiar? And what are the republican lawmakers in the US Congress doing to protect all of us from the president's habit of making ill informed decisions?
Here's the rest of the story…
On October 13, 2017, Conor Gaffey of Newsweek penned the following report, "AFTER TRUMP TRAVEL BAN, CHAD PULLS TROOPS FROM BOKO HARAM FIGHT IN NIGER."
Excerpts:
"President Donald Trump's decision to place Chad on his revised travel ban shocked experts and former U.S. officials who warned it could have major consequences for the fight against terrorism in Africa."
"And it appears Trump's controversial decision may have already damaged alliances on the continent—which is threatened by a range of militants, including affiliates of Al-Qaeda and the Islamic State militant group."
"Chad has pulled hundreds of troops from neighboring Niger, where they had been stationed to assist in a regional fight against Boko Haram, the Nigerian militant Islamist group, Reuters reported."
"Chad has played a leading role in fighting terrorism in West Africa, particularly in forcing Boko Haram into retreat. The militants controlled territory equivalent in size to Belgium in early 2015, but has lost almost all of its land since then, largely due to Nigerian military offensives and a regional force launched in 2015 that is headquartered in Ndjamena, the Chadian capital."
"The country is well-known for having one of the strongest militaries in the region. Chad's longtime president, Idriss Déby —who has long been accused of political repression—has made national security a priority of his administration and even had a war of words with Boko Haram leader Abubakar Shekau."
"Chad also assisted African and French forces with dislodging Al-Qaeda-linked militants and separatists from northern Mali in 2013, after a 2012 rebellion had seen the Malian government lose control of the region."
"Residents in Niger's Diffa region said that the Chadian withdrawal had already led to increased banditry. Boko Haram have periodically launched attacks in southeast Niger, just across the border with Nigeria."
"A parliamentarian in Diffa, Lamido Moumouni, told Reuters that residents had complained since the withdrawal. "They have come to rely on the forces so there is a perception that security will be lacking," he said."
On (10/18/2017) Americans learned the official excuse for why the Trump administration decided to pull out of Chad. According to The Guardian, it was because the country didn't send a sample passport that proved it couldn't be faked. Chad officials stopped issuing passports for 6 months because the country ran out of the forgery proof passport paper. They had inquired of the Trump administration if they could send a recently printed passport but the Trump administration said no. Then the president's administration put them on the ban list, ignoring the closest military ally in the region."
Related Articles (October 2017): 
Death of U.S. Soldiers in Niger Sparks FBI Probe, Criticism – WSJ