One of my favorite Evangelicals is the Rev. William J. Barber II, a moderator of the Christian Church (Disciples of Christ) in North Carolina and president of Repairers of the Breach. He is also co-founder of the Moral Mondays movement, progressive activist vigils held in North Carolina's capital, Raleigh. 
According to a statement published in May 2017 at the state chapter's website, Rev. Barber will join the leadership of the Poor People's Campaign Call for a National Moral Revival. The New Poor People's Campaign (marks) the 50th anniversary of King's 1967-68 Poor People's Campaign and will focus on 25 states and Washington, D.C.
He has been a fan of Pope Francis to where he accepted an invitation to visit the Vatican during the 2017 Thanksgiving holidays.
As per a 11/20/17 News Observer report, "It's a deep honor and humbling," Barber said in a telephone interview on Monday. "The pope has been on the forefront of declaring that poverty in our current world is a scandal and its eradication should be a top priority. He has called on government and moral leaders to adjust our policies to address the issues of systemic poverty."

"Barber stepped down as president of the state NAACP last month to focus on his new role as president of Repairers of the Breach, a new and growing social justice organization working to highlight problems across the country when all don't have access to living wages, decent housing, health care and education."

"The pope, Barber said, should be credited for "saying to the world what true evangelism should be saying."

"If any theology is going to line up with the theology of Jesus Christ, it must begin declaring good news to the poor who have been made poor by systems of economic exploitation," Barber added."

"While at the Vatican, Barber will spend several days at a conference that opens with Ghanian Cardinal Peter Turkson discussing labor and the workers' movement. The meeting with the pope is scheduled to happen at the end of the conference."

"For me, it's not so much meeting the pope as meeting a pope who has been so consistent on meeting the challenges of and pastoring to the poor," Barber said. "He's been clear that the church theologically has to deal with poverty, that you have to deal with the moral issues of living wages, inadequate housing and more."
Lately, he has been challenging the 80% of White Evangelicals moral compass as they continue to support and not hold accountable, the actions of the republican President Donald Trump who has a history of providing cover for racist hate groups, a braggart who openly admitted his penchant for grabbing women by their private parts with impunity, a congenital liar, a man who walks, talks and acts like a Russian asset, a person who turned his back on American citizens living in Puerto Rico in their time of need, and the list goes on.
Rev. Barber told Vox., "We're really talking about, in a sense, political murder. I know that's a strong term, but it comes out of the Bible. "The Bible talks about it in Ezekiel 22, when politicians become like wolves devouring the people and do not care for the needy."

Here's the rest of the story…These are his comments before the August 2017 Charlottesville, Va rally instigated by White Supremacists groups and where violence broke out. This is when president dared to ascribe a level of equivalency between the neo-Nazis racist protesters and those who opposed them.
On November 23, 2016, Rev. Dr. William J. Barber II  penned the following op-ed piece for the Washington Post, "The racist history of Southern white evangelicalism and the rise of Donald Trump."
"Two weeks after electing Donald Trump to the highest office in the land, America pauses this week for a day of Thanksgiving. No doubt, many dinner tables will be as divided as the election results — as contentious as our anxious streets. But if we listen closely to the prayers of those who are jubilant in this season, we may discern the false religion that blessed Trump's reactionary campaign. Such discernment is necessary, as we have learned through our cross-racial Moral Mondays movement, before we can experience the moral revival that offers the only way forward together for American democracy."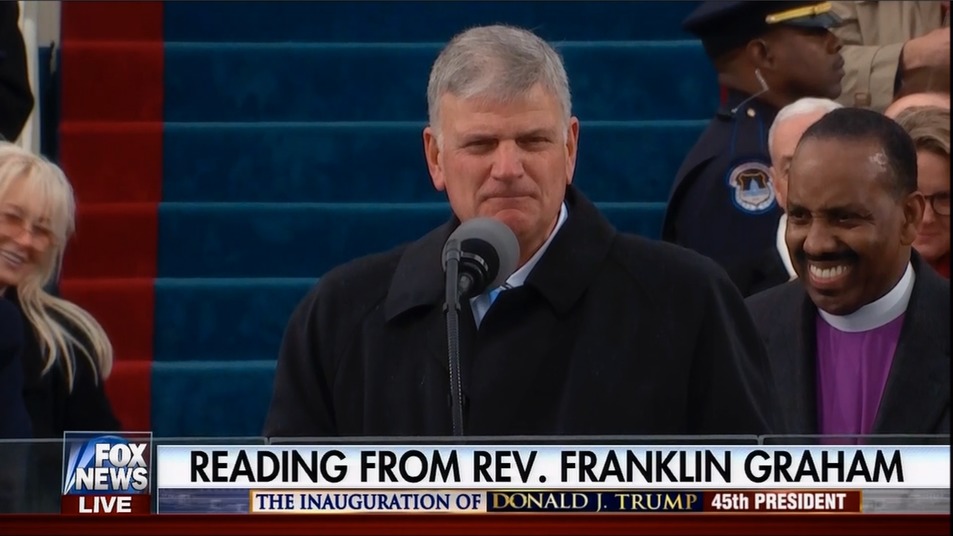 "Franklin Graham, the son of our home state's most famous preacher, Billy Graham, celebrated Trump's election with this prayer of thanksgiving: "Political pundits are stunned. Many thought the Trump-Pence ticket didn't have a chance. None of them understand the God factor. . . . While the media scratches their heads and tries to understand how this happened, I believe that God's hand intervened."
"While many progressives scoff at neo-Nazi and Klan celebrations of Trump's victory, they often fail to comprehend the deep wound race has inflicted on white religion in America. To Franklin Graham, overt racism is anathema. But he thanks God for the same triumph that the white nationalists of the alt-right celebrate because Graham inherited a religion that accommodated itself to slavery in America and has morphed over and again for 150 years to fuel every backlash against progress toward racial justice in American history."
"We cannot make sense of Graham's proclamation of triumph without recognizing its roots in the Lost Cause Southern apologist religion of the 19th century. Following the Civil War, black and white ministers like ourselves worked together throughout the South to proclaim "good news to the poor" through coalitions that supported public education, economic empowerment and equal protection under the law. These men (and a few women) were evangelical preachers contributing to the work of America's Reconstruction. But they were viciously attacked as "political religionists" by a plantation caste that perverted theology to frame their backlash against "Negro rule." Proposed changes to the Southern way of life were branded "immoral," and reactionary politicians euphemistically used the term "Redemption" to rally a resistance."
"Even in the violent campaign of 1876, when black votes were suppressed through vicious Klan attacks, the Redemptionists never officially endorsed violence. They always called for peace and a restoration of order. But their false religion worked hand in glove with lynch mobs to inaugurate the reign of Jim Crow."
"Heirs of this movement wrote the theology textbooks and published the Schofield reference Bibles that taught America's Bible-believing Christians to separate their faith from politics, in an attempt to take the edge off biblical demands for justice. When, following the Great Depression, a Social Gospel movement arose to challenge this division and write biblical notions of economic justice into public policy, the industrial barons who were the heirs of plantation capitalism fought hard against progress toward justice. But they were smart. As Kevin Kruse has shown in his book "One Nation Under God," they knew they did not have the moral authority to wage a successful crusade against the Social Gospel. So they hired James Fifield to teach 19,000 preachers a gospel that could warm the heart while damping the fire of justice at the heart of biblical faith."
"This is the true story of faith in America. It has not always been on the side of truth. In every era, reactionary forces have exploited faith to push back against the very progress that God requires of us."
"God did not intervene on Trump's behalf in this year's election, but the Billy Graham Evangelistic Association did. Organizing prayer rallies in all 50 state capitols, Franklin Graham spent $10 million in 2016 to rally a backlash against President Obama in God's name. It was a strategic investment. Eighty-one percent of evangelicals voted for Trump. Just weeks before Election Day, when Graham concluded his national tour here in North Carolina, he stood on the steps of our old state capitol and told thousands of faithful followers that they needed to know the true name for those of us who call ourselves progressives: atheists."
"Sadly, our brother Franklin believes that a god who does not bless white America's fear and nostalgia is no god at all. But right here on the very capital grounds where Graham uttered his heresy, we have witnessed the power of God to unite a diverse coalition of people committed to justice and mercy through Moral Mondays. That movement, which produced the nation's largest-ever state-government-focused civil disobedience in 2013, spread to 32 other states through this year's Moral Revival. And while Trumpism swept the South with Graham's blessing, North Carolina's Pat McCrory is on the verge of becoming the only Republican incumbent in the nation to lose the governor's office."
"As ministers who grew up on opposite sides of the color line in NC, we know the power of religion to divide and conquer the heart of democracy. But we have also witnessed the power of "moral fusion," or organizing across racial and class lines to build a coalition for progress in 21st-century America. Just as North Carolina saw a hard turn to the right in 2012, America has experienced a backlash against our first African American president in 2016. The months and years ahead will not be easy, but right here in North Carolina we have seen a Moral Movement that can overcome Trump's extremism. As the false gods of our past are exposed, every knee must bow to the God of justice. We hold out hope that even brother Franklin Graham will see the light and join the Moral Movement. Together, following the Second Reconstruction of the civil rights movement, we can look forward to a Third Reconstruction of racial justice and healing in America."
[Why some fear this election will do lasting damage to American Christianity]