I have been keeping track of the story of how 4 US special forces  of our US military were killed in an ambush on October 4, 2017, as the Pentagon's investigative report is due out this month of January 2018. It hasn't been released yet, but this is what has been uncovered so far by news organizations.
The below AP article details how the soldier Sgt. La David Johnson was killed in this ambush which differs from a 10/10/17 Washington Post report that states, ""Boubacar, a resident of Tongo Tongo, said in a phone interview that he informed the village's chief after seeing Johnson's body. "His two arms were tied behind his back," he said. The chief called Nigerien military forces, who dispatched troops to retrieve Johnson's remains." (See:US soldier in Niger ambush was bound )
Here is the rest of the story…
On January 13, 2018, Reuters Staff published the following report, Islamic State affiliate claims deadly attack on U.S. troops in Niger
Excerpts:
"The leader of Islamic State's affiliate in West Africa has claimed responsibility for an attack that killed four U.S. special forces and four soldiers from Niger in October, Mauritania's independent Nouakchott News Agency (ANI) reported on Saturday."
"The troops were killed when their joint patrol was attacked near the village of Tongo Tongo, on the Mali-Niger border, on Oct. 4 by dozens of militants armed with machine guns and rocket-propelled grenades."
"Security officials had identified the perpetrators as Islamist militants loyal to Adnan Abu Waleed al-Sahrawi, the leader of Islamic State in the Greater Sahara operating along Mali's border with Niger and Burkina Faso, but there had previously been no confirmation from al-Sahrawi himself."
"We claim the attack which targeted the American commandos in the village of Tongo Tongo," Sahrawi, who makes public statements only very rarely, was quoted by ANI as saying."
"Privately owned ANI sometimes enjoys privileged access to information on movements of Sahara-based Islamist fighters. Last year it broke news that Mali's main jihadist groups had merged, and in 2013 it had exclusive reports about a militant attack on a gas plant in Algeria in which 38 hostages were killed."
"Lawlessness across the Sahara has enabled jihadist groups to thrive and launch increasingly deadly attacks on local and Western targets there and in the semi-arid Sahel south of it. They are seen as the biggest threat to the region's stability."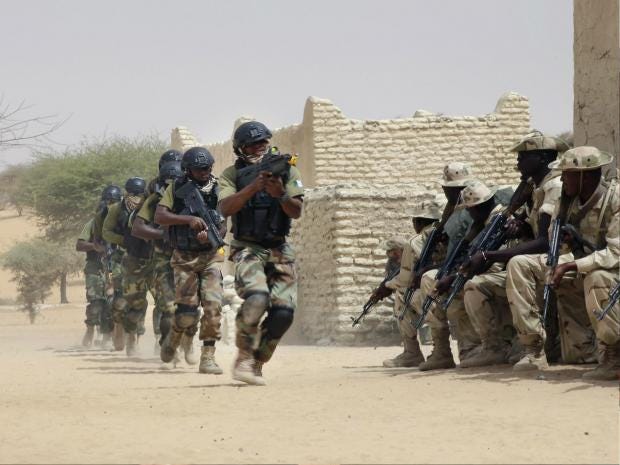 On December 18, 2017, (AP) published a report by Lolita C. Baldor, "Report: US soldier fought to end after ambush in Niger"
Excerpts:
Army Sgt. La David T. Johnson died in a hail of gunfire, hit as many as 18 times as he took cover in thick brush, fighting to the end after fleeing militants who had just killed three comrades in an October ambush in Niger, The Associated Press has learned.
A military investigation has concluded that Johnson wasn't captured alive or killed at close range, dispelling a swirl of rumors about how he died.
The report has determined that Johnson, 25, of Miami Gardens, Florida, was killed by enemy rifle and machine gun fire from members of an Islamic State offshoot, according to U.S. officials familiar with the findings. The Oct. 4 ambush took place about 120 miles (200 kilometers) north of Niamey, the African nation's capital. Johnson's body was recovered two days later.
U.S. officials familiar with the findings spoke to the AP on condition of anonymity to describe details of an investigation that has not been finalized or publicly released.
A 12-member Army special forces unit was accompanying 30 Nigerien forces when they were attacked in a densely wooded area by as many as 50 militants traveling by vehicle and carrying small arms and rocket-propelled grenade launchers.
Johnson was struck as many as 18 times from a distance by a volley of machine gun rounds, according to the U.S. officials, who said he was firing back as he and two Nigerien soldiers tried to escape.
All told, four U.S. soldiers and four Nigerien troops were killed in the ambush. Two U.S. and eight Nigerien troops were wounded.
"The bodies of three U.S. Green Berets were located on the day of the attack, but not Johnson's remains. The gap in time led to questions about whether Johnson was killed in the assault and not found, or if he was taken away by the enemy."
"According to the officials, a medical examination concluded that Johnson was hit by fire from M-4 rifles — probably stolen by the insurgents — and Soviet-made heavy machine guns. It is believed he died in the attack."
"The officials said Johnson was found under thick scrub brush where he tried to take cover. There were no indications he was shot at close range, or had been bound or taken prisoner, as several media reports have suggested."
"A U.S. Africa Command began its investigation with a team headed by Army Maj. Gen. Roger Cloutier, the command's chief of staff. The team visited locations in Niger to collect evidence and information about the attack, and will soon submit a draft of Cloutier's report to Marine Gen. Thomas Waldhauser, head of Africa Command. Waldhauser could ask for additional information. The final report is expected to be released next month (January 2018)."
"The officials familiar with the report's conclusions said that during the attack, Johnson and two Nigerien soldiers tried to get to a vehicle to escape, but were unable to do so, became separated from the others and were shot as they were running for safety."
"The report concluded that Johnson, who was athletic and a runner, was in the lead and got the farthest away, seeking cover in the brush."
"As news of the ambush came out, the U.S. military sent in rescue teams to search for Johnson, not making his status public in the hope he might have gotten away and was still alive and hiding. The Pentagon only acknowledged that he was missing after his body was located two days later by local forces."
"The Pentagon has declined to release details about the exact mission of the commando team. U.S. officials have previously said that the joint U.S.-Niger patrol had been asked to assist a second American commando team hunting for a senior Islamic State member, who also had former ties to al-Qaida in the Islamic Maghreb. The team had been asked to go to a location where the insurgent had last been seen, and collect intelligence."
"After completing that mission, the troops stopped in a village for a short time to get food and water, then left. The U.S. military believes someone in the village may have tipped off attackers to the presence of U.S. commandos and Nigerien forces in the area, setting in motion the ambush."
"U.S. special operations forces have been routinely working with Niger's forces, helping them to improve their abilities to fight extremists in the region. That effort has increased in recent years, the Pentagon said."
The three other Americans killed were Staff Sgt. Bryan C. Black, 35, of Puyallup, Washington; Staff Sgt. Jeremiah W. Johnson, 39, of Springboro, Ohio; and Staff Sgt. Dustin M. Wright, 29, of Lyons, Georgia.
Johnson's combat death led to a political squabble between President Donald Trump and a Democratic congresswoman from Florida after Trump told Johnson's pregnant widow in a phone call that her husband "knew what he signed up for." Rep. Frederica Wilson was riding with Johnson's family to meet the body and heard the call on speakerphone. The spat grew to include Trump's chief of staff, who called Wilson an "empty barrel" making noise.
Related Article: The Deaths of Four Elite U.S. Soldiers in Niger Show Why Trump Must Wake Up On Terrorism In Africa  http://www.newsweek.com/10/16/17