In my humble opinion the US House Intelligence Committee's republican Chairman Devin Nunes needs to not only be run out of his chairman post but out of the US Congress.
His public sharing of a partisan 4 page memo collected from classified intelligence material without subjecting it to the standard de-classification / vetting procedure was designed to prove the conspiracy theory that the deep state within the FBI and DOJ top personnel were conducting a witch-hunt against the republican President Donald Trump that would lead to the shut down of the FBI's Trump-Russia probe led by the Special Counsel Robert Mueller III.  There would be enough dirt to allow the president to fire the Justice Department's Deputy Attorney General Rod Rosenstein who has supervisory power over the FBI's Trump -Russia investigative work product.
This plan developed by the right failed miserably but that doesn't mean it won't do lasting damage to the institutions now caught in Trump-world's covering fire. There is that very real possibility that the memo will do harm to the credibility and reputation of the FBI and larger U.S. law enforcement bureaucracy. Their efforts may have succeeded by demonizing and discrediting those institutions and any conclusions they subsequently make against the president.
I had been thinking that Rep. Nunes being from a safe republican district in California could not be successfully challenged by a democratic candidate in the upcoming November 2018 elections. It turns out that I may be wrong.
Here's the rest of the story…
On February 3, 2018, Carla Marinucci and David Siders of Politico penned the following report, "Nunes challenger seizes on FBI memo uproar."(The California district is a long shot for Democrats, but the House Intelligence chairman is giving his adversaries hope.)
Excerpts:
"It's been a rough week for House Intelligence Committee Chairman Devin Nunes, the California Republican at the center of a Washington firestorm after crafting a memo alleging bias and misconduct at the FBI and Department of Justice."
"But for Andrew Janz, the congressman's Democratic opponent, things have never been better."
"The controversy surrounding Nunes' turn in the national spotlight has sparked a wave of interest in Janz's long-shot campaign, powered by deep hostility toward Nunes' role in the effort to delegitimize the federal probe into whether Russia infiltrated President Donald Trump's campaign team."
"Janz, a previously little-known Fresno prosecutor, reports he's been deluged by donations and media attention. Last week, the congressman's hometown paper, the Fresno Bee, headlined a scathing editorial under the headline, "Rep. Devin Nunes, Trump's stooge, attacks FBI." Even late night comedian Jimmy Kimmel piled on this week, sniping that "to call Devin Nunes Donald Trump's lapdog would be an insult to dogs. And to laps."
"In recent days, Twitter has been abuzz with calls from Democrats across the nation to donate to Janz's campaign."
"We're looking really good, thanks to him,'' Janz told POLITICO, just hours after the memo's Friday release. "I think we took in $100,000 between today and yesterday."
"Janz, who spoke to POLITICO while shopping at a Fresno Costco in a last-minute rush to get more food for an unexpectedly crowded evening campaign open house — "I think we're going to run out of food" — said Nunes' prominent role in orchestrating and releasing the previously classified memo is proof he's forgotten the folks back home."
"While he's engaged in all those antics in Washington, people here are struggling,'' Janz said. "I was with a group of farmers last week — Republicans — who told me they're sick of it … They are worried about issues like water, and they can't get a meeting with him. He hasn't done a town hall meeting here since 2010. … He hasn't done squat for this district."
"Even with the electricity generated in the past week, Janz remains a heavy underdog against Nunes in this Central Valley-based seat. Democrats are badly outnumbered in the district; Nunes, a member of a prominent farming family n his hometown of Tulare, has a wide and loyal following in the area."
"The incumbent has also built a massive war chest: The $3.8 million he reported in cash on hand this month was more than any other Republican House incumbent in California, according to Rob Pyers of the California Target Book, which handicaps races in the state."
"Janz, by contrast, reported having just $85,000 cash on hand in the fundraising quarter that concluded at the end of December."
"Pyers described Democrats' chances of unseating Nunes as "very slim."
"Looking at the way that district has typically voted, it's not going to swing Democrat in Congress anytime soon, as far as I can tell," Pyers said.
"The district went for President Donald Trump by nearly 10 percentage points in 2016, and for Mitt Romney over then-President Barack Obama by an even larger margin four years earlier."
"Pyers said of the district, "I don't think it's going to be particularly receptive to all the 'Resist' activists out there."
"Nunes, who served on Trump's transition team, has used the Russia investigation to his advantage in front of GOP crowds in California, where Trump loyalists applaud Republicans for their criticism of the probe."
"Addressing donors outside his district in Orange County last year, Nunes cast himself as a victim of media bias and said Washington should "stop chasing Russian ghosts around the closet."
"House Speaker Paul Ryan (R-Wis.) joined many Republicans and conservative talk show hosts in defending Nunes this week. "He's focusing on keeping our country safe, focused on national security," Ryan told reporters at a GOP retreat."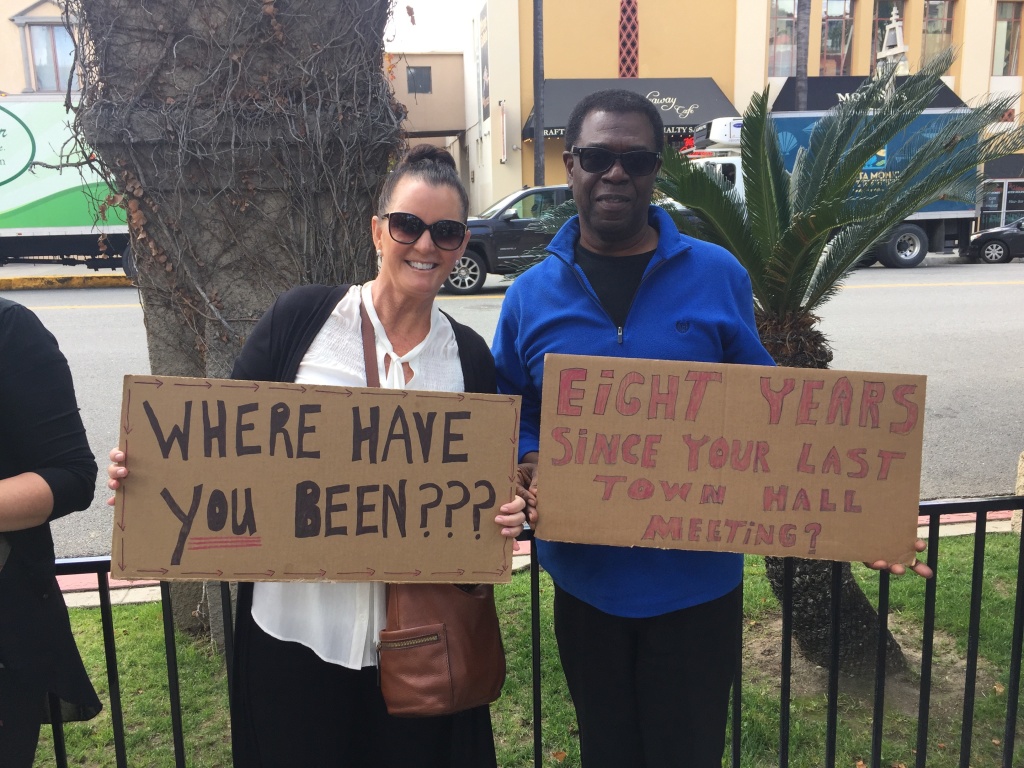 "Janz' campaign commissioned a recent Public Policy Polling survey which suggested that Nunes, who has been handily re-elected since first winning his seat in 2002, may be more vulnerable than is widely thought. The Democratic-leaning polling firm showed Nunes only 5 percentage points ahead of a generic Democratic challenger in the heavily GOP district, 50-45 percent. That poll is slightly misleading, however — it omitted results of a match-up between Nunes and Janz himself."
"Janz, who's wasted no time in releasing a video spot slamming Nunes' role in releasing the lightning-rod memo, said he's aiming to energize the vote of Latinos, who make up 45 percent of the district's residents."
"At the moment, he's getting cover from established Democrats in California, who have raged against Nunes' actions."
"House Minority Leader Nancy Pelosi (D-Calif.) called for Paul Ryan to remove him from the House Intelligence committee chairmanship. The #RemoveNunes meme quickly became a trending topic on Twitter."
"And the once-friendly relationship between California Rep. Adam Schiff, the ranking House Intelligence Democrat from Burbank, and Nunes went cold in the run-up to the memo's release. Schiff not only took to the airwaves nonstop to criticize the impending publication, he repeatedly slammed Nunes for political opportunism, which he said included altering the documents in the final hours before release."
"He wasn't alone among California Democrats, who leveled a barrage of caustic criticism."
"Trump's decision to release the Nunes Memo is a page right out of the tinpot dictator handbook," California Democratic Party Chairman Eric Bauman said in a prepared statement. "This is an open declaration of war on the FBI and the rule of law. Nunes and Trump are lashing out like guilty men who know investigators are inching closer and closer to exposing their crimes."
"The state's senior senator, Dianne Feinstein, called the Nunes Memo "everything that is improper for any credible investigation into a set of facts and circumstances." She said the memo's release "puts an end to the majority's ability to do any credible, fact-based intelligence assessments."
Related Articles:
The Nunes memo, explained with diagrams – Vox
Thoughts on the Nunes Memo: We Need to Talk About Devin – Lawfare