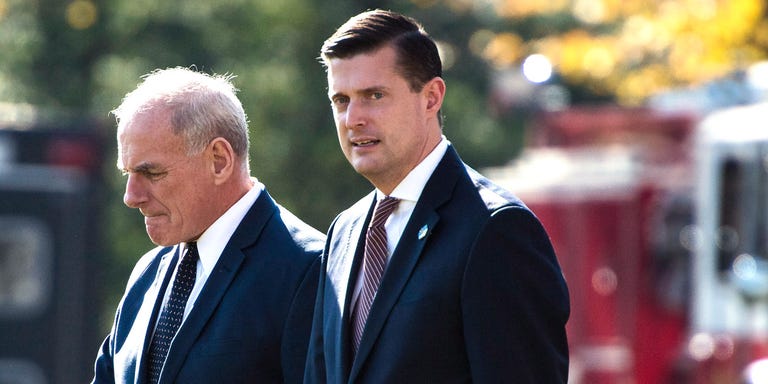 This past week, the resignation by a White House staffer Rob Porter who worked closely with Chief of Staff General John Kelly has set off news hounds on the scent of a story that has legs. This young man has the demeanor of the consummate professional with the credentials of being a Harvard graduate and a Rhodes Scholar, but it had to be known within the president's administration that he had no chance of passing the FBI's security back-ground check to obtain his clearance. In short, this staffer who had been operating for a year within the White house with access to the most sensitive, classified material with only a interim clearance status shouldn't have ever been in this position because the FBI had compiled data showing that Mr. Porter had a history of spousal abuse and would never be cleared to handle classified data. This history is indicative of a person who could be subject to future blackmail schemes.
DON MCGAHNThe British tabloid, the Daily News and the media outlet, the Intercept pursued Mr. Porter's two ex-wives who revealed that they had shared their history of abuse by Mr. Porter already with the FBI. There is no way that the FBI didn't share these set of facts with the White House Counsel Don McGahn and/ or the president's Chief of Staff General John Kelly at a much earlier date than when the full stories of his past spousal abuse details went public.
In defending him, General John Kelly resorted to lying to the American public and then he sent out surrogates to further disseminate his lies. While it is truly sad to see the reputation of a 4-star Marine General who lost his beloved son in the service to this country, drug into the mud, this is where General Kelly finds himself.
In this case, General Kelly has not served the presidency well. However, this is not the first time he has been caught lying to the American peoples. The last time was around mid October 2017 when he had concocted an unflattering story proven false by video tapes, about the US Florida Representative Frederica Wilson who was a close family friend of Myeshia Johnson, the widow of a slain soldier who had been killed in Niger, La David Johnson. (See:John Kelly's Lies About Frederica Wilson Are Part of a Pattern of Not Believing Black Women /The Intercept)
General Kelly's true nature of being a staunch opponent of immigration with latent racist leanings have become apparent over time. His history revisionist review of General Robert E. Lee, his reference to the Dreamers who did not sign up for DACA as lazy, among other examples of his tone-deafness to the political reality around him, have been shocking as we would not expect this from a man of his caliber. Now, we can add the attribute of misogyny to to the General's character flaws. I am convinced that had the women's narrative of abuse not gone public, that Mr. Porter would still be ensconced in the White House.
It has become painfully obvious that General Kelly is far from the moderating influence over the republican President Donald Trump that we had hoped. He is Trump-like without all the accompanying baggage.
According to the NY Times and other sources, General Kelly has proffered his resignation as a solution to this mess, but he has a history of doing this whenever the president is critical of him. In my opinion, this time the president should take him up on his offer.
Here is a timeline of the Rob Porter case...
On February 9,2018, Philip Bump of the Washington Post penned the following report, "Who knew what and when about the abuse allegations against Rob Porter"
Excerpts: 
"White House staff secretary Rob Porter this week resigned after accusations and photographs of past incidents of domestic violence were reported in the media, first by the British tabloid the Daily Mail. After initially defending Porter, the White House and Chief of Staff John F. Kelly tried to distance themselves from Porter — and from any awareness of the allegations against him."
"Reporting from The Washington Post and other outlets, though, makes clear both Kelly and White House Counsel Donald McGahn have known about the allegations against Porter for months. "
"Below, a timeline of the allegations against Porter, the extent to which the White House knew about those allegations and the various responses from people close to Porter as the whole story began to come out."
The marriages
2000. Colbie Holderness meets Porter while the two are attending college in the Boston area.
June 2003. Holderness and Porter marry.
Summer 2003. Porter is allegedly verbally abusive during their honeymoon in the Canary Islands and kicks Holderness.
Summer 2005. During a trip to Italy, Porter allegedly strikes Holderness, resulting in a black eye.
2008. Holderness and Porter divorce.
2009. Jennie Willoughby meets Porter at church.
November 2009. Willoughby and Porter marry.
February or March 2010. Willoughby seeks a separation from Porter.
June 19, 2010. After Porter punches a glass door in their home, Willoughby files a police report and receives a protective order.
2013. Willoughby and Porter divorce.
March 2014. Porter assumes the position of chief of staff for Sen. Orrin G. Hatch (R-Utah).
February 2016. A woman dating Porter — who so far remains anonymous — contacts Willoughby to say Porter was abusive to her and to ask if Willoughby had endured similar experiences.
Nov. 8. Trump wins election as president.
Porter seeks clearance
January 2017. As part of the process for Porter to receive security clearance to serve as staff secretary to Trump, the FBI contacts both Holderness and Willoughby.
At some point this month, White House Counsel Donald McGahn learns about the allegations, apparently after being given a heads up by Porter. The White House told The Post that McGahn knew only Porter's ex-wives were prepared to make unflattering comments about Porter and that Porter said the allegations were not true.
Jan. 22. Porter is sworn in as staff secretary.
February. Holderness contacts Willoughby to discuss their experiences with Porter.
April. Willoughby publishes a blog post titled, "Why I Stayed." It begins:
"The first time he called me a 'f—ing bitch' was on our honeymoon. (I found out years later he had kicked his first wife on theirs.) A month later he physically prevented me from leaving the house. Less than two months after that, I filed a protective order with the police because he punched in the glass on our front door while I was locked inside. We bought a house to make up for it. Just after our one year anniversary, he pulled me, naked and dripping, from the shower to yell at me."
June. The FBI flags concerns about Porter to the White House. The administration says that these concerns weren't conveyed to McGahn himself.
"September. McGahn learns that the FBI's concerns were holding up approval of Porter's clearance. According to Post reporting, McGahn at some point tells White House Chief of Staff John F. Kelly about the holdup — prompting Kelly to marvel that Porter had ex-wives — and both agree Porter should remain in his position. It's not clear if this discussed the specifics of the concerns or if McGahn still allegedly only knew that there existed "damaging allegations."
"Sep. 21. Porter, apparently angry about not having received his clearance,  calls     Willoughby to ask if she had alleged he had been violent in her interview with the FBI."
"Sep. 22. Willoughby informs the FBI about the call."
"Sep. 25. The FBI contacts Holderness to ask if she had been contacted by anyone regarding Porter."
"Late September. At some point, the FBI asks Porter to explain the circumstances behind the photo of Holderness with a black eye."
October. The anonymous girlfriend (Hope Hicks), who works for the administration, tells Kelly personally about the abuse allegations, according to the Daily Mail.
Autumn. Kelly is allegedly told Porter would not receive clearance due to the abuse reports, according to HuffPost. (The Daily Mail puts this in November.) Porter tells Kelly he will resign in December, but Kelly encourages him to say.
November. After "discovering suggestive text messages between Porter and White House communications director Hope Hicks," the Daily Mail reports, the anonymous girlfriend ends their relationship.
At some point this month, The Post has reported, the anonymous girlfriend contacts McGahn about the allegations.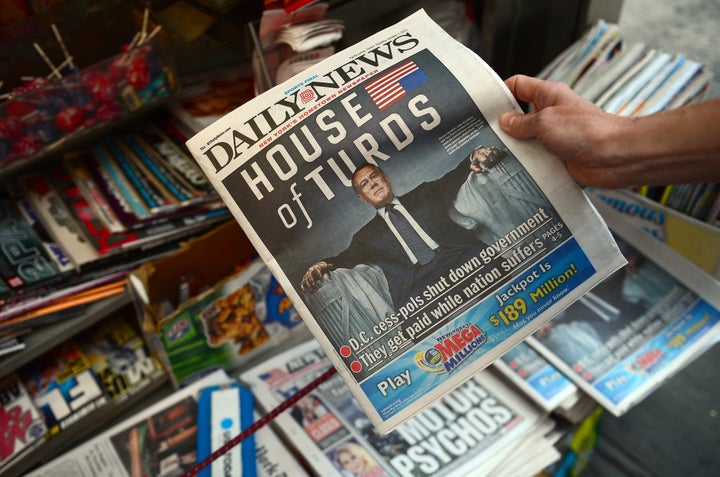 The allegations surface
Early February 2018. The Daily Mail contacts the White House about its upcoming story on Porter.
Feb. 6, afternoon. The White House reaches out to Hatch's office to ask for a statement of support for Porter, allegedly blaming Corey Lewandowski for the story surfacing, according to the Daily Beast.
Speaking to a CNBC reporter later, Kelly says that Porter was fired by the White House less than an hour after it learned of the allegations.
Feb. 6, 7:30 p.m. The Daily Mail story breaks. It includes several statements.
Kelly:
"Rob Porter is a man of true integrity and honor, and I can't say enough good things about him. He is a friend, a confidante and a trusted professional. I am proud to serve alongside him."
Porter:
"'I will not comment about these matters, beyond stating that many of these allegations are slanderous."
Hatch:
"It's incredibly discouraging to see such a vile attack on such a decent man. Shame on any publication that would print this — and shame on the politically motivated, morally bankrupt character assassins that would attempt to sully a man's good name. I know Rob. I've known him for years, both as a close friend and as a personal adviser. He is kind and considerate towards all. The country needs more honest, principled people like Rob Porter, which is why I hope that this cynical campaign to discredit his character ultimately fails."
White House press secretary Sarah Huckabee Sanders:
"I have worked directly with Rob Porter nearly every day for the last year and the person I know is someone of the highest integrity and exemplary character. Those of us who have the privilege of knowing him are better people because of it."
The defense of Porter to some extent included the involvement of Hicks, with whom Porter is apparently still romantically involved.
Feb. 7, 2 a.m. The Intercept's Ryan Grim breaks the news about the photographs of Holderness' eye.
Senior White House aide Rob Porter physically assaulted two ex-wives, they tell @theintercept. Full story to come in the morning.

His first wife, Colbie Holderness, provided these photos from a vacation they took together in Florence, Italy:
Feb. 7, morning. According to White House staff who spoke with Axios, senior staff — including Kelly — tell Porter to "stay and fight."
Midday. Porter resigns.
1:30 p.m. During the daily press briefing, Sanders addresses Porter's resignation.
"I can tell you that Rob has been effective in his role as Staff Secretary," she says, "and the President and Chief of Staff have had full confidence and trust in his abilities and his performance. … I think that was a personal decision that Rob made, and one that he was not pressured to do, but one that he made on his own."
She reads a statement from Porter.
"These outrageous allegations are simply false. I took the photos given to the media nearly 15 years ago.  And the reality behind them is nowhere close to what is being described.  I've been transparent and truthful about these vile claims, but I will not further engage publicly with a coordinated smear campaign. My commitment to public service speaks for itself. I've always put duty to country first, and treated others with respect. I'm deeply grateful for the opportunity to have served in the Trump administration, and will seek to ensure a smooth transition when I leave the White House."
1:50 p.m. Hatch releases a statement.
"I am heartbroken by today's allegations. In every interaction I've had with Rob, he has been courteous, professional, and respectful. My staff loved him and he was a trusted adviser. I do not know the details of Rob's personal life. Domestic violence in any form is abhorrent and unacceptable. I am praying for Rob and those involved."
6 p.m. Hatch's tune changes slightly.
Just spoke to @senorrinhatch again, he reiterated he "would prefer (Rob Porter) not to resign. Just work his way through and do what's right."

"I encouraged him to keep a stiff upper lip and work on his problems," Hatch said.
9:39 p.m. 
Kelly, under fire for his handling of the situation, releases another statement.
"I was shocked by the new allegations released today against Rob Porter. There is no place for domestic violence in our society. I stand by my previous comments of the Rob Porter that I have come to know since becoming Chief of Staff, and believe every individual deserves the right to defend their reputation. I accepted his resignation earlier today, and will ensure a swift and orderly transition."
Feb. 8. Porter's last day in the White House.
3:40 p.m. Deputy press secretary Raj Shah is asked about Porter and Kelly.
Q   Let me ask you if I can: The statement changed from John Kelly yesterday morning to the statement yesterday evening. He said, "based on new allegations." But what changed yesterday, absent a photograph, in terms of new allegations?

MR. SHAH:  Well, I think what I just referenced. The reports had additional allegations; they had more information.

Q   So you're saying the initial reports where two former wives accused him of violence, both physical and verbal abuse, was not sufficient for him to say that I think he's a man of honor?

MR. SHAH:  There were a number of statements from the Press Secretary, from the Chief of Staff, and from others that reflected the Rob Porter that we've come to know working here for over a year, and the Chief of Staff for about the last six months. But the reports are troubling, and I think the statement from Wednesday night reflects the Rob Porter that we had seen in these news reports and some of these credible allegations.

Q   So to be clear, what was so shocking that had changed? He said it was "shocking." What was he referring to?

MR. SHAH:  Yeah, and it's the full nature of the allegation, particularly the images. 
"While we are all processing the shocking and troubling allegations made against a former White House staffer, I want you to know that we all take matters of domestic violence very seriously. Domestic violence is abhorrent and has no place in our society. We understand the shock, pain and confusion that these allegations have caused in our workplace. It is important for me to tell you — you are not alone. Resources are available here at the White House for anyone who is seeking counseling."
Feb. 9, morning. During a staff meeting, Kelly tells senior staff he acted within 40 minutes to remove Porter from his position after learning the allegations were "credible."
1:20 p.m. Speaking to reporters, President Trump comes to Porter's defense.
"We wish him well, he worked very hard. We found out about it recently and I was surprised by it, but we certainly wish him well and it's a tough time for him. He did a very good job when he was in the White House. And we hope he has a wonderful career and he will have a great career ahead of him. But it was very sad when we heard about it and certainly he's also very sad now. He also, as you probably know, says he's innocent and I think you have to remember that. He said very strongly yesterday that he's innocent so you have to talk to him about that, but we absolutely wish him well. He did a very good job when he was at the White House."