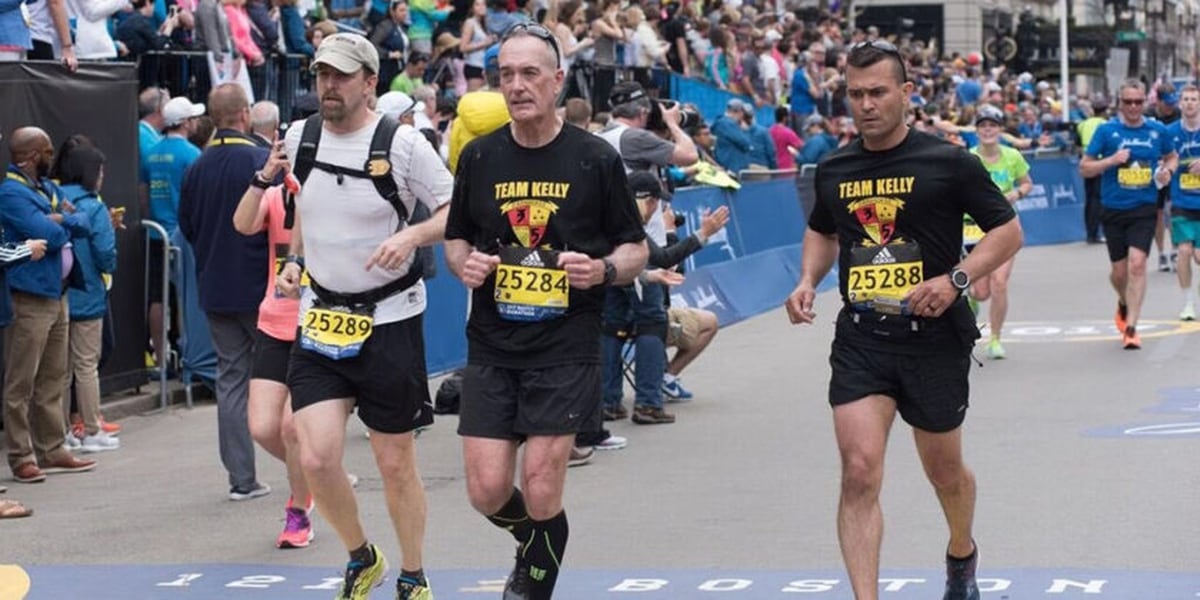 If General John Kelly had never gone to work for President Donald Trump he could have retired in glory having been Bostonian who did the city proud. Instead, these days, his own neighbors are viewing him through not very rosy glasses. The illusion has disappeared only to be replaced by a man no one ever really knew. General Kelly is no longer the local hero but a very tarnished version of what people believed he was. After all, it is not everyone who rises to become a 4 star Marine General and who has lost a beloved son in service to this country. But he has not done honor to this position. What's even sadder is that he may not know how far he has fallen in the eyes of so many.
This is tawdrier than a Shakespearean tragedy. The below Boston Globe opinion pieces reflect this sad state of affairs.
Here's the rest of the story…
On February 10, 2018, Danny McDonald of the Boston Globe penned the following report, "In John Kelly's hometown of Brighton, disappointment from one veterans' group"
Excerpts:
"The force behind one veterans group in White House Chief of Staff John Kelly's hometown is done with the retired general."
"
Count Rick Holahan, who runs Allston Brighton Veterans, among those who are disappointed in Kelly in the wake of the scandal involving White House staff secretary Rob Porter, who resigned after his two ex-wives accused him of physical abuse."
"Kelly, a Brighton native, knew of the abuse allegations months before they were made public, and initially defended Porter, who grew up in Belmont, when the allegations surfaced earlier this week."
"Kelly's handling of that situation put very early talks of honoring him in Brighton on ice, Holohan said."
"I'm kind of tapped out after what happened this week," Holahan, 37, who is in the Army Reserves, said on the phone Friday. "I'm not going to be carrying water or applying for grants or doing anything like that. Someone else can do it if they want, but it's not going to be me."
"Holahan's group was born out of the Boston Veterans Advisory Council, which was appointed by Mayor Martin J. Walsh, but was dissolved in 2015. The group, made up of a small collection of veterans, spearheaded the effort to erect a statue of Medal of Honor recipient Ernest Prussman, a World War II soldier."
"Prussman was a Brighton native who fought and died in France during that war, and was awarded the Medal of Honor posthumously for his gallantry. The statue, which will stand in a park located at the intersection of Sparhawk, Cambridge and Murdock streets, is scheduled to be unveiled Memorial Day. Allston Brighton Veterans, partnering with Brighton Marine Health Center, had received $90,000 in grant money from Boston College for the memorial."
The group had been in very preliminary talks about doing something to commemorate Kelly's service, said Holahan, given the Prussman statue and the city's decision to name the ampitheater at Smith Field in Allston for "General George Casey Sr., an Allston native who died while serving in Vietnam."
"Holahan, a Boston College graduate who lives in Brighton, said the question recently arose: If Casey is getting an amphitheater, what should Kelly, a retired four-star general and former homeland security secretary, get?"
"We were thinking, while Kelly was alive, let's do this, let's not wait to do it in 40 years," he said. "We were still in the spitballing phase."
"But after the Porter allegations came to light this week, Holahan was strident in his criticism of Kelly on social media."
"Tweeting from the Allston Brighton Veterans account earlier this week, Holahan noted Kelly's local connection before stating, "Kelly knew a staffer was a repeated spouse abuser and did nothing . . . This concludes our support of Kelly." He also attached a photo of Porter's ex-wife Colbie Holderness with a black eye she says Porter gave her."
Hello. In previous Tweets/Book posts, we've highlighted that General (Ret) John Kelly is from Allston Brighton

It's come to light that in his role as WHCoS, Kelly knew a staffer was a repeated spouse abuser and did nothing

This concludes our support of Kelly. This pic is wrong.
On February 9, 2018, Michael A. Cohen on the Boston Globe penned the following report,"John Kelly was supposed to be the adult in the room. He's anything but"
"Kelly is the perfect Donald Trump staffer — he's a bad person who is bad at his job."
"While this might seem like a harsh judgment, consider the evidence." 
"This week, the White House has been embroiled in controversy, largely of Kelly's own making, over the handling of staff secretary Rob Porter's tenure inside the administration."
"Kelly had known for months that Porter had been credibly accused of abusing both of his former wives and had been denied a permanent security clearance because of the allegations. Yet that didn't stop Kelly from keeping Porter on and actually praising him, earlier this week, as "a man of true integrity and honor" when the allegations surfaced. Kelly even urged Porter not to resign. Kelly only changed his tune after pictures emerged of Porter's first wife with a black eye."
"This is hardly the first time that Kelly, in his mere six and half months as chief of staff, has done and said bad things. In the fall, Kelly slandered congresswoman Frederica Wilson with an accusation of publicly grandstanding at an event opening a federal office building in Miami in 2015. When confronted with evidence that his claims against Wilson were untrue, Kelly said he would never apologize for his comments. He referred to a traitorous Confederate general, Robert E. Lee, as an "honorable" man, and, echoing his boss's language about neo-Nazis who marched this summer in Charlottesville, Va., said, about a civil war fought over slavery, "men and women of good faith on both sides made their stand where their conscience had them make their stand."
"Just this week, he attacked so-called Dreamers who had failed to register for the DACA program as being "too lazy to get off their asses."
"From a policy standpoint, Kelly, as secretary of Homeland Security, was the point man for both the Trump administration's so-called Muslim ban and its increasingly cruel and sadistic efforts to deport law-abiding undocumented immigrants. Under his short tenure at DHS, there was a 40 percent increase in deportation arrests."
"In his public speeches, Kelly eagerly adopted the public line, pushed by Trump, that immigrants represent an existential threat to American security, suggesting in April that the nation is "under attack from criminals who think their greed justifies raping young girls at knifepoint, dealing poison to our youth, or killing just for fun." Last month, he appears to have played a crucial role in torpedoing a possible deal on DACA because of his own hard-line and racist views toward nonwhite immigrants."
"Rather than serve as a moderating force in the White House, Kelly has — over and over again — enabled and even encouraged Trump's worst instincts. A smart chief of staff would have sought a way to minimize the fallout from Trump's toxic comments on neo-Nazis, his apparent disrespect for a Gold Star widow, and his disparagement of undocumented immigrants and sub-Saharan countries. Yet each time, Kelly has fanned the flames."
"And now it's been revealed that he allowed a staffer who had credibly been accused of spousal abuse, and was susceptible to blackmail, to remain in a highly sensitive position, with regular access to the president."
"In keeping Porter on in his position, Kelly ignored an obvious land mine waiting to explode inside the White House. Once Porter's abuse record became public, once it was revealed that a staffer who was unable to get full security clearance was nonetheless granted full access to whatever documents crossed the president's desk, including highly classified material, it should have been immediately clear that there was no way Porter would be able to stay in his job."
"Kelly's belief that Porter could stay and fight the allegations was delusional. How could Kelly be so clueless?"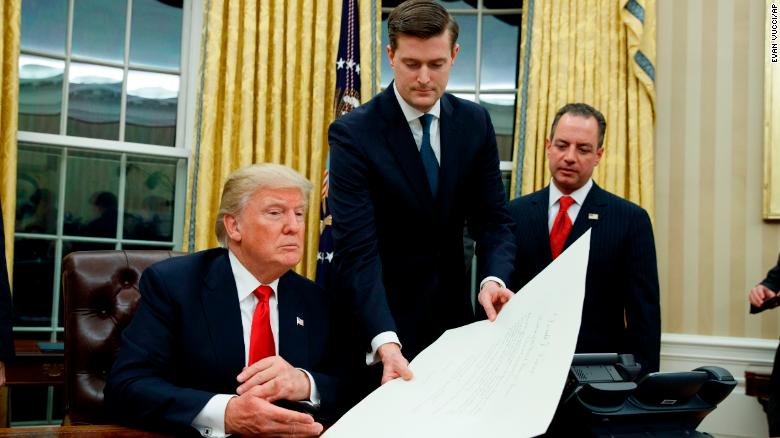 "Kelly failed his boss and left the White House vulnerable to withering criticism over how Porter was able to keep his job. If Trump can't rely on his chief of staff to protect him from political scandal – and not actually make the scandal worse — what good is he?"
"Before going to work for Trump, Kelly had a solid reputation for competence and probity. After more than a year in Trump's orbit, he has come to be seen by many as a racist and incompetent staffer who has enabled a racist and incompetent president. This will be his ultimate legacy, even if the Porter scandal is what finally forces him out of the White House. It's a worthwhile reminder that to work for Donald Trump is to surrender not just one's integrity but also one's reputation."