It would be an understatement to say that the republican President Donald J. Trump has experienced a rough month in February 2018. It began soon after the FBI's Special Counsel Robert Mueller's made public a host of indictments against several Russian operatives and entities. The indictments contained excruciating details of how Russia conducted a major attack against the US elections infrastructure in 2016.
Then the US House Intelligence Committee chair Rep. Devin Nunes made public a memo reflecting classified data which was supposed to blow up the FBI's Trump-Russian probe which ended up being a complete dud.
This Nunes Memo fiasco was followed up by an important staffer, Rob Porter having to abruptly resign because it became public that he would never qualify for his required security clearance level because he couldn't pass the FBI's background check due to his history of spousal abuse.
As a consequence to the Rob Porter departure, the president's Chief of Staff General John Kelly implemented an edict that all staffers working in the White House had to able to qualify for the appropriate security clearance levels required to do their jobs. This ended up with the president's son-in-law and senior adviser Jared Kushner being denied access to the president's PDB (the president's daily briefing on intelligence data), a necessity for Mr. Kushner to be able to do all his high level jobs like creating peace in the middle east. It didn't help that somehow the press obtained leaks from the IC community that four countries had commented on how Mr. Kushner could be manipulated to act in their favor.
The final nail occurred when his long time trusted staffer Hope Hicks abruptly tendered her resignation after a full day of grilling at a hearing hosted by the US Congress where she admitted to telling little white lies on occasion on behalf of her boss, the president.  It appears that the president then made the mistake of berating her by calling her stupid.
This list does not include the fall out from the 2/14/18 Parkland, Florida High School mass shooting tragedy were 17 were killed, among a myriad of other events.
In the context of all these horrible news items, the president fired off one of his infamous tweets berating the US Attorney General Jeff Sessions. The president referred to the attorney general as 'Mr. Magoo and described his job performance as disgraceful  for not instigating an investigation against the FBI for alleged surveillance abuses; whereupon, Mr. Sessions countered that  he would discharge his duties with integrity and honor, and that the US  Department of Justice would continue to do its work in a fair and impartial manner according to the law and the US Constitution.
Here's the rest of the story…
On February 28, 2018, Matt Zapotosky and Karoun Demirjian of Washington Post penned the following report, "Trump lashes out at attorney general over alleged surveillance abuses"
 Excerpts:
"President Trump on Wednesday (2/28/18) lashed out again at his attorney general, questioning why the man he picked as the country's top law enforcement official was relying on the Justice Department's inspector general to review alleged surveillance abuses.
"In a Twitter message that took some liberties with the facts, Trump wrote, "Why is A.G. Jeff Sessions asking the Inspector General to investigate potentially massive FISA abuse. Will take forever, has no prosecutorial power and already late with reports on Comey etc. Isn't the I.G. an Obama guy? Why not use Justice Department lawyers? DISGRACEFUL!"
"Trump was referring to Attorney General Jeff Sessions's assertion the day before that Justice Department Inspector General Michael E. Horowitz would look into alleged surveillance abuses that legislators on the House Intelligence Committee have been debating in recent weeks. The announcement was discussed at some length on one of Trump's favorite television shows, "Fox & Friends," earlier in the morning — with one of the hosts saying Horowitz might need to "bulk up his staff" and another asking whether they should be concerned because Horowitz is a part of the Justice Department."
"This guy, he works for the DOJ? And he's going to be investigating the DOJ?" host Ainsley Earhardt asked. "Should we be worried about that?"
"He apparently is a man of integrity," host Steve Doocy replied.
"Sessions said in a statement: "We have initiated the appropriate process that will ensure complaints against this Department will be fully and fairly acted upon if necessary. As long as I am the Attorney General, I will continue to discharge my duties with integrity and honor, and this Department will continue to do its work in a fair and impartial manner according to the law and Constitution."
JEFF SESSIONS"Trump has repeatedly lambasted the federal law enforcement apparatus, and Sessions — whose decision to recuse himself from the investigation into whether the Trump campaign coordinated with the Kremlin to influence the 2016 election has long irked the president — has drawn particular ire. Trump has called Sessions "beleaguered" and toyed with the idea of firing him. Sessions has shown no signs publicly of fighting back against his boss and has dutifully worked to implement the president's policy agenda."
"Legal analysts say the president seems to be subverting the long-held principle that the Justice Department should be independent — especially when it comes to criminal investigations. His goal, they say, seems to be to undercut an investigation that could touch him."
"In past administrations, both Democratic and Republican, presidents rightly recognized and accepted that White House interference in potential DOJ investigations is wholly unacceptable," said Matt Axelrod, a senior official in President Barack Obama's Justice Department who now works at the firm Linklaters."
"The most recent dust-up stems from the FBI's post-campaign monitoring of former Trump campaign adviser Carter Page."
"Republicans on the House Intelligence Committee, especially its chairman, Rep. Devin Nunes (R-Calif.), have alleged that the FBI and Justice Department misled the Foreign Intelligence Surveillance Court to obtain a warrant to monitor Page, while Democrats have countered that their GOP colleagues are misstating the facts."
"Rep. Adam B. Schiff (D-Calif.), the House Intelligence Committee's top Democrat, was chagrined by Sessions's call for a probe by the inspector general. "If that's accurate, it represents another weakening of the independence of the Justice Department, and it would mark another sad turn for our system of checks and balances," he said."
"Sessions has previously proved responsive to GOP requests. Late last year, after inquiries on a host of Republican concerns largely centered around Clinton, Sessions directed senior federal prosecutors to look into the matters and report back to him. He indicated he was at least entertaining the idea of a second special counsel for those inquiries, and on Wednesday, a group of 13 Republican legislators asked that such an investigator be appointed to probe alleged surveillance abuses in Page's case."
"Even before the president's tweet, as congressional leaders raised questions about surveillance abuses, Sessions said he would forward to "appropriate DOJ components" the information he was receiving from legislators."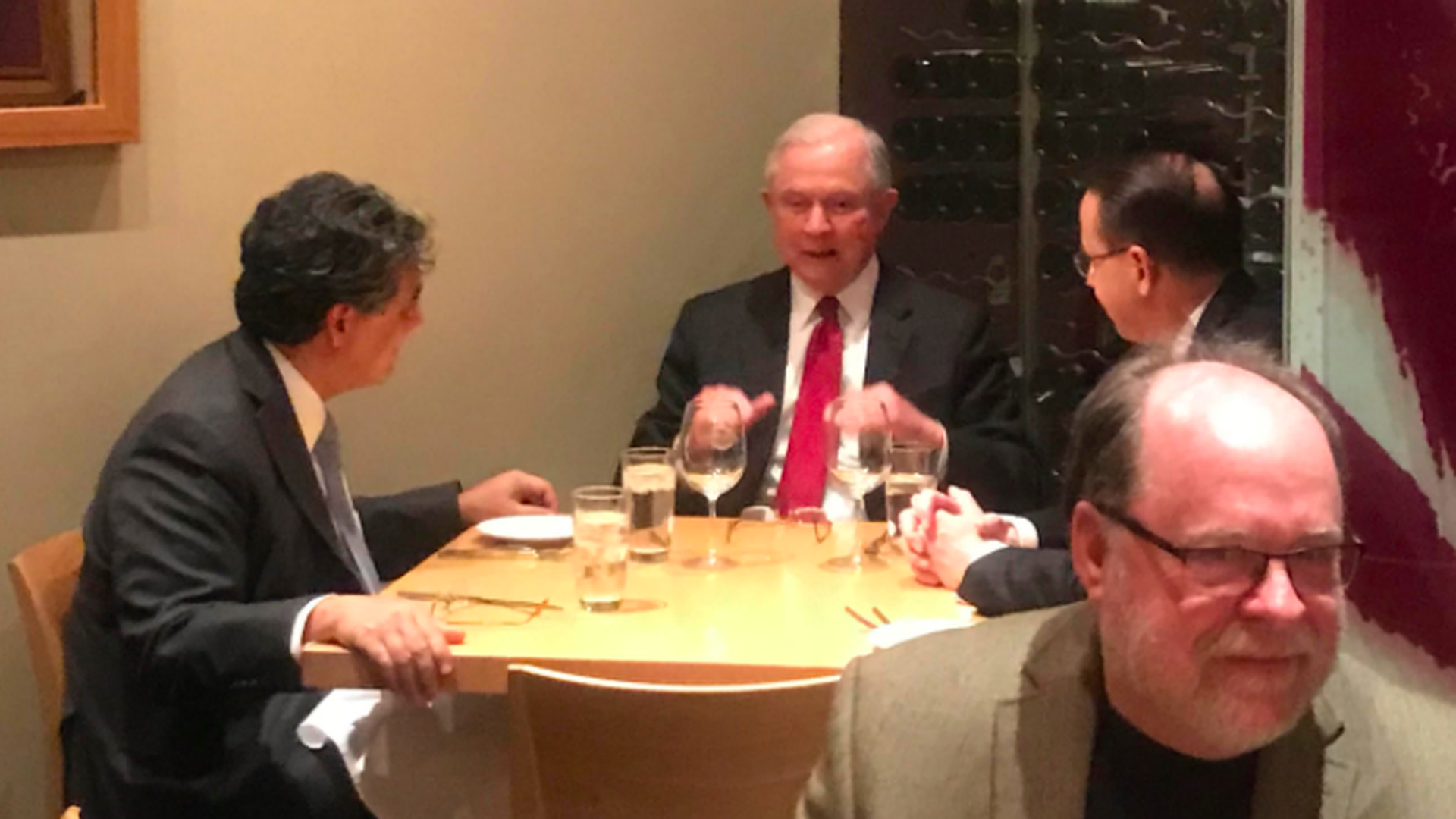 "Horowitz's office and its lawyers are a part of the Justice Department, though they serve as a sort of ombudsman to police internal wrongdoing. Special agents in his investigations division develop cases for possible criminal prosecution, although on noncriminal matters his office mainly issues reports. He was confirmed as the inspector general in 2012, during the Obama administration, though he was nominated earlier to the U.S. Sentencing Commission by President George W. Bush."
"I have had a number of interactions with Inspector General Horowitz, including as recently as earlier this month," Rep. Trey Gowdy (R-S.C.), chair of the House Oversight Committee, said in a statement. "He has been fair, fact centric, and appropriately confidential with his work. He was confirmed by the U.S. Senate without a single dissent. I have complete confidence in him and hope he is given the time, the resources and the independence to complete his work."
"Horowitz's office has garnered a high profile lately as it has investigated the FBI's handling of the probe into Clinton's use of a private email server while she was secretary of state. Among the matters Horowitz is looking at are then-FBI Director James B. Comey's July 2016 announcement that he was recommending the case be closed with no charges and Comey's decision in October 2016 — on the eve of the election — to reveal that the bureau had resumed its work."
"That investigation, which was opened in January 2017, led Horowitz to a discovery that also has been of interest to Trump and Republican congressional leaders — texts between two senior FBI officials who had been assigned to the Clinton and Russia cases and who seemed to dislike the president."