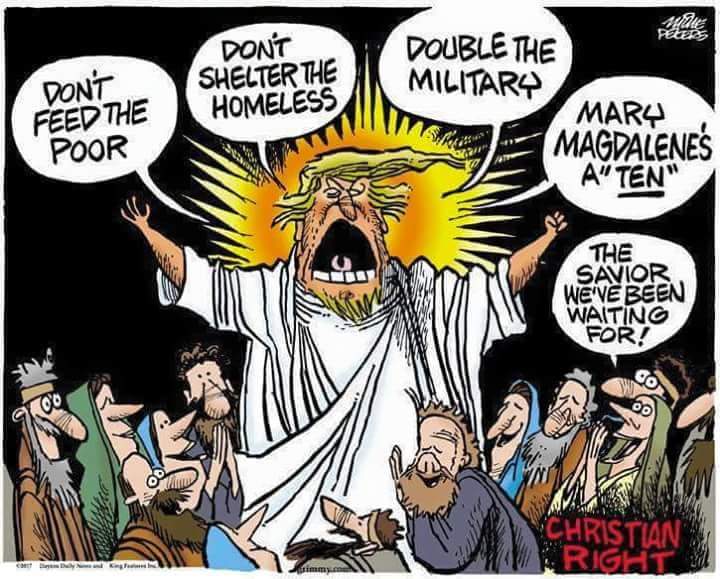 The following commentary provides an explanation for the enigma which has haunted me, that is how could the vast majority of White Evangelicals continue to support the republican President Donald Trump who falls short in every attribute that one would want to see exemplified by one who calls himself a Christian?
One of the insidious curses on our society is that of racism which still acts like a cancer to divide us. The author presents her case as to how this disease has has infected the White Evangelical community and her arguments ring true to me.
I was a registered republican until 2016 but the ugly strain of racism within the party had started to bother me around 2013 with the Trayvon Martin case. Too many older republican White  Evangelicals rushed to back and support the likes of a guy like George Zimmerman, a white neighborhood watch group member while demonizing a Black teenager who was an innocent just walking home from a store with some candies and tea, but who was unfairly profiled and fatally shot by Mr. Zimmerman.
Here is the rest of the story….
On April 30, 2018, Nancy D. Wadworth of VOX penned the following report, "The racial demons that help explain evangelical support for Trump"
Excerpts:
"White evangelical Protestants continue to approve of President Donald Trump at about twice the rate of the general public, according to a recent survey by the Public Religion Research Institute. Indeed, the figure is at an all-time high, with some 75 percent expressing a positive view as of March."
"Debating the question of why white evangelicals hold so fast for Trump has become a pastime for commentators, given that the president's values and behavior would appear to be anathema to conservative Christians."
"Among political evangelicals, at one ideological pole stand those who purport to see a seamless connection between their agenda and that of the current chief executive. "I think evangelicals have found their dream president," Jerry Falwell Jr. gushed last May. An oft-heard variation on this view is that Trump may be a sinner, but he's one chosen by God for a providential mission."
"But then there are the prominent hand-wringers. Veteran evangelical writers like Michael Gerson, David French, and Stephen Mansfield have been wrestling with the damage this strategic partnership may be doing to a once-great religious tradition."
"It is an abandonment of the evangelical path, these writers argue — to varying degrees and with different emphases — for believers who claim to care about the poor, the suffering, and the outcast, not to mention sexual morality and civic virtue, to line up behind a belligerent boor who bullies women, Mexicans, and Muslims and who has a manifestly feeble understanding of religious texts and history. "
But these sympathetic critics fail to grapple with the idea that Trump's racism and misogyny might actually resonate with the evangelical base, which happens to constitute about 35 percent of the GOP coalition. In fact, racism and intolerance are more woven into the fabric of evangelicalism than these Christian critics care to accept.
I spent the first 15 years of my career as a scholar studying American evangelicals and race, and in my view the failure to consider motivations rooted in anxieties about race and gender as an explanation of evangelical Trump support represents a striking omission. The history of American evangelicalism is intensely racially charged. The persistent approval for Trump among white evangelicals ought to prompt far more critical self-reflection within the evangelical community than we've seen so far."
"Evangelicals' tenacious affection for Donald Trump is not a bug driven by expediency. Instead, it reflects defining features of American evangelicalism that become clearer when we examine the historical record. Doing so reveals that when white conservative evangelicals feel threatened by cultural change, the old demons of racism and misogyny, which lurk at the heart of the American evangelical tradition, return with a vengeance. Trump is just another chapter in that story."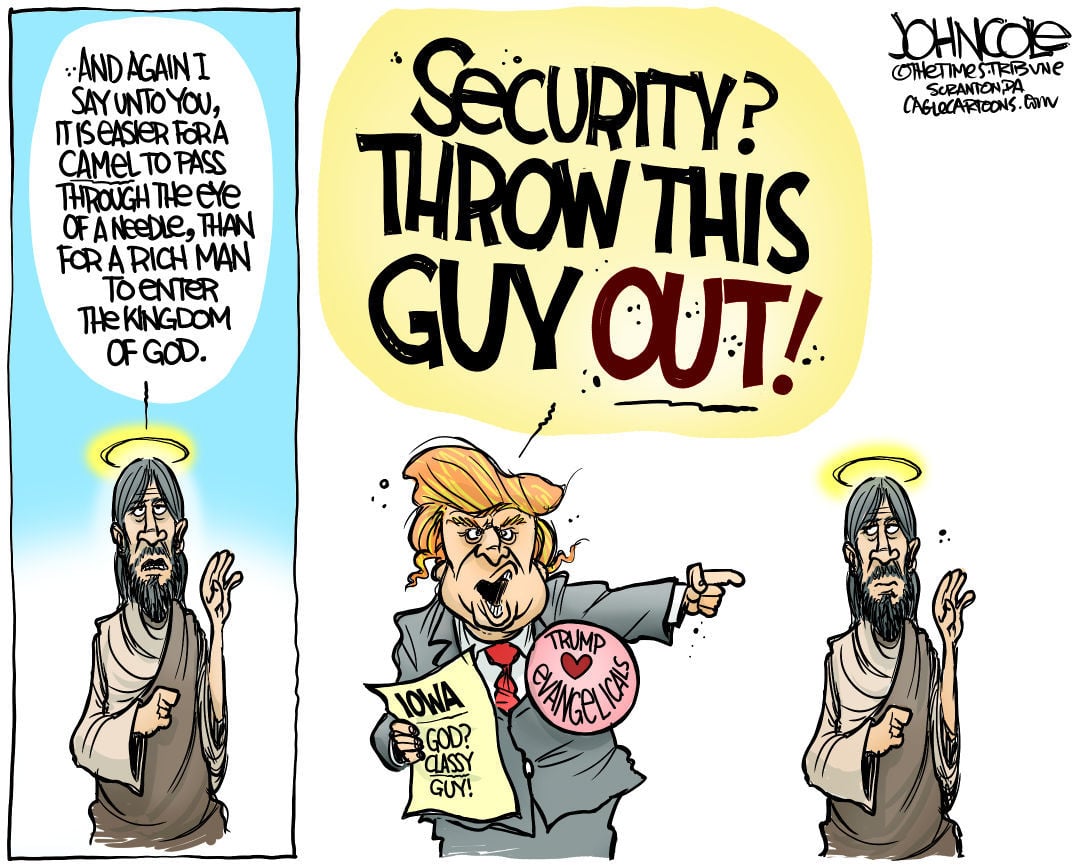 The contorted explanations for the evangelical support of Trump
"One version of a familiar defense of evangelicals goes like this: Evangelicals held their nose and voted for Trump despite his obvious flaws because they needed the deal he offered. They felt besieged by a swift-moving culture that, under Obama, insulted their faith and threatened to rob them of their religious liberties, forcing them to do things like bake cakes for gay couples and create gender-neutral bathrooms in public places."
"In a fearful rage, evangelicals rebranded Trump for strategic purposes, seeing him as a champion in a nostalgic fight for a bygone America, and as a tool to achieve tactical wins, in particular the appointment of a pro-life Supreme Court justice."
In this take, evangelical Trump support is purely transactional, not necessarily an endorsement of his values. Although they "vastly overdid it," says Stephen Mansfield, the author of Choosing Donald Trump: God, Anger, Hope, and Why Christian Conservatives Supported Him, they moved toward Trump "mainly because they felt traumatized in the wake of the Obama years and terrified by the possibility of a Hillary Clinton presidency." Trump did activate the (white, rural) "Bubba Vote," Mansfield observes, and evangelicals' tolerance of his racism is "all very questionable."
National Review columnist David French also embraces the narrative that evangelicals were "gang-tackled" by political correctness under Obama, and Clinton would have continued that project. In 2016, "given the choice between a morally corrupt enemy [Clinton] and a morally corrupt ally (or at least someone who promised to be their ally), [evangelicals] chose the ally." (Elsewhere, however, he notes that Clinton has attracted the ire of the religious right for four decades in part because of her "arrogant, condescending feminism").
"Nonetheless, French warns, evangelicals should avoid embracing the panoply of distasteful values and behaviors that Trump displays, and he thinks they've have failed at that, since the election: They've leaped to join Trump's "tribe." "The true tragedy of Evangelical support for Trump is that a group of Americans who have a higher call on their lives — and faith in a far greater power than any president — now behave (with notable exceptions) exactly like simply another American interest group," he writes."
"(Interestingly, French's wife, fellow conservative writer Nancy French, emerged from the election with a much less ambivalent view, convinced that evangelicals' posture of supporting "family values" and respect for women has "all been a façade." The Republican Party, she says, referring to Trump, "now shelters an abuser." The Roy Moore debacle, only underscored that, she later wrote.)"
Defiling the evangelical legacy?
"Michael Gerson lays out a particularly condemnatory, yet nuanced, version of the Christian anti-Trump lament in a lengthy, elegant essay in the April issue of the Atlantic. Gerson frames Trump loyalty as "the last temptation" that could forfeit evangelicalism's future and despoil a long legacy of positive contributions to American culture."
"As the smartest evangelical critics of Trump recognize, younger generations of evangelicals are quickly distancing themselves from the blight of racism, misogyny, and homophobia in their tradition. Non-evangelical millennials recoil from these attributes."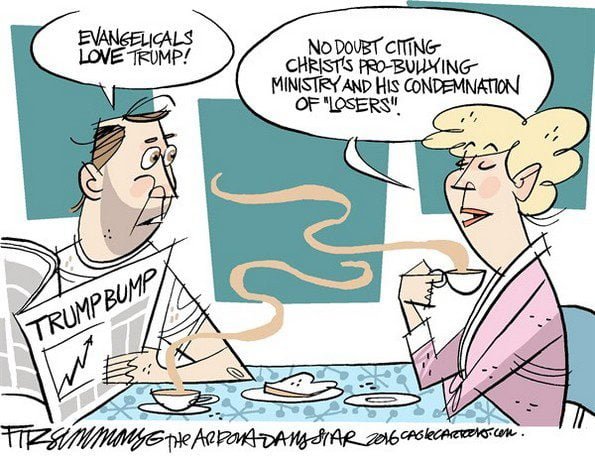 "And the liberal wing of Protestantism seems finally to be rising as a clear alternative, making concerted efforts to take stands against police violence, the scapegoating of immigrants, transgender rights, and protests against the racist right."
"If American conservative evangelicals hope to avoid retreat to another period of insularity and irrelevance, they must face the possibility that Trump's evangelical loyalists aren't just turning a blind eye to his racial and gender politics. On the contrary: Many may well share those politics."
Link to entire article: The racial demons that help explain evangelical support for Trump