Since there are tapes showing Viktor Vekelsberg entering Trump Towers within 2 weeks of the republican President Donald J. Trump's Inauguration Day, denial is not optional. Can you believe the defense?  According to Mr. Cohen and the president's team, the tete a tete between Michael Cohen and the Russian oligarch with ties to the Russian President Vladimir Putin, was of no consequence/ importance.
Within a month later, Mr. Cohen's Essential Consultants LLC accounts was padded with an extra $500,000 dollars from a company tied to the oligarch, Columbus Nova.
As per Bloomberg, Vekselberg is chairman of Renova, the investment group that has a stake United Co. Rusal, Russia's biggest aluminum producer. The Bahamas-based company also owns shares in equipment makers Sulzer and Oerlikon. He owns regional airports in Russia and sold 12.5 percent of a Russian oil venture for $7 billion in 2013. Vekselberg was sanctioned by U.S. Treasury in April 2018.
Here is the rest of the story…
On May 25, 2018, William K. Rashbaum, Ben Protess and Mike McIntire of the New York Times penned the following report, "At Trump Tower, Michael Cohen and Oligarch Discussed Russian Relations"
Excerpts: 
"Eleven days before the presidential inauguration last year, a billionaire Russian businessman with ties to the Kremlin visited Trump Tower in Manhattan to meet with Donald J. Trump's personal lawyer and fixer, Michael D. Cohen, according to video footage and another person who attended the meeting."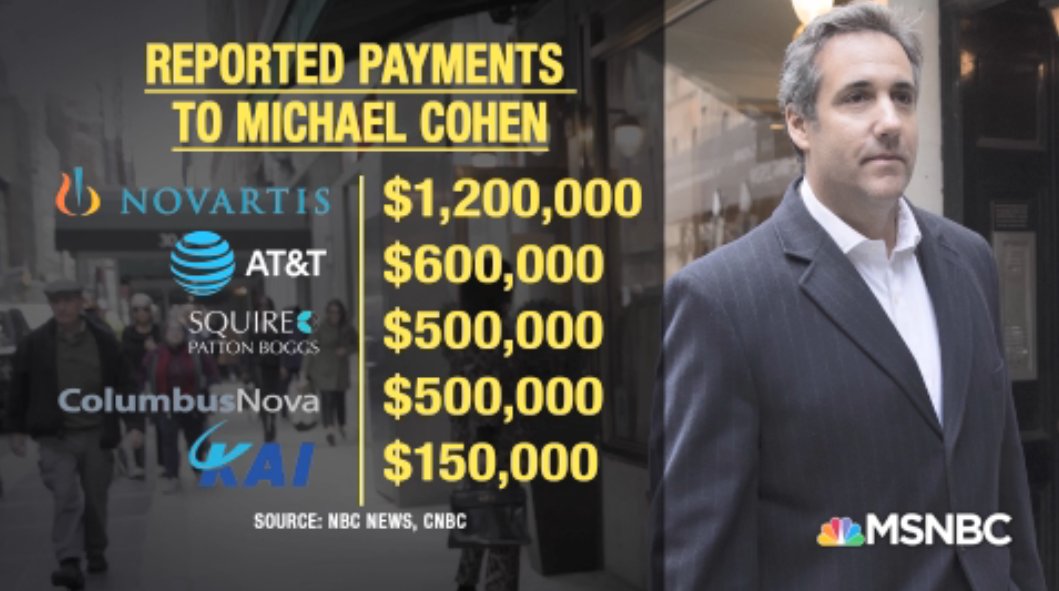 "In Mr. Cohen's office on the 26th floor, he and the oligarch, Viktor Vekselberg, discussed a mutual desire to strengthen Russia's relations with the United States under President Trump, according to Andrew Intrater, an American businessman who attended the meeting and invests money for Mr. Vekselberg. The men also arranged to see one another during the inauguration festivities, the second of their three meetings, Mr. Intrater said."
"Days after the inauguration, Mr. Intrater's private equity firm, Columbus Nova, awarded Mr. Cohen a $1 million consulting contract, a deal that has drawn the attention of federal authorities investigating Mr. Cohen, according to people briefed on the inquiry."
"Obviously, if I'd known in January 2017 that I was about to hire this high-profile guy who'd wind up in this big mess, I wouldn't have introduced him to my biggest client, and wouldn't have hired him at all," Mr. Intrater said. He agreed to be interviewed about his dealings with Mr. Cohen, he said, because he had done nothing wrong."
"The disclosure sheds additional light on the intersection between Mr. Trump's inner circle and Russians with ties to the Kremlin. The meeting came months after Mr. Trump's son, Donald Trump Jr., met at Trump Tower during the campaign with a Kremlin-linked lawyer claiming to have damaging information on his opponent, Hillary Clinton, and a former campaign aide, George Papadopoulos, met with Russian intermediaries in Europe. During the campaign, Mr. Cohen himself was pursuing a deal to build a Trump high-rise in Moscow, which did not come to fruition."
"Mr. Cohen's meeting with Mr. Vekselberg happened during his final days as a Trump Organization employee, at a time when his position in Mr. Trump's orbit seemed uncertain. Although Mr. Cohen told some associates that he expected a high-level White House job, that role never materialized, and he instead struck out on his own to drum up business from companies that wanted advice and access to the Trump administration, including AT&T and Novartis."
How Michael Cohen Is Connected to a Russian Oligarch
"Mr. Cohen, President Trump's lawyer and longtime fixer, met with a Russian oligarch at Trump Tower to discuss Russia and was later paid by a company connected to him."
"Mr. Cohen's goal for the meeting — and whether it may have been related to his consulting business — remains unclear. His lawyers, and lawyers for Mr. Vekselberg, did not respond to requests for comment when told about video footage from C-Span showing Mr. Vekselberg and Mr. Intrater arriving at Trump Tower on Jan. 9, 2017. Mr. Intrater said the meeting included only a brief discussion about relations between the United States and Russia."
"The meetings and Columbus Nova's payments to Mr. Cohen have attracted scrutiny from Robert S. Mueller III, the special counsel investigating Russian interference in the election, as well as federal prosecutors in Manhattan examining Mr. Cohen's business activities and finances, the people said."
"Early this year, Mr. Mueller's investigators stopped Mr. Vekselberg at a New York-area airport after he arrived on a private plane, The New York Times reported in early May. Mr. Mueller's investigators have interviewed Mr. Intrater twice, focusing partly on his dealings with Mr. Cohen. Mr. Mueller's office has since referred the investigation of Mr. Cohen to the prosecutors in Manhattan. There is no indication that Mr. Vekselberg or Mr. Intrater is suspected of wrongdoing, and Mr. Intrater's lawyer, Richard Owens, said that "Columbus Nova has cooperated with all requests for documents and information from federal authorities."
"The meetings were an opportunity for the three men to discuss shared interests during the presidential transition and early days of the administration, according to interviews and records reviewed by The Times."
"Mr. Cohen, who promoted his connection to Mr. Trump, was seeking moneymaking opportunities. Mr. Vekselberg, who has longstanding business and philanthropic ties to the United States and controls a global conglomerate, was interested in Mr. Trump's Russia-friendly stance. And Mr. Intrater, looking for new investors, was drawn to Mr. Cohen's  Rolodex of rich donors — he is a deputy finance chairman of the Republican National Committee — and the lure of new deals to invest in, prompting Columbus Nova to hire him as a consultant."
By all accounts, it did not work out as planned for any of the men. Mr. Cohen is under investigation; the Trump administration hit Mr. Vekselberg with sanctions last month, making him one of seven Kremlin-linked oligarchs to be punished as part of a response to meddling and other aggressions; and Columbus Nova parted ways with Mr. Cohen after no new deals or investors materialized, despite paying him $580,000 of the $1 million contract.
Mr. Cohen and Mr. Intrater initially met shortly before the 2016 election and discussed ways to invest in the taxi business, which had made the fixer millions of dollars over the years.
In the interview, Mr. Intrater described the lead-up to the Trump Tower meeting as a series of coincidences around that potential deal: Mr. Cohen and he intended to meet on the morning of Jan. 9, 2017, to discuss investing in distressed taxi loans. But Mr. Cohen had to reschedule for the afternoon, when Mr. Intrater had planned to meet Mr. Vekselberg, who was visiting New York and then came along to the meeting.