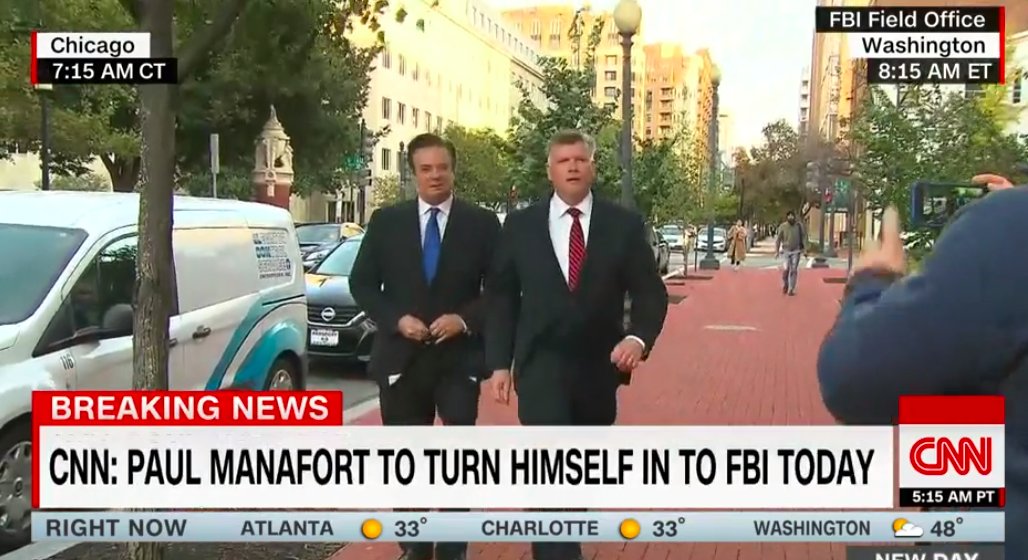 It seems that the republican President Donald Trump's former campaign manager Paul Manafort has a self destructive streak. After having been indited in the FBI's Trump-Russia probe being led by the Special Counsel Robert Mueller III, he not only attempted to influence a witness and to suborn perjury while he had to know he wasn't being monitored while out on bail, he did it with a Russian operative.
Here's the rest of the story…
On June 5, 2018, David Corn and Hannah Lavintova of Mother Jones penned the following report, "Manafort's Dumbest Move Yet: Using a Former Russian Intelligence Officer for Witness-Tampering?" ("Trump's former campaign chief once again allegedly conspired with a Russian.")
Excerpts:
"How dumb is Paul Manafort? A new court filing by special counsel Robert Mueller asserts that the former Trump campaign manager, who has been indicted on numerous money-laundering and tax-evasion charges, recently engaged in witness-tampering—and that he did so by plotting with a former Russian intelligence officer months after Mueller had already publicly disclosed that Manafort had conspired with this same ex-spy to violate a court gag order."
"Manafort was indicted in October, and he has been out on bail with his travel restricted. He has been forced to wear not one but two GPS ankle bracelets. One condition of his bail is that he not commit any crimes while on pretrial release. That certainly seems like a reasonable requirement. But in this latest filing, Mueller maintains that in February of this year, Manafort contacted former associates—who are potential witnesses in his case—to encourage them to stick to a false cover story and that in doing so, Manafort broke the law."
"Here's the back story: In the early 2010s, Manafort had enlisted these people—identified only as D1 and D2 in the new Mueller filing—to help with his lobbying efforts for the corrupt regime of Viktor Yanukovych, Ukraine's pro-Russian president at the time. According to Mueller, Manafort directed D1 and D2 to arrange and pay for European political figures to advocate for the Ukrainian government in Europe and the United States. This included the Europeans lobbying members of Congress and writing op-eds for placement in American and European publications. But Manafort kept his participation in this project a secret and did not register as a foreign agent with the US Justice Department. Consequently, Mueller has charged, Manafort violated the Foreign Agents and Registration Act, which compels anyone seeking to influence the US government for the benefit of a foreign entity to notify the Justice Department of such activity."
"Here's where it gets really stupid. After Mueller in February issued a superseding indictment that covered this European scheme, Manafort—already indicted and now being strictly monitored—allegedly contacted D1 and D2 to, uh, remind them that they had only arranged for lobbying in Europe. That is, none of the lobbying had occurred in the United States. As Mueller sees it, this was an act of brazen witness tampering."
"And not only did Manafort allegedly seek to suborn perjury, he did so through a former Russian intelligence officer named Konstantin Kilimnik, who was already on Mueller's radar screen."
In the filing, which cites emails, phone records, and interviews, Mueller notes, "Manafort and Person A—who is a longtime associate of Manafort's—repeatedly contacted Persons D1 and D2 in an effort to secure materially false testimony." Who is Person A? The filing states that evidence previously submitted by Mueller's team demonstrated that "Manafort and Person A coordinated in connection with an op-ed that appeared in the Kyiv Post during Manafort's home confinement." This was a reference to a Mueller filing from December that alleged that Manafort, while under indictment, had ghost-written an op-ed defending his past work for pro-Russian politicians in Ukraine. His involvement with the op-ed, Mueller's team contended, violated a November gag order requiring everyone involved in the case, including Manafort, to refrain from making any public statements about the litigation to avoid prejudicing a future jury.
"Manafort worked on the draft with a long-time Russian colleague of Manafort's, who is currently based in Russia and assessed to have ties to a Russian intelligence service," Mueller's team wrote in that December motion to the court. "The editorial clearly was undertaken to influence the public's opinion of defendant Manafort, or else there would be no reason to seek its publication (much less for Manafort and his long-time associate to ghostwrite it in another's name)."
"This "long-time" colleague with ties to Russian intelligence—who the latest filing calls Person A—was soon revealed by the New York Times to be Kilimnick, who had worked with Manafort in Ukraine. During the 2016 campaign, Manafort remained in touch with Kilimnick and used him as a conduit to Russian oligarch Oleg Deripaska. For years, Manafort had wheeled-and-dealed with Deripaska, who is very close to Vladimir Putin. But Deripaska came to believe that Manafort had cheated him out of millions of dollars in one venture. Deripaska then resorted to legal action to get his money back. So while Manafort was directing Trump's campaign in 2016, he sent messages to Deripaska through Kilimnick, offering the oligarch private briefings on the campaign. He apparently hoped that would square him with Deripaska. It was a rather odd situation: the head of an American presidential campaign privately communicating with a Putin buddy through a former Russian intelligence officer."
"In a court filing in March, Mueller's team reiterated Kilimnick's ties to Russian military intelligence, referring to him as Person A. The filing also revealed that Rick Gates, Manafort's partner, who has copped a plea with Mueller, had regularly referred to Kilimnick as "a former Russian Intelligence Officer with GRU." (GRU is the Russian military intelligence service.)"
"To recap this curious episode: Just two months after Mueller slammed Manafort for scheming with Kilimnick, a former Russian operative, to get around the gag order, Manafort—who was under close watch by Mueller's crew—again allegedly recruited Kilimnick for a criminal plot to encourage perjury."
"It obviously did not take Mueller's team too long to suss out what was happening and to collect plenty of evidence related to this knuckle-headed caper. In the new court filing, Mueller states that Manafort has "violated the conditions of his release" and calls for a hearing to revoke or revise Manafort's bail status."