By now we who keep up with the news all know that the republican President Donald Trump's former campaign manager Paul Manafort has been sent to jail on the 15th of June 2018 because he ignored his bail conditions, by contacting witnesses to his case being managed by the FBI's Special Counsel Robert Mueller III, leading the Trump-Russia probe.
After about 5 monts, Paul Manafort left the president's campaign when the media revealed his Russian connections, he continued to keep in contact with his friend, Donald Trump of 3 decades which was easy, as they both lived in Trump Towers. In addition, Mr. Manafort's partner/ assistant Rick Gates continued to work for months in the campaign.
Mr. Manafort alone puts the lie to President Trump's talking point of "no collusion" with anyone having anything to do with Russians.
Here is the rest of the story…
On June 15, 2018, Ryan Goodman of Just Security penned the following report, "Paul Manafort = Evidence of Collusion"
Excerpts:
The following facts essentially speak for themselves. Simply put, any fair reading of the public record would surely come to the conclusion that there is significant evidence of collusion–or, to put it more precisely, evidence of a conspiracy (by Paul Manafort) with Russians and violations of federal campaign finance law.
1. Manafort proposes to Putin-linked, Russian oligarch a plan to "greatly benefit Putin," and they get to work (2005-)
In 2005, Manafort sends a memo to Russian oligarch and Putin ally, Oleg Deripaska, pitching him on a project. Manafort writes: "We are now of the belief that this model can greatly benefit the Putin Government if employed at the correct levels with the appropriate commitment to success." The proposal is to help influence politics, business dealings and media coverage in the United States, Europe, and former Soviet-bloc countries. Deripaska hires Manafort on a $10 million annual contract. How aligned is Deripaska with the Kremlin? Deripaska once told the Financial Times, "I don't separate myself from the state. I have no other interests."
2. Manafort joins Trump Campaign and stays in frequent contact with a Kiev-based operative with active ties to Russian military intelligence (March 2016-)
Manafort joins the Trump Campaign and soon becomes campaign chairman. During the entire time on the campaign, Manafort is in frequent contact with Konstantin Kilimnik, who has worked with Manafort for over ten years. The FBI assesses Kilimnik has active ties to Russian intelligence during this period, according to two court briefs filed by Special Counsel Robert Mueller. (Kilimnik has since left Kiev and now reportedly lives in Moscow.)
According to Politico, "Manafort said he and Kilimnik discussed an array of subjects related to the presidential campaign, including the hacking of the DNC's emails, though Manafort stressed that at the time of the conversations, neither he nor other Trump campaign officials knew that Russia was involved in the hacking." What is now significant in light of that statement is that Manafort and other campaign officials were alerted to the Russian involvement before it was made public. (Also the first public report of the hacking attributed the operation to Russia from the outset.)
3. "Manafort remains an unregistered foreign agent of Kremlin-linked Ukraine political forces"
"Throughout 2016, Manafort fails to register for work he has performed as a foreign agent on behalf of Kremlin-linked political forces in Ukraine. He retroactively registers in 2017. For more on this topic: read Viola Gienger's highly informed Just Security article which explains how deeply Manafort's Ukrainian principals are connected with, and infiltrated by, Kremlin intelligence."
4. "Trump Campaign is told Russia has damaging information against Clinton in the form of "thousands of emails," and Manafort and Campaign then continue to try to set up meeting with Campaign representatives and senior Russian officials (April 2016 -)"
"George Papadopoulos, a foreign policy adviser on the Campaign, has contact with a Russian agent who informs him that he just returned from Moscow where he met with high-level Russian government officials, and that they have "dirt" on Clinton in the form of "thousands of emails," according to Papadopoulos' guilty plea. The Russians did not necessarily just convey that they possessed stolen emails. In reference to a House Intelligence Committee minority memo, Rep. Adam Schiff (D-Calif.) highlighteda relevant detail, "our memo discloses for the first time that the Russians preview to Papadopoulos that they could help with disseminating these stolen emails."
"Papadopoulos has been consistently keeping senior Campaign officials informed of his  communications with the Russian agent. John Mashburn, the campaign's policy director, reportedly testified that he and other campaign officials received an email from Papadopoulos in the first half of 2016 saying the Russians had derogatory information on Clinton."
"After Papadopoulos was told that the Russians had the Clinton emails, the campaign continued to pursue a meeting with Russian officials through Papadopoulos. On one occasion Papadopoulos emailed Manafort with the subject line, "Request from Russia to meet Mr. Trump," and Manafort then emailed his deputy Rick Gates to say, "We need someone to communicate that DT is not doing these trips. It should be someone low level in the campaign so as not to send any signal." Manafort later tells Papadopoulos to work with Sam Clovis who is "running point." Papadopoulos then pursues an "off-the-record" meeting between Trump campaign representatives and senior Russian officials. On or about Aug. 15, Clovis tells Papadopoulos: "I would encourage you" and another foreign policy adviser to the Campaign to "make the trip[], if it is feasible." Manafort resigns from the Campaign on Aug. 19, and the trip proposed by Papadopoulos doesn't take place."
5. "Manafort and 2 senior Campaign officials meet with Russian government emissaries offering damaging information on Clinton (June 2016)"
"In early June, Manafort receives an email from Donald Trump Jr. with the subject line, "Russia – Clinton – private and confidential." The email chain is described as setting up a meeting with Russian government emissaries and informs the campaign that the Russian government has dirt on Hillary Clinton which it is willing to provide the campaign as "part of Russia and its government's support for Mr. Trump." Did Manafort read the email? Manafort responds to Trump Jr.'s email, "See you then." According to the House Intelligence Committee's Majority report, Manafort, Trump Jr. and Jared Kushner attend the meeting "where they expected to receive…derogatory information on candidate Clinton from Russian sources."
RUSSIAN CONNECTION"At the meeting, the Russian delegation includes 2 suspected Russian spies:"
"Natalia Veselnitskaya – a Russian lawyer who has worked for a Russian spy agency and who has since described herself as an "informant" for the Russian government."
"Rinat Akhmetshin – a former Soviet intelligence officer who, as explained by Senate Judiciary Committee Chairman Sen. Chuck Grassley (R-IA), "apparently has ties to Russian intelligence" and "allegedly specializes in 'active measures campaigns'" such as subversive political operations involving disinformation and propaganda. Akhmetshin also  reportedly has "a history of working for close allies of President Vladimir V. Putin" and has worked more than once with Russian firms accused of hacking business and political opponents."
"In testimony before the House Intelligence Committee, Rep. Dana Rohrabacher "acknowledged that [Akhmetshin and Veselnitskaya] were probably spies," based on his own interactions with them."
"At the meeting, the Russian delegation raises the question of lifting US sanctions on Russia under the Magnitsky Act, one of Putin's primary goals. Trump Jr. admits that he "presses" the Russian government lawyer for the promised information on Clinton, but does not receive it. His admission is consistent with the testimony of other participants at the meeting. During the meeting, Manafort take notes."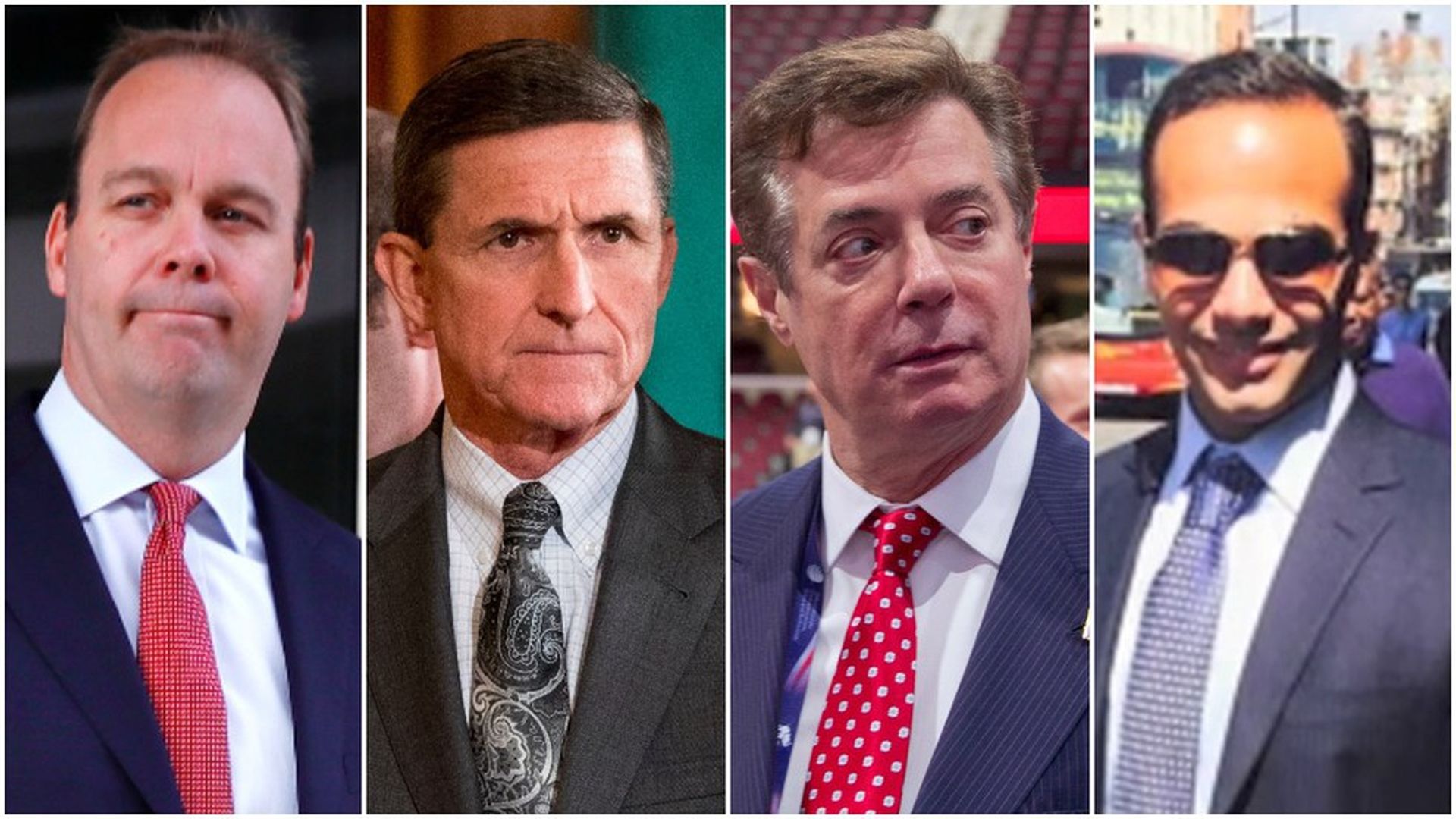 6. "Manafort offers "private briefings" on the campaign to Putin-linked Russian oligarch (July 2016)"
"Manafort tasks Kilimnik with reaching out to Deripaska with a promise to provide the Putin ally "private briefings" on the state of the Trump campaign. Manafort suggests to Kilimnik that this offer can begin to make them "whole" with Deripaska, who has accused Manafort of owing him nearly $19 million."
7. "Manafort oversees Campaign when it intervenes to defeat a call for Republican Party platform to include a provision for arming Ukraine to defend itself against Russian incursions"
"Trump Campaign representatives intervened, at the Republican National Convention, to defeat a call for arming Ukraine to defend itself against Russian incursions as part of the Republican party platform. On Meet the Press, Manafort adamantly and categorically denies that the Trump Campaign played any role in the platform discussions. But the same day on ABC News' This Week, candidate Trump admits his Campaign "softened" the language on Ukraine in platform. Even the Campaign representative who intervened in the platform meeting to beat back the proposed provision for arming Ukraine has since admitted the Campaign's involvement. He also said that the Campaign's action on the party platform were due to Manafort and Trump's "overarching thought of better relations with Russia."
"As a side note: Kilimnik, Manafort's colleague with active ties to Russian intelligence, reportedly suggested to Kiev operatives that he played a role in the platform change, but Kilimnik has since told the press that he did not have anything to do with the party platform."
Link to entire report: Paul Manafort = Evidence of Collusion | Just Security