Mother Jones joined up with an immigration attorney to get a bird's eye view of exactly what is going on at the SW US border in the Port Isabel detention center in Los Fresnos, Texas, where the government is supposedly in the process of reuniting refugee families who had sought asylum in the USA.
Here's the rest of the story…
On July 5, 2018, Noah Lanard of Mother Jones penned the following report, "A Lawyer Met With 11 Separated Parents in One Day. What She Heard Is Terrifying." ("She won't be able to represent them all, but how does she choose?")
"Ruby L. Powers' most recent journey to the Port Isabel detention center in Los Fresnos, Texas, began with an early morning flight from Houston that brought her to south Texas just after 9 a.m. After a circuitous drive around Gulf-coast roads that had been recently flooded by heavy rain, she reached the gate of the detention facility about three hours later, popped the trunk for security, and headed in. Over the next seven-and-half hours, in a series of rapid-fire and often emotionally wrenching meetings, Powers met with 11 different parents who had been separated from their children. Only one of them had already individually spoken with an attorney."
"The Department of Homeland Security has named Port Isabel as the "primary family reunification and removal center for adults" in its custody. In practice, that has meant Port Isabel houses hundreds of parents whose children were taken by the Trump administration. After roughly three weeks apart, their separation may be ending now that a federal judge has ordered DHS to reunite separated families within 30 days—and within 14 days for children who are younger than five. But that doesn't mean they will be released from detention any time soon, only that the Trump administration has decided to replace forced separation with indefinite family detention as part of an ongoing court battle over a 2016 court decision that requires children to be released from family detention within about 20 days."
"Regardless of when, or even if, they are reunited, the parents with whom Powers will meet, their children, and thousands of others will still need to convince immigration officials that they have a right to asylum or other legal protections that will allow them to remain in the United States. For the last month, a small-army of pro bono lawyers has been traveling in and out of Port Isabel to help them build their cases—a group of about 10 lawyers had been there a week before Powers arrived, and their reinforcements were arriving later that night. But Tuesday last week, Powers was alone."
"Jodi Goodwin, a local immigration lawyer who is helping to organize the effort, says lawyers have met with about 210 of the approximately 350 separated parents at Port Isabel. The numbers are unclear, Goodwin adds, because "ICE won't tell us, and they're certainly not giving us a list." The South Texas Pro Bono Asylum Representation Project, the organization Goodwin is working with, receives many of its referrals through word of mouth as separated parents tell lawyers about additional parents in their dorms who need help. "They were still giving us names yesterday," Goodwin said on Sunday."
"The seven men and four women with whom Powers met were from the Northern Triangle countries of El Salvador, Guatemala, and Honduras and had been separated from their children for about two weeks. Powers believes they were all prosecuted under the Justice Department's zero-tolerance initiative. Some still had not had any contact with their kids, while others had managed one or two calls ranging from about two to ten minutes. The calls were sometimes so brief that parents didn't find out where their children are located. Add to these concerns, their struggles to find some way to manage their own situations. One woman fled after a judge held her responsible for the domestic abuse inflicted by her husband. In another case, a man's in-laws blamed him for not having been able to afford his late wife's medical treatment and threatened his life when his wife died a few months after giving birth."
"Powers is exactly the kind of lawyer a migrant might hope to work with. Her mother grew up in a missionary family in Saltillo, the capital of the border state of Coahuila, and always told Powers that she learned English by watching Captain Kangaroo. But Powers had to learn Spanish on her own because her mom didn't feel comfortable speaking Spanish during Powers' childhood in rural Missouri. Now married to a Turkish immigrant, Powers has about a decade of experience with asylum claims and runs a Houston immigration law firm that employs four other attorneys."
"She is warm and attentive, bringing to her clients the invaluable mix of lawyering and social work that asylum cases often require—not to mention deep commitment to providing migrants fleeing persecution with strong legal representation. Like other immigration lawyers, she is spending thousands of dollars worth of time working pro bono, not to mention the days she is apart from her family. During her marathon of cases on Tuesday, she considered water and coffee as nuisances that forced bathroom breaks. Nonetheless, this first visit did not guarantee that she would be the attorney following these clients' cases; most of them may never find themselves adequately represented. This is a fact of life for those with little or no money, who now find themselves forced to navigate a rapidly-changing immigration justice system while detained in remote corners of the United States."
"The Port Isabel detention center is only about 20 miles north of the US-Mexico border but the landscape of the surrounding area feels much closer to coastal Florida than a Texas border town—swampy and dotted with palm trees, a straight line east would run through the Everglades. The beach community on nearby South Padre Island features bait-and-tackle shops, mid-rise residential towers, and the usual deals for snowbirds known locally as Winter Texans."
"Hidden away at the edge of Los Fresnos, a town of about 6,600, is the Port Isabel Service Processing Center. The road leading there from the south is currently closed for construction, though most people seem to ignore the signs and use it anyway. Eventually, the seal of the Department of Homeland Security appears alongside an open gate that leads into a straight, desolate road."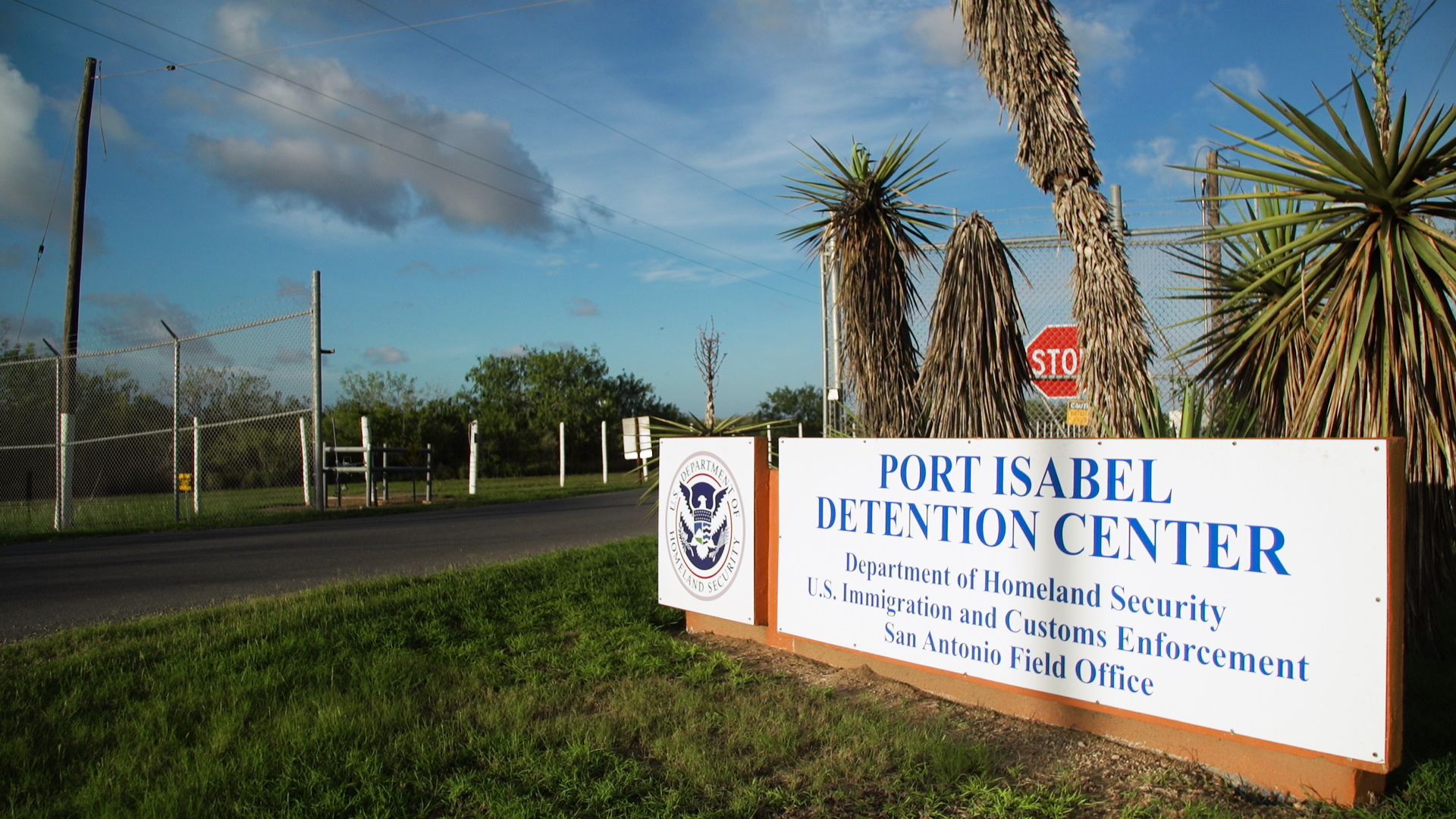 "When she was leaving the detention center at 7:30 p.m. after her marathon day of meetings, Powers texted me two words: "Very intense." Later, we met at a Gabriella's Italian restaurant on South Padre Island, a bustling red sauce joint with the usual calamari and eggplant  parmesan, as well as pizzas such as the"Leaning Tower of Cheeza." Feeling much closer to my native New Jersey than to a Texas detention center holding hundreds of separated parents, I listened as Powers recounted the challenges immigration lawyers faced in their efforts to provide effective counsel at Port Isabel."
"First, there are the ever-changing and seemingly arbitrary requirements attorneys must comply with before they first meet with clients. Powers initially filled out paperwork in blue ink, for instance, before learning that black ink was required. She already knew to bring a quarter for the lockers in which she had to store jewelry and other personal effects that are not allowed in the visitation room. Because watches have been banned more recently, she sometimes asked a guard for the time, and then resorted to gauging how long her meetings were by checking the shadows outside. Sitting in a roughly five-by-five visitation room, separated parents appeared before her in dark blue uniforms. Their only accessory was a bracelet listing their name, date of birth, and the"alien number" ICE uses to track them."
"The logistics are negligible in comparison to the emotional and intellectual demands that each meeting requires. From the moment she begins to talk with the parents, "you're sort of juggling the two minds," she later recalls. She processes the traumas her clients recount as as a human being hearing a "horrific story," but also with the detachment of a lawyer trying to assemble the pieces and figure out how they fit into "the blocks" of asylum law."
"These laws require that the asylum seeker be able to prove that he or she has  been  persecuted due to their religion, race, nationality, or political views. There is a fifth category, as well: "Membership in a particular social group," This one is much more open to interpretation and has allowed some Central Americans fleeing gang violence and domestic abuse to win asylum. It was already incredibly difficult for them to do so, but last month, Attorney General Jeff Sessions cracked down on them further, announcing that domestic abuse and gang violence will no longer be grounds for asylum in most cases."
"As the evening wound down, I asked Powers how many of the people she met with were likely to be able to stay in the United States. She paused before saying she wouldn't be making the trips to Port Isabel if she thought parents didn't have a chance. "I prefer to be optimistic," she said. But she also knew she couldn't represent everyone. An asylum case requires dozens of hours and, as much as she'd like to, she can't drop everything to take on 11 new clients. It was still unclear which parents she might represent when we parted ways, before Powers headed back to Port Isabel for her next day of work beginning on Wednesday morning."
"On Wednesday afternoon, Mother Jones filmmaker Mark Helenowski and I drove to Port Isabel to meet with Powers before she headed to the airport. The only signs of life were two turkey vultures that held vigil along the road. Powers stood outside the detention center, the wind providing occasional relief from the stifling heat, and described learning that a group of parents had failed to pass credible fear interviews, bringing them one step closer to deportation."
"I asked her again about the man who plans to leave his children behind if he is ordered deported. She closed her eyes, took a deep breath, and gathered herself. He had told her the day before, "I'm dead if I go back, But I want my children to be here and be safe."
"It was a no-brainer for him," Powers says. "He had the answer.
Link to entire report: A Lawyer Met With 11 Separated Parents in One Day.