On the 28th of June 2018, the US House Judiciary Committee GOP members looked and acted unhinged as they verbally punched the FBI's Director Christopher Wray and the DOJ's Deputy Attorney General who is in charge of the FBI's Trump Russia probe being led by Special Counsel Robert Mueller III.
The GOP Rep Jim Jordan from Ohio accused the Deputy Attorney General Rosenstein of deliberately holding back requested data and of outright lying, which of course, Mr. Rosenstein denied.
But now, this is the same Rep. Jordan who has been lying about NOT having prior knowledge when he was a coach at Ohio State University, that the team doctor had been sexually abusive towards some of the students. But recently, 7 former wrestling team members have come forward to publicly state, otherwise.
See: Jim Jordan is accused of turning a blind eye to Ohio State sexual … – Vox
In addition the GOP members on the US Senate Intelligence Committee have since issued a bipartisan report backing the actions of the FBI and the US Department of Justice in its actions to investigate the Trump-Russia saga.
This has not stopped some GOP members in the US House of Representatives from continuing to do whatever they can to discredit the work product of the FBI, the DOJ and the "rule of law" in order to protect the republican President Donald J. Trump from the legal consequences of any possible wrongdoing that could be uncovered by the FBI and the DOJ as its agents investigate Russia's extreme meddling into the 2016 US elections infrastructure.
Through all of this brutal onslaught of innuendo, misleading accusations by the US House republican lawmakers against the Deputy Attorney General Rosenstein, he has managed to continue to present himself in a professional, competent manner.
Here's the rest of the story…
On July 7, 2018, Matt Zapotosky and Karoun Demirjian of the Washington Post penned the following report, 'A little steel in the spine': Rod Rosenstein, facing mounting criticism from Congress, is starting to fight back
Excerpts:
"As lawmakers took breaks during a tense congressional hearing last week to vote on a resolution meant to shame him, Deputy Attorney General Rod Rosenstein casually worked the room, chatting up reporters and photographers who had come to hear his testimony and shaking the hands of GOP congressmen who had just voted to censure him."
"Rosenstein has been in the hot seat ever since he appointed Robert S. Mueller III to investigate whether the Trump campaign coordinated with Russia to interfere in the 2016 election. The president dislikes him, and conservative Republicans in Congress have toyed with impeaching him over Russia-related documents they say he will not hand over."
"But in more than 14 months on the job, the former Maryland U.S. attorney seems to be getting used to the constant controversy and criticism that comes from overseeing Mueller. Rather than walking on eggshells, he's starting to fight back."
"I don't know if it's comfort, but I think at some point he made a decision that he would stay within the ethical bounds that he's in, but he wouldn't be a punching bag," said James M. Trusty, a former Justice Department official who is friends with Rosenstein. "You see a little steel in the spine every now and then."
"At a House Judiciary Committee hearing on June 28, Rosenstein sparred with Republican lawmakers who accused him of inappropriately withholding documents on the Mueller probe and asked him whether he had threatened staffers on the House Intelligence Committee. The normally placid Rosenstein shook his finger at Rep. Jim Jordan (R-Ohio) in a fiery exchange in which Jordan also told the deputy attorney general his inquiries were "not personal." He later raised doubts about Rosenstein's credibility."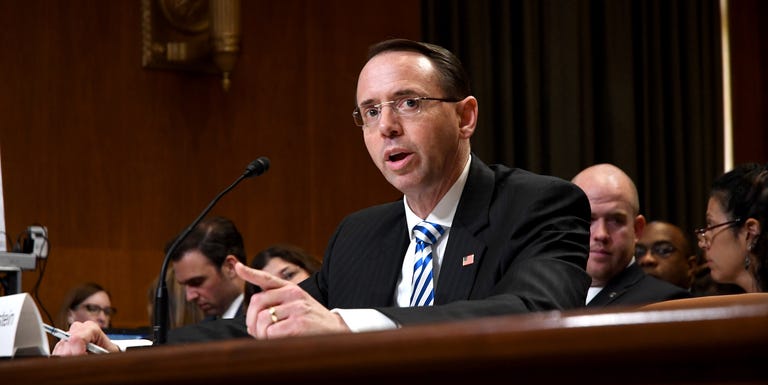 "Well, now, who are we supposed to believe? Staff members who we've worked with, who have never misled us? Or you guys, who we've caught hiding information from us, who tell a witness not to answer our questions?" Jordan said."
"Thank you for making clear it's not personal, Mr. Jordan," Rosenstein retorted, drawing laughter from the room."
"Soon after the confrontation, the House of Representatives voted 226 to 183 to pass a resolution calling on the Justice Department to comply with congressional document requests by this past Friday. The move was essentially meant to humiliate Rosenstein — who had told Speaker Paul D. Ryan (R-Wis.) that the resolution failed to acknowledge the "extraordinary" and "unprecedented" efforts that officials have made to comply."
"On Friday, the Justice Department formally responded to the resolution, telling top lawmakers on the House Intelligence and Judiciary committees that officials believed they had "substantially complied" with Congress's requests and any leftover production of materials would be completed "expeditiously."
"I know there's a long way between promise and actual compliance, but the theme has been consistent this week that they are moving in the right direction," Rep. Mark Meadows (R-N.C.), the original author of the resolution, said in an interview."
"Obviously contempt and impeachment measures are certainly on the table and available to us . . . but there does seem to be a renewed attitude of at least a desire to comply that goes well beyond the words that we've been hearing for the last several months," he added."
"Earlier this year, Trump-allied conservatives drafted articles of impeachment against Rosenstein. The president — who has publicly criticized the Justice Department for not turning over documents — has mused about firing his deputy attorney general."
"Democrats charge that Republicans' requests for documents are part of a thinly veiled effort to undermine the Russia probe. Their Republican colleagues, they say, are essentially fishing for material that might discredit Mueller, or using Rosenstein's refusal to hand over documents on the ongoing investigation as a way to discredit him."
"That is important because Rosenstein appointed and supervises Mueller. If he were to be removed from his post, some Democrats fear his successor might place more limits on the special counsel investigation."
"At least publicly, Rosenstein has not acted like a dead man walking. He was spotted at a July 4 celebration at the White House, in a VIP viewing area, according to Politico. Those who know him say Rosenstein is playing the long game. He does not put too much stock in any single daily development, they say, but is mindful about what his place in history will be."
"There's kind of a fatalism to it that's good," Trusty said. "He doesn't overreact."
"So far, the strategy has paid off. The Justice Department has for months been haggling with lawmakers over requests for various materials on the Russia investigation and the investigation of Hillary Clinton's use of a private email server while she was secretary of state. But even as the president has raged about Rosenstein, and lawmakers have repeatedly escalated the confrontation with new subpoenas and threats, each seemingly ominous moment has passed without incident."
"The Justice Department and the FBI have assigned additional staffers to process document requests and tasked the U.S. attorney in Chicago with overseeing production of material related to Clinton."
"Some Justice Department decisions on producing documents about an ongoing case have left legal analysts worried that dangerous precedents are being set."
"Rosenstein has opined publicly that the Justice Department can't open its files to Congress. Discussing the document spat during an event at the Newseum in May, Rosenstein said of those threatening to impeach him, "I think they should understand by now that the Department of Justice is not going to be extorted."
Butler, who worked with Rosenstein when he was a Justice Department public integrity prosecutor years ago, said colleagues would refer to Rosenstein as "Opie," a character on TV's Andy Griffith Show, because of his boyish face, and in part because he was always asking questions. But Butler said Rosenstein was more shrewd and strategic than his "aw shucks" mannerism leads some to believe."
"Butler said that while Rosenstein has had to "make some difficult compromises," many career prosecutors look at him "as essentially responsible for preserving the integrity of the department and, by extension, preserving the rule of law during the Trump administration."