I know little to nothing about soccer, but on the 10th of July 2018, I watched the 2018 World Cup soccer match being held in Russia between France and Belgium on the Spanish Telemundo TV channel, only because the announcers sound so passionate and excited about the game. One doesn't need to understand Spanish to figure out what's being said.
For a few seconds, these soccer teams looked like they were playing rugby. It was rough and intense out there. Belgium had possession of the ball for most of the game but that didn't do much good as the players kept missing goals. France managed its one goal right after the 2nd half had started.
France's Samuel Umiti's goal was the one that ensured France's place in the finals. Umiti's header sailed right over the goal keeper, Thibaut Courtois.
France will face the England-Croatia winner (7/11/16 Wednesday's game) in Sunday's final in Moscow. The loser will remain in St. Petersburg, which will host the third-place match on Saturday (7/14/18).
On July 10, 2018, Andrew Das, Victor Mather and Kevin Draper of the New York Times penned the following report, 'France vs. Belgium: World Cup 2018 Live Updates" 
Excerpts:
Both teams will find things to like there: Hazard was excellent, probably the best player on the field, and De Bruyne was dangerous at times, too. But Mbappe's speed is an undeniable asset running at Vertonghen, and Pogba's ability to shake off Fellaini in the last 10 minutes is a good sign for France.
Halftime: France 0, Belgium 0
Kevin Draper NYT: France was a slight favorite before the match began, but on balance Belgium has been the much better team. Belgium has mostly been attacking on the fringes, avoiding N'Golo Kanté in the middle and counting on Romelu Lukaku to keep the center backs occupied. De Bruyne and Hazard have generated a few chances, and Belgium almost scored off of a couple of corner kicks.
FRANCE
France's Starting Lineup
France sticks with what's worked: Pavard-Varane-Umtiti-Hernandez across the back, protected by Kanté and Pogba as needed. Matuidi, Griezmann and Mbappé will swirl in and around Giroud, who starts alone up top
Goalkeeper: 1 Hugo Lloris (Tottenham)
Defenders: 21 Lucas Hernandez (Atletico Madrid), 2 Benjamin Pavard (Stuttgart), 5 Samuel Umtiti (Barcelona), 4 Raphael Varane (Real Madrid)
Midfielders: 13 N'Golo Kante (Chelsea), 14 Blaise Matuidi (Juventus), 6 Paul Pogba (Manchester United)
Forwards: 9 Olivier Giroud (Chelsea), 7 Antoine Griezmann (Atletico Madrid), 10 Kylian Mbappe (Paris St Germain)
Belgium's Starting Lineup
Belgium, too,, sticks with what's working: Fellaini starts again with Witsel and Mousa Dembélé in a hard-working, flanked by Nacer Chadli and De Bruyne. Hazard and Lukaku up front, and the same three-man back line that got them this far: Vertonghen, Kompany and Alderweireld.
Goalkeeper: 1 Thibaut Courtois (Chelsea)
Defenders: 2 Toby Alderweireld (Tottenham), 4 Vincent Kompany (Manchester City), 5 Jan Vertonghen (Tottenham)
Midfielders: 7 Kevin de Bruyne (Manchester City), 19 Mousa Dembele (Tottenham), 8 Marouane Fellaini (Manchester United), 10 Eden Hazard (Chelsea), 6 Axel Witsel (Tianjin Quanjian)
Forwards: 22 Nacer Chadli (West Brom), 9 Romelu Lukaku (Manchester United)
Belgium's More Accurate
Belgium's attack has been prolific, shooting 85 times, second only to Brazil. France has shot only 56 times, trailing eliminated countries like Spain, Germany and Mexico. Belgium's shots have also been more accurate: 39 percent have been on target, compared with 34 percent of France's shots.
Belgium's Winning Streak
Belgium lost its first match under Roberto Martinez to Spain in August 2016 and is unbeaten in 24 games since (19 wins).
Kevin De Bruyne's Role
The fortunes of Belgium, and the contributions of Kevin De Bruyne, have risen in tandem since the Red Devils fell behind Japan, 2-0, in the round of 16. Facing elimination and needing goals, Roberto Martinez sent on Marouane Fellaini in a defensive midfielder role — to jeers on social media — and pushed De Bruyne forward into the more attacking role he is accustomed to playing, and prefers. The result was a come-from-behind victory, and the change became the plan from the start against Brazil, leading to a goal from De Bruyne and the win that sent the Belgians to St. Petersburg.
"My role changes all the time," De Bruyne said Monday, adding, "For the semifinal, it can change; I don't know yet. But I think that's what it's going to be."
How They Got Here
Belgium is the only team left in the field with 5 victories in this summer's World Cup. France tied Denmark in the group stage, and England lost to Belgium there. Croatia has left the field feeling like winners in every game, but it advanced on two straight penalty-kick shootouts, but those were merely tiebreakers: Both games were officially recorded as draws.
France vs. Belgium: The Goals
France has scored 9 goals and surrendered 3. Belgium has scored 14, boosted by big wins over Panama (3-0) and Tunisia (5-2) in the group stage, but it hasn't been nearly as stingy at the back. It has surrendered five goals in Russia.
Thierry Henry on the Other Side
The presence of the former France star Thierry Henry on the Belgium bench tonight will be a bit awkward. Henry was a teammate with Deschamps on their country's World Cup-winning team in 1998. Now in the early stages of a coaching career, he is working as an assistant to Belgium's manager, Roberto Martinez. "I was lucky to play with him for 2 years in the French team," said Hugo Lloris. "It is true that it is a little bit peculiar to see him with the Belgian team, but that's his career and that's how he's learning his future career. I think his heart will be split tomorrow, because through everything he remains French."
How Belgium Was Built
Some see Belgium's ride to the semifinals as a validation of the way it altered its development system and groomed its current generation of players. As with the reboots of Germany and Spain before it, Belgium's transformation is now deemed — by some — as worthy of study, and copy. But the presence of Belgium, Croatia, France and England here, Rory Smith writes, is a reminder to be careful trying to replicate any model in a different country.
Belgium's Attack vs. France's Defense
Romelu Lukaku, Eden Hazard and Kevin De Bruyne may be the best attacking trio left in the tournament, and they have asked serious questions of every team in the knockouts. France's ability to disrupt them before they get into dangerous positions will go a long way to keeping them from imposing themselves on the match today. That role often goes to N'Golo Kanté, a tireless worker. But he will need some help from Paul Pogba and another strong performance from the center-back pair of Raphael Varane and Samuel Umtiti today; stopping Belgium will not be a one-man job.
Can Belgium Slow Mbappé and Griezmann?
Kylian Mbappé and Antoine Griezmann will pose an attacking test as fearsome as the one Belgium recently passed against Brazil. Belgium did that with some sturdy play from Marouane Fellaini and Axel Witsel in midfield, and France should expect a bit more of the same today.
France vs. Belgium Top Story Lines
•" So many of the matchups today will be familiar to regular watchers of the Premier League: N'Golo Kanté and Paul Pogba of France vs. Eden Hazard and Kevin De Bruyne of Belgium in the midfield; goalkeeper Hugo Lloris trying to fend off striker Romelu Lukaku; Olivier Giroud potentially challenging for headers against Jan Vertonghen and Toby Alderweireld. But the club affiliations are blurred today as well: Tottenham, Manchester United, Manchester City, Chelsea, Paris St.-Germain, Monaco and Barcelona all have players on both sides of this semifinal."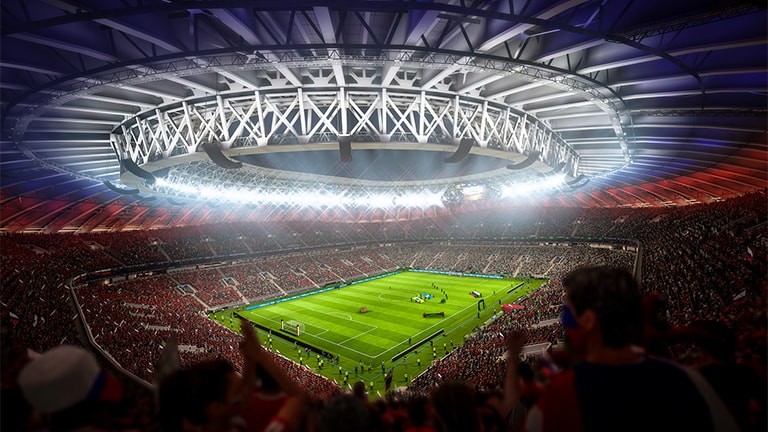 • "I think we know them very well," France goalkeeper Hugo Lloris said. "But they know us very well." Said Manager Didier Deschamps: "It's an advantage on both sides. But during the match, everyone will be on his own side."
• "Belgium is without Thomas Meunier, an important member of its team. He picked up his second yellow card against Brazil and is suspended. France gets back Blaise Matuidi after he served his own yellow-card ban in the quarterfinals."
• "Tottenham Hotspur has as many players left in the World Cup (nine) as the entire Bundesliga and one more than Italy's Serie A. Four players from Spurs could see action today: Toby Alderweireld, Jan Vertonghen and Mousa Dembélé for Belgium, and Hugo Lloris for France. Belgium's Nacer Chadli also spent time at Spurs."
• "France won the World Cup in 1998, and returned to the final in 2006. Belgium is in the semifinals for only the second time; it lost at this stage in 1986."
• "France is the favorite to advance to the final, but it's very close: The bookmakers' odds translate into France being about 54 percent likely winner. "
• "Why does every player in the World Cup bring his hands to his head after a near miss? It turns out there's a psychological explanation."
Link to entire article:France vs. Belgium: World Cup 2018 Live – NYT