On the 11th of July 2018 the republican President Donald J. Trump began his reality show at the NATO breakfast as he was flanked on both sides by the US NATO Ambassador Kay Bailey Hutchinson and the Secretary of State Mike Pompeo. He acted like the belligerent drunk at the end of the bar who has been barking off about all his grievances when all the others present were just trying to enjoy their drinks and the comradeship. His offensive behavior was off the charts to where it should embarrass every American with any sense of decency and knowledge of history.
NATO has these summits where they can debate important issues while presenting an image of strength to aggressive expansionist players like Russia's President Vladimir Putin. President Trump continues to berate many of our allies for not paying their fair share into the running of NATO when he has already won on this issue. Most of the NATO countries will be paying 2% of their GDP towards NATO's expenses by 2024.
There exists the worry that the president will head over to Finland to meet one-on-one with Russia's President Vladimir Putin without even a note-taker around the 16th of July 2018, where he will extend the hand of US friendship while he acts in a way counter to US and NATO's national security interests.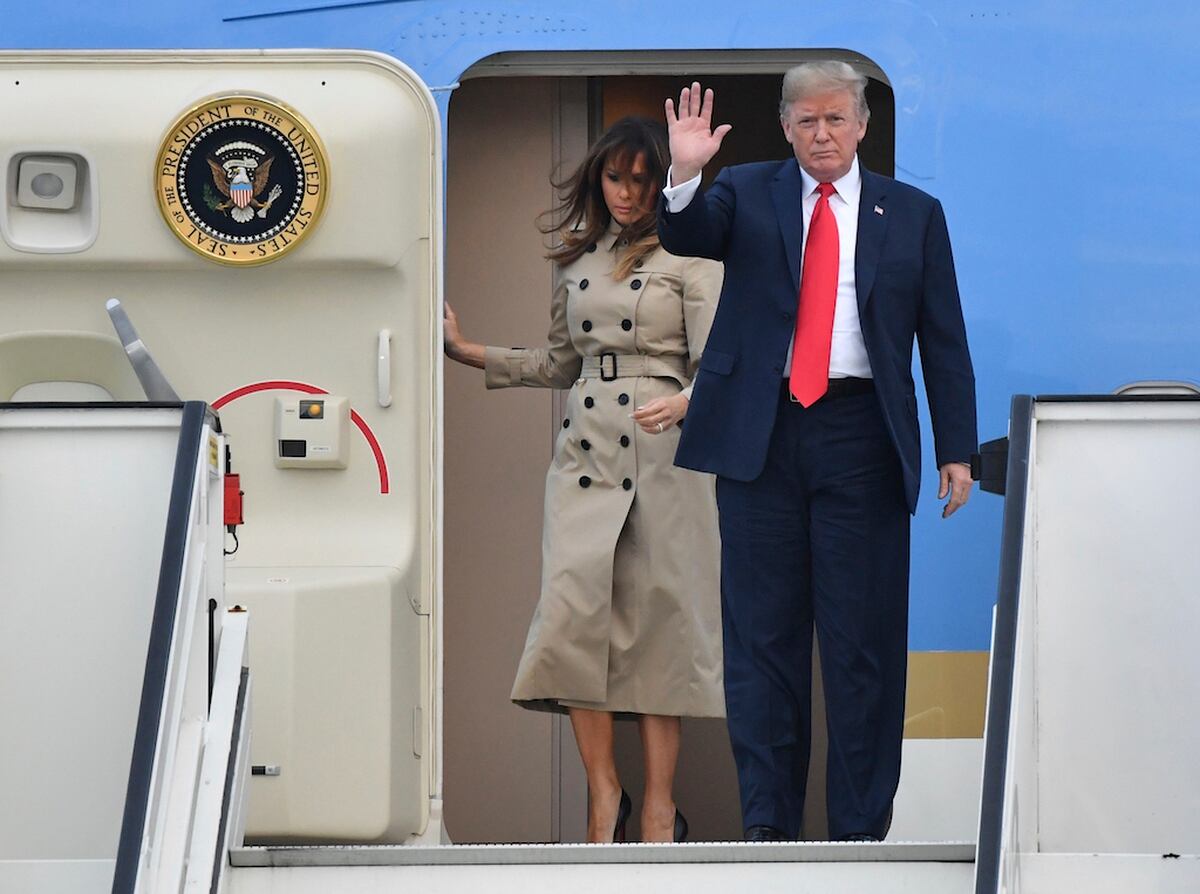 His has continued to isolate the German Chancellor Angela Merkel for his ire and his bullying diatribes. It could be that President Trump's suffers from misogyny when he is dealing with strong female leaders.
They are not one of the guys like the authoritarian heads of state that he seems to prefer as he cozies up to Turkey's head of state, Recep Tayyip Erdoğan at NATO.
The GOP in the US Senate joined their colleagues to pass a declaration for its support of NATO by an overwhelming majority before President Trump set foot in Brussels, in a feeble attempt to dull the blunt words of their leader at the helm, who continues to look, act, and walk like a Russian asset as he implements President Putin's number one goal of creating a wedge between the USA and our allies in NATO.
Here's the rest of the story…
On July 10, 2018, the New York Times' staff has published the following news item, "NATO Summit Live Updates: Trump Calls Alliance 'Delinquent' on Military Spending" 
Excerpts:
"President Trump met NATO's secretary general and criticized alliance members on defense and energy policy."
• "President Trump is in Brussels for the start of a seven-day, three-nation European trip that highlights the ways he has utterly transformed United States foreign policy. After the NATO summit meeting, he travels to Britain and then to Finland to meet with President Vladimir V. Putin of Russia."
• "Mr. Trump got the NATO meeting off to a confrontational start Wednesday morning, telling the secretary general, Jens Stoltenberg, that other nations must spend more on defense and that Germany was "captive to Russia" on energy."
• "Mr. Trump has upended generations of American diplomacy, antagonizing and belittling traditional allies over issues like defense and trade, while refraining from criticizing Russia, a traditional adversary."
"Many countries are not paying what they should, and, frankly, many countries owe us a tremendous amount of money from many years back," Mr. Trump said at a breakfast with Jens Stoltenberg, the NATO secretary general, at the residence of the United States ambassador to Belgium. "They're delinquent, as far as I'm concerned, because the United States has had to pay for them."
"He singled out Germany for particularly sharp criticism, saying the country was "totally controlled by Russia" because of its dependence on Russian natural gas. The United States spends heavily to defend Germany from Russia, he said, and "Germany goes out and pays billions and billions of dollars a year to Russia."
"In March, Germany gave approval for Gazprom, the Russian energy titan, to construct the Nord Stream 2 pipeline through its waters, a $10 billion project."
"Germany is a captive of Russia" because of the oil and gas issue, Mr. Trump said. "I think it's something that NATO has to look at."
"Mr. Stoltenberg countered that "despite differences," NATO was about uniting "to protect and defend each other."
"But Mr. Trump shrugged off the collective defense principle, saying, "How can you be together when a country is getting its energy from the country you want protection against?" — Julie Hirschfeld Davis
"NATO has a budget to cover shared costs and some equipment that is used in joint operations, and all 29 member countries contribute to it according to their gross national income. None of the allies has failed to pay its contribution."
"Mr. Trump's complaint is that, while NATO has agreed that each member country should spend at least 2 percent of its gross domestic product on defense, most of them do not. But none has failed to comply with that agreement, because the 2 percent figure is a target to be reached by 2024."
"According to NATO, all member countries have significantly raised military spending since 2014, and eight of them are expected to meet the goal in 2018."
"Mr. Trump tweeted on Monday that the United States accounted for 90 percent of military spending by NATO countries, but the alliance says the real figure is about 67 percent. And most American military spending is not NATO-related."
"Generations of United States policymakers have seen NATO as a bedrock of Western security, but Mr. Trump describes its members mostly as a bunch of freeloaders, riding on the coattails of American military spending without holding up their end of the deal."
"NATO countries must pay MORE, the United States must pay LESS," Mr. Trump tweeted on Tuesday, before departing for Brussels. He also reiterated the claim he has used to justify tariffs he recently imposed: That unfair practices are to blame for the U.S. trade deficit with Europe and other regions of the world."
"Privately, leaders of other NATO countries wonder if the president just wants to goad them into raising military spending and strengthen the alliance, or if he would prefer to abandon it. Either way, his approach, using overt threats and insults, is a far cry from the usual diplomatic give-and-take, and his counterparts are wary of provoking Mr. Trump."
"Aside from military spending, NATO allies are more at odds with American policy than they have been many years, disagreeing on issues like his withdrawal from the Iran nuclear deal and the Paris climate accords, and the trade war he has started."
Long ruled by the Russian giant to the east, these small nations gained their independence in the early 1990s with the collapse of the Soviet Union, and they see a very real danger in Russia's assertiveness under Mr. Putin.
The countries joined NATO in 2004 to ward off that threat, and the alliance has recently stationed troops in the Baltic States as a kind of tripwire for any Russian incursion.
"But when asked two years ago, before he was elected, whether the United States would defend the Baltic countries against a Russian attack, Mr. Trump equivocated. "If they fulfill their obligations to us," he said, "the answer is yes."
"Mr. Tusk, one of the leaders of the European Union, has no formal role in NATO, but the two groups have a large overlap in membership. On Tuesday they signed a statement of cooperation."
"Mr. Tusk has made clear that he is paying close attention to the summit, he has a megaphone, and he's not afraid to use it. Tweaking and refuting Mr. Trump, often slyly and sometimes quite directly, his comments are widely seen to reflect what other European leaders are thinking but are unwilling to say publicly."
"The United States "doesn't have and won't have a better ally than EU," whose members combined spend more on defense than Russia, he tweeted on Wednesday. "I hope you have no doubt this is an investment in our security."
"In June, after Mr. Trump's angry exit from the Group of 7 summit and his broadside at Justin Trudeau, the Canadian prime minister who played host to that meeting, Mr. Tusk tweeted, "There is a special place in heaven for @JustinTrudeau."
"He used sharper language in May, after Mr. Trump withdrew from the Iran agreement and announced trade sanctions. Mr. Tusk tweeted, "with friends like that who needs enemies."
Idle thumbs? Meeting rooms will be a Twitter-free zone
"Mr. Trump enjoys sending Twitter barbs at his adversaries, but he will be restrained during the NATO summit meeting."
"In NATO's new building, in the massive high-tech meeting room, no mobile phones are allowed — not even for a president. Even if they were permitted, they probably would not work, because NATO jams signals in the building to prevent eavesdropping or hacking."
A show of solidarity with Ukraine
"NATO leaders are set to meet with their Ukrainian counterparts on Thursday to show solidarity with Kiev, in the face of the Russian annexation of Crimea in 2014, and Moscow's continuing military support of rebels in eastern Ukraine."
"The meeting is pointed reminder from the West of the principle that one nation should not violate the territorial integrity of another, before Mr. Trump's meeting with Mr. Putin in Finland. Talks on resolving the dispute in Ukraine have essentially stalled, and Western diplomats do not expect significant progress on the issue at the Helsinki summit meeting."