Once upon a time in 2016 the Democratic Party's presidential candidate Hillary Rodham Clinton challenged her opponent, the republican presidential contender Donald Trump on the point that he was looking to exit from NATO (North Atlantic Treaty Organization).
He denied this claim during the campaign, but he consistently brought up two issues which he still refers to, even on the 11th of July 2018. These assertions include that the NATO member countries have to pay a greater portion of its expenses which these countries' officials are in the process of doing. The other was the question mark as to why was the US as part of NATO, was supporting and aligning with a country like Ukraine against Russia's expansionist impulses, as when Russia invaded unprovoked Ukraine in 2014, and then annexed Crimea which was challenged by NATO. Based on Russia's aggressive adventures, the US and our allies imposed sanctions against Russia in 2014, whereupon Russia left the G8 countries which is now the G7.
Knowing this background is important because it helps bolster my contention that the republican President Donald Trump should not be permitted to follow up on his plans to have a one-on-one meeting with Russia's President Vladimir Putin without a credible witness and/ or note taker.
It has been my long-held suspicion that President Trump has been showing all the signs of acting like a Russian asset.
See: Opinion | Why Does Trump Ignore Top Officials' Warnings on Russia /NYT
See: Opinion | Why Is Trump So Afraid of Russia? – The New York Time
The GOP enablers in the US Congress keep pointing to the fact that the president has taken tough steps to counter Russia. But even when he acted, as when he imposed US sanctions on Russia because of its chemical attack of two peoples in UK, the president could be heard screaming a mile away because he had agreed to the sanctions in error. Then he withdrew from issuing more sanctions that his United Nations'ambassador had already announced. The US military weaponry sold to Ukraine was done only to keep its officials from agreeing to assist the FBI in its Trump-Russia probe.
See: Russia Is Still Attacking US Democracy/ President And GOP /GrondaMorin
See: Trump puts the brakes on new Russian sanctions/ Washington Post
See: See: Ukraine Stopped Helping Mueller Probe After Trump Administration Gave It Weapons/ Newsweek
I am worried that President Trump could end up doing a repeat performance as what he did at the June 2018 summit between him and the N Korean leader Kim Jong-un, where to the complete surprise of ALL his advisers and allies, he proceeded to announce the cessation of  US /S Korean and allies' joint military exercises in South Korea without anything of substance in return. This action was done at the behest of Russia. What more could President Trump deliver to President Putin in their upcoming tete-a-tete in mid July 2018?
See: Why US Allies Are Worried About US President At NATO Conference /GrondaMorin
Here is the rest of the story…
On May 11, 2016 D' Angelo Gore of FactCheck.org penned the following report, "What's Trump's Position on NATO?"
Excerpts:
"(President) Trump has been critical of the North Atlantic Treaty Organization, which was established in 1949 by the U.S., Canada and 10 Western European nations to defend against the former Soviet Union. Trump's main criticisms of NATO, which now has 28 member nations, are that the alliance no longer serves its founding purpose and that it is too costly to the U.S., which pays about 22 percent of direct spending by NATO, the most of any nation, according to budget information. The U.S. also pays a much larger portion of the organization's indirect costs, NATO says."
"During a campaign speech in Milwaukee on March 28, Clinton, the front-runner for the Democratic nomination, said that Trump "wants us to pull out of NATO." That was the week after Trump, during campaign events and interviews with the editorial boards of the Washington Post and the New York Times and others, talked about the U.S. role in NATO."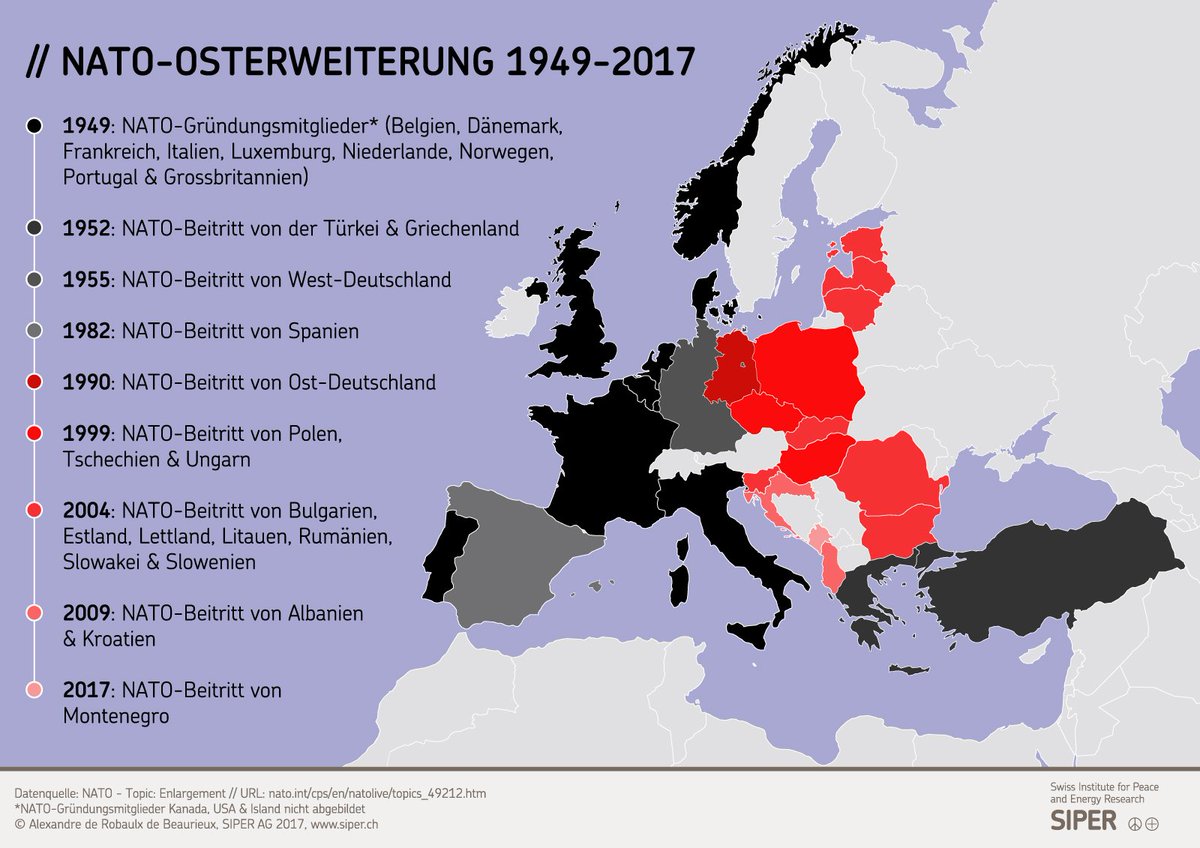 "In an interview with CBS News' John Dickerson that aired May 8, Clinton again claimed that Trump, whom she referred to as a "loose cannon," wants out of NATO."
"Clinton, May 8: Being a loose cannon is saying we should pull out of NATO, the strongest military alliance in the history of the world and something that we really need to modernize, but not abandon."
"While Trump has gone so far as saying that, as president, he would consider pulling the U.S. out of NATO if it is not restructured, we've found no instance of him saying he wants to do so at this point. "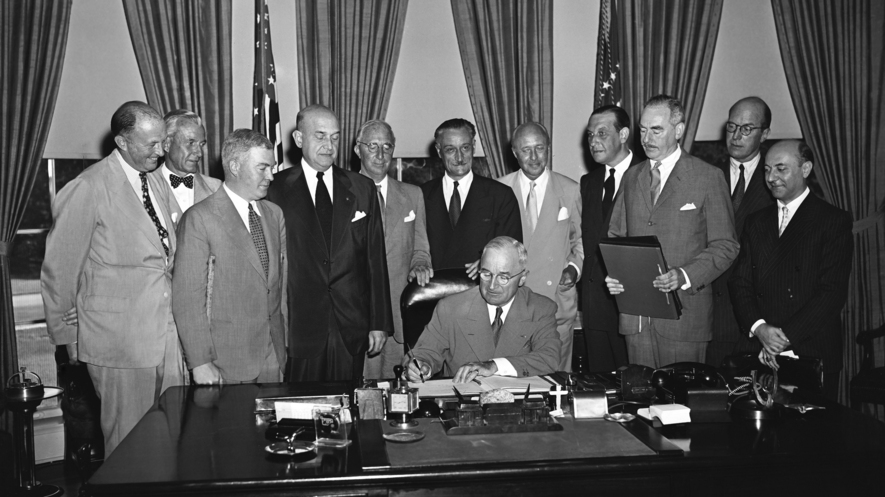 "In fact, it was during the interview with the Post, which initially brought attention to Trump's feelings about NATO, that Trump said that he doesn't want the U.S. to leave the alliance."
"Charles Lane, Washington Post, March 21: So, I'd like to hear you say very specifically, you know, with respect to NATO, what is your ask of these other countries? Right, you've painted it in very broad terms, but do you have a percent of GDP that they should be spending on defense? Tell me more, because it sounds like you want to just pull the U.S. out."

"Trump: No, I don't want to pull it out. NATO was set up at a different time. NATO was set up when we were a richer country. We're not a rich country anymore. We're borrowing, we're borrowing all of this money. We're borrowing money from China, which is sort of an amazing situation. But it was a much different thing. NATO is costing us a fortune and yes, we're protecting Europe with NATO but we're spending a lot of money. Number one, I think the distribution of costs has to be changed. I think NATO as a concept is good, but it is not as good as it was when it first evolved."
"Later on March 21, during a CNN town hall event with Wolf Blitzer, Trump said the U.S. should "reconsider" its role in NATO, especially with concern to how much it spends compared with other nations."
Blitzer: "Do you think the United States needs to rethink U.S. involvement in NATO?"

Trump: "Yes, because it's costing us too much money. And frankly they have to put up more money. They're going to have to put some up also. We're paying disproportionately. It's too much. And frankly it's a different world than it was when we originally conceived of the idea. And everybody got together."

"But we're taking care of, as an example, the Ukraine. I mean, the countries over there don't seem to be so interested. We're the ones taking the brunt of it. So I think we have to reconsider keep NATO, but maybe we have to pay a lot less toward the NATO itself."

Blitzer: "When we say keep NATO, NATO has been around since right after World War II in 1949. It's been a cornerstone of U.S. national security around the world. NATO allies hear you say that, they're not going to be happy."

President Harry Truman after proudly signing NATO Treaty, 1949

Trump: "Well, they may not be happy but, you know, they have to help us also. It has to be — we are paying disproportionately. And very importantly if you use Ukraine as an example and that's a great example, the country surrounding Ukraine, I mean, they don't seem to care as much about it as we do. So there has to be at least a change in philosophy and there are also has to be a change in the cut out, the money, the spread because it's too much."

Blitzer: "So you're really suggesting the United States should decrease its role in NATO?"

Trump: "Not decrease its role but certainly decrease the kind of spending. We are spending a tremendous amount in NATO and other people proportionately less. No good."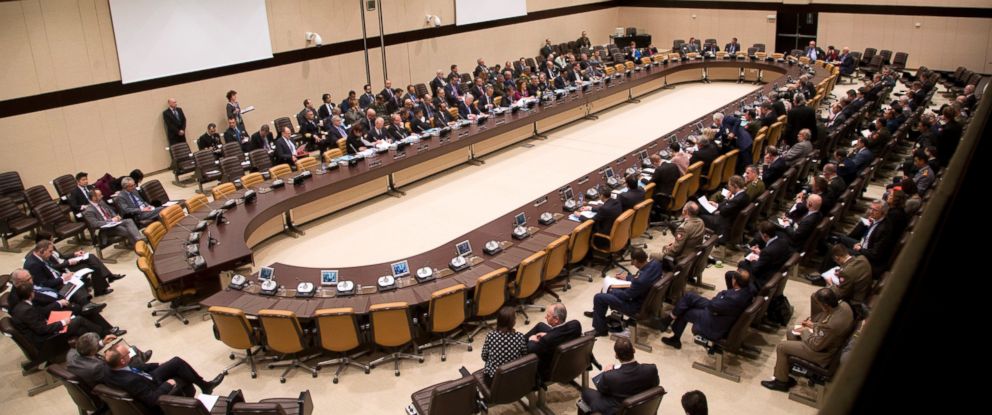 "Then, on March 25, in an interview with the New York Times editorial board, Trump again said that NATO needed to be "changed" to deal with costs and other issues, such as terrorism."
Trump, March 25: "I'll tell you the problems I have with NATO. Number one, we pay far too much. We are spending — you know, in fact, they're even making it so the percentages are greater. NATO is unfair, economically, to us, to the United States. Because it really helps them more so than the United States, and we pay a disproportionate share. Now, I'm a person that — you notice I talk about economics quite a bit, in these military situations, because it is about economics, because we don't have money anymore because we've been taking care of so many people in so many different forms that we don't have money — and countries, and countries. So NATO is something that at the time was excellent. Today, it has to be changed."
"It was on March 23, during an interview with Bloomberg Politics' Mark Halperin and John Heilemann, that Trump, when asked, said he would "certainly look at" getting rid of NATO because it "may be obsolete."
Halperin, March 23: "Should America be the leader of NATO or not necessarily?"

Trump:" I think NATO may be obsolete. NATO was set up a long time ago — many, many years ago when things were different. Things are different now. We were a rich nation then. We had nothing but money. We had nothing but power. And you know, far more than we have today, in a true sense. And I think NATO — you have to really examine NATO. And it doesn't really help us, it's helping other countries. And I don't think those other countries appreciate what we're doing."

Heilemann: "So, just to be clear, you made two slightly different arguments there and I just want to clarify. One of them is that you might want to see the U.S. pay less money into NATO because …"

Trump: "That one definitely. That one definitely."

Heilemann: But it's possible that NATO is obsolete and should be gotten rid of?

Trump: "It's possible. It's possible. I would certainly look at it. And I'd want more help from other people. The one thing definitely — we're paying too much. As to whether or not it's obsolete, I'll make that determination."
"Then, at a campaign rally in Milwaukee on April 4, Trump said that he wasn't saying that NATO should disband during his interview with CNN's Blitzer. Instead, he said he meant that if countries "can't pay their bills … they've got to go."
"Trump, April 4: And Wolf Blitzer asked me a question on television. He said, let me just ask you about NATO. And he asked me about it. Now, I haven't been asked about NATO a lot, but I understand NATO and I understand common sense and I'm, like, a smart person, like many of the people in this room, hopefully all of the people in this room."

"But he asked me about NATO. I said it's obsolete. This is my first thing. And you know what? I'm the first one. Guys that study NATO and good people, but they study NATO and they say, I don't believe it, what he just said, I never thought of that. They study it because they're so into it that they don't realize."

"Because it was really put there — you had the Soviet Union and now you have Russia, which is different, but Russia is very powerful, so we can sort of say that's a balance, so we'll leave it. But it doesn't really cover terrorism like it's supposed to. It doesn't have the right countries. I mean, many of the countries in there aren't, you know, that you associate with terrorism."

"And so I said, number one, it's obsolete. I said, number two, to the best of my knowledge, the United States pays far too much proportionately, and why are we always paying the bills to protect other people?"

"And the press, which is so totally dishonest, the press goes headlines the next day "Trump doesn't want NATO, wants to disband." That's not what I said. I said you've got to pay your bills. And you know what? If they can't pay their bills, honestly there should be — they've got to go. Because we can't do this."
"And most recently, in his April 27 foreign policy speech, Trump said that "the U.S. must be prepared to let these countries defend themselves" if they are unwilling to pay more."
"Trump, April 27: They look at the United States as weak and forgiving and feel no obligation to honor their agreements with us. In NATO, for instance, only four of 28 other member countries besides America, are spending the minimum required 2 percent of GDP on defense. We have spent trillions of dollars over time on planes, missiles, ships, equipment, building up our military to provide a strong defense for Europe and Asia. The countries we are defending must pay for the cost of this defense, and if not, the U.S. must be prepared to let these countries defend themselves. We have no choice."
"So, Trump has clearly outlined changes he would like to see made to NATO. And he has said that, under a Trump administration, the U.S. might no longer be a part of the alliance if it isn't restructured and other nations don't start to pick up more of the costs. But even that isn't the same thing as saying that "we should pull out of NATO," as Clinton claims Trump said."