During the week of July 16, 2018, "we the people" have been informed that Russia may very well have funneled monies to the NRA to curry favor; whereupon, the NRA used these monies to benefit republicans in the US Congress who were running for reelection in 2016.
See: The NRA Is Awfully Quiet About Maria Butina – Rolling Stone
See: Maria Butina, explained: accused Russian spy tried to sway US … – Vox
As per a 11/2017 New York Times report, "Below are the GOP top 10 US House career recipients of N.R.A. funding :
House
1.
French Hill


Ark.

"Martha and I are praying for the families and victims of this senseless act of evil. […] We must continue to work together to stop this kind of terror."

$1,089,477

FROM THE N.R.A.

2.
Ken Buck


Co.

"I'm praying for all of those impacted by the evil events in Las Vegas last night. Our country must stand together in support of the families of the victims and the community."

$800,544

FROM THE N.R.A.

3.
David Young


Iowa

"My thoughts and prayers are with the victims and their families and friends of the horrific and evil tragedy in Las Vegas."

$707,662

FROM THE N.R.A.

4.
Mike Simpson


Idaho

"Though no words can heal our hurt, and no explanation will ever feel sufficient, I pray that all involved may find comfort as we process this devastating tragedy."

$385,731

FROM THE N.R.A.

5.
Greg Gianforte


Mont.

No statement released.

$344,630

FROM THE N.R.A.

6.
Don Young


Alaska

"Anne and I are praying for all those involved or impacted by this heinous act of violence."

$245,720

FROM THE N.R.A.

7.
Lloyd Smucker


Pa.

"Horrific act of violence in Las Vegas. Cindy and I pray for the victims, their families, and the first responders."

$221,736

FROM THE N.R.A.

8.
Bruce Poliquin


Maine

"My thoughts are with all those effected in the horrifying attacks in Las Vegas. The nation is with you."

$201,398

FROM THE N.R.A.

9.
Pete Sessions


Tex.

"My deepest sympathies are with all who were harmed by this horrific tragedy."

$158,111

FROM THE N.R.A.

10.
Barbara Comstock


Va.

"I am heartbroken by the mass murder that took place last night in Las Vegas and I am praying for the victims, families, and first responders."

$137,232

FROM THE N.R.A.
"All of these representatives are Republican. The highest ranked Democrat in the House is Sanford Bishop, who ranks 41st in career donations from the N.R.A. Among the top 100 House recipients, 95 are Republican.
As per a 2/15/2018 Sacramento Bee report:
Ken Calvert, R-Corona: $147,166
Ed Royce, R-Fullerton: $109,120
Tom McClintock, R-Elk Grove, $95,156
Kevin McCarthy, R-Bakersfield: $86,850
Jeff Denham, R-Turlock, $62,900
Darrell Issa, R-Vista, $54,270
David Valadao, R-Hanford, $49,200
Dana Rohrabacher, R-Costa Mesa, $42,150
Duncan Hunter, R-San Diego, $41,087
Devin Nunes, R-Tulare, $37,450
As per a 2/21/18 Politico report:
$5,900,000 given to GOP in 2016 election cycle
$106,000 given to Democrats in 2016 election cycle NRA gave $171,977.00 to House Speaker Paul Ryan
Here is the rest of the story…
On July 20, 2018, Michelle Goldberg of the New York Times penned the following op-ed piece, "Are Republicans Covering for Trump, or for Themselves?" ("If the N.R.A. was compromised by Russia, the whole party's in trouble.")
Excerpts:
"Of all the interlocking mysteries of the Trump-Russia scandal, one that I've found particularly perplexing is the utter servility of congressional Republicans before a president many of them hate and believe to be compromised by a foreign power."
"Yes, I know they're thrilled about tax cuts and judges. Given how Russia has become a patron of the right globally over the last decade, some Republicans might welcome its intervention into our politics, believing that the Democrats are greater enemies of the Republic. And some are just cowards, afraid of mean tweets or base blowback."
"But that doesn't explain why, for example, Speaker Paul Ryan, a Russia hawk who is retiring in January, allowed his party to torpedo the House Intelligence Committee investigation into Russian interference in the election. Ryan, after all, knows full well who and what Donald Trump is. In a secretly recorded June 2016 conversation about Ukraine, obtained by The Washington Post, the House majority leader, Kevin McCarthy, said, "There's two people I think Putin pays: Rohrabacher and Trump." Far from disagreeing, Ryan said, "What's said in the family stays in the family." If he were patriotic — or even if he just wanted to set himself up for a comeback should Trump implode — he would have stood up for the rule of law in the Russia inquiry. It's hard to see what he got in return for choosing not to."
"This week, however, a new possibility came into focus. Perhaps, rather than covering for Trump, some Republicans are covering for themselves."
"Last Friday, Robert Mueller, the special counsel, indicted 12 members of Russian military intelligence for their interference in the 2016 election. The indictment claims that in August 2016, Guccifer 2.0, a fictitious online persona adopted by the Russian hackers, "received a request for stolen documents from a candidate for the U.S. Congress." The Russian conspirators obliged, sending "the candidate stolen documents related to the candidate's opponent." Congress has, so far, done nothing discernible to find out who this candidate might be."
"Then, on Monday, we learned of the arrest of Maria Butina, who is accused of being a Russian agent who infiltrated the National Rifle Association, the most important outside organization in the Republican firmament. Legal filings in the case outline a plan to use the N.R.A. to push the Republican Party in a more pro-Russian direction."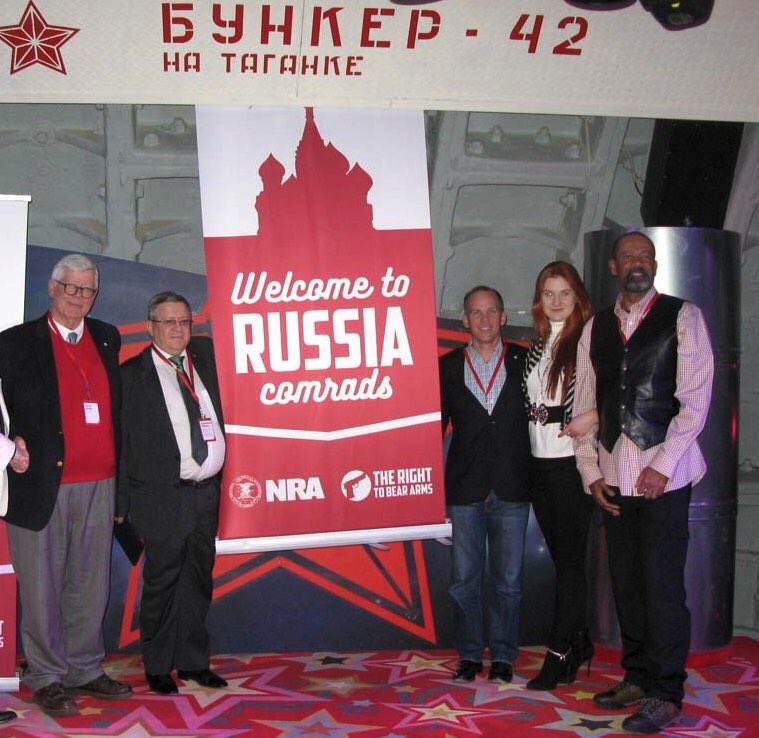 "Butina, 29, appears to have worked for Alexander Torshin, a Russian politician linked to organized crime who is the target of U.S. sanctions. She developed a romantic relationship with Paul Erickson, a conservative operative close to the N.R.A. (Court filings cite evidence it was insincere on her part.) Erickson, in turn, wrote to a Trump adviser in May 2016 about using the N.R.A. to set up a back channel to the Kremlin."
"The young Russian woman clearly understood the political significance of the N.R.A. In one email, court papers say, she described the central "place and influence" of the N.R.A. in the Republican Party. Through her pro-gun activism, she became a fixture of the conservative movement and was photographed with influential Republican politicians. A Justice Department filing quotes Torshin as comparing her to another young, famous Russian agent: "You have upstaged Anna Chapman. She poses with toy pistols, while you are being published with real ones."
"If the N.R.A. as an organization turns out to be compromised, it would shake conservative politics to its foundation. And this is no longer a far-fetched possibility. "I serve on both the Intelligence Committee and the Finance Committee," Senator Ron Wyden, Democrat of Oregon, told me. "So I have a chance to really look at this through the periscope of both committees. And what I have wondered about for some time is this whole issue of whether the N.R.A. is getting subverted as a Russian asset."
This is not a question that Republicans are eager to answer. Before Republicans on the House Intelligence Committee abruptly closed their investigation into Russian election interference, committee Democrats wanted to interview both Butina and Erickson. Their Republican colleagues refused. "If there were efforts towards a back channel towards the N.R.A., they didn't want to know," Representative Adam Schiff, a California Democrat who is the ranking member on the committee, told me. "It was too hot to handle."
"It is not surprising that Republicans would want to protect the N.R.A. According to an audit obtained by the Center for Responsive Politics, the N.R.A.'s overall spending increased by more than $100 million in 2016. "The explosion in spending came as the N.R.A. poured unprecedented amounts of money into efforts to deliver Donald Trump the White House and help Republicans hold both houses of Congress," the center wrote."
"McClatchy has reported that the F.B.I. is investigating whether Torshin illegally funneled money to the N.R.A. to help Trump. Wyden has also been trying to trace foreign money flowing into the N.R.A., but has found little cooperation from the organization, his Republican colleagues or the Treasury Department."
"The fact is, the N.R.A. has flipped their position more times than a kid does on a summer diving board," Wyden said of the organization's conflicting responses to his inquiries. At this point, the N.R.A. has acknowledged receiving just over $2,500 from Russians or people living in Russia, mostly for dues payments and magazine subscriptions. But that doesn't tell us anything about money that might have been routed through shell companies, like, for example, Bridges, the limited liability corporation that Butina and Erickson set up in South Dakota in February 2016."
"On Monday, a few hours after news broke of Butina's arrest, the Treasury Department announced a new rule sparing some tax-exempt groups, including the N.R.A., from having to report their large donors to the I.R.S. Wyden called the move "truly grotesque," saying it would "make it easier for Russian dark money" to flow into American politics. You might ask who benefits. The answer is: not just Trump."
Link to article: Opinion | Are Republicans Covering for Trump, or for Themselves