On the 17th of August 2018, I had answered the call to do some canvassing for a local Democratic candidate with a reputation for getting things done, running to be in the Florida Senate, Janet Cruz.
As per the 7/6/ 18 Tampa Bay Times report, "A new poll in Tampa's District 18 Senate race shows a virtual tie between Sen. Dana Young, R-Tampa, and Democratic challenger Rep. Janet Cruz. There's a one-point edge for Cruz. That's better for Cruz than the last StPetePolls survey, which showed Young up by nine points. "
The point is that the weekly canvassing being conducted out of her South Tampa, FL office is having an effect.
But then the democratic US Senator Bill Nelson showed up to do a meet and greet. He covered three main issues pertinent to Florida, education, healthcare access and environmental issues. But he also made a point to discuss how the republican President Donald J. Trump and his GOP sycophants in the US Congress, have let down Puerto Rico and our fellow US citizens who reside there.
Recent polls are showing a virtual tie between what was once thought to be a vulnerable democratic candidate, Senator Bill Nelson and the republican Governor Rick Scott. While Governor Scott has poured over $40 million dollars into attack ads against Senator Nelson, the polls are not moving. Senator Nelson announced that a Super Pac has recently released some ads to help him, but that he would soon be releasing his own monies to fund a barrage of his own ads.
The politics on the ground are not favorable to Florida's Governor Rick Scott. Very recently, the Tampa Bay Times did an editorial about the very wealthy Governor Rick Scott with his numerous conflicts of interests. Then there is an environmental nightmare which has Floridians up in arms. While Governor Scott has done his level best to point the fingers at others to ascribe blame, the point is, that he has been the governor for 8 years.
While there is blame that can be spread around, it is patently obvious that Governor Rick Scott has been one of those republicans who had ordered the elimination of the words "Climate Change" and other related key words in its documents; and if elected, he would be working with an administration that has become infamous for being unfriendly to any government regulation created to improve/ salvage the environment.
The US Senator Bill Nelson has been endorsed by just about every pro-environmental group that exists.
Here's the rest of the story…
On August 17, 2018, The Editorial Board of the Tampa Bay Times published the following opinion piece, "Editorial: Did Rick Scott's wallet affect his epiphany on rail line?"
Excerpts:
"Within weeks of taking office in 2011, Gov. Rick Scott made one of the worst decisions of his administration and refused $2.4 billion in federal money for a high-speed rail line between Tampa and Orlando. Within months of leaving office, the governor now thinks the rail line is a swell idea. No wonder. It turns out the governor and his wife invested at least $3 million in a credit fund for the parent company of the outfit that wants to build the rail line."
"Let's follow the time line. As Mary Ellen Klas of the Times/Herald Tallahassee bureau reports, All Aboard Florida and its parent company gives more than $200,000 to Scott's 2010 campaign and his inauguration. Scott kills the plan in 2011 for high speed rail, which would have been running by now. He hires as his chief of staff in 2012 an executive at another firm owned by All Aboard Florida's parent company. All Aboard Florida, now operating as Brightline, starts running diesel-electric trains this spring between Miami and West Palm Beach. The state announces in June that Brightline wants to build a high-speed connection between Tampa and Orlando, the governor calls that "exciting,'' and the state will seek proposals."
"Here's what's missing in that time line that Floridians didn't know: Scott and wife last year invested at least $3 million in a credit fund for All Aboard Florida's parent company, and it could be much more. The federal financial disclosures Scott was required to file as a U.S. Senate candidate show two of Ann Scott's three holdings in a credit fund for Fortress Investment Group — All Aboard Florida's parent company — are worth "over $1 million.'' Scott's disclosure shows the governor's blind trust holds between $500,000 and $1 million in the credit fund, Fortress Secured Lending Fund. And last year, the Scotts' investment in that fund produced at least $150,000 in income."
"That's information Floridians should know as they evaluate whether Scott's public policy decisions have been affected by his family's personal investments. Yet they would have remained in the dark without the federal financial disclosure forms. Most of the governor's investments are held by a blind trust, and the state does not require the finances of spouses of state officeholders to be publicly disclosed. As the old Florida slogan goes, the rules are different here."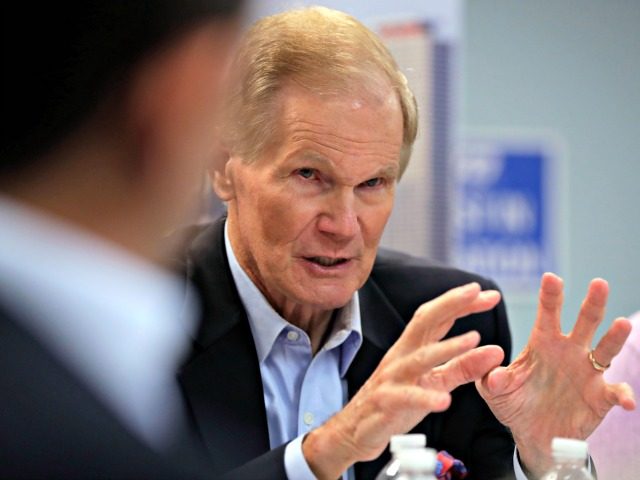 "Of course, Scott and his allies insist there is nothing to see here. The governor often repeats that the bulk of his investments are in the blind trust and he has no control over it. Even though the blind trust has been managed by one of Scott's longtime business associates. Even though one of Scott's largest assets — a plastic components company he bought in 2005 and in which he and his family still controlled 66.7 percent — was sold last year in a deal that brought as much as $550 million to the governor and his family. Even though Scott's family has bought and sold assets that mirror those held by Scott's blind trust — like, say, holdings in a credit fund for the parent company of another company that wants to build a high-speed rail line that Scott once opposed and now calls "exciting.''
"Scott is the wealthiest governor in Florida's history. Yet Floridians have no idea exactly how wealthy, and they would have no idea of his potential conflicts of interest from investments by his "blind trust" and his wife if he had not decided to run for U.S. Senate. Florida should reform its financial disclosure requirements for candidates and officeholders to at least mirror the federal requirements."
TOXIC ALGAE BLOOM. (AP Photo/Lynne Sladky)On August 17, 2018, John McCarthy of Florida Today penned the following report, "Sen. Bill Nelson, Gov. Rick Scott, Florida algae red tide, Senate race"
Excerpts:
"But with toxic algae smothering large swaths of Florida's east and west coastlines, the environment may be the hottest issue in this year's U.S. Senate race."
"I'm a single-issue voter for the environment this year," said Cristina Maldonado, a veterinarian from Stuart. "Our state is on the verge of collapse environmentally. Every single waterway in the state is affected. So this year, yeah, the environment is my only issue."
"In the face of that kind of voter passion, the Democratic incumbent Sen. Bill Nelson and his GOP challenger, Florida Gov. Rick Scott, have blamed each other for the state's environmental crisis."
"While water quality is a problem throughout the state, the images of green, slimy waters and dead marine life along both the Atlantic and Gulf coasts of South Florida has made Lake Okeechobee discharges the center of the environmental debate."
"Whenever heavy rains raise Lake O's water level, the Army Corps of Engineers, which controls the dike surrounding the lake, releases billions of gallons of water from the lake through canals that lead to the Treasure Coast to the east and the Fort Myers/Naples area to the west."
"And while the Army Corps controls the releases of water from Lake O, it doesn't control the quality of the water in the lake. The lake is typically plagued with algae fed by nutrients flushed from the agricultural areas surrounding the lake."
"Environmental groups across the state have been harshly critical of Scott's tenure in Tallahassee, saying his administration's budgets cuts for environmental programs helped lead to the water problems now plaguing the state."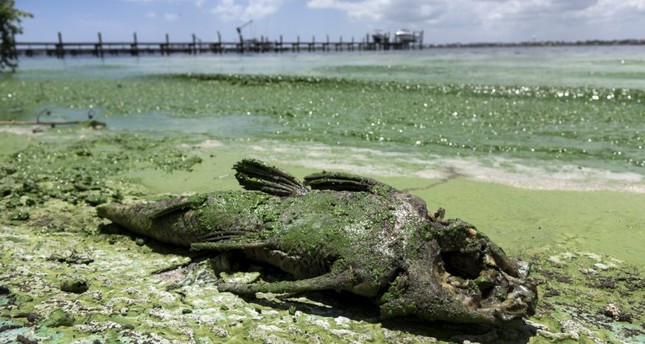 Among their criticisms:
"Slashing the budgets of the state's seven water management districts, which oversee water issues throughout the state. The state's 2012 budget — the first under Scott's administration — cut $700 million from the agencies. Since then, their total budgets have gone up by about $300 million, but remain far below the levels they were when Scott took office."
"A sharp decrease in the enforcement of environmental regulations. According to Florida Public Employees for Environmental Responsibility, the state's Department of Environmental Protection opened some 1,600 investigations into potential environmental violations in 2010, the year Scott was elected to office. By 2017, that number had dropped to 220 new cases."
"Ignoring the will of voters who in 2014 approved by a 75 percent vote setting aside one-third of real estate transaction taxes for conservation efforts. A coalition of environmental groups sued the state, saying the money was being used to pay for things normally covered by general funds revenue rather than new conservation efforts. A circuit court judge in June ruled in favor of the environmentalists. The state has appealed the ruling."
"Environmentalists also point to the Legislature for its role in cutting back on conservation efforts. But they lay the lion's share of the blame on Scott as the state's top elected official."
"Kevin Curtis, executive director of the National Resources Defense Council, is particularly blunt in his assessment of Scott's oversight of the environment during his two years of government."
"Governor Scott has regularly put the wishes of corporate polluters above the needs of Florida's environment and families," Curtis wrote in a position paper posted to the group's website. "He's sided with a fringe movement of climate change deniers, defunded popular and bipartisan conservation programs, and undermined the enforcement of air, water and climate protections. If you value Florida's natural resources, a strong economy and a safe future for our children, casting a vote to put Rick Scott in the Senate makes zero sense. Senator Nelson is the clear, best choice in this race."
See: Bill Nelson points the finger at Rick Scott on algae | Tampa Bay Times
See: Florida's red tide crisis is colliding with 2018 elections – Axios