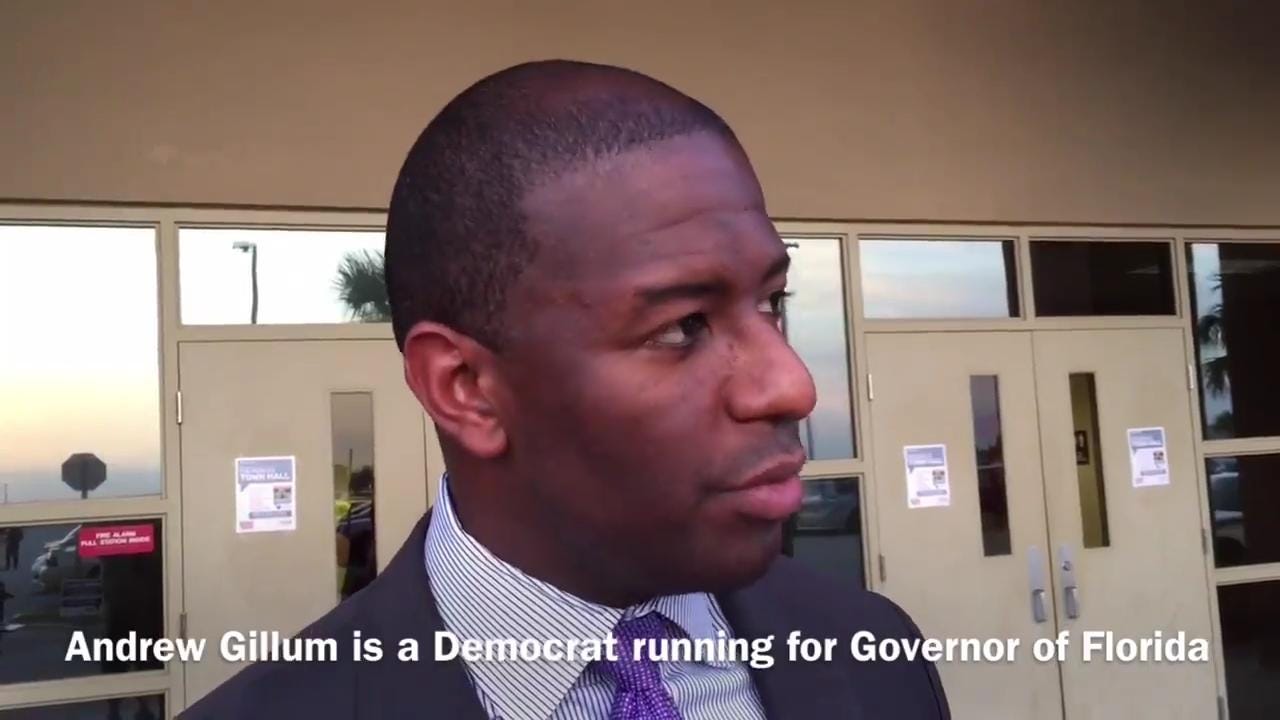 By now, those who keep up with US political news have learned about the recent September 2018 election upset in Florida, where the Tallahassee Mayor Andrew Gillum won the primary election to become the gubernatorial democratic candidate. At no point had he been in the lead in the polls and he had been outspent by several millions of dollars by his competitors. As a consequence, little has been known about him before now. His republican opponent Rep. Ron Desantis is the pick of the republican President Donald Trump and a frequent FOX TV guest.
No sooner had the elections been finalized, when the republican candidate Rep. Ron Desantis found himself mired in controversy. He appeared on a FOX TV interview where he could be heard describing how well spoken Mayor Gillum is but the Florida citizens could not afford to be monkeying around by voting for a socialist. Most of us, myself included, refuse to give him the benefit of the doubt, as he painted himself during the campaign season as a clone of President Trump, the racist-in-chief living in the White House. Also, he had to remove his membership on a Facebook site that is riddled with racist remarks, when this information was shared with the public.
But the democratic candidate, Mayor Gillum of Florida's capital, Tallahassee has his own controversy to deal with as he runs to be Florida's next governor. There are those on on the political scene within Florida politics in Tallahassee who are under investigation by the FBI and Mayor Gillum knew these individuals. On the flip side, any political player within the borders of Tallahassee is very likely to be acquainted with all the other active politicians, lobbyists, etc. The political world is not that big.
Mayor Andrew Gillum has stated for the record that he would not be running for an elected position, had he not truly believed that he was clean and not involved in any wrong doing.
But the republicans are armed with the talking point, that Mayor Andrew Gillum is the mayor of a city that is allegedly mired in corruption and he's been around long enough to have been aware of this reality. This is rich coming from the republican candidate Rep. DeSantis who claims to be of the same ilk as President Trump, where several of his campaign and his administration staffers have already been indicted by the FBI for criminal activity.
The following write-up is my attempt to shed some light on Mayor Gillum's situation.
Here is the rest of the story…
On September 1, 2018, Patricia Mazzei of the New York Times penned the following report, "Andrew Gillum Shocked Florida With a Primary Win. But an F.B.I. Inquiry Clouds His Campaign."
Excerpts:
"From the beginning, Mr. Gillum has insisted that a corruption inquiry in which he said he played no direct role should not be an impediment to his campaign for governor. But he acknowledged that the investigation has rocked city government in Tallahassee since federal authorities delivered their first subpoenas in the case last summer."
"What kept me going even through that difficult time was my knowledge that I would never do anything to compromise my morals, my values, my family, my children, my vote," Mr. Gillum said in an interview this week. "I was very clear in that, which is why I was not afraid to keep going on the trail, keep answering questions, continue to take it on the chin."
"At issue is a vote in June 2016 to expand a city redevelopment district to include properties the undercover agents posing as developers said they wanted to invest in if the properties became eligible for public dollars. It would have been unlawful for public officials to accept money or other consideration from the purported developers in exchange for favorable votes."
"Mr. Gillum was not present for the vote that approved the boundary change. But the investigation revealed that he had spent time socializing with Mr. Corey, the lobbyist, and the undercover agents in New York, including taking a boat ride to the Statue of Liberty and seeing a Broadway performance of the hit musical "Hamilton."
"The trip to New York in August 2016 raised questions of why the mayor was spending personal time with developers who had potential business before the city. Similar questions resulted from another trip that Mr. Gillum took with his wife and several lobbyist friends — including Mr. Corey — to Costa Rica in May 2016."
"Mr. Gillum's campaign said in response to written questions on Friday that the "Hamilton" tickets and the mayor's hotel stay at the Millennium Hilton hotel in Downtown Manhattan were paid for by his younger brother, Marcus Gillum, who was on the New York trip. The brothers attended the musical along with Mr. Corey and one of the undercover agents. The ticket Marcus Gillum gave his brother was in exchange for a Jay-Z concert ticket Marcus Gillum gave Mr. Corey, Andrew Gillum later learned. "
"Andrew Gillum has said he would provide receipts proving he paid for the balance of his travel to New York, but he has not done so yet. His campaign said it would release the documentation "in the near future."
"During the Costa Rica trip, Mr. Corey emailed Mr. Gillum a calendar invitation scheduling tapas and drinks with two of the undercover agents upon their return to Tallahassee. The invitation suggested that Mr. Gillum and Mr. Corey had engaged in city business during the trip, though Mr. Gillum's campaign denied that."
"Mr. Corey is also a city vendor: He received $2.1 million in public funds to turn an old power plant in the community redevelopment district into a high-end restaurant named Edison, where the tapas-and-drinks meeting would later take place. Mr. Gillum voted for Mr. Corey to receive those funds in 2013, after city lawyers deemed it would not be a conflict of interest."
"It was a trip amongst a large group of friends from Tallahassee, as lots of people take," Geoff Burgan, a spokesman for Mr. Gillum's campaign, said of the Costa Rica trip. As for New York, he said, Mr. Gillum had planned to travel there on business for his former employer, the People for the American Way Foundation, and extended his stay to see people he thought were friends.
Link to entire report: Andrew Gillum Shocked Florida With a Primary Win
On August 29, 2018, Josh Voorhees of Slate penned the following report, "What We Know About the FBI's Corruption Investigation in Tallahassee" ("A look at the potential scandal getting mentioned in coverage of Andrew Gillum.")
Excerpts:
"Much of the mainstream coverage of Gillum's historic victory, though, includes a passing reference to a potential blemish on his political résumé: an ongoing public corruption case involving his home town, a city he has led since 2014. As the Washington Post put it, "Gillum has faced questions about an FBI investigation that appears to be focused on Tallahassee city government." The New York Times, likewise, nodded at the potential scandal in its main story without going into detail. Gillum struggled to raise money early in his campaign, the paper notes, "as donors worried about an FBI investigation into City Hall corruption."
"Those vague references raise more questions than they answer. Here's what we know—and what we don't."
Why are national news outlets so mealy-mouthed about this case?
"Because no one really knows what's going on. The FBI doesn't talk about ongoing investigations, and the agency has yet to file charges against anyone. The vast majority of what we do know comes by way of shoe-leather reporting by local news outlets like the Tallahassee Democrat, which suggests the feds are looking into local land deals and other government business they believe to be shady. But the full size of the investigation is unknown, as are all the targets."
"For his part, Gillum says he met with the FBI and that the agency has assured him that he is not the focus of its investigation, and he has promised his full cooperation. "While no one likes the city being under the FBI's full scrutiny, in light of what is happening nationally, we must remember that the FBI is here to protect us and we must aid them in their work."
Back up. How'd this whole thing start?
"According to the Tallahassee newspaper, three undercover FBI agents showed up in Tallahassee back in 2015, posing as out-of-town developers interested in pursuing opportunities in the state capital. The agents then spent the next year hobnobbing with local business leaders and cozying up to local officials before disappearing in early 2017. That summer, the FBI delivered subpoenas to the city government requesting thousands of pages of documents dating back to 2012. More subpoenas soon followed, as did the apparently accidental unsealing of a search warrant targeting a city commissioner and his long-time business associate. While it's impossible to say how far along the investigation is today, judging by the number of local businessmen spotted last month going in and out of a local federal courtroom with their white-collar attorneys in tow, indictments could be on the horizon."
So where does Gillum fit into all this?
"Gillum was elected mayor in 2014 and has held city office since 2003, when at 23 he became the youngest person ever to win a seat on the Tallahassee City Commission. Spending a decade and a half in local government means crossing paths with a wide array of movers and shakers, all with their own interests and any of whom could, theoretically, be caught up in the probe. But Gillum's most direct connection to this case is through a local businessman and lobbyist, Adam Corey, who appears to have introduced the FBI agents to a number of key players in the city, including Gillum. It's unclear whether Corey believed the agents were developers when he made the introductions or if he was knowingly working with these undercover feds."
"Gillum and Corey have known each other since their college days, and Corey served as Gillum's treasurer during his 2014 mayoral campaign. In 2016, Corey reportedly set up a meeting at his Tallahassee restaurant between Gillum and the FBI agents (whom Gillum believed were developers). According to an email obtained by the Tallahassee Democrat, Corey sent a calendar invite for that meeting while he and Gillum were at an exclusive, $1,400-a-night luxury resort in Costa Rica. Gillum says it was a personal trip in which no business was discussed, but ethics watchdogs remain unconvinced."
Got it. Anything else?
"Corey also arranged a weekend meet up later that year in New York City, where he, Gillum, and at least two of the FBI agents took a boat ride and may or may not have attended a Mets game and seen Hamilton. Gillum, who was already in New York City finishing up business for a liberal nonprofit, was photographed on the boat with one of the agents, who went by the name Mike Miller. That trip remains the subject of a state ethics probe. Gillum has declined to state publicly whether he attended the baseball game or Broadway play, which were mentioned in Corey's digital invite to the group, but the mayor maintains that he paid his own way during the festivities and that the trip was "merely friends getting together" off the clock. "I have known Adam for 20 years and I had spent time with Mike who was, over the almost year that I knew him, someone who portrayed himself as a developer interested in investing in [Tallahassee's] south side," Gillum said in a statement last year. "No public money was used and no city business was discussed on the trip."
Those seem like not-so-great optics.
"True, it's never good to find yourself mentioned in the same breath as the words FBI investigation when you're running for office. But meeting socially with potential developers, as Gillum says he believed he was doing, isn't illegal or even out of the ordinary for a mayor hoping to drum up new business for his city. The fact he agreed to the outings, by itself, tells us little about potential wrongdoing. The big question is whether any illicit deals or favor trading took place, and no one has publicly accused Gillum of any such thing."
"He maintains he took the meetings as a courtesy to Corey and now feels taken advantage of. "I had a trusting relationship and I felt like I allowed people around me who were acquaintances of his because I trusted him," Gillum told the Democrat in January after the newspaper obtained the boat photo. "And it appears that if these guys were here for an investigation, that the only way they got to me was by leveraging my friendship with Adam."
Link to entire article: What We Know About the FBI's Corruption Investigation in Tallahassee
See: Want to know why that FBI investigation is a big problem for Andrew/ Tampabay.com .
See: A timeline of the FBI's investigation into the Tallahassee CRA/ Tallahassee.com  
See: Tallahassee residents recieved racist robocalls targeting Andrew Gillum/ NYT.